Australian car parking costs, which are among the highest in the world, should make motorcycling more attractive as bike parking is often free or discounted.
The 2020 Parking Price Index of car parking costs in 65 major cities shows Sydney in third place only behind New York and Boston.
Brisbane was in fifth place, Melbourne 18th and Perth 39th with no mention of Canberra, Adelaide or Hobart.
Sydney's shopping district car parks were a whopping 498% higher than the median for the 65 cities listed.
With the Federal Chamber of Automotive Industries promoting their fourth Ride to Work Week in September 2020, free and cheap parking should be a highlight of their promotions through the official website and social media.
Parking anomalies
UK car maintenance service Fixter did not consider motorcycle parking prices in their survey because many cities allow motorcycles to park free or at substantially discounted prices.
However, there are a few anomalies in Australia where motorcycle riders are being ripped off as they are charged the same price as cars.
Several years ago we pointed out that some hotels and casinos charge motorcycles and scooters the same parking rate as cars, even though the space is smaller or car bays can be shared with multiple bikes.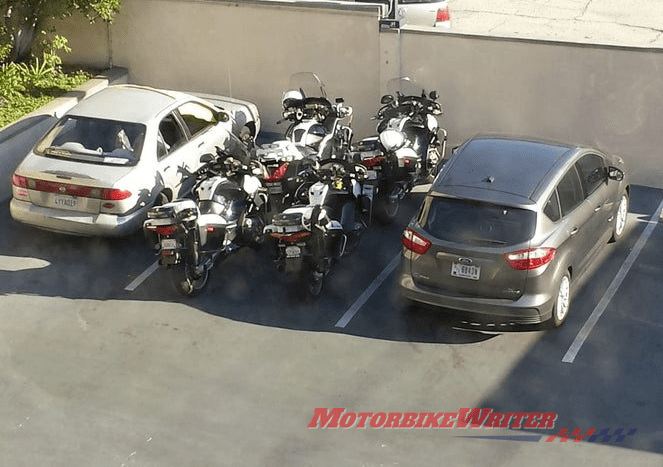 Also, Melbourne airport, which charges 68.78% above the median price, has no discount for motorcycles.
Meanwhile, Sydney has free parking for motorcycles at the domestic and International airports and Brisbane offers a discount of $10/day for up to seven days then $5/day.
Parking costs ranking
| | | |
| --- | --- | --- |
| 1 | New York | US |
| 2 | Boston | US |
| 3 | Sydney | Australia |
| 4 | London | UK |
| 5 | Brisbane | Australia |
| 6 | Philadelphia | US |
| 7 | Chicago | US |
| 8 | Minneapolis | US |
| 9 | San Francisco | US |
| 10 | Washington | US |
| 11 | Miami | US |
| 12 | Seattle | US |
| 13 | Leeds | UK |
| 14 | Detroit | US |
| 15 | Oslo | Norway |
| 16 | Amsterdam | Netherlands |
| 17 | Los Angeles | US |
| 18 | Melbourne | Australia |
| 19 | Liverpool | UK |
| 20 | Manchester | UK |
| 21 | Montreal | Canada |
| 22 | San Diego | US |
| 23 | Edinburgh | UK |
| 24 | Birmingham | UK |
| 25 | Toronto | Canada |
| 26 | Atlanta | US |
| 27 | Calgary | Canada |
| 28 | Stockholm | Sweden |
| 29 | Glasgow | UK |
| 30 | Copenhagen | Denmark |
| 31 | Utrecht | Netherlands |
| 32 | Paris | France |
| 33 | Ottawa | Canada |
| 34 | Cardiff | UK |
| 35 | Tokyo | Japan |
| 36 | Vancouver | Canada |
| 37 | Sheffield | UK |
| 38 | Zurich | Switzerland |
| 39 | Perth | Australia |
| 40 | Dublin | Ireland |
| 41 | Sao Paulo | Brazil |
| 42 | Frankfurt | Germany |
| 43 | Rome | Italy |
| 44 | Moscow | Russia |
| 45 | Dallas | US |
| 46 | Honululu | US |
| 47 | Basel | Switzerland |
| 48 | Geneva | Switzerland |
| 49 | Auckland | New Zealand |
| 50 | Madrid | Spain |
| 51 | Hong Kong | Hong Kong |
| 52 | Berlin | Germany |
| 53 | Belfast | UK |
| 54 | Warsaw | Poland |
| 55 | Istanbul | Turkey |
| 56 | Bogota | Colombia |
| 57 | Singapore | Singapore |
| 58 | Dubai | UAE |
| 59 | Mexico City | Mexico |
| 60 | Shanghai | China |
| 61 | Beijing | China |
| 62 | Mumbai | India |
| 63 | Cape Town | South Africa |
| 64 | Buenos Aires | Argentina |
| 65 | Delhi | India |