(Pando Moto jeans review by contributor James Wawne)
Is it worth the extra expense to get the single-layer Dyneema jeans from Pando Moto over their Cordura jeans with Kevlar patches?
We think so.
Dyneema is a Dutch invention which blends the abrasion-resistant material into a single-layer denim that meets the toughest CE standards for protection without the need for a separate layer.
The fabric is claimed to provide the same protection as leather (about 3.7 seconds of abrasion resistance), and will keep you cooler and more comfortable; but it is typically a bit more expensive.
Comparison
The Pando Moto Karl Desert EL Cordura/Kevlar jeans we tested last month are mid(ish) priced at €249 (about $A405, £210, $US275).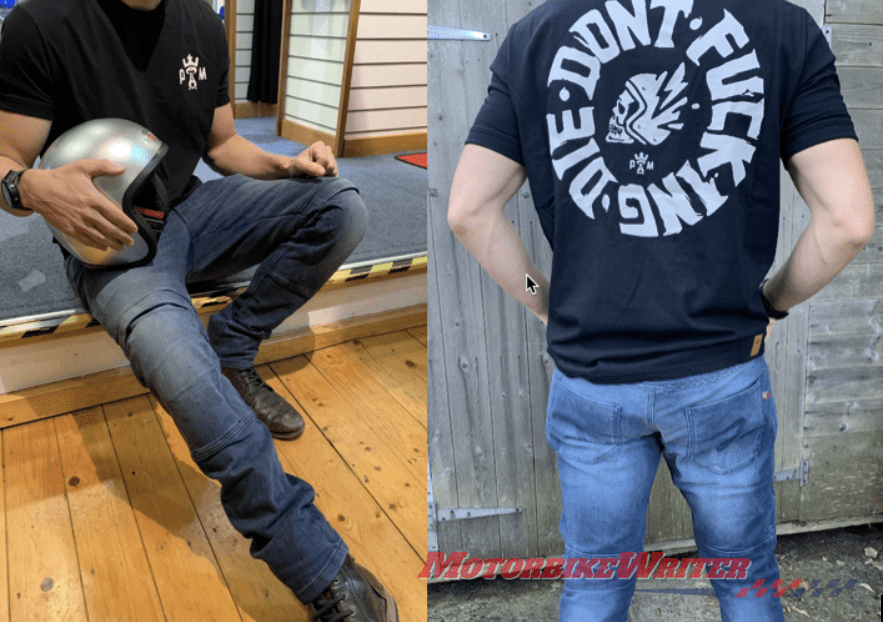 Their Steel Black 9 slim-fit Dyneema jeans are slightly more expensive at €289 (about $A470, $US320, £248).
As a Brit, currently feeling the Aussie summer heat, I believe that the Steel Black jeans are worth the extra money for the 'cool-comfort-factor' alone! They really are very comfortable indeed. 
Safety
I felt more comfortable knowing that there are no zones without protection as the Dyneema is woven throughout the jeans fabric.
I could ride with more focus as there was no distraction which can come from uncomfortable gear.
These jeans are also cooler than the pair I previously tested and well suited for warmer climate riding, I am not sure how they would perform on a cold day in London (most days) but it would be possible to wear them over some thermals if that was an issue.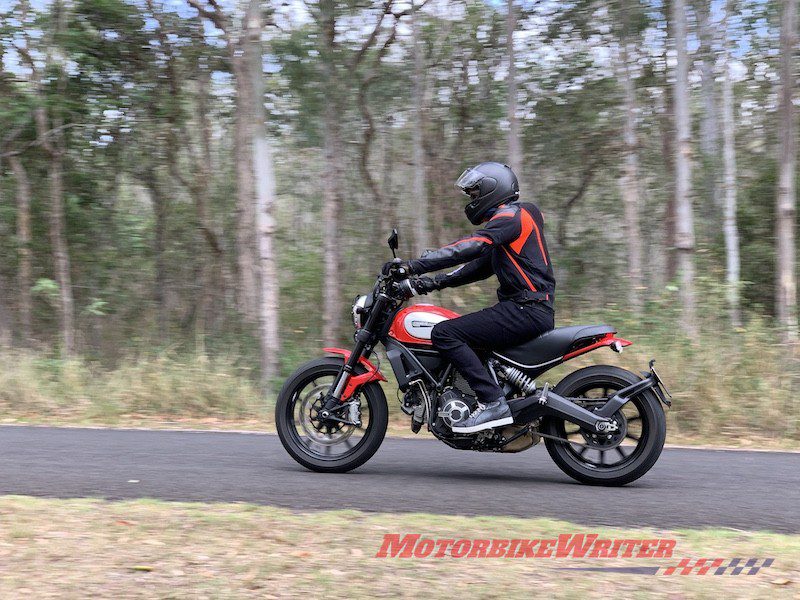 I tested them in 30-35 degrees and they were very comfortable. They are quite light and feel just like a regular pair of jeans even when combined with the CE-approved hip and knee armour*.
*The armour is noticeable for the first 5 minutes or so when you first put them on, but when they are warmed up by you body heat, they become softer and barely noticeable.
The hip inserts don't have velcro at the top of the pocket to keep them in place like the other jeans – below.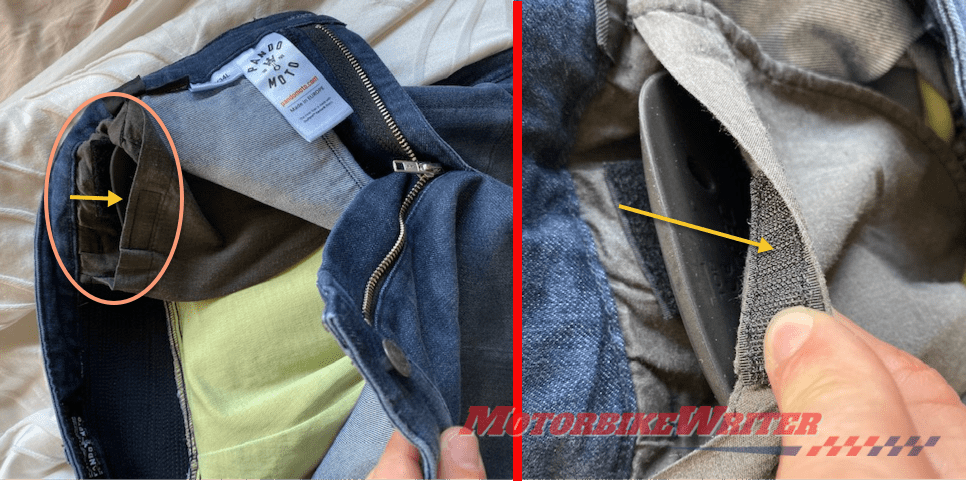 However, when wearing them, the pad is pressed against your body so it doesn't move out of position. The only a minor issue when you take them off as they can fall out which is annoying.
Another safety feature is the reflective strips on the inside of the pants so they reflect headlights when the cuffs are turned up – as with the other pair tested – a nice innovation.
Handy pants
Apart from the usual jeans pockets, the Steel Black slim jeans have a small gum/key pocket which I found handy.
Another handy item is the round clip ring on the buckle to clip on your keys or hang your sunglasses from when wandering around road side cafes.
Styling
I'm reasonably slim and the jeans fit well, if you are more of a pie eater then they might not fit as size range is limited for the larger waist owner (max 36 inches).
These jeans could pass for smart casual and worn out to dinner without looking out of place.
The jeans are well made, but I did notice some white specs here and there where the Dyneema weave shows through. However, the fabric hasn't deteriorated so it must just be part of the weave.
Pando Moto Jean Specs Quick list:
Classic slim fit cut
Dark navy color (almost black).
Made of single layer stretch 25% Dyneema® 13 oz (15 times stronger than steel, 1800 protection).
It has high heat conductivity, reflects the heat.
CE officially approved PPE under EN 17092, level AA (speed 70 km/h).
2 position knee armor pockets.
KNOX® Micro Lock CE approved (EN1621-1:2012) knee armor INCLUDED.
Hip armor – optional (not included).
Reflective cuffs for safety ride.
Made in Europe.
About Pando Moto
Pando Moto produce a range of men and women's jeans (and other clothing) to meet your needs – unless your waist is above 36 inches (which is as large as their range goes).
Their jeans are designed to achieve decent levels of safety, while also being comfortable and stylish.
The company was founded in Lithuania in 2011 and position themselves as a "premium motorcycle clothing brand".
Their marketing 'bumph' says they "use the very latest in textile technologies with urban riding culture along with European standards EN 17092 (PROTECTION ZONING SYSTEM)".
You can check them out and find more information on their website