Oxtar Matrix Boots Review Summary
Oxtar Matrix Boots Image Gallery
The Oxtar Matrix boots are well made, attractive and comfortable.
They have excellent foot, shin and ankle protection.
They're also CE-rated, waterproof and breathable and comfortable enough to wear all day long.
Just about the time that I get a pair of motorcycle riding boots broken in to where they're nice and comfortable with just the right amount of flexibility, they're either no longer waterproof.
Or the soles are worn smooth and I'm ready for a new pair…
I also have this annoying habit of leaving my left foot hanging out just a pinch from the foot peg, which causes the spot were the sole meets the upper in the area of my little toe to get ground to bits.
The result? The boots are no longer waterproof.
At my annual mileage of around 26k per year, this is a too-frequent event, requiring me to replace the boots about couple of years or so.
Maybe you're thinking a pair of boots with replaceable toe sliders would be the solution, but I've found that the sliders are placed too high to protect against the grinding.
That's a lot of mileage, and it comes from my enjoyment of touring, sport-touring and also from my daily commute.
The boots get more abuse during the MSF classes I teach, which require a pair that that will keep my feet comfortable for extended periods while standing, moving and walking around off the bike.
On several occasions recently I had the dubious pleasure of teaching the course while standing in the rain for hours on end while also realizing that my feet were slowly becoming soaking wet.
I wasn't sure why this would happen with a waterproof boot, but on closer examination I found the boot soles to be worn smooth.
This also explained why the boots seemed to slip on occasion when I would put my foot down at a stop at a light or stop sign.
I guess about the only time I pay much attention to the soles of my boots is if they happen to fall over on the floor nearby.
In any case, wearing out a pair of boots isn't necessarily a bad thing because this becomes the perfect excuse to try (and buy) a different brand or type of boot.
My two most recent pair, each made by a different manufacturer, had been of the touring variety, and they included some light armor in the shin and ankle areas. They were also waterproof and breathable.
But due to some interesting riding events last summer, I've been re-evaluating the level (and integrity) of armor in my own riding gear and have been working on incorporating more aggressive protection.
Since I needed some new boots anyway, I decided it would be a good time to explore other styles and brands that offered potentially more or better protection.
So I developed a list of requirements: all-day comfort; waterproof, but breathable and CE-approved, especially around the ankle (malleolus).
Also, easy to use for walking; side zippers with a large opening for easy donning and removal and aggressive, non-slip oil resistant soles.
And, of course, they should look stylish but unobtrusive.
Even though boots designed for motorcycle racing probably offer the most protection, I ruled them out because of the waterproof requirement.
I'm not aware of any motorcycle race boots that are also waterproof.
Oxtar Matrix Boots
So where to look? I had heard about Oxtar boots from reviews published in my favorite print motorcycle magazine and also during my visits to motorcycle shows.
Also from internet discussion boards and also from the Oxtar TCS Sport boots review previously published here on webBikeWorld.
Oxtar's parent company is Jolly Scarpe, an Italian company founded in 1982 and whose stated mission has been to produce top-quality footwear through the use of high quality materials and technology.
An internet search of Jolly Scarpe revealed that they are internationally known for manufacturing world class technical footwear including specific boots for firefighters, police and the military, with the emphasis on full safety and comfort.
Jolly Scarpe got into producing motorcycle boots in 1989 and they claim that one of the most important features of their boots is a revolutionary patented "Torsion Control System".
It helps prevent possible foot injuries. This system was described previously in the webBikeWorld Oxtar review.
They also produce boots for other brands such as BMW (one of my previous pairs), Dainese (my last pair), Hein Gericke and Triumph.
They seemingly make boots for every rider's need, from a low cut ventilated shoe/boot to a full race boot.
During a recent visit to the local dealer, while browsing their boot display as I often do, I noticed they had some Oxtar boots along with a few other brands like Rev'it, which have gotten rave reviews here at webBikeWorld.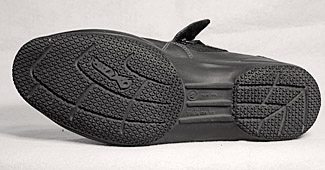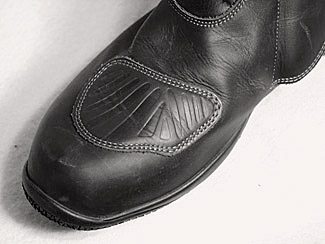 I looked at a couple of different brands, but I liked the idea that the armor in the Oxtar boots is CE-approved, so I decided to try on a pair of the Matrix Gore-Tex boots to see how I'd get on with them.
Because of some foot problems, which make buying any type of footwear problematic for me, I'm very hesitant to purchase anything without first trying them on and walking around for a few minutes.
Even though I later found the boots available on the Internet for about $40 less than the $209.95 that the dealer was charging, there are just some things I'd rather purchase at the local bike shop for just this reason.
Oddly enough, my previous pair was a European size 47 (13 US).
But I found I could drop down to a size 45 (11.5 US) in the Oxtar Matrix, which seems to more closely match my actual shoe size.
On close inspection I was impressed with the workmanship and finish of the Matrix boots. All of the stitching is beautifully done with an attractive embossed textured shift pad that is stitched onto the toes.
There's a neat flexible ribbed section on the outside top rear edge of the boot where the leather has been slit progressively from 1-1/4″ to 2" and then backed up with elastic to give the boot a bit more flexibility around the lower leg.
The uppers are full grain leather and the boot has a full Gore-Tex lining.
The inner sole is a type of soft felt with a Cambrelle lining, which makes them quite comfortable and aids in perspiration absorption.
The protectors at the ankle bones is thermoformed, as it is at the shin, and quite rigid.
The soles, which I found to be far stiffer than the soles on my previous boots, have a steel shank and what Oxtar refers to as a "Touring sole…. with a box type profile and grooved tread".
The soles are wear- and oil-resistant and I have found that they provide excellent grip.
The boots have a YKK side zipper that goes from the sole to about 60% of the way up to the top of the boot. There is a full length outer flap held firmly shut with a hook-and-loop material that completes the side closure.
The side opening has an inner flap that keeps the boot waterproof and allows the boot to open quite wide, making donning and removing the boot quite easy.
A retro-reflective 2" oval is located at the rear of the ankle, and it's very noticeable when light hits it, which improves night visibility. The bottom of the boot has a marking indicating they are made in Italy.
I found no other information indicating that the boots, or parts thereof, were made elsewhere.
Initially I found the boots provided a different feel than I was used to when walking, probably because of the stiffer sole. But I quickly became used to the feel and it isn't a problem.
I also noticed the boots felt stiffer when I was shifting my bike, but they are softening up with continued use. My foot feels like it is being kept firmly in place inside the boot without feeling constricted.
The armor at the ankles is rigid, but not uncomfortable.
I have not had the pleasure of exposing these boots to a good soaking yet to prove their waterproofing, but have read where others have set them in a tub of water overnight and found them to be perfectly dry the next morning.
Conclusion
I really like the Oxtar Matrix boots. They are well made, attractive and comfortable.
If you're looking for a full boot that has excellent foot, shin and ankle protection, is CE-approved, waterproof and breathable and comfortable enough to wear all day long, then the Oxtar Matrix Gore-Tex boot deserves close consideration.
That they are also also competitively priced is icing on the cake.
w

BW

 Review: Oxtar Matrix Boots
Manufacturer: No longer in production (2013)
List Price (2006): $209.95
Colors: Black.
Made In: Italy
Review Date: February 2006
Sizes: 40 to 48 Euro (7.5 to about size 14 U.S.)
Note:
 For informational use only. All material and photographs are Copyright © webWorld International, LLC since 2000. All rights reserved. See the webBikeWorld® 
Site Info page
. Product specifications, features and details may change or differ from our descriptions. Always check before purchasing. Read the
Terms and Conditions
!
Owner Comments and Feedback
---
From "M.R." (March 2013): "I had a pair of these and agree with the positive comments regarding comfort, however, if you ride a bike with the serrated metal foot pegs you will chew the soles right off of the boots.
After a couple of months of riding, much of it standing I realized the boot were becoming very uncomfortable as the soles were almost gone in the arch area.
Using these boot with rubber pegs or inserts or not standing would probably be fine."
---
From "S.S." (6/09):  "I just received a pair of TCX Matrix X5 Gore-Tex touring boots, which I believe have replaced the Oxtar Matrix boots.
I wear a size 45 or 46 Ecco street shoe, and the 45 TCX fits perfectly with medium weight Smartwool socks.
They have changed the design a bit from the Oxtar model, as the toe shifter pad appears to be a rubber like synthetic insert, and the scrolled name on top is not there.
Overall, the quality seems great, and they were somewhat stiff, but not uncomfortably so, right out of the box.
I have not tested their waterproof qualities yet, but will update when I do.
The profile of the toe and shift pad is a perfect fit for the controls on my 99 Triumph Legend, and they are very comfortable to walk in, even not yet fully broken in.
The sole seems to balance adequate stiffness for comfort on the pegs with enough flex for comfort when walking. The actual sole material has excellent purchase on the road surfaces I rode last night.
Overall, I am very pleased and feel much safer with these on my feet. Thanks for a great website!"
---
From "J":  "The Oxtar Matrix 2 boots, I've owned them for about 3-4 months now, I wear them daily, like everywhere I go!
Though I put a comfy in-sole for walking around. I just change shoes at work. I don't tuck em in though hehe.
Nice plain and simple design. It's great at keeping the water out, Singapore has some really nasty rain during the monsoon period.
I've had the pleasant experience of walking in 2 inch flooding and pleased to say I was nice, warm and dry.
I don't know for sure, but I feel not all Gore-Tex is the equal, I have a Gore-Tex jacket, well it wasn't made for motorcycling but I used to use it as a rain coat and in heavy rain, water leaks through the middle and sides, and they were new!
So the Gore-Tex used here is excellent.
But it's always hot and humid so I guess I feel warm sometimes, but that's not really an issue to me.
I appreciate the protection it offers but I feel the ankle armour on the outer part of the boot is placed a bit too far forward.
Maybe it's just my feet but protection should be in the right place no?  It has a nice wide cut , great for my flipper feet.
The leather is soft and easy to move about, it doesn't restrict my movement.
It it doesn't require any break in too, just buy and tour!  Overall great stuff, although next time I might try a mid cut boot for daily commuting."
---
From "M.D.S.":  "Just read your review on the boots and wanted to add my two cents.
I commute year-round from Philadelphia to Wilmington. It's about a 65 mile round trip, and happens in weather that ranges from dry to rain to snow.
The temperatures also span a broad range from 100+ to 10F.
I have managed to amass and test quite a bit of motorcycle gear in the three years that I have been doing this ride, but the Oxtar Matrix boots are so good that I have never even considered an alternative.
When I saw them on sale, I picked up another pair just as backups, even though my 3 year old version is still as good and waterproof as the day I bought them three years and 60000 miles ago.
I would highly recommend these for anyone who wants comfortable, durable, waterproof boots."
---
From "T.M.": "Hey Rick, I'm looking for some riding boots, but the problem is my 13-EEEEE feet. What's the deal with the metric sizing on motorcycle boots? One width fits all?
Editor's Response: Good question — As far as I know, men's Euro shoes come in narrow, medium, wide and extra-wide, corresponding to B, D, EE and EEE respectively.
For custom-fitted motorcycle boots, try Alt-Berg; they have several styles available. For more information, see our Alt-Berg "Hogg Lite" motorcycle boots review.