Overlap "Manx" Kevlar Jeans Review
The Overlap Manx jeans may have hit the perfect formula for motorcycle jeans that look good on the street.
They look as good as any street jeans and they're very soft and very comfortable.
The Manx jeans arrive fully broken-in, with that worn look that gives 'em lots of character.
The fit is perfect and the inclusion of the Kevlar lining and SAS-Tec armor are virtually unnoticeable on or off the bike.
This Overlap Manx jeans review is the second of a two-part series describing the new Overlap Denim brand motorcycle jeans. The Overlap Imatra jeans (review) were described in Part 1.
Overlap is a new brand developed by the Aixstream Group (France) who also own VQuattro. VQuattro makes an excellent but hard-to-find line of motorcycle gloves (here's a list of VQuattro motorcycle gloves reviewed on webBikeWorld).
All of the Aixstream products, including gloves, jeans, boots and other clothing is designed, tested and certified to as many applicable and appropriate CE standards as possible.
We described many of the protective features of the Level 2 Overlap Imatra jeans in Part 1 of this review, comparing some of the features to the Manx jeans described here, so this review will highlight the remaining features.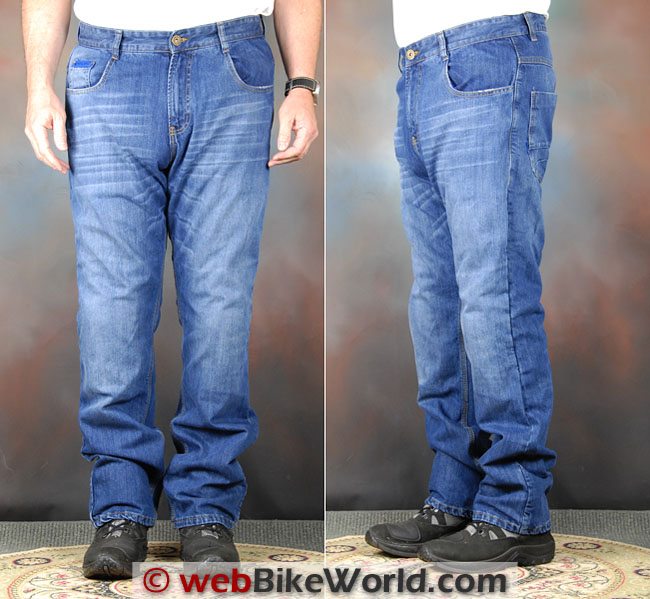 ---
Where to Buy Overlap Manx Kevlar Jeans
Check Reviews & Prices on Amazon
Also Shop for: Motorcycle Jackets, Motorcycle Gloves, Motorcycle Boots, Motorcycle Pants
---
Overlap Denim Kevlar Jeans
As we wrote in the Overlap Imatra jeans review, over the last 13+ years webBikeWorld has specialized in bringing you information on unique and hard-to-find motorcycle gear and Overlap jeans definitely fit that description.
Overlap Denim is a new brand and owned by the Aixstream Group, the same people that make the outstanding VQuattro motorcycle gloves reviewed on webBikeWorld.. Besides Overlap jeans, Aixstream is introducing a line of VQuattro motorcycle boots (which will be reviewed on webBikeWorld soon), along with Astone Helmets (ECE and DOT) and other products.
Currently, it's not easy to find any of the Aixstream family of products, even in Europe. But the search is worth the effort because all of the VQuattro and Overlap products we've reviewed so far have been outstanding.
The availability problem will be resolved in 2013 however, according to Aixstream. They are working on a new website that will allow customers around the world to purchase all of the excellent products. You'll read about it first on webBikeWorld as soon as it's ready, so stay tuned for that.
In the meantime, the Overlap jeans brand has recently started appearing in European retailers to wide acclaim.
Overlap Manx Jeans – Styling
The Manx jeans are available in either black or the "smalt" cobalt blue traditional jeans color shown here. The professional color-balanced lighting in our photo studio was turned up a notch, so the color may appear a bit brighter in our photos than in reality.
In fact, the Manx jeans in blue look just like you'd expect from a pair of classic jeans…and that's the magic in this pair. The Manx jeans have a "regular" fit as compared to the slightly "loose" fit of the Imatra jeans and they look, feel and wear like the most comfortably soft and broken-in street jeans you can own.
Overlap Manx Jeans CE Certifications
VQuattro has committed to testing their gloves, jeans, boots and other clothing to as many applicable and appropriate CE standards as possible and the Overlap Jeans are no exception.
Each pair of Overlap jeans has been tested by an approved certification lab (Critt Sport Loisirs, Z.A. in Châtellelerault, France) and comes with the official CE certification information.
The Manx jeans don't have the same level of protection as the Overlap Imatra jeans, but they are still considered Personal Protective Equipment (PPE) and they have been tested by a certified lab and are sold with the correct and legal CE certifications described in the owner's guide attached to the pants.
Like the Overlap Imatra jeans, the Manx jeans are divided into various zones of protection, as outlined in the owner's guide and illustrated in this photo: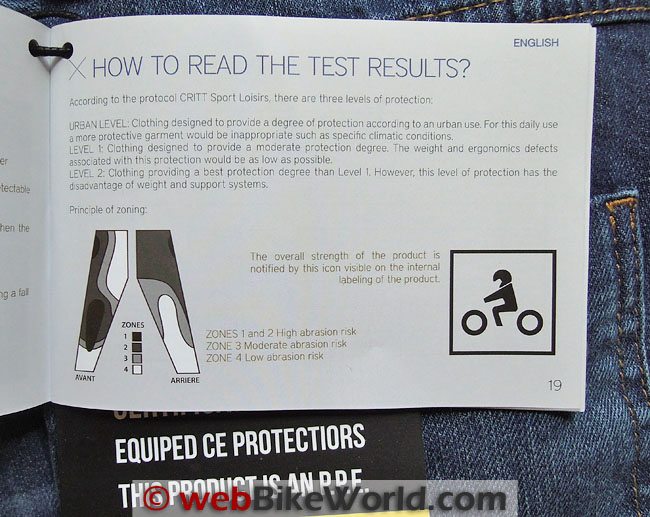 Note that the Manx jeans have a slightly different zone profile than the Imatra jeans. The Manx jeans have a variable range of protection, from "Urban" level (up to 50 kph impact) in zone 1 to Level 2 for the impact cut resistance in zone 1 and the abrasion resistance in zone 2.
The Imatra jeans are fully lined with Kevlar, from the waist right down to the leg cuffs, while the Manx jeans have the Kevlar lining to just below the knee in front and rear (see photos below).
The "Urban" level is "able to provide effective protection in road traffic accidents a speeds below 50 kph", according to the information provided with the jeans, while Level 1 does the same up to 130 kph and the Level 2 means that "The product must be able to successfully pass the requirements expected of a Level 1 product more than once after a fall."
The EC and other standards tested and certified for the Manx jeans include:
EN 13595-2 ABRASION RESISTANCE – Defines the minimum friction resistance during impact.
EN ISO 4674-B TEAR STRENGTH – Defines the minimum force the product must resist for tensile strength during impact.
NF EN 13594-C SEAM TENSILE STRENGTH – Defines the minimum force that the seams must withstand during impact.
NF EN 13595-4 IMPACT CUT RESISTANCE – Defines the product's resistance to cuts.
ISO 11642:1993 COLOUR FASTNESS – Color will not bleed on contact with water.
PR EN 14362-1 AZO COLOURANTS – Product contains no carcinogens in detectable amounts.
VQuattro said that besides the familiar (to webBikeWorld readers) Level 1 and Level 2, there is one other PPE certification level for the Overlap jeans, called the Urban Level. The jeans are divided into 4 different zones, depending upon the amount of protection required, from low to high risk of abrasion.
Here is a photo of the table that describes the various EC level certifications for the different protection zones in the Manx jeans: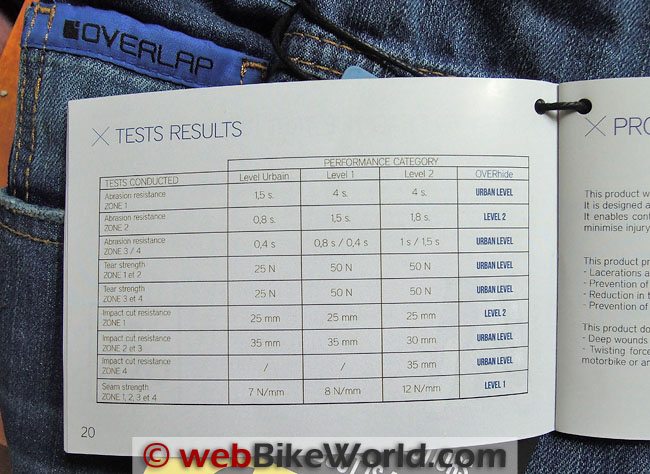 ---
Where to Buy Overlap Manx Kevlar Jeans
Check Reviews & Prices on Amazon
Also Shop for: Motorcycle Jackets, Motorcycle Gloves, Motorcycle Boots, Motorcycle Pants
---
Overlap Jeans "Overskin" and "Overhide"
The protective qualities in the Overlap Imatra Jeans with the full-length Kevlar lining and meeting the various CE standards is called "Overskin" by VQuattro. The Overskin consists of 11.5 oz. denim on the outside, bonded to the Kevlar on the inside, but with a water-resistant barrier sandwiched in the middle.
The Overlap Manx jeans descrbied in this review have the "Overhide" technology, which is designed for summer or hot weather riding. This means a slight reduction in the amount of Kevlar liner used and a softer, very street-like denim jeans outer shell.
Also, the Manx jeans do not have the water-resistant barrier between the outer denim layer and the inner Kevlar. This allows more air to flow through the jeans, and we definitely noticed the difference in summer riding.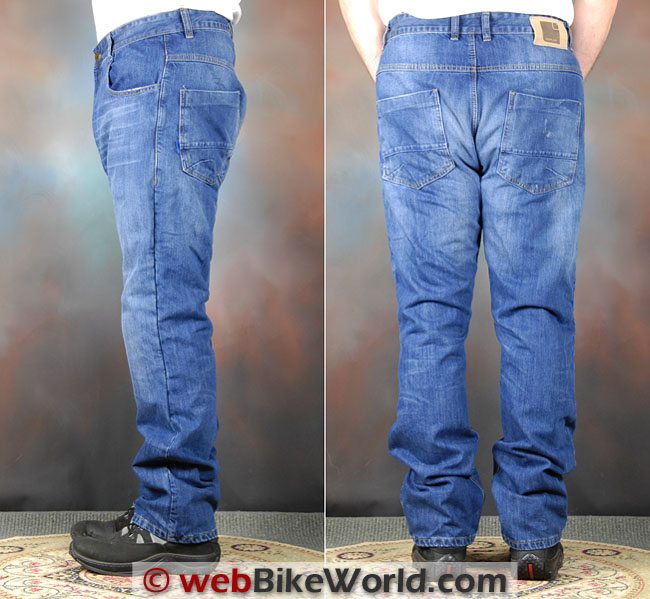 Overlap Manx Kevlar Jeans Details
The Overlap Manx jeans feel very soft and are lighter in weight than the Overlap Imatra jeans. The Manx jeans feel just like a pair of favorite street jeans and indeed, they're more comfortable than basic Levi's or Diamond Gusset jeans (review).
The Imatra jeans have a different type of outer shell; first of all, it's not the "worn" or "broken-in" look of the Manx jeans, but a newer-looking black fabric that needs a few rides, a roll in the dirt and a few washings to give it that "used" look.
The Imatra jeans also feel thicker, possibly due to the textile used for the outer shell, which also has a slight waxy feel on the Imatra jeans only. The Imatra jeans also include a water-resistant barrier bonded between the outer denim shell and the inner Kevlar and cotton lining.
The Manx jeans are also standard five-pocket jeans, with two front slash pockets; two rear patch pockets and the change pocket living kangaroo-style in the right-hand front. The Manx jeans have the standard gold-colored stitching that is common on denim jeans and first popularized by Levi Strauss.
There are five belt loops and an aged brass button front, just like the Imatra jeans. A belt does the work of holding the pants on for regular use and in case of a crash. We left the belt off in the photos so you can see the waist.
Overlap Manx Jeans Kevlar Lining
The Kevlar lining in the Manx jeans covers the upper part of the legs, down to just below the knees. The Kevlar is covered in the blue cotton liner seen in the photos above, which adds softness and comfort.
The jeans have pockets at the knees and hips for the CE-approved Level 1 SAS-Tec armor. It fits very nicely in the Manx jeans and is virtually unnoticeable on or off the bike.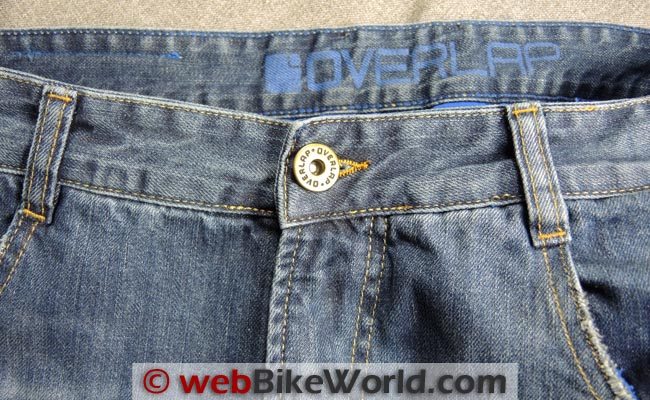 ---
Where to Buy Overlap Manx Kevlar Jeans
Check Reviews & Prices on Amazon
Also Shop for: Motorcycle Jackets, Motorcycle Gloves, Motorcycle Boots, Motorcycle Pants
---
Fit, Sizing and Comfort
The Manx jeans are available in waist sizes from 28 to 40 (U.S.). We have two pairs of Manx jeans, one with a size 36 waist and one with a size 38 waist. The size 38 fits more like a 36/37 and the size 36 fits like a 35, so there is apparently some shrinkage in these at the factory and borderline waist sizes may want to order one size up.
The inseam for the 36 and 38 waist measures 32.5″ on ours, which is proportional and leaves enough to account for the seated motorcycle riding position.
Also, the Overlap jeans come with a narrow strip of elastic at the cuff which can be stretched under the shoe or boot to help keep the pant leg secured. It can also be tucked up inside the cuff when not in use.
Conclusion
The Overlap Manx jeans are the most comfortable dedicated motorcycle jeans we have reviewed. The inclusion of the Kevlar and SAS-Tec protectors and the testing and certification to CE standards give us more confidence in these jeans than any others also.
Also, the "flow-through" ventilation when wearing the Manx jeans when riding is a definite plus in the hot summer weather
The Overlap Manx and Imatra jeans have changed our outlook on appropriate riding apparel. It's just so much nicer to be able to get off the bike and walk into a store or restaurant wearing what for all practical purposes looks like stylish street clothes, while the CE certifications give us more confidence wearing these jeans than we get with many other types of motorcycle riding pants.
Next:Overlap Imatra Jeans Review
More wBWMotorcycle Jeans Reviews  |  Motorcycle Clothing Reviews
w

BW

 Review: Overlap Manx Motorcycle Jeans
List Price: €169 (Inc 19% VAT)
Note:
 For informational use only. All material and photographs are Copyright © webWorld International, LLC since 2000. All rights reserved. See the webBikeWorld® 
Site Info page
. Product specifications, features and details may change or differ from our descriptions. Always check before purchasing. Read the
Terms and Conditions
!
---
Where to Buy Overlap Manx Kevlar Jeans
Check Reviews & Prices on Amazon
Also Shop for: Motorcycle Jackets, Motorcycle Gloves, Motorcycle Boots, Motorcycle Pants
---
Owner Comments and Feedback
---
From "J.W." (August 2013): "Fit is pretty much true to size. I have a 34 waist and that is what I ordered.
Jeans are hot in 90 degree + riding but not as hot as Aerostitch. They are, or at least appear to be water proof or at least water resistant. I got drenched in a big but brief downpour and they were effective. The outer layer soaks up water so in an all day rain I imagine they would get pretty heavy.
Also drying instructions are outside in the shade so if you are on a trip you will have to throw them in the dryer and hope for the best. Overall I like them and not having to put on rain pants is a big deal."
---
From "K.M." (June 2013): "Thank you for your review of Overlap jeans. It was, as always on wBW, very informative and unbiased. These seem to bet the most protective jeans I've read a review on.
However… I'm a bit confused. We are all aware that plain jeans offer zero protection during an accident. Yet people wear them because they want the casual look or feel of plain jeans when they get off the bike at their destination (or when riding). Somehow "riding jeans" have morphed into a mess of "less protective than true riding pants and more uncomfortable than plain jeans".
In my honest opinion… they are a fail in that regard. Jeans with bonded Kevlar, heavy denim, waterproof barriers, etc, may be the ultimate riding jeans… but they still fall short of proper riding leathers (or even a good pair of textile overpants) and will no doubt be hotter and more uncomfortable than regular plain jeans. I guess I'm feeling that people have gotten too caught up in this "gotta have Kevlar jeans" thing and have made a compromise for the worse.
You can wear vented textile overpants over your plain jeans and take them off when you arrive (both protection and comfort. Best of both worlds). You can also wear proper leather riding pants (best protection riding, period). … or now you can get fancy Kevlar jeans which are both not as comfortable off the bike, nor have the same level of protection as the prior two on the bike. Hmm.
My guess is people are obsessing about "looks" when they ride. And obsessing about how to look/dress like they're not riding when they are. It's sad. Why can't people simply accept that riding is a dangerous sport which requires proper gear (and that the gear will look like gear) and be proud to wear it?
For many Countries, riding gear is normal and quite commonly seen everywhere on people. Yet here in the States.. we seem to be stuck on this "Harley uniform" attitude of looking like we're hanging out.
I'm not knocking Kevlar jeans, though. I'd rather someone wore them instead of plain jeans, but honestly they excel at neither comfort or protection so I fail to see the point (other than image obsessed riders) compare to two other common options.
Rick's Reply: Here's the issue: just because pants are leather or textile motorcycle pants doesn't mean they're better than a good pair of Kevlar jeans.
In fact, I'd rather wear the Overlap jeans, which have been tested and certified to meet Level 1 and 2 CE standards, than a pair of leather or textile pants that were not — and most of them aren't. That is the main benefit.
But, you get the added benefits of not looking weird when you get off the bike and walk into the store, restaurant, etc. And better ventilation in summer. Plus, the jeans are much more comfortable than leather and textile.
Yes, style has a lot to do with it and I don't see anything wrong with that. If I know I'm headed to a store or to meet someone in a diner, restaurant, etc., there's no way I'm wearing leathers or boy-racer textile gear, so I end up taking the car instead. With the Kevlar jeans, I can feel comfortable on or off the bike.
Kevlar jeans have come a long way, which I noted in the article, to a point where I'd rather wear them than some/most other types of motorcycle pants.
---
From "S.G." (June 2013): "First at all, congratulations for your good work on reviewing and testing so many products for us, the readers. I am actually writing you from Madrid, Spain, and you might be surprised about how many people actually reads you guys from here. Thanks to you, I have bought already a few things, which really are up to my expectations.
Anyway, i have just read your reviews on the Overlap jeans, both the Manx and the Imatra, and wanted to know about how do they compare to the Dainese D1, also reviewed by you. At the same time, how are they on hot weather. I am really concerned that after riding with them in Spanish summer, my skin might get itchy by rubbing against the Kevlar "fabric". Once again, thanks, and have a nice route!"
Rick's Reply: Yes, as noted in the review, the Manx jeans are very good in hot weather, they have pretty good air flow, considering the Kevlar lining and the knee and hip protectors. The weather here has been around 30 C temperature and the Manx jeans work fine for that.
The Imatra jeans have the water-resistant barrier, so not quite as good for air flow, but there is more protection in these.
For air flow, the Dainese D1 jeans are about the same as the Manx, but the fabric in the Dainese seems somewhat more dense, so not quite as much air flow. I think the Overlap Manx jeans are the most comfortable, I don't notice the Kevlar at all, they feel soft inside.
Other WebBikeWorld Motorcycle Pants Reviews
wBW Motorcycle Pants Info