Guard Motorcycle Gloves Review Summary
We must get at least a dozen emails each week from factories in Pakistan, India and other points around the globe with interesting offers of motorcycle gloves, jackets and other apparel. Since we don't sell any products through webBikeWorld, the offers end up in the email trash bin, but not without some regret.
I'm continually amazed at the motivation and moxie of these global capitalists, and I've also realized that without them, our motorcycle life would be less rich. We've said it before on these pages, but the global economy is so competitive and product information is so readily available that it would be impossible for any of these businesses to survive without producing relatively high quality goods.
Some of our younger visitors may not realize that there was a time when "Made in Japan" was a generically derisive term used to describe any poorly made article. Until recently, the same could be said about products made in Pakistan, India or China. Only a few years ago, most of the high quality motorcycle clothing we aspire to as motorcyclists originated in Europe. But I'm sure you've noticed that it's very hard to find any motorcycle clothing that isn't made in China, or gloves from Pakistan.
Most of the emails we get are from contract manufacturers who are skilled at quickly designing and manufacturing a variety of motorcycle gloves to exact specifications. Their skill at contract manufacturing is exploited by many of the off-brand names found in motorcycle clothing retail shops. Add your logo to an existing line of products and you're in business.
It's not always easy to tell where the designs originate, and to a certain extent, it doesn't matter. Price seems to be the most important discriminator for the majority of motorcyclists, and if the product looks cool, has decent quality and the price is right, it will probably sell.
That is, as long as it can be found by the prospective consumer. Motorcycle apparel is distributed through a very complex network, and it's not easy to break in with a new brand and product.
OSI CoolGuard Gloves
This is apparently the case for OSI — it took lots of digging around on the Internet to find their website, and it's not much easier to find their products.
If I had to guess, I'd say from my research that OSI is a company set up to import and distribute a small range of relatively inexpensive motorcycle clothing sold under their label.
I've seen references to them here and there in print and online, but it was only recently that I found these CoolGuard gloves whilst perusing the racks at a local motorcycle shop.
We've had blisteringly hot weather pretty much all summer here in the Mid-Atlantic region of the U.S.A., and I was looking for the coolest gloves I could find that still might offer decent protection.
We've previously reviewed the Rev'it! Hurricane mesh gloves (review) and the Tourmaster Summer Mesh gloves (review) for hot weather use, but I'm always on the lookout for something new and different.
The OSI gloves were attractive and they fit very comfortably, so I figured I'd give them a try to see if they'd make a difference in our steamy tropical-like weather.
The OSI CoolGuard gloves have a fabric mesh backing, and the pamphlet that came with the product states that they're made from a "double weave" of DuPont Cordura and Dynafil TS-70.
This is, as far as I know, the Schoeller Keprotec fabric with Kevlar, sometimes found in higher-end motorcycle gloves, jackets or pants.
The pamphlet does mention the Schoeller name, and this is good stuff, which at least gives one confidence that the gloves might offer some protection against abrasion.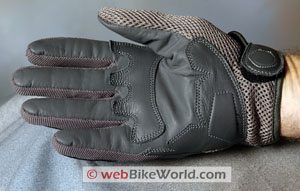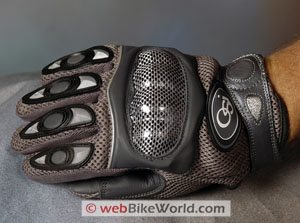 Lining and Fabric
The gloves are unlined, but the fabrics and stitching don't irritate, and the fabric is very comfortable and flexible. The mesh flows huge amounts of air on the back of the hand, so the gloves meet their primary objective when the weather turns extremely hot and humid.
The CoolGuard gloves are designed with a short cuff, which has become popular in some street and Supermoto styled gloves. A short cuff can help keep the rider slightly cooler, at the expense of safety.
This style of cuff will fit nicely under a wide motorcycle jacket sleeve, but it can bunch up against the tighter sleeve of a racing-style jacket, like the Joe Rocket Blaster perforated jacket we reviewed recently.
So it's important to consider which type of jacket you'll be wearing with these gloves, because the bunching problem may become very annoying.
Protection?
Apparently, it's hard to make a mesh hot weather motorcycle glove that also provides high levels of protection. Either that or the market won't support the costs associated with double stitching and upper and lower wrist closures.
The seams on the CoolGuard gloves don't look any stronger than a pair of lightweight dress gloves for the street, so it's unclear how they would hold up during a serious get-off.
The palms do have a couple of extra leather sections that are double-stitched, and the back of the gloves have a nicely shaped carbon fiber knuckle protector.
The backs of the fingers are covered with a very flexible rubber-like padding that is probably meant to offer some protection, and are primarily responsible for the range of flexibility in these gloves.
Any motorcycle gloves are probably better than nothing, but unless the gloves stay on the rider's hand during a fall, they're worthless. Here's the test: put on the glove and secure it to your hand using whatever fasteners are provided.
If you can pull the glove off with your other hand while the fasteners are closed, the glove has a much higher chance of coming off during a fall and should probably be avoided.
The CoolGuard gloves pass the test, if only because the single wrist closure holds the glove tight under the widest part of the palm. But I don't have a lot of confidence that the "hook and loop" fastener will stay closed, especially if I hit the ground palms down.
Conclusion
One of my primary criteria for motorcycle gloves is that they are comfortable. If a glove isn't comfortable, the rider is less likely to wear it, and the best gloves in the world are worthless if they're sitting in the drawer instead of on the rider's hands. The OSI CoolGuard gloves are comfortable and very flexible, with an elastic-like feeling that works well for hot weather use. They're among the coolest I've tried for use during the types of extremely hot riding weather we've experienced this summer.
The amount of protection they'd really offer in a crash is questionable, but my feeling is that the OSI gloves work well for limited use when ultimate air flow is of paramount importance.
w

BW

 Review: OSI CoolGuard Gloves
List Price (2005): $39.99
Made In: Pakistan
Colors: Black, Blue, Red, Silver, Titanium
Sizes: N/A
Review Date: August 2005
Note:
 For informational use only. All material and photographs are Copyright © webWorld International, LLC since 2000. All rights reserved. See the webBikeWorld® 
Site Info page
. Product specifications, features and details may change or differ from our descriptions. Always check before purchasing. Read the
Terms and Conditions
!
Owner  Comments and Feedback