Motorcycle Luggage Image Gallery
Very robust chain and lock with hardened steel and other features designed to protect against cutting.
Chain includes fabric chafe guard. Relatively inexpensive.
This "Beast" model 110cm long chain and lock weights 4.4kg (9.5lbs.) and if looks alone are anything, would-be thieves will be discouraged!
Motorcycle theft doesn't seem to be as much of a problem in the U.S. as it does in other countries for some reason. But it happens often enough to be a real concern.
Anyone who has experienced a theft of almost any type can relate to the brutally hollow feeling that comes from being victimized.
This feeling seems to be directly proportional to the value of the stolen items, and can be devastating when something like your beloved motorcycle disappears forever into the hands of some destructive creep.
I'm always amazed when I pass by a house or apartment and see a motorcycle parked outside, usually uncovered and almost always lacking any theft deterring gadgets at all.
I suppose that motorcycle theft, like other crime, is something that happens to the "other guy".
Most experts on the subject agree that there are several steps that can be taken to greatly decrease the potential for motorcycle theft.
Almost everyone's #1 suggestion is to secure the bike with a quality chain or cable and lock.
Even better is if the bike can be secured to some type of permanent structure or in-ground anchor. Unfortunately, this isn't always practical, especially when traveling or commuting.
There are many different types of locks, disk brake locks, chains, cables and other devices to help prevent theft, but many owners rely on the classic chain and padlock as a first line of defense.
OnGuard Locks
OnGuard Locks is a relatively new player in this market, but they seem to have done their homework and they offer a large variety of locking devices focused on the motorcycle owner.
OnGuard rates their security devices on a sliding scale from 3 (provides basic security) to 5+ stars (provides "ultimate security"). They sent us the "5+" star rated "Beast" lock and chain from their  line of Powersport Security products for this review.
The Beast is offered in two different chain lengths, the 110cm (4ft.) length shown here and a 160cm (5ft. 5in.) version.
OnGuard's chains and locks are available separately, and the Beast can be purchased with either OnGuard's "M-Cylinder" anti-drill and pick-proof lock or with their "dual lock down" padlock shown in these photos.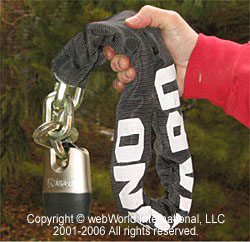 The Chain
OnGuard's HexLink chains are made from specially designed hexagonally shaped links, manufactured from some type of hardened steel.
OnGuard says that their chains are made with a link shape designed to thwart cutting by would-be thieves.
I'm not sure if weight correlates with theft resistance, but if so, this chain must be about as strong as you can get whilst still being somewhat practical.
The 110cm Beast chain weighs a hefty 3.2kg (~8 lbs.), and is covered in a tube of some type of rough nylon fabric.
We tried cutting the chain using a standard hand-held hacksaw, but we couldn't get the hacksaw to "bite" into the steel at all.
I'm not sure how well it would resist a cutting torch or bolt cutters, but it seems like pretty tough stuff to us.
Our version of the Beast has OnGuard's "dual lock down" deadbolt padlock, an imposing-looking device that weighs 753g (1lb., 10-1/2oz.).
While this combination might be overkill for traveling or commuting (unless your bike has side bags or some type of heavy-duty storage capability), it's a good choice for home security.
Of course, a determined thief with enough time and motivation will be able to break through just about any deterrent device, but most thieves like a quick "hit and run" job, and will bypass a motorcycle that has an obvious security device attached.
The Beast chain and lock is so serious-looking that it should quickly persuade most thieves to move on to their next victim.
The Padlock
All OnGuard locks have a plastic, vinyl or rubber coating on many of the parts or corners that could rub against the bike. The locks also have various types of plastic covers to help protect against water intrusion.
Our padlock has a sliding cover on the bottom that is designed to protect the keyhole from water, but the trick is to remember to slide it closed after the lock is secured.
The plastic button for the slide protrudes from the lock, and seems to be fairly prone to wear as the lock is bounced around.
Many of the OnGuard locks, including the Beast "dual lock down" model shown here, have been tested and approved to various European standards.
Also, all OnGuard locks come with 5 keys, including one "Torch Key" that has a built-in LED light for use at night, which is a very nice extra.
OnGuard's website has information on the dozens of different types of security devices they manufacture.
Some of the photos show the chain and lock combinations going through a motorcycle wheel and laying on the ground.
It's my understanding that this is not a good way to lock up your bike, because it offers some leverage to thieves, who may be then be able to pound or pry the lock using the ground as a backstop.
See Sean Lewkiw's excellent web page on preventing motorcycle theft for more tips; Sean was an unfortunate victim of motorcycle theft and has some good information on preventing your bike from being stolen.
The Beast: Padlock and Chain Combo
We took a couple of photos illustrating the use of the Beast lock and chain.
The photo on the left illustrates a commonly used but improper way to lock your bike. In addition to the problems noted above, the chain, lock and cover can get filthy and/or wet after laying on the ground, not something you'll want to deal with if dressed for work.
The Beast's cover offers a bit of protection from scratching the bike's paint, but if I were going to use this method often, I'd probably add some 3M Scotchcal protection over any painted surfaces where the chain might chafe.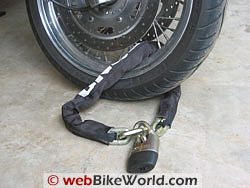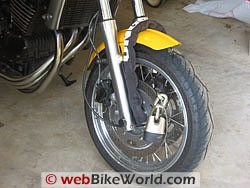 (L) Incorrect method of a chain and lock combination to secure a motorcycle. (R) A better method: loop the chain in an area that prevents the thief from gaining any purchase by using the ground to destroy the chain. Looping the chain through the bike's frame and one wheel is even more secure.
Conclusion
If you're serious about motorcycle security, there are various levels of protection to consider.
One of the first is owning and using a hefty chain and lock to secure your bike. Securing your motorcycle should become a habit, because there's some universal law that says that the first time you forget to do it will also be precisely the time when the bike is stolen.
The OnGuard Beast chain and lock offers a lot of protection and features for the price, and would be a good choice for securing your bike to a permanent anchor in your garage or shed.
It also has the potential of discouraging potential thieves if used on travel or when your bike is parked for the day at, for example, the train station.
The price is very reasonable, especially considering the potential cost of not using it.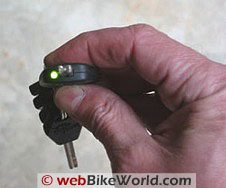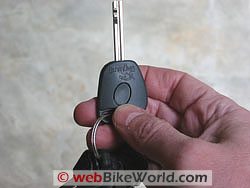 (L) Every OnGuard lock comes with 5 keys, including one key with an LED light for nighttime use. (R) Button used to activate LED key light.
w

BW

 Review:  OnGuard Motorcycle Lock and Chain
Manufacturer: OnGuard Locks
List Price (2004): $83.95 for the set.
Colors: Steel
Made In: China
Review Date: December 2004
Notes: Lifetime warranty and 3 year anti-theft protection offer of up to $4,000.00 (depending upon model) if the product fails during theft.
Note:
 For informational use only. All material and photographs are Copyright © webWorld International, LLC since 2000. All rights reserved. See the webBikeWorld® 
Site Info page
. Product specifications, features and details may change or differ from our descriptions. Always check before purchasing. Read the
Terms and Conditions
!
Owner Comments and Feedback
---
From "M.R." (10/08):  "IMO, it's better to use a disc lock (eg. Xena) instead of securing a bike with a huge chain and lock in such a manner as showed in the pictures.
Both methods are not effective in situations when the bike is just loaded into some truck or van and gone with your chains and locks.
Resume: if you are going to use a chain (I have OnGuard beast myself), use some immovable object (a tree, electricity pole, ground anchor etc) to secure the bike to.
In other cases just go for a compact disc lock (eg. Xena, using it myself). It's much more compact and will have the same securing effect as the super heavy chain which is attached to the bike only (plus the chain has no alarm)."
---
From "F.M.":  "I noted that you tested an OnGuard Beast series chain and lock, which you refer to as "huge."  Well, for a couple of years now, I've been using its big brother — the model 5016.
Whereas the chain you tested had a 12mm cross-section, the Beast 5016 has a 14mm cross-section (it, too, uses hexagonal steel for the links). The lock shackle is an even stouter 16.8mm (vs. 11mm for the one you tested).
It's the lock to use at home to secure your bike to something solid — because it's too heavy to lug around with you. But when you want to feel secure while you're bike is at home and you're away from it, I don't think that there is a better lock on the market."