One Man's Island

DVD by 
Hoffworks Productions
Directed by Peter Riddihough
100 minutes, color, stereo, standard aspect ratio
All regions compatible
Just how serious a motorcyclist are you?  How committed are you to the sport…or to your passions?
Maybe you've spent thousands on a dedicated track day bike.  Perhaps you're a world adventure tourer.  Or maybe you ride to work 260 days per year?
There's commitment, and then there's commitment.  Would you really give up your job, sell everything you owned, say goodbye to your family and friends and devote a year of your life to a single, focused, dangerous and highly personal cause in a foreign land?
Mark Gardiner did just that.  Somehow, somewhere, a spark started a flame which turned into an inferno of passion that could only be quenched by one thing: riding the Isle of Man TT.
We've all fantasized about pulling a Walter Mitty.  Watching Valentino Rossi scythe his way through the MotoGP field, or feeling the scream of Juan Pablo Montoya's BMW FW25, we may momentarily picture ourselves in the pilot's seat.  But if you turned to your mate with the news that you've decided to chuck it all to live out the fantasy — well, let's face it, most people would call you nuts.
One Man's Island is the story of just that kind of overwhelming passion.  It was shot on location on the Isle of Man by Peter Riddihough, who directed, filmed and edited the entire production with no film crew.  The result is an immediacy and a unique and highly personal feel which works to capture the raw essence of Mark Gardiner's obsession.
Mark Gardiner is probably the perfect guy to tell this story; not cut from the mold of the young and wild motorcycle racer, he's thoughtful, quiet and introverted.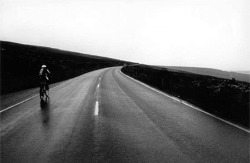 But this is what makes it a great narrative, because he can so completely intellectualize the experience and relay it to us in a stream-of-consciousness dialog.
The videography in this documentary is wonderful.  It follows Mark from his early winter arrival in the Isle of Man as he follows his meticulous plan for conquering the Mountain.
All of his thoughts, frustrations and successes are open for all to see as he plans his attack, from the daily 30-mile bicycle rides around the course to his carefully drawn entry and exit plans for each of the hundreds of corners.
One Man's Island hits you on at least three different levels.  You'll learn more about the TT — the most famous and unique motorcycle event in history.  You'll experience first-hand what it takes to make it happen.  And it will force you to place your own motivation, drive and commitment in the mirror.
Extracts from The One Man's Island story were published in the February and April 2003 issues of Motorcyclist Magazine to a very enthusiastic response.  Mark Gardiner is also writing a book about his experiences, and if it's anything like the articles and the film, it should be a winner.
The DVD film version by Peter Riddihough documents a quiet perseverance and Zen-like dedication that few of us have experienced.  The message can be appreciated by anyone interested in the motivations of the human spirit, whether they share a passion for motorcycles or not.
Here's another review of One Man's Island with a different opinion.
wBW Rating:




The wBW "Flaming Helmet" Book Review Rating System  |  Book Reviews Home 
Other WebBikeWorld
Articles 

Posts