Olympia AST Jacket Review Summary
Olympia AST Jacket Image Gallery
Do you find yourself browsing through the racks of gear at bike shops to check out the latest riding apparel? Maybe you're like me, with a collection of riding jackets filling the closets throughout the house. Each one is designed to cope with a narrow range of weather conditions, but I never seem to find one that offers true all-season comfort.
When I got back into to riding several years ago I was led around the dealership like a lamb, picking out gear as advised by the salesman. It was all leather, and it was all expensive, of course. The hot weather that was prevalent at that time meant that a perforated jacket was the only reasonable choice.
That was fine until that first cool morning when I found out just how much air blows through those tiny holes. So it was back to the store, this time to purchase yet another jacket, again in leather (isn't that you're supposed to wear when you're on a motorcycle?) to block out the cold air. But even that jacket was only good to a point, hence another purchase, this time of some heated gear which came with its own outer shell. You know the drill — I'm sure I'm not alone in this seasonal costly clothing cycle.
Besides my commuting to work and riding year 'round, my wife and I travel quite a bit on the bike, so I've been keeping my eyes out for a jacket that is versatile enough to handle hot, cool and cold weather while also remaining waterproof to eliminate the need for an additional rain jacket.
Stopping the bike to slip on an outer rain jacket (or even worse, to insert a waterproof liner) which then turns into a portable sauna if the temps are even remotely warm is a nuisance. Let's see: I put on the rain jacket to stay dry, but I'm dripping wet on the inside because of sweat? It doesn't make sense! My dream is to be able to zip-up and keep on rolling. I know this is a tall order but there's one more thing — did I mention I didn't want to have to take out a loan to buy it either?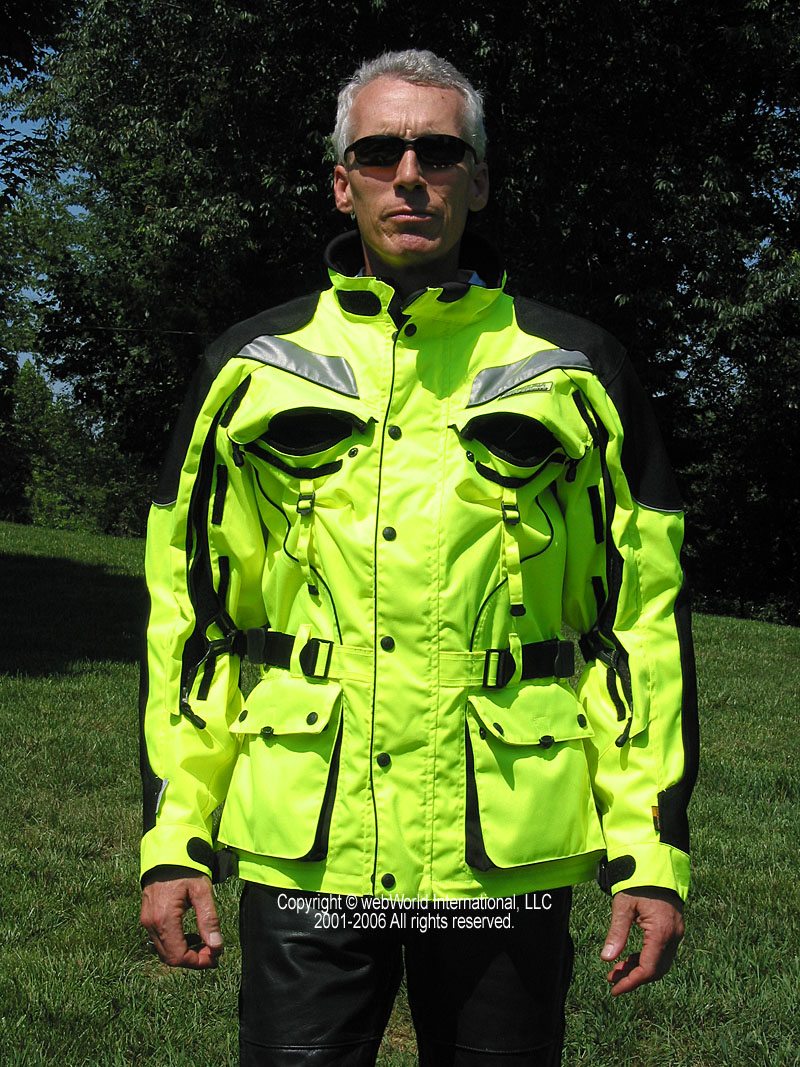 The Olympia AST Jacket
I had all this in the back of my mind as I wandered around the local BMW shop a few weeks ago and came across a jacket by Olympia Motor Sports that really caught my attention — their AST, or "All Seasons Touring" jacket.
Olympia Motorsports has been making some waves with their "Technical Motorcycle Apparel" and unique designs that have been rapidly evolving over the past few years.
We reviewed one of their Vortech perforated leather jacket some time ago and were quite impressed. We then followed it up with a review of their Recon Transformer riding suit, which is a good example of the out-of-the-box thinking that characterizes the Olympia brand.
The Olympia AST jacket is part of their new "System Touring Collection", which is, according to Olympia, their "do it all" riding gear, which was "designed to deliver the ultimate in all weather, multi season riding comfort". Sounds perfect!
On close inspection I found that the AST jacket has what appears to be adequate ventilation for hot weather, a zip-out insulated liner for cool or colder weather, which can also be worn separately, waterproof zippers and a waterproof and breathable liner.
The AST jacket also has CE-approved armor in the shoulders, elbows and back. All this at a reasonable price, too!  Could this be the jacket I've been waiting for?
Fit and Sizing
I'm a hard one to fit at 6′ 3″ and only 165 lbs., but the Olympia AST in size large fits me nicely and the sleeves are even long enough!  Usually, jackets that fit my torso have sleeves that leave about 1-2″ exposed at the wrists.
The AST's outer shell is made from 500 and 1500 denier DuPont Cordura and incorporates a double storm flap front closure to ensure no water intrudes. It also has a waterproof and breathable inner membrane via a fabric by Bantex, which increases its waterproofing capabilities. The jacket also has a cool mesh airflow lining for riding without the liner.
3M's Scotchlite reflective patches are sewn into the back, neck and each side of the chest with more Scotchlite piping around the shoulders. The jacket also includes a zipper in the back for attaching to a pair of riding pants.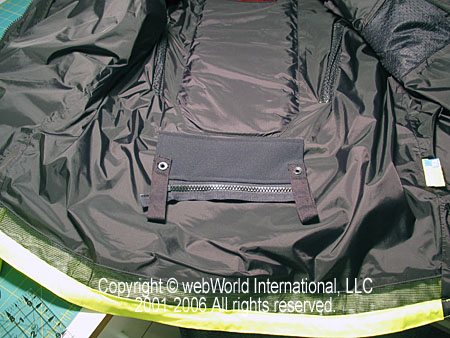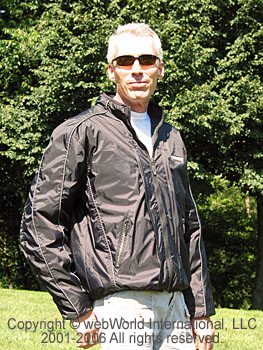 Vents and Liner
The zip-out Thermolite insulated jacket liner, which looks nice when worn alone, is included with the jacket and comes with two zippered storage pockets and an interior cell phone pocket of its own.
The jacket is available in either a grey/black or a neon yellow/black color combination. I chose the neon yellow because it would also be seeing duty as a rain jacket and I wanted that extra visibility. No problems finding it in the closet either!
Ventilation is a big factor for me. I ride a BMW K1200LT, a full-fairing bike, which provides very little airflow over the rider. Whereas this is a big plus in cold weather, it makes for one hot ride when the temperature rises.
The vents on the AST jacket consist of zippered openings running the inside length of each arm and vents across each side of the chest, which can be pulled further open by some handy pull straps. There is also a rear vent on each side of the torso. Each vent is closed with a waterproof zipper and a storm flap held with "hook-and-loop" fasteners.
The zippers are really neat because they have a rubber flap on each side which comes together as the zipper is closed, thus sealing it to keep out the water.
The day I purchased this jacket the temperature was in the mid-80's and it steadily increased through the week into the mid-90's and high humidity. The venting worked fine as long as I was moving, but it was hot. When I stood up to catch some airflow I noticed the jacket flowed the air through it rather well.
Had I been on a bike with little or no fairing I think the jacket would perform well and would be as comfortable as could be expected considering the weather conditions. In the mornings when it was cooler it was just a matter of pulling a zipper or two to get just the right amount of venting. This is easily done with a gloved hand while moving.
A nice touch is the rubber coated snap heads. This makes them very easy to locate and operate with a gloved or wet hand. The sleeve cuffs are also adjustable via hook-and-loop fasteners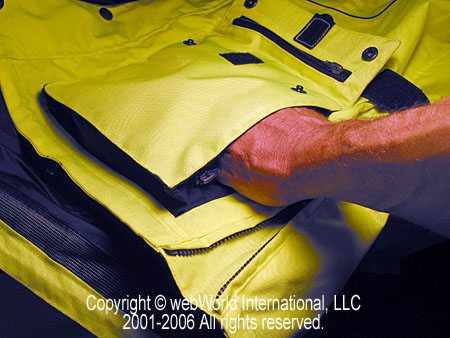 Pockets
Olympia's website states that the AST jacket has "five waterproof exterior pockets". Since the jacket did not include literature to explain which pockets were or were not waterproof, I assume these would consist of the two "top load" waterproof pleated cargo pockets on each lower front side that are covered with a storm flap.
I found the zippered pocket openings to be a little on the small side. It's difficult to get my XL hands with insulated gloves into those openings. A large pouch pocket resides on the back lower panel which is common on most "Touring" type jackets. The last of the five pockets must be the two up on the chest which double as vents. But if the chest vents are open, can these really be called pockets?
Inside the AST jacket is a waterproof pocket that's accessible under the front closure flap, but outside of the zipper. This is perfect for carrying a cell phone.
Each of the cargo pockets up front have a zippered "side load" pocket residing behind it. I wasn't sure if these pockets are waterproof but Olympia says that all of the exterior pockets are waterproof with the exception of the zippered side entry hand warmer pockets.
If you lift up the flap on the lower pockets, each pocket has a free floating water-proof bag inside the zipper. This is also true for the back storage pocket. Olympia will add small woven labels to point this out in the next production run.
In addition to the draw straps that aid in keeping the chest vents pulled open there are straps at the elbows that serve to hold the arm vents open while keeping the CE-approved armor in place at the elbows. Short zippers at the hips help to relieve tension at the bottom of the jacket, which also has a draw cord at the hem.
I found the collar on the AST to be my only disappointment and unfortunately it's a major one for me.
The collar's edge is covered in neoprene and is quite soft to the touch, but no matter how I try to fasten the collar I am unable to draw it fully against my neck. I always have a full inch of gap all of the way around the neck opening.
Editor's Note on AST Sizing
I would like to address the issue of collar fit on the AST jacket as described and illustrated in this review.
We have reviewed several Olympia Motosports motorcycle garments over the years, including the Olympia Vortec jacket; the Olympia Recon Transformer jacket and pants outfit and the Phantom one-piece suit and have found them all to be excellent, high quality products, including the AST jacket described in this review.
You will note that the author of the AST jacket article you are reading is very pleased with the jacket and the way it fits; so pleased, in fact, that he bought another one for his wife. However, he is 6'3″ tall and weighs 165 pounds, and the neck on the recommended size large AST jacket fits him as is illustrated in the photo below.
There's nothing we can do about this: it is the way it is for this particular rider with his particular size and shape, and the photo illustrates the fit.
We are not stating that the collar of the AST jacket will have this problem for every rider. We are only saying that it is possible that the collar of this jacket may fit as illustrated in the photos on owners with a similar body shape, neck size and weight. If you're within the normal range, it may not be an issue. There was no indication on the Olympia website that a size large jacket would not fit a rider of this size and shape.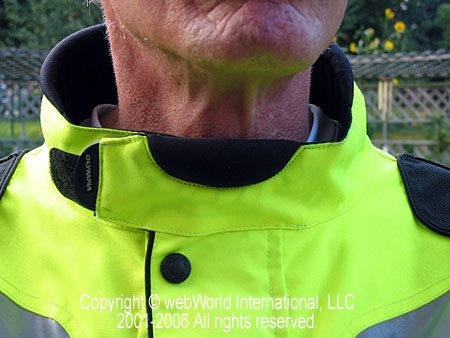 NOTE: The rider shown in these photos is 6'3″ and weighs 165 pounds. He purchased the recommended size large, which otherwise fits him without complaint. These photos illustrate only how the collar on the AST jacket fits this particular rider and only this rider. Your experience may differ and riders with "normal" neck sizes may not have a problem with the collar fit.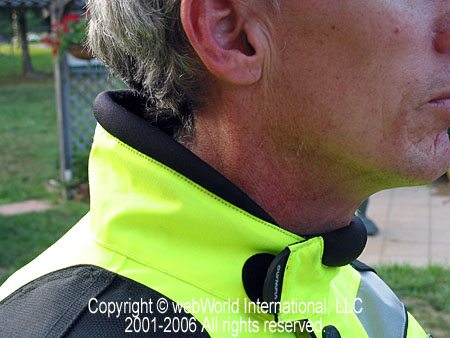 I have a slender build, but I think one would have to have a much larger neck than me for the collar to seal out any rain or wind. Since the collar does not extend high enough to allow it to be tucked into my full-face helmet, it may be a major point of entry for water — for me.
The open collar may allow a lot of air to leak around my neck in cold weather, which is obviously not desirable. Again, this may not be the case with others who have a build more suited to the "standard" off-the-rack sizing.
When I'm wearing gloves and a helmet, I have trouble matching up the hook and loop fastener pieces that secure the neck opening. I can fasten it but as soon as I turn my head it becomes undone. Perhaps a larger strip of fastener would help here?
In an attempt to get the collar snug around my neck I tried releasing the top snaps for the front flap, which help, but I find that the collar is then pressed against my throat which is quite bothersome.
Conclusion
I had high hopes for Olympia's All Seasons Touring jacket. It has everything going for it, uses quality materials and has good construction, adequate venting, CE-approved armor, waterproofing, and an insulated zip-out liner, all at a great price. It's a shame the collar spoils for me what could otherwise be a great all-season riding jacket. My search continues…
w

BW

 Review: Olympia AST All Seasons Touring Jacket
Manufacturer: RevZilla (Olympia Moto Sports)
List Price (2006): $289.99
Colors: Pewter/Black, Neon Yellow/Black.
Made In: China
Sizes: S to XXXXL
Review Date: August 2006
Note:
 For informational use only. All material and photographs are Copyright © webWorld International, LLC since 2000. All rights reserved. See the webBikeWorld® 
Site Info page
. Product specifications, features and details may change or differ from our descriptions. Always check before purchasing. Read the
Terms and Conditions
!
Owner Comments and Feedback
---
From "T.A." (October 2012): "Regarding the neck size issue: I recently purchased an Olympia AST2 in order to replace my old Olympia AST (on which one of the shoulder vent zippers broke after 4.5 seasons). Both are size L.
I have measured the necks and found that the new version is 1.5 inches smaller around than the old version. In addition, there is more Velcro adjustment for a range of neck sizes."
---
From "K" (09/10):  "Thought I would post a review because my experience has been somewhat different than many who previously posted. This is the sixth jacket I've owned and I have used it for a little over a year of riding and have ridden about 14,000km with it.
I had initially purchased a Joe Rocket Ballistic 7 based on the review of it here however I had a problem getting the shoulder armor to stay snug and a good fit in the rest of the jacket. I ended up exchanging the JR Ballistic 7 for the AST after a zipper broke the first week I had it.
Compared it to the FirstGear Kathmandu, JR Ballistic 7, Tourmaster Epic and Scorpion Commander
Pros:
Uses the best quality and heaviest materials (Dupont Cordura) and should have the best abrasion protection

Uses breathable waterproof membrane, does not require inner waterproof liner

Has the best armor, fits me snug and does not move around, also seems to transmit less shock than the rubber pads used on other jackets

Amazing ventilation, as good as my mesh jacket at speed, I've worn this in tempatures up to 34C/95F.

Great collar design, as long as you have a regular size neck

Cuffs are adjustable for over or under gauntlet style gloves

Very warm with liner
Negatives:
Slight dampness from top of sleeve vent zipper in hard rain. Not noticeable with liner. In the hot weather I usually drive in the rain with the vents open, preferring to get damp rather than over heat."
---
From "C" (3/10):  "I wanted to add my short view of this jacket. In researching online somehow I only found the real positive ones and missed 99% of the ones where it leaks. Since I bought it unfitted online I expected that to be a gamble.
I am 5'6″ and 140# with a 30" inseam. I ride a Speedmaster (with no windscreen). My previous jacket was/is a Tourmaster Transition Series II (review). I've only had one week in the Olympia AST but have covered 38 degrees to 78 degrees. I've also been in 30 min of moderate heave rain.
The good:
1. Tellico Motorcycle Outfitters and Mike were very helpful.
2. Fit into the M 38-40 perfect. Cuffs close tight. The neck closure later.
3. A little warmer than my Tourmaster with the liners in. Not much.
4. It glows!  Cars see you…better. Seems to be brighter during the dusk.
5. Nice zip out liner. Nice water tight pockets.
6. Double snaps for the front zipper closure is nicer than Velcro.
7. Airflow is better than my Tourmaster by double. This is without remembering to open the back. The odd collar is functional in this.
The Bad:
1. IT LEAKS!  So back it goes. I was told that Olympia should refund my shipping costs. I'll get a replacement and give it another go. I don't have high hopes. It's like a bulletproof vest. Not much good if it fails ever. I think motorcycle clothing marketing hires ex and retired congressmen. Not one I trust but I my pretend to believe Rukka next. I'll just lie to the wife about the missing savings.
2. The collar. If you ride when it is cold and you wear a heavy turtleneck it works to protect the rub and block the cold. If it is hot you can open the collar. In between is the issue. I was going to add collar stays when I know it is water tight. This will keep the front of the collar from pushing into your throat."
---
From "M.R." (1/10):  "I have been using the jacket for over two years riding about 7,000 mi. mainly from March to December with a few stints in January and February (weather permitting). The main draw to this jacket was the bright color. To me, visibility and protection is the first priority. Everything else comes second.
On the positive side, other that the visibility, the jacket fits me very comfortably (6'3", 186lb) excluding the too large collar. The sleeves are surprisingly for me long enough.
It seems that the construction is done with durable materials and the stitchings are holding up well. I am also using it to commute in moderate rain, about 30' at a time and at speeds averaging 40mi/h. In those low stress conditions that water proofing of the jacket alone is very reliable and I no longer use the rain suit in those conditions. The amount of pockets is adequate. I especially like the large back pocket and the breast pockets that can be accessed without opening the jackets zipper.
On the down side, the side pocket have openings that are way too tight. And trying to use them in cold weather will result in painful hand scratches caused by the pockets flap cover Velcro (the Velcro hardens to a steel brush grade in cold temperatures).
Speaking of temperature, this to me the worst part of the jacket: at slow speed and in Washington DC's summer weather, even with all the vents open, is like wearing a black plastic bag. At speed it vents as advertised. On the other hand, when temperature drop below 45F the arm's vents even when closed as tightly as humanly possible, leak like a sieve.
Admittedly, I can't stand cold temperature; I will take 80F any day. To keep riding I need to have the liner of course, plus a warm wool jacket underneath and an assortment of short and long sleeves T-shirts. Sometimes I replace the liner with a warm street windbreaker. Again, the main problem is that the cold air goes through to easily. Based on this garment I concluded that there is no such thing as a three season jacket.
Would I buy it again?  I do not know. As I mentioned, the main thing for me is visibility. And I could not find anything similar at this price. If I had to start all over again, I would buy an Olympia mesh jacket and a true cold weather one. But they had to be bright yellow."
---
From "G.W." (1/10):  "I am 6 (feet tall and weigh) 175 lbs. and have a size medium. I have not had the neck sizing issues mentioned in the review. I feel the jacket has superior abrasion protection compared to other similar jackets in the ¾ length category and excellent venting."
---
From "D.H." (11/09):  "I have the Olympia GT Air jacket/Airglide pants combo and have to say that collar issues similar to the one you discuss in the AST review are also present on mine. I am 5'10" and 175 and often have trouble getting sport coats to fit across my broad shoulders.
The Oly fits fine, but the collar in my case is too tight. It is hard to do up with gloves on and won't stay fastened, but I think that is because so little of the hook-and-loop overlaps when I try to close it around my neck.
Otherwise the jacket is excellent and has offered good protection in hot, cold and wet. The vent system works really well and the pockets are well thought out. The pants are also very good and especially comfortable for long rides, but are not as waterproof as the jacket, though good enough that I don't bother bringing over-pants for rain.
I've owned the combo for about 5 months and 4500 miles and would recommend Olympia, but be sure to spend the time to get the right fit in a real-world store with good sales people."
---
From "S.M." (9/09):  "Having just come back from my second road trip this year, the west coast of Newfoundland, I have a few comments to add to this discussion.
I have had the AST jacket and matching pants for about 8 months and have ridden about 5000 miles during that time, in all sorts of weather. This includes serious rain in the White Mountains, serious heat and humidity in Rhode Island and a mixture of everything else in Nova Scotia and Newfoundland.
The comments on the collar do actually indicate poor design and construction. I have now talked to 6 other owners, all wearing their jackets, both male and female and all were in agreement, basically it sucks. It appears that the under layer of the collar is the main culprit.
The materiel is cut square while the over-layer has a scalloped neoprene piece for the neck. The under collar presses against the neck and needs to be cut down below the neoprene. The over-collar then pulls across and Velcro's in place but is hard to manage in gloves as it has to be set at exactly the correct height to avoid chafe. I am 6ft, 180 pounds and take a 16 collar. My large is sized too big around the neck so I use a scarf if hot and an under fleece if cold.
The other issue has been serious water leakage, especially around the crotch area. I ride a BMW R1200RT and have twice ended up feeling as if I was wearing a wet diaper, not an issue previously in leathers and a rain suit. I had carefully followed all the instructions, washed it in an appropriate waterproof materiel soap and sprayed with water proofing. Water came down the collar as was expected given the fit issue but it poured in elsewhere.
The basic design of the products are good, the materiel seems well chosen and well made. I feel disappointed in the issues raised above to the point where I would not recommend the product and would not purchase again.
On a positive note, my wife is delighted with her Olympia Airglide jacket which has done really well in real heat and in the rain.
I plan to save up for an Aerostich as I have grown out of my old leathers. I like the combination of abrasion and impact protection given by the new synthetic suits as well as the ability to manage a range of weather conditions. Olympia comes close but……".
---
From "D.A.":  "I serve in the Army as an Infantryman. I know what not being comfortable is all about. Besides my job, I ride all year long. About two weeks ago I purchased the men's AST.
Today was actually my first serious downpour. I have to agree with one of the other comments on the page…..just above the chest flaps i was taking in water, and because the waterproof liner does its job well, there really isn't anywhere for the water go…it just kind of lingers. Same on the forearms.
With that being said, my unprotected cell phone in the pocket under the button flap stayed dry, as did everything in any of the pockets. On cooler days, and rider being dressed in proper attire, the jacket is very comfortable. I've contacted Olympia, they suggested a little 3M waterproofing. And if that doesn't work, get back in touch with them….so they are all about making sure you are happy with their product…"
---
From Kevin Rhea, Owner, Olympia Moto Sports:  "Chris B's overall rating is very positive, however I have a major problem with his comments regarding the fit of the collar. As Chris states in his article he is 6 ft 3" and weighs only 165 lbs. The jacket he reports on is a size XL (Editor's Note:  Actually, the jacket is a size large, not an XL as Chris reported in the article above).
Our size XL is spec'd for a rider weighing from 190 to 210 lbs. (see spec chart on our web-site). Given his weight, Chris would need a size medium / tall but we don't offer tall sizes. Chris has made sizing judgments based on a jacket that is way too big for him, so of course the collar doesn't fit….. I also recently returned from the BMW Intl Rally where this jacket was tried on and purchased by many riders. I personally helped fit many customers myself. Not a single rider complained about the neck fit…"
Editor's Response:  Chris' jacket is a size large, not a size XL. He purchased it from a very well-known and reputable local dealer who is an official Olympia Motosports retailer, and he was assisted by their clothing sales associate who helped him with the purchase. The sizing chart on the Olympia Moto Sports website for the AST jacket recommends a size large for a male up to 6'1″ and from 170 to 190 pounds. Although Chris is 6'3″, he's only 5 pounds under the recommended weight.
Chris likes the jacket — in fact, he liked it so much that he recently went back and bought another one for his wife — but the collar unfortunately doesn't have enough adjustability to fit his particular neck size. This will probably not be an issue for other potential owners with neck sizes in the "normal" range, but it's our opinion that the neck could use some more adjustability. We also suggest that Olympia provide a more detailed sizing chart that includes recommended sizes and neck sizes for riders of Chris' stature. Note that Chris is a very experienced rider, averaging nearly 20,000 miles per year on motorcycles. He's owned many motorcycle jackets, so he understands the issues involved in finding a correct fit.
---
From "S.K.":  "I've owned the AST/Ranger2 pants combo for about 7 months now (Sept 06 to March 07) and I wanted to make a few comments. I've been riding in almost all weather conditions, from about 70F to 15F. A couple things I noticed:
The collar:  I didn't even notice it until I read the review on wBW, but it is on the loose side. I took a Large (5'9″, 180lbs), but have roughly half an inch in each direction with the button in place. But when sitting on my motorcycle, I find that the billowing in the back is gone, and an open area up in the front. While it looks pretty silly in the mirror, I found that it provides more ventilation in hotter weather, and just enough room for my wind triangle in cooler weather.
Elbow armor:  I found that when wearing gloves with long gauntlets, it would push my sleeves back an inch, which would shift the armor back an inch. Now the problem here is that the armor bends in exactly two places, one of which is around a part of your body that has no joints. I found that while in the riding position, the armor would often shift out of place because of it's (new) inability to bend at my elbow. I absolutely could not get it to stay in place while wearing gauntlets. I ended up swapping it with some First Gear comp core armor.
Waterproofness:  Take care to really close those arm vents. I've had a little dampness on my shoulders when I have forgotten to. I f you really want to be sure, you can throw in the liner, and that will stop your street clothes from getting wet…from the rain. I haven't had water drip into the back of my collar yet.
While the review isn't for the pants, I figure I might as well put it in here. The pants start leaking cold air much much sooner than the jacket, even with the liner in. Air seems to leak in along the full length zippers, since the zippers on the pant and liner are right over each other, and neither are waterproof."
---
From "J.R.":  "Just over two months ago I took delivery of a Olympia AST jacket. I read your review on it and thought it would be a suitable item for me. Last week I was out in the first proper rain we've had this winter and found the jacket actually leaks from somewhere above the front two chest pockets….maybe around the reflector material area.
This is just feedback for you and for your information. I have sent a note to Olympia and the dealer who sold me the jacket to see if there is something I can do about sealing the seams. As I live (outside the U.S.) it would be unfeasible to send the jacket back as the cost of carriage would be way beyond the value of the jacket by the time it got sent back for fixing … I also had to fiddle about with the neck closing a bit as the review mentioned this as a problem area too."