NSW Premier Gladys Berejiklian has today admitted on Sydney radio riding a motorcycle is exercise and therefore legal.
Latest travel restriction info here.
She says NSW Police have not booked anybody, because riding a motorcycle is "akin to riding an exercise bike".
When the lockdown first started we contacted the Prime Minister's office, the national coronavirus hotline and the state premiers' offices and state health departments to ask if riding was classified as exercise.
They all agreed it was.
However, police in several states disagreed.
Isn't it time we had some consensus on this issue from all premiers and police departments?
The Australian Motorcycle Council says they are "always pleased to see recognition by government authorities of motorcycling in any form, but especially the recent statements from Queensland and NSW acknowledging that motorcycling is allowed in the current COVID19 restrictions".
"Most other states and territories also allow recreational riding in some form, and we can only hope that the more reluctant state government of Victoria join this nationwide approval and allow Victorian riders to get out safely and without risk to others," their statement says.
After all, riding a motorcycle is both a physical and mental exercise.
The mental side cannot be stressed highly enough. Experts expecting a wave of depression if riders are cooped up for too long.
Police view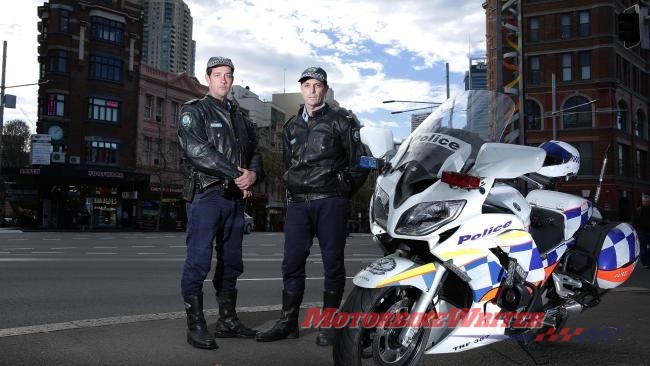 However, NSW Police have further interpreted the rules to say people can leave their house for "brief exercise in your own neighbourhood".
But you can ride to visit a "partner" with whom you don't live.
So it's not a free-for-all under the pretence of exercise.
Gladys's  claim that police have not fined riders is not correct.
On Thursday (9 April 2020), a motorcyclist was stopped by police on Oxford Street, Gateshead.
Officers spoke with the 36-year-old man, who allegedly provided "multiple conflicting reasons for not being home before stating he was on his way to help a friend fix a bike".
The officers deemed his reasons for travel as non-essential and issued the man with a $1000 fine.
50km limit
Meanwhile, Queensland will allow riders back on their motorcycles for a ride up to a 50km radius from home from next Saturday (2 May 2020).
For most Brisbane riders, that would mean they would get half way up Mt Glorious before having to turn back.
Gold Coast riders would get to Beechmont for a coffee before turning around while Sunshine Coast riders would be able to explore the Blackall Ranges.
Of course, you still can't cross the border and come back without a special permit and 14 days of isolation!
For a rough guide to a 50km radius from your house, click here.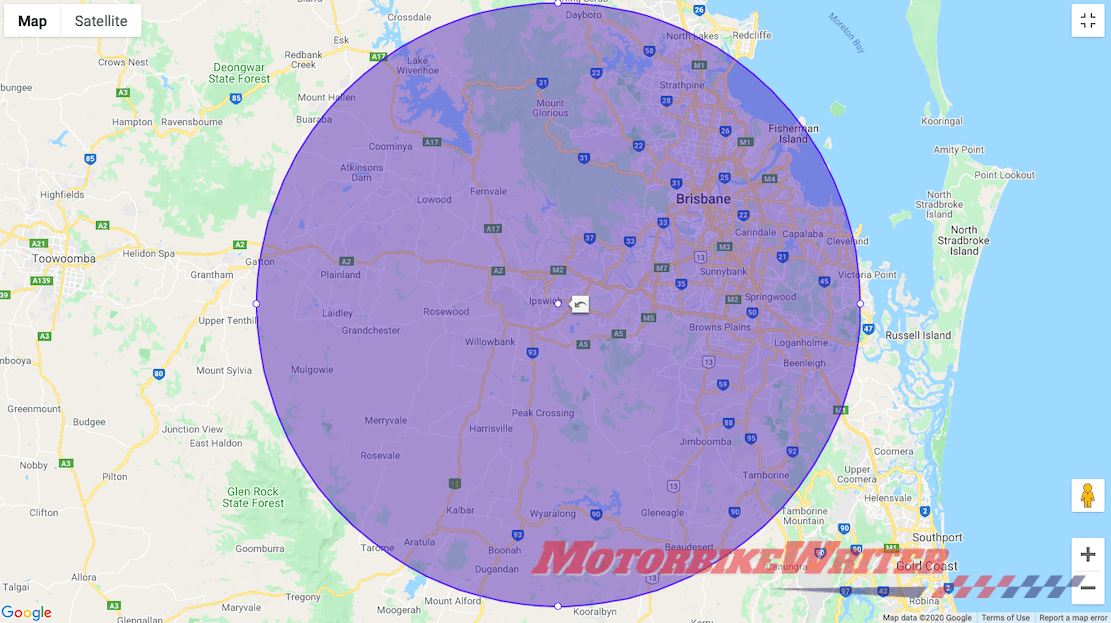 Policing restrictions
It is unknown if Queensland Police will strictly patrol the 50km rule.
Queensland Police  says they will "continue to educate and show compassion when engaging with members of the public during these unprecedented times as we all work together to reduce the spread of COVID-19".
Let's hope the compassion extends to riders.
But we expect police to have a heavy presence on popular motorcycle routes next weekend.
Flagrant breaches
State Disaster Co-ordinator Steve Gollschewski says police will "assist people to understand the new rules but will still enforce flagrant breaches".
"Police will be understanding but this isn't an invitation for people to undo everyone's hard work," he says.
We saw Sydney beaches opened up last week only to be quickly closed again when they became crowded.
Riders are advised that social distancing still applies which means no congregating at stops.
Riders and pillions will have to ride on their own or with one other rider or with several members of the same household.
Easing of restrictions in Victoria may depend on how well Queensland goes.
In Tasmania you can visit a family member and in the ACT you can visit anyone so long as there are not more than two of you visiting at the one time.
ACT Police are not yet issuing COVID-19 infringement notices as they are prioritising public education over coercive sanctions.
In South Australia and Northern Territory there are no fines for leaving the house for non-essential reasons, however unnecessary socialisation is discouraged.
West Australian riders can ride within nine zones, but not cross from one to the other. However, riders can now meet in groups of up to 10 so long as they maintain correct 1.5m social distance.