Brisbane novice rider Lyle Herbert reviews his 2007 Hyosung GT250R. Riders are invited to review their bikes and email them for publication.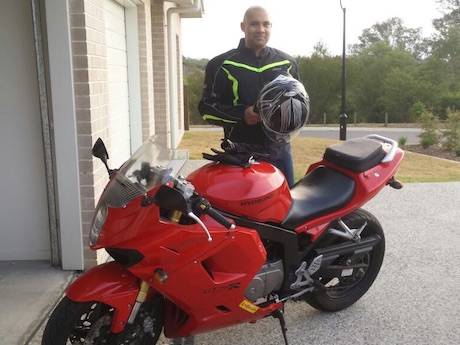 Some people will think me a crazy person for having bought a Hyosung. I'm not going lie, it was cheap. I bought it for $900 with 9000km, no registration and no roadworthy certificate.
It was owned by a lady who had a work accident so had not ridden for months and just wanted it out of her shed.
It would have been easier to say that I did the responsible thing like stalk/visit bike stores, take defensive riding classes, talk to every biker at the servo while they top up, or have a picture of the latest Ducati as the background of my phone, or memorised the stats on the new R1-M.
But my story doesn't start like that. I used to view bikers from afar as a former truck driver.
I have seen many scooter riders weaving around like kamikaze pilots wearing invincibility t-shirts, jandals and a terrified pillion on the back.
Proper bike riders never seemed to make much sense either. Why put up with the wind, rain and dodgy drivers? Why ride machines that are so fast they outrun pretty much anything when all you get is caught speeding by the cops? It's plain anti-social. How can you enjoy something that is trying to kill you with speed?
Then a Firestorm with some sort of performance pipe blitzed past while I was staring blankly at the bumper in front of me in traffic again.
That beautiful V-twin noise got me thinking. Why can't I slice through traffic? Why waste the gorgeous Queensland weather playing radio station bingo in my air conditioned cage for at least two hours every day? The seed had been planted.
My Hyosung GT250R feels like a proper big bike. It's rather good looking, especially in red where it looks like a mini Ducati.
It's quite stable, with a clearly budget-orientated but comfortable suspension set-up that will suit a range of riders. It has never been anything other than completely stable in corners and it starts every time. It's a forgiving bike and is easy to manoeuvre around the garage so it's perfect for ham-wristed learners.
Riding position is fairly comfortable and not as extreme as many other performance bikes I have sat on at the bike shops. This bike is well suited to commuting. The seat is firm but reasonably comfy which is handy on longer rides. Fairing does a good job of blocking the wind but a slightly higher screen would be nice if you're a taller rider and are bothered about that sort of thing.
Because it is a 250 you don't have to worry about the front end lifting or headshakes. The bike is easy to throw around and just loves corners.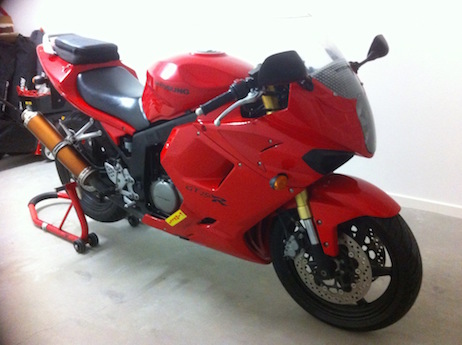 One of the main reasons I went with this bike is because if you are larger than the average human, then you do look ridiculous on a CBR250 or Ninja 300. If you are looking to sample a full 250cc sized sports bike on the cheap then this is the one to be on.
Brakes do stop you in a hurry as they are pinched from the bigger brother GT650R. No ABS to be had here but it makes you a better rider, rather than just relying on the electronics to save you when you run out of talent.
Being a larger 250, it has a bigger tyre footprint than competitor quarter-litre bikes. This allows you to fit legitimate rubber and not freak out when you come into a corner too hot.
The V-twin is a joy and complements this type of bike. I have been in love with twins ever since that Firestorm rode past.
Being the last of the air-cooled carby generation, it can't hold a candle to the efficiency or smoothness of the newer fuel injected units. Especially first thing in the mornings. But it has a unique charm that can't be matched by the new stuff.
Personally I love the snap, crackle and pop when you get off the gas going downhill.
Like a mini Italian bike, the mechanical noise and rattles and the growl that comes out of the aftermarket exhaust make you want to ride in tunnels all day.
It pulls cleanly from low down in the rev range, it can rev out but delivers the bulk of its power in the mid-range. The red line is like a Joe Hockey budget, nice in theory but you won't hit it.
The power does drop off around 11,000rpm if you feel the need to go that high. It has vibrations that are characteristic of V-twins, but it's a character trait you either love or hate.
I had read plenty of hate towards Hyosung build quality but I can't fault the mechanicals. It's an old tech but reliable machine, it hasn't let me down yet. If things were to go wrong, parts are cheap and it's an uncomplicated bike for amateur home mechanics.
It's obviously not going to set new standards for build quality as it's built to a price. Like anything you cherish, don't leave it outside in rain, be proactive with maintenance and it will be good to you.
Having a big tank (17 litres) means that visiting local servos will be rare. Although I have run out fuel once because I was not paying attention.
Being a 250, it's not going to set speed records, in fact be careful which Corolla you pick on at the lights. Critically for a learner the power available is easy to access and not life-threatening when you're in the zone.
It does teach you to plan ahead before overtaking, which I think is a good thing.
Clutch is light and easy to use. The gearbox responds best to firm use and I have never wondered if I was in gear. The neutral light on the dash is handy.
Being a V-twin, I have discovered that you need to be careful when chopping down gears as the engine braking can make the back tyre hop. I think this encourages smoother riding. Nothing wrong with having to learn to rev match downshifts.
All the switchgear is logically and clearly laid out. It's nice to have a digital speed readout, as a quick glance is all that's required rather trying to decipher a dial at speed.
So as a LAMS bike, this might not be for everyone. The latest LAMS bikes are simply amazing at offering all the bells and whistles as big bikes.
Most LAMS are quicker, more comfortable, more efficient and are probably easier to thread through traffic than the Hyosung. But if you are looking for a full-sized bike to get your learners/Ps out the way cheaply, then it does the trick. It has character in spades which makes it hard not to like.
What's more important is that my bike represents a dream that I chased and achieved. It puts a smile on my face every time I get on it. Its created a love for riding and a deep respect for the road and everything on it.
After I graduated to a full licence, I bought a Suzuki GSX-R1000.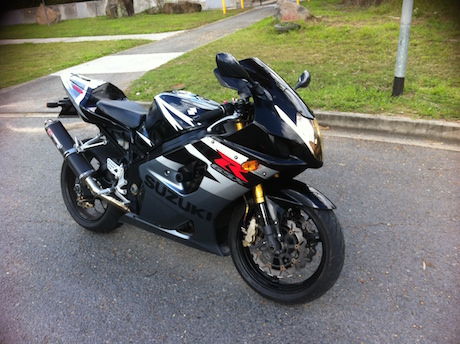 2007 Hyosung GT250R
Price: up to $3000 second hand

Warranty: 2yr/unlimited kms

Service intervals: 1000/4000km

Engine: Oil/air cooled four stroke 249cc V-twin

Induction: 26mm twin carburettors

Power: N/A

Torque: N/A

Transmission: 5 speed, chain drive, wet multiplate clutch

Tyres: 110/70/17; 150/70/17

Suspension: 41mm USD forks, Mono shock pre-load adjustable

Brakes: Twin 300mm discs, 230mm rear disc

Dry weight: 168kg

Length: 2060mm

Width: 760mm

Height: 1125mm

Clearance: 130mm

Seat: 780mm

Fuel: 17 litres

Consumption: 4.7litres/100km