As we noted in our review, the N43 Air meets the CE standards only.
The N43 Trilogy meets DOT safety standards, but apparently it could not meet DOT standards with the unique top vent.
That vent was one of the best features of the N43 Air — a feature that gives the N43 Air some of the best ventilation available. Too bad!
Nolan calls the N43 Trilogy a "Crossover" helmet with a "6 in 1 design". It has quick-change accessories allows for customized looks and functionality.
The N43 Trilogy comes with a clear face shield, the integrated sun shield, the peak and the removable chin bar, similar to the N43 Air.
The chin bar is made from GE Lexan and is EPS lined, according to Nolan. Mounted with strong stainless-steel latches, it passes the tests for full-face helmets of the European standard ECE-22.05.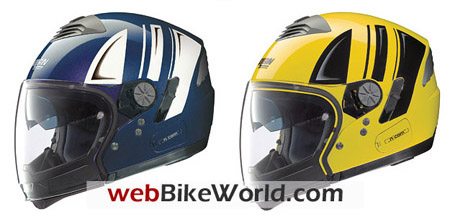 Other features of the Nolan N43 Trilogy include:
VPS (Vision Protection System): A short dark shield mounted on the inside of the helmet and moving independently from the face shield. It provides eye protection and is also available in amber, light blue and light smoke. It is operated by a large rubber coated slider on the left side of the helmet.
Quick-Change Face Shield: Is claimed to be optically correct; meets UV 400 standards for UV protection; and fitted in an exceptionally large eye port. The N43 Trilogy accepts the Pinlock anti-fog insert (review) but a Pinlock is not provided with the helmet (Corrected from original version).
Separate Visor Peak: The helmet comes with a short black peak that can be installed at the top of the eye port instead of the clear shield.
Ncom Intercom Ready: The N43 Trilogy, like the N43 Air, is ready for the Nolan Ncom Bluetooth communication system.
Helmet Shell: The helmet uses a lightweight aerodynamic polycarbonate shell with built-in spoiler for improved stability.
Liner: It has a fully removable and washable "Clima-Comfort" liner, which is claimed to be antibacterial, antifungal and moisture wicking.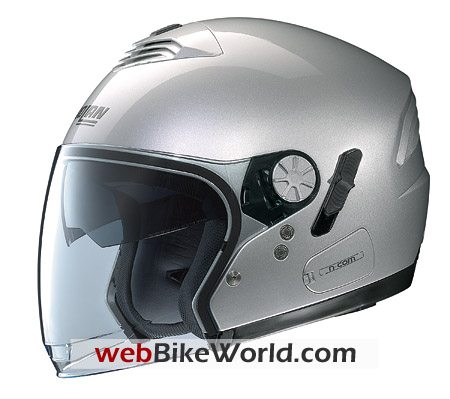 Although the N43 Trilogy does not include the unique parallel top vent of the N43 Air, Nolan says that the N43 Trilogy has a "JSW" top vent with exhaust grid in the rear spoiler.  This works in conjunction with the air channels along the crown and it is operated by a "glove-friendly" rubber slider.
The N43 Trilogy uses a "MicroLock" (adjustable quick-release) retention system and it has velour chin-strap padding.
The N43 Trilogy meets DOT safety standards in the U.S. and meets ECE-22.05 in Europe.
The helmet is currently available for sale in the U.S. at a list price of $299.95 in sizes ranging from XS to XXL.  Colors include solids and graphics.
Note:
 For informational use only. All material and photographs are Copyright © webWorld International, LLC since 2000. All rights reserved. See the webBikeWorld® 
Site Info page
. Product specifications, features and details may change or differ from our descriptions. Always check before purchasing. Read the
Terms and Conditions
!
Owner Comments and Feedback
---
From "B.M." (March 2012): "Love your site, depend on it for every purchase. Just bought a Nolan N43e from RevZilla, and was prepared to wear it around the house for a test-drive.
Ordered an XXL, got it promptly, thanks RevZilla, but I was shocked at how small it was. I could not get my head through the opening without squashing both ears and getting rug-burns on forehead, nose and chin. Once on, it was definitely suited for a much rounder head.
For comparison, my XXL HJC SyMax is loose around the neck, cheeks, and a little more even on the crown. My head's definitely oblong, and measures a conventional 24″ in circumference.
I applaud the Nolan for a good facial fit, but I'd have to caution people thinking "XXL" is big, in an N43e, they're in for a surprise. Too bad, because other than the too-short sun-visor, I was in love with the helmet, esp. the wide field of view.
Oh well, back to your reviews to find an alternative."
---
From "P.E." (05/11): "Early last year, deciding our Shoei helmets had aged and needed to be replaced, my wife and I did a thorough analysis of the available helmets and read all we could. We purchased two Nolan N43 N Com helmets.
Aside from loving the comfort, there is no doubt that this helmet saved my wife's life and maybe mine as well.
While riding in North Georgia last fall, we had a tangle with a cattle truck missing a turn and taking our side of the road. We managed to scrape by the truck but were pitched off our Goldwing.
My wife bounced off her airbag (me) and flew at least 20 feet, landing squarely on her face shield.
Now this is not a full face helmet, but the insulated structural flip up shield held in the down position took the full hit. Other than some scraped hands and bruises, and a ruined helmet, she was fine.
I wasn't so lucky but my helmet did some heavy duty protection. Allstate bought us two new Nolan's as well as replacing riding boots and jackets – the gear saved them a bunch of bucks! Thank you Nolan!"
---
From "M.S." (05/11): "I have been using this helmet for the last year and have been very pleased with it.
There are is only one characteristic I don't like. The flip down sunscreen is in the shape of two V's which I find disconcerting. I would much prefer a simple straight line. That's pretty much it for the negatives.
There are a number of features that I very much like. Number one is the visibility. When I wear my Bell Arrow, I can't see my chest due to the chin protector. The Nolan has a much wider field of view that I prefer.
Putting the helmet on with the chin bar off is a snap, and fastening the bar is also easy. The bar isn't as sturdy as on the Arrow, but it certainly is much better than none at all.
I haven't noticed a problem with fogging – I use a defog film and it seems to work fairly well in the cold months. I ride down to about 45.
I find the helmet a bit quieter than my Arrow. I am riding a Suzuki V-Strom with the Madstat. Your results may vary.
Overall I am extremely pleased with this helmet. It is comfortable, I like how it looks, and I have much better visibility than with a typical full face helmet. Putting on my glasses is a snap compared to with the Arrow."
---
From "M.G.F." (05/11): "I've been using my N43 regularly for the last two months (when the weather is above 50F). If it's colder than that, I don't think it would clear fog sufficiently (even with Nolan fog lens insert that wasn't included).
There are some pluses and minuses to this helmet, on balance I doubt I'd buy another.
On the plus side the internal sun visor is a cool idea, it doesn't work as smoothly as it should however and twice it has come loose from its upper attachment and flopped down until it was resting on my face (good think I was riding interstate highway).
I love the concept of the removable chin bar (especially helpful if you want a full-face type helmet without the weight of a modular or the bother of taking your glasses off), I just wish it didn't press into my chin so much.
The visibility is great (in warm weather) and I generally like the visor but wish it had an intermediate stop or two (instead of all open or all closed).
I'll never like the quick release buckle system (on any helmet) give me D-rings and a web-nylon strap any day.
Air management is Spartan but effective and the helmet seems more than adequately vented for summer use.
The fit is a bit rounder than my Nolan N-102, which is too bad because my oblong head is pinched and "Nolan" fit was my primary reason for buying another XXL Nolan."
---
From "J.T." (9/09): "Just received my Nolan N43 Trilogy.  It is also sold in an Outlaw version (which seems to just be the helmet without the chin bar and attachments).
So far the fit is slightly tighter than one might expect of an XL jet-styled helmet, but it is comfortable and LIGHT. Pity about the vents — I was really looking forward to those sliding vents but it'll be put to the test to see if it gets too cold in Fall/Winter, since this helmet is marketed as an all-season helmet.
The face-shield is unique in that it is spring-loaded — just lift the tab up halfway and it swishes up and holds into place. That keeps it from falling down, like my Bell Mag-8 used to do whenever I would hit a bump with the face-shield up. Very neat!
I wanted to point out though that the Pinlock insert is not included with the helmet — seems that you have to buy it separately. If Nolan has told you that it is, then Nolan should send each of us who have bought an N43 a Pinlock insert.
Also, I have not yet quite figured out how to put my Cardo ScalaRider on the helmet yet, as the neckroll seems to be in the way. I'm sure I'll figure it out; if not, I guess I'll just have to get an N-COM unit!
Either way, this is my first Nolan and I must say that there is a notable and significant difference in the quality of the fit and finish. I'll be breaking it in these next 2 weeks, including my first attempt at a Saddlesore 1000 (Iron Butt Association ride that is 1000 miles in under 24 hours)."
UPDATE From "J.T." (10/09): "The N43 Trilogy is extremely comfortable although the chin bar is too close and touches my chin when I have it in, so I've taken to wearing it without unless I'm on a long touring ride.
The top vent, as far as I can tell, does not flow the air that I was hoping to get (as I didn't realize that the US DOT version was different from the N43 Air). It's still a great helmet though, heads and tails over my Bell Mag-8 and my SyMax II.
I do have a question … That Pinlock insert is impossible to find. I can't find it online, have yet to hear anything from Pinlock USA, and not even a UK-based retailer can tell me anything about where to get one.
It's extremely aggravating as the visor fogs up like crazy at the bottom on an all-day ride. Can anybody help me with finding a Pinlock insert, universal or otherwise?
Editor's Reply: Pinlock visor inserts are available. However, the Pinlock inserts are listed by helmet brand and model, so I'm not sure if a Pinlock for a Shoei, for example, will also fit an N43.
I contacted CIMA International, the U.S. importer for Nolan helmets, who said that they keep most parts and accessories for all models of Nolan helmets.  The Pinlock insert for the N43 Trilogy can be ordered by calling their toll-free number at 866-243-5638.
Note:
 For informational use only. All material and photographs are Copyright © webWorld International, LLC since 2000. All rights reserved. See the webBikeWorld® 
Site Info page
. Product specifications, features and details may change or differ from our descriptions. Always check before purchasing. Read the
Terms and Conditions
!