It comes as no surprise that the Ducati Panigale V4 1409 won the vote for the most beautiful bike of the EICMA motorcycle show in Milan, making it five years in a row for the Italian company.
Of course Italians will always vote for their own bike at their show, but now you can have your say. Vote in our two polls at the end of this article!
Ducati has won the coveted "most beautiful bike of the show" voted by visitors since 2013 with the Monster 1200 S. In 2014 Ducati won with the Scrambler, Diavel in 2015, SuperSport last year and now the V4.
No surprise here!
And it is no surprise that fellow Italian company MV Agusta won in 2012 with the Rivale 800.
All great-looking bikes and all Italian. 
Similarly it is now surprise that BMW usually wins best bike vote in Germany's Motorrad magazines. Patriotism wins again.
The Ducati V4 won with 61% of the 16,000+ votes, making it Ducati's ninth win from 13 shows.
We're not so sure about the V4, though. It looks a little plump to us, but to each their own.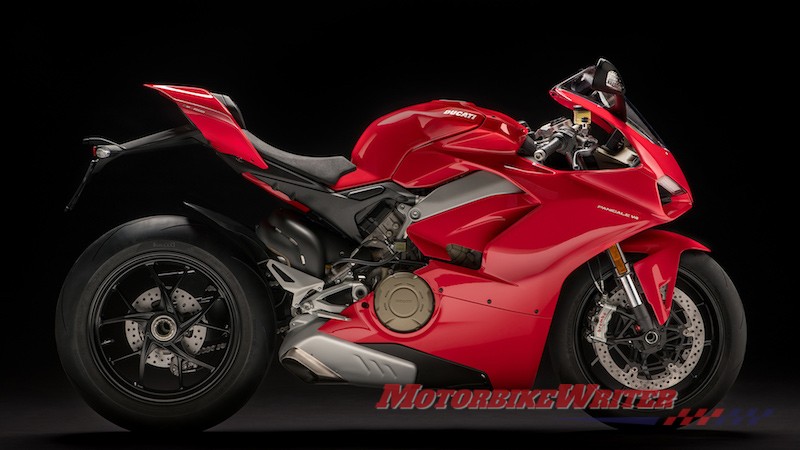 We think there are some more beautiful bikes in the show, some of which come from Japan … surprise surprise!
But no Japanese bike is ever going to be voted most beautiful bike at an Italian show.
Your turn to vote
Now it's your turn to vote on the best new production model at the 2017 EICMA show.
We've ruled out updated models unless they have had a major cosmetic makeover and those debuted at the Tokyo Motor Show a couple of weeks earlier.
There is also a separate poll for the most beautiful concept bike of the show.
You can vote for more than one bike and you can see the voting results as soon as you click the "VOTE" button at the end.
You can also return in a few days and check the progressive tally.
Tell us if you think there was another bike at the show worth including!