Michigan rider Phil Comar, known as the No Hands Man, has unfortunately fallen short of his attempt to break his own world record by riding 600 miles (965km) without touching the handlebars.
"I had an unfortunate stop due to a traffic slow down because of some road construction," he told us after his valiant attempt on Sunday.
Phil had ridden 474 miles (762km) by that point.
However, he still holds four world records: 314 miles (505km) in 2010, 327 miles (526km) in 2011, 534 miles (859km) in 2015 and 588 miles (946km) set last year. His current record was cut short by rain.
His record-breaking is all in the interests of raising awareness and funds for the Michael J. Fox Foundation for Parkinson's Research after experiencing his father's deterioration and death from the disease in 2008. Click here to donate.
"My father and I used to talk about long-distance, no-hand riding, before he passed," he says.
"I have made it my personal mission, with my talent for riding, to do what I can to aid in finding a cure for this disease.
"Not counting this year we have raised over $26,000. This year's funds are just starting to be collected from the different sources with an expected additional $4000-$5000."
Special Low Rider
Phil's 1997 Harley-Davidson FXDL Dyna Low Rider is fitted with a factory installed friction lock so he doesn't have to use the throttle. (Read about the new Dyna-Softail Low rider.)
It also has an 11 gallon (42-litre) auxiliary fuel tank on top the Dyna's standard 4gal (15.4L) tank so he doesn't have to stop to refuel.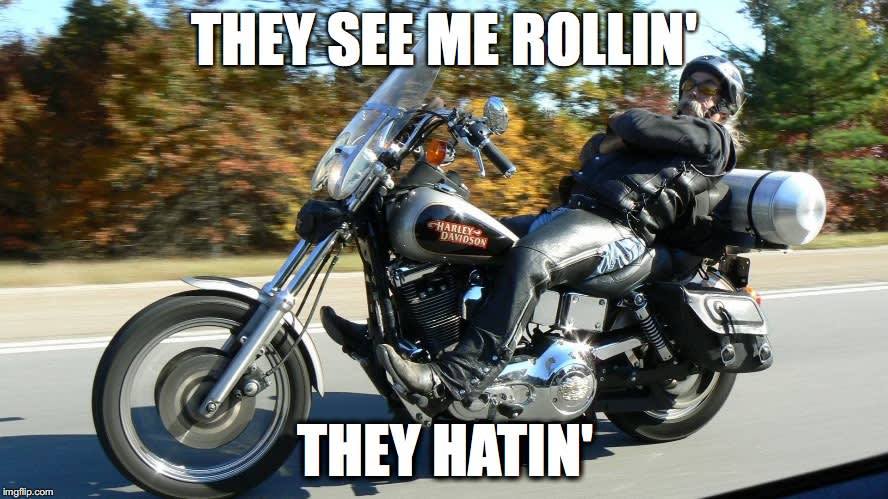 "Once my desired speed is acquired, I remove my hand from the throttle and it remains," he says.
"I reduce speed by applying the rear brake and when I relieve pressure the engine returns to pre-set.
All of Phil's long-distance no-hands rides are on interstates so he doesn't have to stop for traffic lights or intersections.
Phil says his no-hands riding often attracts the attention of other motorists.
"You can see them slow down, and pretty soon they're riding beside me, videotaping it on their phone or their camera, whatever they got with him," he says.
He is also often joined by motorcycle clubs to act as escorts and keep him safe from other traffic.
(Please note that in Australia it is illegal to ride with no hands on the bars. You must have one hand on the bars at all times when riding.)