Even some waterproof motorcycle gloves gradually lose their ability to stay dry, so you may need to update their waterproofing with a product like Nikwax Gloveproof.
Cleaning, conditioning and waterproofing company Nikwax is based in rainy Seattle so they should know a little about waterproofing. Their wide range of products is available for many other outdoor uses including camping and hiking. Gloveproof is available in Australia at $16.50.
Works on fabric and leather
Gloveproof is claimed to restore the water repellency of fabric motorcycle gloves such as those made with Goretex.
They also claim it waterproofs and conditions leather motorcycle gloves, replacing the tanning agents. 
It comes in a small squeezable bottle with a sponge applicator on the top, so you just squeeze and brush the solution on to a clean pair of gloves.
Wait just two minutes and then remove the excess with a wet rag and the gloves are ready to go.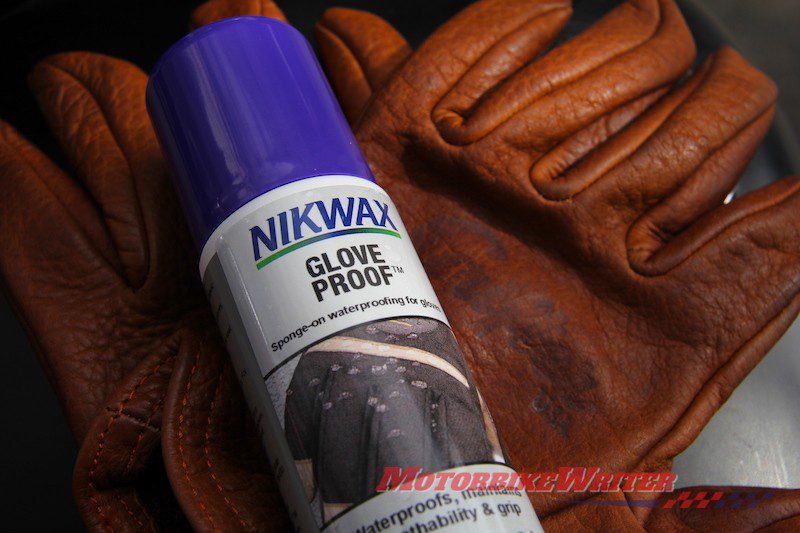 Unlike other waterproofing products, it doesn't need long to dry.
So if you are out on the road and you find your gloves are less waterproof than they used to be, you can waterproof them in a few minutes and be back on the road with dry hands.
You don't even have to wait for your gloves to dry before applying the solution.
Gloveproof tested
I tried it on a few pairs of leather and fabric gloves where the water did not bead off as well as it used to and the Gloverproof solution restored that beading effect.
We've been in the middle of a drought for some time now so it was difficult to test them in the rain.
Instead, I stuck my gloved hand in a kitchen sink full of water and found my hands stayed dry.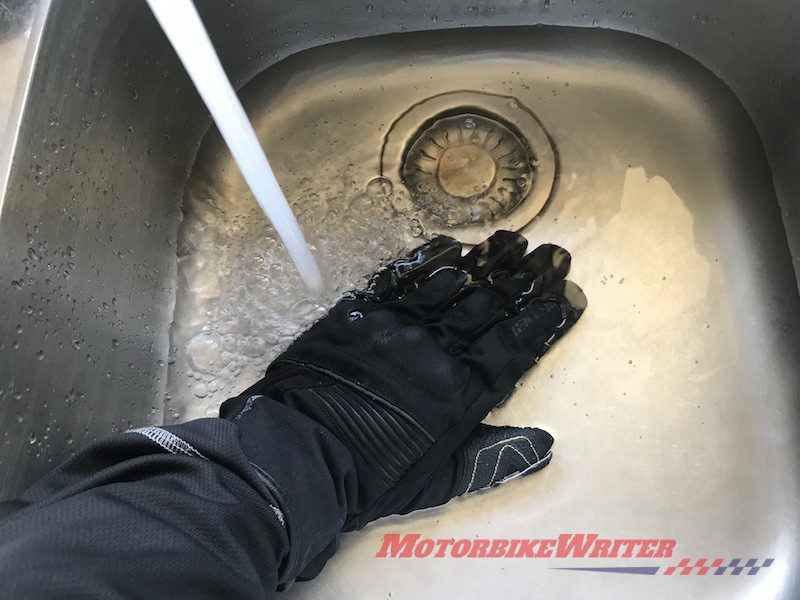 Gloveproof also claims the solution is breathable so I wore the newly waterproofed gloves on a couple of warm days and they didn't seem to be any hotter or sweatier than before.
They also say Gloveproof maintains palm grip so your hands don't slip off the bars and that does seem to be the case without them becoming sticky.
Nikwax products are all palm-oil free, non-hazardous, water-based, biodegradable and contain no fluorocarbons.
While they say it is safe to apply inside, I found the solution quite acrid, so I suggest applying it by an open window or outside in the fresh air.
Keep a bottle in your panniers or under your seat just in case you need to waterproof your gloves.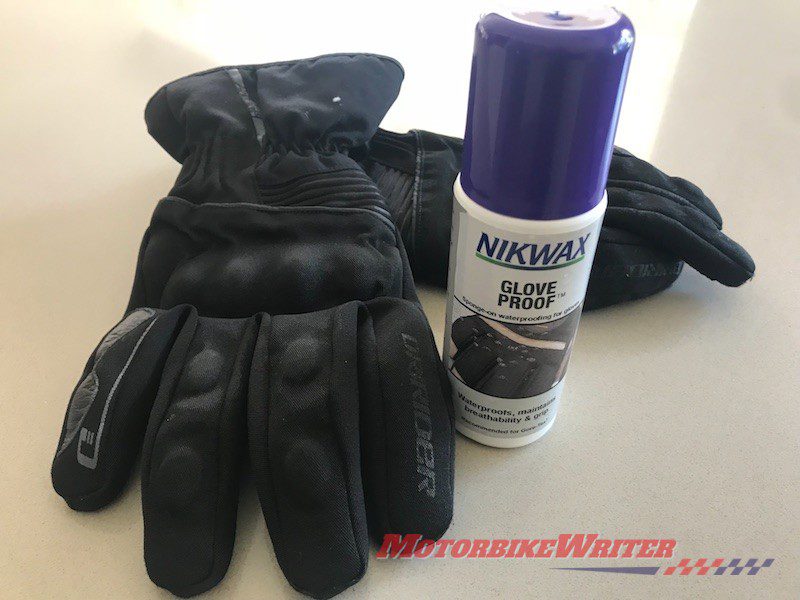 There is no reason you can't also use it on other motorcycle gear. I used it on a pair of my riding shoes to good effect.
I imagine it would be good for about 30 applications, depending on the size of the material covered.