Nexx XR1R Carbon Image Gallery
How do you make a good helmet btter? Easy: use that miracle of modern science, carbon fiber!
The original version of the Nexx XR1R was one of the lightest full-face helmets reviewed on webBikeWorld.com and now the XR1R beats that.
The XR1R Carbon is lighter than every other full-face helmet we've reviewed by a large margin, and it's even lighter than most of the open-face helmets we've reviewed!
We really liked the Nexx XR1R reviewed in November of 2009. It was rated very highly in all areas and many happy XR1R owners agree.
In fact, there wasn't much on the wish list for the XR1R.
Nexx beat the big guys in just about every way, with a helmet that has outstanding forward visibility through its huge eye port, good ventilation, a customizable fit via the included "Ergo Padding System" and, best of all, very light weight.
The Nexx XR1R Carbon takes the XR1R formula and kicks it up about 10 notches by adding — or rather by subtracting — one more thing: weight.
You're looking at the lightest-weight full-face motorcycle helmet we have ever reviewed on webBikeWorld.com, and we've reviewed 141 to date. That's a lot of helmets!
I won't give it away here — you'll have to read through to find out how light this helmet really is.
Suffice it to say that it is difficult to believe that a motorcycle helmet meeting DOT, ECE and NBR-7471:2001 (Brazil) safety standards can get any lighter than this and still have a comfort factor that makes it perfectly suited for street as well as track riding.
And don't let anyone tell you that weight isn't important. Pop the XR1R Carbon on your bean and go for a ride and whatever helmet you wore previously will feel like it came from Captain Nemo's closet.
Wearing the XR1R Carbon is just like not wearing a helmet at all, which is one more argument for why you should wear one!
The XR1R Carbon is filled with the same good stuff that was described in my original XR1R review just about word-for-word, so there's no need to repeat myself here.
I'll simply touch on a few of my impressions and we added a new set of photos and a video for the XR1R Carbon, which honestly do not do justice to the stunning carbon fiber and the red-and-white graphics shown here.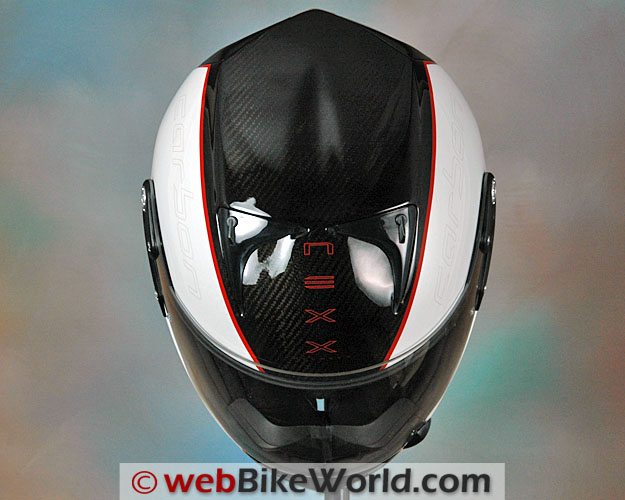 Nexx XR1R Carbon Paint, Graphics and Overall Quality
The different look of the XR1R starts with the shape, which is a blend of modern and organic curves that shave the maximum amount of shell structure while still meeting DOT, ECE and NBR-7471:2001 standards.
The very lightly gold-tined carbon fiber and the white panels, outlined on this version with what appears to be hand-painted pinstripes, perfectly enhances the overall shape of this helmet.
The finish is outstanding, and the white paint is actually a beautiful metallic with very tiny and subtle gold flecks, mimicking the just-barely gold tint in the carbon fiber.
An interesting styling touch is the metal panel offset at the lower edge of the helmet towards the rear with the word "carbon" embossed in black.
The only thing I can fault on the XR1R Carbon is the clearcoat, which doesn't have that "hard" feeling of the "Hi-Brite" clearcoat found on helmets like the Nolan N90 (review) or the Caberg Sintesi (review).
The clearcoat on the XR1R Carbon feels a touch soft and it does seem to show nicks and scratches more quickly than I'd like, so this isn't a helmet to throw around like an inexpensive HJC.
The Nexx XR1R in both the standard and Carbon editions is what might be called a minimalist helmet. The face shield rotating mechanism is probably the most visible artifact of this design philosophy, with its skeletonized structure held by aluminum screws.
This results in a design that is not quick-release and it may even appear to be a bit crude, because the detents in the Lexan face shield are cut with a machine tool, shaved edges and all.
But it works and it's been working on the original XR1R, so no complaints here. It does seem a bit out of place on a helmet in this price range though.
Plug in the text from the original XR1R review here and you'll have the XR1R Carbon. Everything else is the same in terms of quality and construction, look and feel.
The XR1R Carbon is also fitted with the Pinlock anti-fog insert (review) posts, although I'll still add my plug for the Clarity Defog It anti-fog coating we reviewed, which works very well on this helmet and others.
Nexx XR1R Helmet Fit, Internal Shape and Liner
Not much of a difference to report here; the XR1R Carbon has the same neutral fit as the XR1R standard, feeling very much like the internal shape of the new Shoei RF-1100 (review) in my opinion.
I'm also currently in the process of evaluating a new Arai RX-Q (review).
And in wearing that helmet back-to-back with the XR1R (both in size large), I have discovered that the RX-Q, which uses the Arai "Intermediate Oval" internal shape, is slightly rounder inside than the Nexx.
I'm actually surprised at this, because previous Arai Intermediate Oval helmets felt too narrow for me. But the RX-Q also uses a different (for Arai) type of liner and, apparently, construction, which may account for the differences.
The XR1R Carbon comes with the Nexx "Ergo Padding System" kit. This allows the owner to custom-fit the interior to their head shape, as described in our review of the XR1R standard version.
I noticed that my eyeglasses fit with no problem in the Nexx XR1R Carbon in size large. They didn't quite fit correctly in the standard XR1R, but I'm not sure why there would be a difference, because the internal shape and fit seem identical.
Perhaps it has something to do with the shell size; Nexx now says they are using three shell sizes to span the range instead of two.
The liner used in the Carbon version has some very nice contrasting stitching; red on this color combination. The lighter-colored fabric is also highly reflective, as can be seen in the photo of the helmet liner.
The weather has been very warm here all summer and the XR1R Carbon has been my helmet of choice. The light weight and the comfy liner really makes a difference on those very hot days.
More information on helmet fit can be found in the webBikeWorld Motorcycle Helmet FAQ page, along with the chart that lists the helmet weights of webBikeWorld reviewed helmets and also by shape on the webBikeWorld Motorcycle Helmet Shapes page.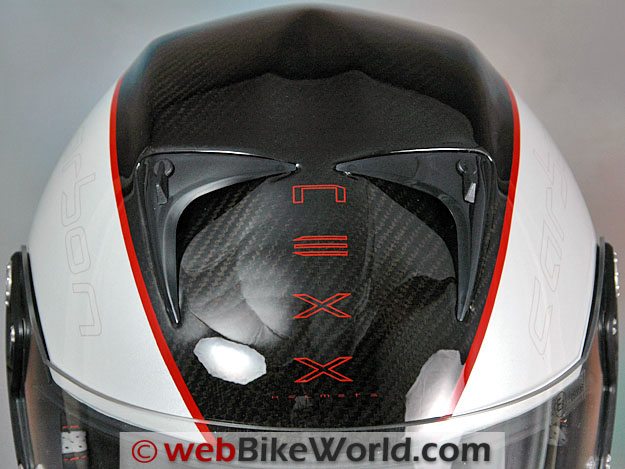 Top vents on the Nexx XR1R are simple, easy to use and work well.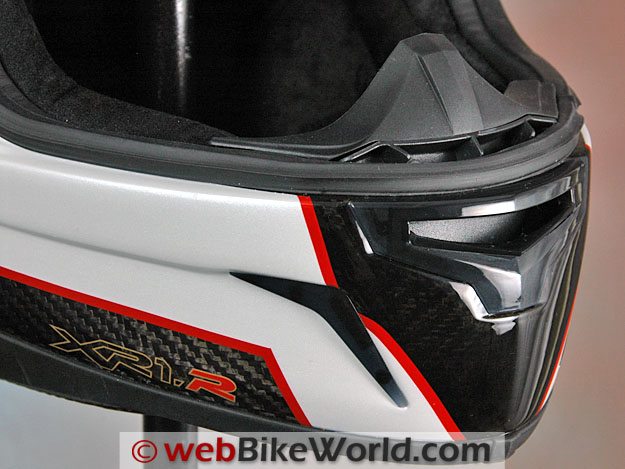 Nexx XR1R Carbon – Face Shield, Eye Port and Visibility
Nothing has changed with the eyeport and face shield system on the XR1R Carbon.
The XR1R series overall has outstanding visibility — still among the best of any full-face helmet we've reviewed. This is yet another feature that, once experienced, will pretty much make every other helmet eye port seem like the slit in a T-34 tank turret.
Visibility translates to safety, so having the nearly unlimited side-to-side and top-to-bottom outward visibility afforded by the XR1R and XR1R Carbon is a definite benefit.
The breath guard on the XR1R Carbon does block some of the view out the bottom, but it can be easily removed if desired.
Nexx now says the XR1R Carbon is made in three shell sizes across the size range. This is good news, but I'm not sure if the standard XR1R shell size range has also been expanded from two to three.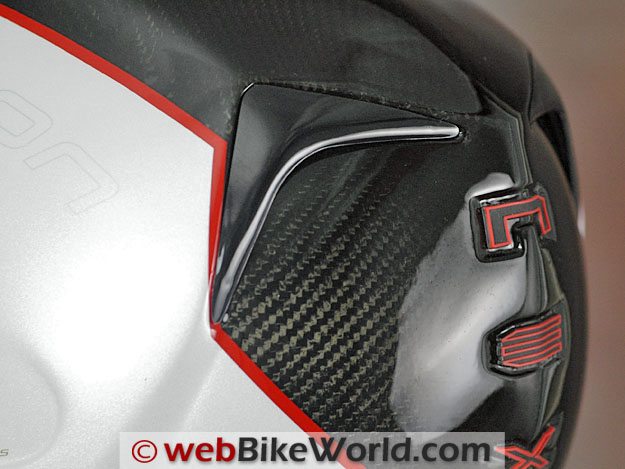 Rear exhaust vents and embedded logo on the Nexx XR1R Carbon.
Ventilation and Air Flow
Ditto for the ventilation in the XR1R Carbon, with the same excellent air flow through the chin and top vents as the original. Once again, simple works, because the basic on/off levers for the top vents and the big sugar scoop chin vent really do the job.
The chin vent pumps air through the large channels in the chin bar itself and the rest of the air is directed through equally large passageways at the top of the chin bar, on to the back of the face shield and then on to the rider's face. It does this with minimal vent noise, which is actually rather amazing, considering the small size of the helmet shell.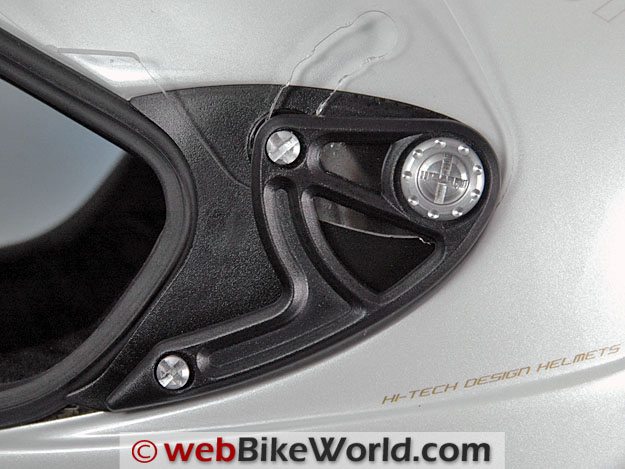 The face shield rotating mechanism take the minimalistic approach but it works.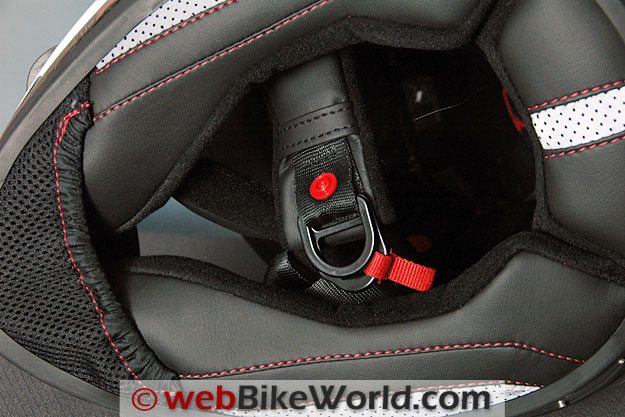 Note the contrasting stitching and reflective material at front and rear.
Nexx XR1R Carbon Sound Levels
The carbon fiber shell structure usd in the XR1R Carbon hasn't changed the overall noise levels in the helmet, fortunately.
But the helmet still has the same amount of wind noise that comes from the lower rear, just under the back of the ears.
This is a common area for noise generation on many helmets, due to the way the air flows under the helmet and between the rider's neck and shoulder.
I can place my hand there and the noise levels drop dramatically, but I'm not sure what Nexx could do about this, other than perhaps add a thicker and tighter neck roll to the helmet.
Note that our helmet evaluations are a combined effort of several riders over time on different types of motorcycles with and without windscreens.
Evaluators wear correctly fitted, high quality ear plugs (even when evaluating motorcycle intercom systems).
Always protect your hearing when riding a motorcycle. See the wBW Earplug Reviews for more information on choosing and wearing earplugs.
Note also that perceived noise levels will vary, depending on the individual.
Noise can be caused by many factors, including helmet fit, the type of motorcycle and windscreen, wind speed and direction and even the rider's clothing.
For more information on helmet noise, visit the wBW Motorcycle Helmet Noise page.
wBW Video: Nexx XR1R Carbon Helmet
Helmet Weight
Here's the best part: the XR1R Carbon shown here in size large weighs a scant 1219 grams. That's 2 lbs. 11 oz., meaning the XR1R Carbon breaks the 3-pound barrier by a huge 5 ounces!
This makes the XR1R Carbon absolutely the lightest full-face helmet that has been reviewed on webBikeWorld.com to date. I'm not sure how they can get much lighter than this!
The feeling is amazing and, once experienced, makes all other helmets feel like antiques. It makes a huge difference in comfort, especially for those longer rides.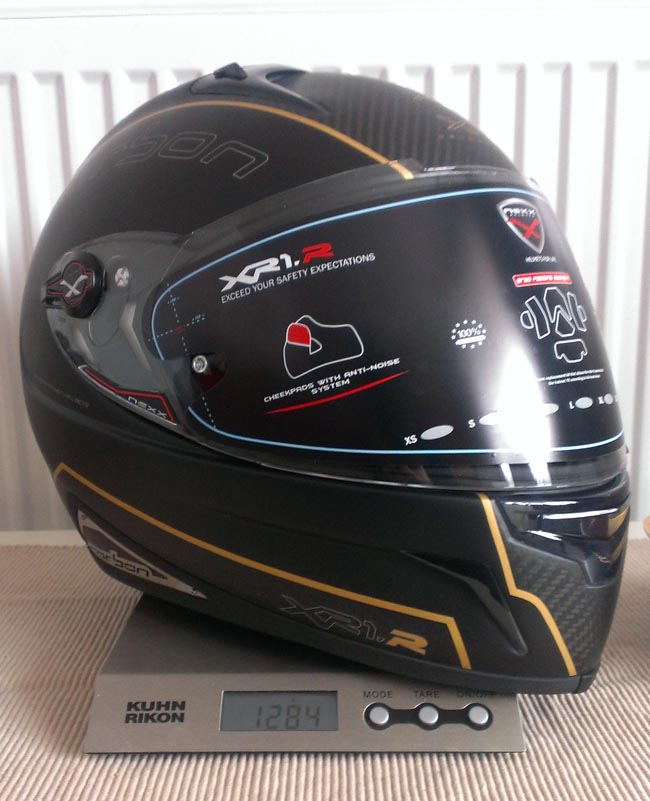 From "Paul" (April 2013): "I was doing a lot of research on this helmet, including on your site. Since the helmet's weight is its selling point, there seems to be a lot of divided reviews about it under the comments section (below). Well I just bought one in the UK and it does weigh 1250gr +/- 50 as stated, I don't know where people get their 1500gr+ helmets from. Picture attached."
[UPDATE: See the owner comments below. Apparently, Nexx has changed their manufacturing process since we first reviewed this helmet and the newer XR1R helmets may be much heavier than ours.
The U.S. DOT versions may be heavier and don't forget, the Nexx XR1R (review) non-carbon version is definitely heavier.]
Just as an example, the next lightest full-face helmet we reviewed was the Shark RSX (review), but that was a size medium. It weighed an unconfirmed (not weighed on the official webBikeWorld scales) 1350 grams, according to the owner.
The standard version of the Nexx XR1R (review) is actually the lightest size large full-face helmet we reviewed at 1382 grams, which is very light.
This XR1R Carbon in size large at 1219 grams is 163 grams (5.75 ounces) lighter than the standard XR1R. It's nearly half the weight of the Caberg Sintesi (review), and there are only 7 open-face helmets that are lighter, and all of those are the very minimal "Jet" or retro styled types.
All of these weights are available on the wBW Motorcycle Helmet Weights page, along with a chart that lists the helmets by weight and shape on the wBW Motorcycle Helmet Shapes page.
Conclusion
The Nexx XR1R Carbon is a superb blend of very light weight without giving up comfort, excellent ventilation and outstanding outward visibility. It has all of the benefits of the original XR1R and then some.
The biggest question is this: since the standard version of the XR1R is one of the lightest weight helmets available, is it worth another $140.00 to shave another 163 grams?
I say — yes!  When you consider the beautiful carbon fiber look and bragging rights to the lightest helmet in the neighborhood (wait until you see the look on the face of your mates when they pick it up), go for it. After all, life is short!
More wBW Nexx Helmet Reviews: Nexx XR1R Carbon  |  Nexx X30 Flip-Up  |  Nexx X60 Jet  |  Nexx XR1R Full-Face  |  Nexx X30V
wBW Review: Nexx XR1R Carbon Helmet
List Price (2010): $599.00
Made In: Portugal
Colors: Black/Gray; Black/Red; White/Red.
Sizes: XS to XXXL Shell Sizes: 3
Review Date: August 2010
Note:
 For informational use only. All material and photographs are Copyright © webWorld International, LLC since 2000. All rights reserved. See the webBikeWorld® 
Site Info page
. Product specifications, features and details may change or differ from our descriptions. Always check before purchasing. Read the
Terms and Conditions
!
Owner Comments and Feedback
---
From "B.S." (August 2015): "I'd been looking at carbon-fiber helmets and Google brought me to your review of the NEXX XR1R with the attendant conflicting (and rather confusing) weight reports.
Upon looking for sales outlets I found that there are many selling what are purported to be the same helmet on EBay at greatly reduced prices.
The one thing I did not see in your owners' reviews was where they purchased their helmets. This COULD account for some of the variance in reported weights, and even the surprising results from dropping a couple examples (the cracked shell reports are contrary to my experience with carbon racing parts).
EBay is a well documented source of "knock off" goods and the listings for this helmet seem to suggest that could be the case here, as well. Who knows, but it is at least a possible source of the varied reports.
Glad I discovered your interesting site!  I've been riding since I commenced on a 1959 Cushman Eagle in 1960. All the best."
---
From "W.M." (May 2015): "2 lbs., 13.7 ounces on my accurate postal scale this afternoon. It is the carbon DOT model, size large, with face shield attached.
Based on this helmet, my first Nexx, the sizing runs just a little small. Usually large is a tad loose on me, but this one fits pretty well. It's just a little snug on my cheeks compared to my 2 HJCs.
Your website motivated me to buy it and I found a brand new one for $270.00, flat black color. Tomorrow it gets a hundred mile test, after which I'll be better able to comment on its quietness and comfort.
Said I'd comment on today's ride; here tis.
Quietness: best I've experienced. I use DIY custom earplugs anyway, but the Nexx has a tighter fit around my neck than other helmets, so wind noise seems more attenuated. However this same tight fit makes donning the helmet slightly more difficult. Speeds today were up to 90 mph.
Comfort: I had been concerned that the tight fit to my cheeks might be intolerable, but never noticed it during my first 100 mile ride today.
Face shield: clarity seems good, using the smoked shield. It clicks shut nicely and has 4 detents which worked sufficiently to hold it wherever I wanted. As others have noted, it does fog up quickly when fully shut, probably a function of the relatively tight neck curtain.
Ventilation: with all 3 vents (2 top of helmet, 1 at mouth) open, barely adequate at speeds under 30 mph, in today's bright sunny 68 degrees F conditions. When hotter, I expect I'll have to leave shield partly open."
---
From VC (March 2015): "I purchased one of these beautiful helmets and found it a bit too small. In rewrapping it for return/exchange for a larger size, it slipped and fell about 2 feet onto a soft pine floor. The fall cracked the shell about 2".
RevZilla refused to get involved and I never wore the POS for fear that if it or my head hit asphalt, concrete or a bumper, it would not perform adequately!
Makes you wonder what types of "crash/impact" tests are actually being done to certify these helmets. For sure, my race car helmets nor any of my name brand helmets (Shoei, Arai, Simpson, Impact) have ever sustained such damage from such an incident. Very scary!
Just thought you should know. I've still got the … helmet, if you'd like to take a look. Not even scuffed, but seriously cracked."
Editor's Reply: Not surprised actually, polycarbonate shells have probably the best impact energy dissipation, but people think polycarbonte means a cheap helmet.
But, remember the shell is only one part of the energy distribution system in a helmet, so a crack may not necessarily mean that the helmet wouldn't protect. It passed the CE and/or DOT certs and they drop a pretty hefty ball weight on it from a meter or so to pass the CE test.
---
From "D.M." (May 2014): "2+ years experience. I have some neck issues and the light weight is a real plus. Comfortable. Cooler than most. Large visor and large opening in the helmet face = great visibility.
The large visor causes the helmet to vibrate subtly when raised if its in turbulent air. Not an issue in clean air. Overall the best helmet I've ever used."
---
From "J.V." (March 2014): "Regarding the weight controversy concerning the Nexx Carbon helmet, I purchased one in March 2012, it weighs 1287 grams on an electronic balance, with everything inside and one of the "adjustment" pads added.
Without the cheek pads (I had to take them out because it was squeezing my jaws like a vice! Seems to fit quite well without them.) it weighs 1244 G.
These numbers seem to be pretty close to their claimed weight, although about 50 G more than you guys recorded."
---
From "A.D." (March 2014): "Because there are not that many dealers who have a Nexx let alone more than one Nexx helmet available in their store, I relied on your helmet pages and specific the fitting.
Some helmets with the same size and fitting where available in some stores near my place so I could hope for a good fitting. And it did, fitting is as you did describe.
The main pro is the weight, easy to wear and turning your head at speed is no effort at all. Really nice.
I use also a BMW enduro helmet and in comparison to that one, visibility from left to right isn't as good with the XR2. I would say sufficient.
Noise levels, well I am not in the possibility to compare a lot of helmets but saying it is average makes me terrified of helmets that are below average, it makes a lot of noise i think.
Due to the space around your ear, where a speaker for a intercom can be placed and the wide channel for air leaving the helmet in the rear, a lot of noise becomes even more loud due to the room of space around your ear working like some drum.
I placed some hairy high frequency anti-sound material in the channel and some more dense material around the ear area which works pretty well to lower the sound levels.
I can now listen to my in ear phones without turning the volume up. Better (I always ride with or ear protection or in ear plugs with music/GPS).
Ventilating is good. Impression of the helmet is good, as well the building quality and hard parts. Greetings from Holland."
---
From "H.S." (September 2012): "Just got a Nexx XR1R Carbon helmet (September 2012) in large size. Out of the box it weighs 1260g so I can say it does weigh what the manufacturer says, at least in the UK. It has a quick release visor fitted. Excellent field of view and comfortable but noisy."
---
From "G.S." (May 2012): "I bought this helmet in 2010 1. Few months after it fell from my motorcycle seat which is not even 1.5 feet high and the helmets carbon layer came off from 2-3 places. It is so fragile.
Now it will only get worse because the water will go inside and damage it further.
2. The mouth air vent came off and there is no replace part for that. I don't understand why they have made such a cheap vent?
3. The rear bottom vents are like metallic mesh and few months after I bought the helmet these mesh are coming off the helmet and getting deteriorated.
I agree this is the lightest helmet in the market and viewport is good but what good is light weight if the quality is compromised? I have been riding motorcycles for almost 15 years now and never had faced such issues with any helmet."
Editor's Reply: Carbon fiber helmets can tend to be less forgiving to this type of damage. Note that manufacturers usually recommend replacing the helmet if it is dropped, no matter what type of material is used for the shell.
---
From "G.M." (February 2012):  "I just received the Nexx XR1R Carbon helmet in a Medium size and became a bit concerned when I weighed it at 1500 grams when your article says 1200 grams. I weighed my Scorpion EXO-500 and it came to 1650 grams which is pretty close to what your chart shows.
I used a digital kitchen scale that may not be dead accurate, but I can't believe it is out by more than 50 grams.
It is definitely the carbon version as it matches the look of the online model and says carbon in several places. 300 grams is a huge variance — in fact that makes it 25% more than what I expected.
I see now that there are a couple of others that have the same complaint.
While I am really disappointed in the weight, I do have to say that the helmet looks good, is comfortable and has a fabulous field of view. I haven't ridden with it yet as it is far too cold right now to do that.
I checked my scale as well as I could. In Canada we have $1 and $2 coins which weigh 7.0 and 7.3 grams respectively. My scale only shows full grams – no decimals. I put 5 $2 coins on the scale (5 x 7.3g = 36.5g) and the scale cycled between 36g and 37g – suggesting that the weight it read was half way between 36 and 37.
This seems reasonably compelling evidence that the scale is close to being accurate – further evidence is the weight of the EXO-500 discussed below.
My Nexx XR1R weighs 1511g on my scale and my Scorpion EXO-500 weighs 1647g (both helmets are size M).
Your chart shows the Nexx at 1219g and the EXO-500 at 1662g (both helmets weighed were size L).
The helmet you tested was the white, which has a gloss finish on the exposed carbon part, while mine is the Grey model which has a matt finish on the entire helmet including the carbon.
I took as much of the lining apart as I could to see if it was lined with lead or something but nothing was evident as under the lining is just a Styrofoam like product glued to the helmet base.
I meant to take a picture to send you, however, it does look exactly like the relevant item on the website. Inside it says it was manufactured June 2011 and outside it says it is 1200g +/- 50g."
Editor's Reply:  1500 grams is actually heavy for a carbon fiber size M. I wonder if they are now substituting some other material for the carbon fiber and just leave the carbon fiber for looks?
Not sure what's up, either they sent us a ringer (possible) or an ECE version labeled as DOT (also possible) or perhaps the specs have changed over time since we reviewed ours, which was one of the first off the assembly line, in 2010. This is definitely a mystery…
---
From "P.A." (November 2011):  "It wasn't until I read several of the reviews on your web pages that I actually identified that I was suffering from fatigue in my upper neck/lower scull area and the cause was my flip helmet and moreover the weight.
The first week I bought the Nexx XR1R Carbon I covered well over 2000 miles on a Euro trip. The helmet is that light after your first outing it challenges the way you think about lids. I've no neck aches or problems at the end of the day which is just one of the many plus points this helmet has to offer.
I've now done 4000 miles in this helmet and my only gripe was the chin strap which is a double loop/buckle which is a bit fiddly but this was easily cured by a retro fit snap connector/adjuster.
Conclusion? I agree with your review 100% this is one fantastic helmet. Thanks for the reviews they helped me big time."
---
From "C.C." (05/11):  "I just bought the helmet largely on the strength of your review. A few comments. Overall the shape doesn't seem as "long" in the forehead versus my two other regular use helmets – a Shoei X-11 (review) and a SCHUBERTH J1 (review). I wear a Large in both of those but I need an XL in the Nexx and my forehead just above brow is "almost too tight".
I think that if I went with the large in the Nexx it would have been too tight. Width is very accommodating with no problems at all.
Noise wise, on today's first ride on my 2003 Ducati ST4S with a laminar lip it was significantly more quiet that either the X-11 or the J1 – we aren't truly comparing apples to apples with these helmets but it gives a fair cross section I feel.
The Nexx is especially quiet if I very slightly tilt my head downward/forward – basically moving my chin toward my chest a few degrees. I suspect on other bikes with cleaner airflow or more coverage it would be very quiet.
I weighed it on a postal scale we use regularly at work, for the size XL with visor attached and none of the ergo pads used it was 3 lbs. 3 oz. or 1445.82 grams.
I haven't weighed the SCHUBERTH or Shoei but a simple handheld comparison yielded a significant "felt" lightness advantage versus the others. Hope this info helps other in their purchase decision."
---
From "J.A." (03/11):  "I just I just wanted to add a quick comment. I found the post that talked about the "real" weight in XL to be very helpful (from D.G. below). I received my size medium XR1R Carbon today.
The helmet sticker specifies the weight to be "1200g +/- 50g without accessories" I will have to assume this is padding out and visor off.
The actual weight (using a digital kitchen scale) is 1357g with the visor on and the padding in (None of the ergo padding installed and with the tags removed).
I expected this based on the post I read on your site, others may find this post helpful as well since most people will be looking at this helmet because of the weight."
---
From "D.G." (02/11):  "I have recently purchased a Nexx XR1R Carbon in the UK. My interest in this helmet came from the review on your site, which seems to be the only English review to be found.
When I weighed my XL out of the box with the tags removed it came to 1510g. This seems to be considerably more than you seemed to find. I know that the XL is a bigger shell and it is supposed to weigh 50g more than the L.
The sticker on the back of the helmet states 1250g +/- 40g.
I would be interested to know how you weigh your helmets. Do you include the visor, visor mounts, padding, chin-curtain, breath-guard, etc.?
The only way I could get to within the stickers quoted weighted was by removing everything possible from the helmet. Nexx seemed to think this was reasonable.
I was disappointed as my old helmet which was labeled as 1450g, and had a Pinlock fitted as well, weighed exactly the same 1510g. I would be very interested in your thoughts on this. Thanks for all the great reviews."
Follow-up from "D.G." (October 2013): "Following my previous comment in February 2011, I have some new information regarding the weights of these helmets.
Somebody at my local bike meet offered me his crashed XR1R Carbon for spares. He gave me his complete size L helmet purchased from the same shop as mine, in England. Both helmets have the same accessories including Pinlock fitted. Nothing had broken off in the crash.
According to the weights on the back of the helmets, my XL should weigh on average 50g more than the L. I weighed them both on my digital scales, and my XL weighed 220g heavier than the size L!
This is ~170g more than it should.
To be fair, I have added more of the pads since I originally received the helmet as I have lost some weight. The weight is currently reading 1556g v. 1336g for the L. Even going back to the original weight I measured of 1510g, this is still ~124g more than expected."
Editor's Reply: Thanks for the information. It's impossible to say why there are differences. First, yours is homologated to ECE, while ours is DOT.
We weigh all the helmets as is, with all the parts included, on a highly accurate and calibrated lab scale, so I am very confident that our published helmet weights in our Motorcycle Helmet Weights chart are exactly correct.
We weighed a size L Nexx XR1R Carbon, and different shell sizes can make a big difference in weights, which probably accounts for some of the difference.
Other reasons for a weight difference include: Nexx could have changed the design since we reviewed the helmet; the natural variance in production tolerances; and ours was one of the first made, so perhaps they added some thickness or other parts as the design evolved.
Regarding the weights that the manufacturers publish on the back of the helmets: as you have discovered, these printed weights are usually completely incorrect and we never trust them.
I have no idea why manufacturers put these phony weights on the helmet, which only confuse the customer. The weights they print on the label are usually/sometimes the weight of the smallest helmet in the lineup; e.g., size XXS. But even then, it's suspect.
The only helmet company we have ever found to print a correct weight on the helmet is Schuberth; the SCHUBERTH C3 DOT (review) version we recently reviewed actually weighed less than the published weight for the helmet.
Thus, for the most part, I would disregard any printed or published helmet weight, because it usually has absolutely nothing to do with the actual weight.
In fact, my feeling is that it should be illegal for any company to print the weight if it isn't the exact weight of the helmet you are holding. Why the companies even bother printing this misinformation is beyond me.
With that said, it does seem like perhaps a size XL of the same helmet should weigh maybe 50 grams or so more.
So, let me ask you this question: are you sure you have the carbon fiber version? (Update: Yes).
Our size XL of the Nexx XR1R (review) wth the polycarbonate shell (i.e., non-carbon fiber version) weighed 1588 grams, almost exactly what your size XL weighs. Are you sure yours is the carbon fiber version?
I am interested in hearing from other Nexx XR1R owners who have weighed their helmet on an accurate scale.
Not sure if this helps, but that's the story, sorry!
---
From "E" (11/10):  "Thank you so much for providing accurate reviews. Out of all the helmets I own, I finally found one that fits me really well. In addition to the largest eye portal and lightest weight so far, the liner is more plush than I had expected…it feels more like my Suomy Extremes, and older Arai RX7-RR4.
However, those $600-$700 helmets do not compare when riding with this XR1R carbon helmet, in terms of visibility and weight. One simply has to actually see the high-gloss finish and feel the difference to be fully convinced.
I'm more likely just going to put my other helmets in storage.
BTW: the gray and black/red colors are actually a mat-finish carbon, and the dark lens I received did not accommodate for their pin-lock system. Also, they are only using 2 shell-sizes at this time, but the small-med-large shell is just perfect! "
---
From "R" (8/10):  "Finally, a carbon helmet with, if not fully white, a good surface of white which is good in helping to visibly stand out in the uncertain picture most car drivers see through their windshield and/or their distracted mind.
And still enough carbon showing so everybody knows you have good taste.
Also, it would go well with my Bonnie which have a black and white tank. I don't care for the metal panel offsets thought, a cheap touch in my view that has no place on a helmet. "Carbon" : we get the point, we can see it, don't make me more vain than I already am.
I have to try one!"