Top Ten Neoprene Face Masks
For those of us who enjoy outdoor activities regardless of whether it is sunny, rainy or snowy, there are numerous challenges that we face. Key among them is getting bugs in our ears as we hunt, or the rain messing up our mouths as we ride. One product by the name of a facemask that promises to keep us shielded from the elements as we excel at what we do. Below are some neoprene facemasks that will do an excellent job of protecting you and while still looking fabulous.
1. Black thermal fleece: a half-faced mask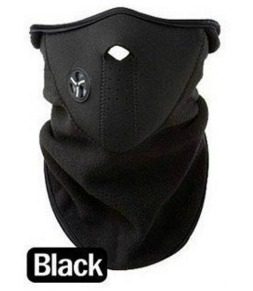 At a price of $6.99 the mask features a neck and face warmer that come in handy during the freezing seasons. The nasal cut out ensures that your rhythmic breathing through the nose in not interfered with. The mask is unisex, so you and your partner can look awesome while enjoying nature together. It is suitable for a variety of outdoor activities such as hiking, snowboarding, cycling or motorcycling. It is made from the same material that is used to make wet suits. This can only mean that besides other amazing characteristics, the mask is waterproof.
A fresh air ventilation system ensures that for the entire duration that you are wearing the mask; you are always supplied with a constant stream of fresh air. Its cover is shaped like a face to provide you with that extra level of comfort. While it is durable, the mask is also very good looking.
2. Black and White Vintage American flag- that is a full face mask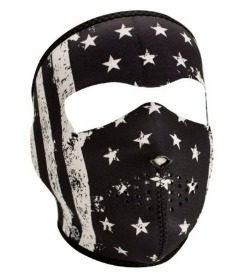 For only $9.99, you can purchase the Zan Headgear full mask which is designed with an old American flag. It is made from stretchy neoprene material that is both warm and water resistant. It can be used together with a helmet or on its own.
The mask can be utilized with or without glasses, goggles and a wide range of other headgears. Its unisex quality makes it ideal for both you and your partner to wear it and its hook and loop closure ensures that it can fit just about everyone.
It is made of material that is water resistant, and it fully covers your face and ears. It comes with a Bike Shop Supply Certificate of Authenticity to prove that its quality is not debatable. Besides this, it also has a warranty and it is fully reversible so it holds two different masks under the same material and price.
3. Zan Headgear the Men's Glow in the Dark Bone Breath Neoprene a Half Face Mask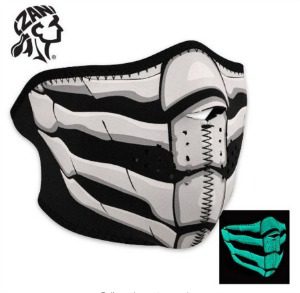 Just as the name suggests, this neoprene facemask will cover half of your face, which comprises your nose, cheeks, and chin. It is made of neoprene fabric that is warm and wind resistant. Therefore, you can use it regardless of the temperatures that are prevailing in the environment.
It features nylon edges that are bound to withstand the test of time along with the rest of the mask. Thanks to its loop and closure, the mask will fit just about anybody at any time and season. In its design is incorporated a glow in the dark bone breath feature that looks cool in broad daylight or utter darkness.
Its benefits include the mask's ability to you warm regardless of whether you decide to use it with a helmet or not. It definitely looks cool, and you will stand out even in the pitch-blackness of winter nights, all this at only $23.59.
4. Graphic Style Skull the Assassin Black Neoprene an Adjustable full-face mask
It's a full-face mask that is solid black on one side and has a colorful steam punk tribal skull printed on its other side.
It covers your entire face, ears and neck providing warmth and the much-needed protection from the cold of snowy winters and the glare of the hot summer sun. It also protects you from the dust and wind. It's very soft nature enhances comfort while its anti-pilling finish shields both you and your mask from the formation of motes which could compromise on the fun.
Some of the benefits of owning this mask are: its ventilation for both your mouth and nose allow for smooth, uninterrupted breathing.
These ventilations also stop frost from building up in your goggles, which can hinder a clear line of sight. The mask can be washed in the machine, and it stretches to fit any size. Its price of just $4.22 is just a bargain.
5. Astra depot the neoprene skull full face that is reversible motorcycle mask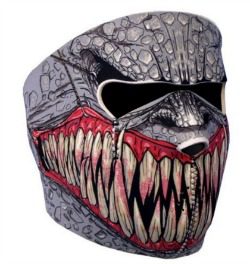 The cover is made from stretchy neoprene material, which is both warm and water resistant.
It has enough space around the eyes region to allow for the comfortable wearing of goggles or sunglasses or whichever eyewear you choose. It is designed to protect your face and ears from elements such as the cold, snow, wind, dust and heat from the sun.
It is, therefore, ideal for both snowboarding and other activities in the cold winter months and motorcycle riding in the hot summer days.
Its secure Velcro closure gives it the ability to expand or contract to whichever size that fits you best. It is light and can easily fold to fit into your pocket when you are not using it, and these two are just a few of its benefits. On one side, it has a beautiful fang face while on the other it is just plain black. It is priced at a very affordable $ 6.19.
6. Zan Headgear the full mask neoprene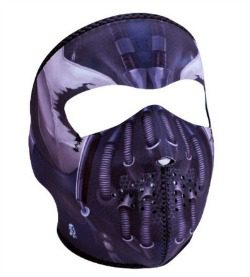 The mask features a full coverage of both your face and ears. Its fabric is traps warmth and is resistant to the wind. It has a hook and loop closure feature that can be customized to fit all including late teens and adults.
Thanks to this feature, it offers a comfortable fit regardless of whether you are using it with a helmet or not. Its nylon edges can withstand constant use over a period. Its benefits are such as its two sides which make you feel like you are buying two incredible masks for one amazing price of just $11.31.
It includes a supply certificate of authenticity to prove that it is of very high quality and warranty. Thanks to its unisex design, both male and female nature lovers can wear the mask. Its weight of 3.2 ounces makes it easy to carry around when you are not using it.
7. Neoprene half mask the sugar skull mask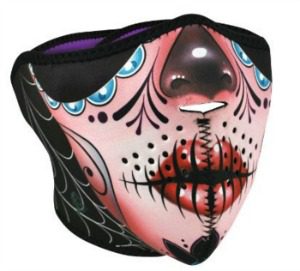 A mask offers you a full coverage of your cheeks, nose and chin. Its fabric is warm and has nylon bound edges that ensure it will serve you for numerous cold and warm seasons.
Its hook and loop closure structure offers an ever customizable fit and can be used in the presence or absence of a helmet. Its fabric is stretchy and resistant to both wind and water. The mask can be easily worn with or without goggles, glasses and a variety of headgear.
It comes with a warranty, a Bike Shop Supply Certificate of Authenticity, and you can own it at an affordable price of $7.94. One size can fit a majority of faces. The two-sided feature makes it exciting since it makes you feel as though you purchased two masks for the price of one.
8. Adjustable and reversible face masks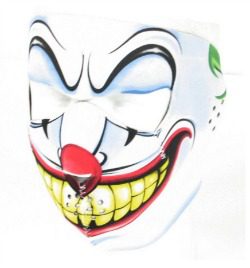 For those of us who love evil smiling clown faces such as the Joker's, this is exactly the cover for your face.
It encloses your entire face including ears and is made from an elastic neoprene material that will shield you from water, sand, wind, bugs and debris that may fly your way as you hunt, snowboard, ride or take part in any other outdoor activity.
Its benefits include an adjustable Velcro strap that will fit you regardless of the size of your head. Purchase here.
It contains vent holes for your ears, nose and mouth so you can hear and breathe easily even with all your features behind the mask. Besides that, you can look sarcastically evil as you carry out your outdoor activities. Due to the way it encloses your whole face, the mask is most preferable if your spirit of adventure takes you to a place where you have to lie among insects.
9. Neoprene fleece the lined face mask with sugar skull print
The piped edges of this mask provide you with the best fit, and they make it able to withstand numerous uses over time.
It covers and shields the entire face and ears from the numerous elements of Mother Nature.
Its Velcro hook and loop closure will offer a comfortable and customizable fit any day.
The use of this mask is not limited to whether you are wearing a helmet or not. It is so good that it even makes fast movements in the cold season fun.
It is a 100% neoprene facemask, and you can buy your own here.
10. Kitty design classy face mask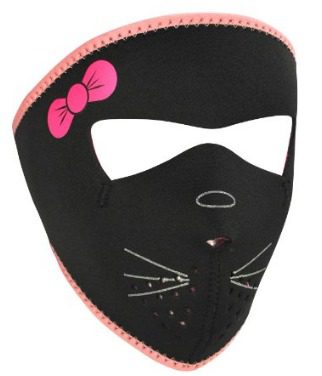 At a price of $9.40, the kitty design facemask offers full coverage of your face and ears. Its stretchy 70% neoprene and 30% polythene material provides a comfy fit for those with smaller faces.
The material used is also water resistant and will offer admirable protection from the cold. Its nylon edges offer more comfort and ensure that the mask withstands whatever tests time throws its way.
The mask was designed with those with smaller faces in mind, and it features a reverse to black or pink material for the days when you feel dull.
The mask is ideal for women although a man can also use it as a sign that he has embraced his feminine side. It comes in a variety of colors that you can choose from.
It also features a hook and loop closure that you can use to tighten it to your comfortable fit.
Each one of these masks is unbelievably cool and offers immense levels of comfort no matter where you are or what you are doing.