Italian motorcycle company MV Agusta appears to be moving into the lucrative motorcycle travel industry offering tours in their home country on their new Turismo Veloce 800 sports tourer.
MV Agusta tested the new business with a seven-day tour earlier this year across three Mediterranean islands from Sicily and ending with a tour of the Varese factory.
Now they have extended that with the launch of their "Emotion Road" program, hiring out their Turismo Veloce 800 for tours throughout Italy.
It's a joint program with travel company Novara Pop Srl and the support of the Italian tourism industry.
An official press release says Emotion Road offers tours along the most picturesque routes in Italy, staying in the "most exclusive and atmospheric hotels".
While prices are not mentioned in the release, the inaugural Mediterranean tour was not cheap at €2950 (about A$4370) for the rider and €1600 (about A$2370) for a pillion.
The cost included the loan of the sports tourer, boat and ferry crossings, accommodation, support vehicles, tour guides, and some food and fuel. Flights and transfers were not included.
The release from MV Agusta says "Emotion Road" offers a "turnkey package combined with an original approach to tourism".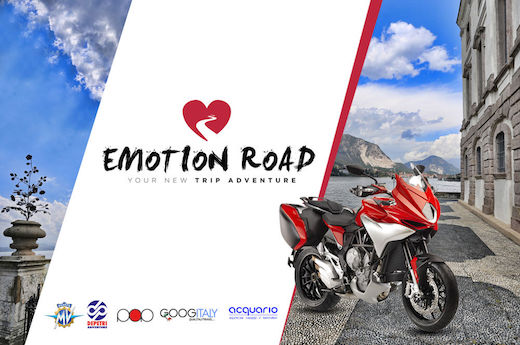 "It provides a perfect solution for customers seeking to satisfy their desire to discover Italy while experiencing the country's natural beauty and spirit of adventure.
"The journey will be enriched by the presence and expert guidance of Alessandro "Ciro" De Petri, who will guide the tour aboard an MV Agusta motorcycle."
The new business venture comes as MV Agusta wrestles financial liquidity concerns and is rumoured to be involved in industry talks with various companies, including Polaris, about buying into the company so they can buy out of their ownership by Mercedes-AMG.
Expect more motorcycle companies to begin offering these types of trips. It's part of a new wave of marketing that promotes customer loyalty.
BMW, Harley-Davidson and, to a lesser extent Triumph, are masters at this sort of marketing with their safaris and HOG and RAT rallies.