Sandra Moran has been riding bikes all her life, so when she lost her son, Jaie, to suicide it seemed natural to just want to ride.
On April 1, 2014, Jaie Moran, sadly and suddenly took his life two days after his 22nd birthday. He is survived by his fiancée Jade and eight-month-old daughter Poppy.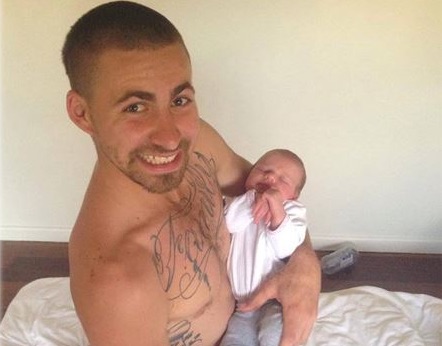 "I just wanted to get on my bike and ride around Australia," the 47-year-old Hervey Bay mother of three says. "I was not in the best frame of mind at the time."
However, Jerry Farsoun who established suicide, bullying and depression support service Overdownunder, asked her to use her anger for a positive purpose and began organising an epic awareness ride.
Now, with the help of Overdownunder, Sandra will ride her Honda CBR1000RR Fireblade more than 36,000km around Australia meeting people from more than 300 towns, including Tasmania, and talking about a topic that is not being helped by being swept under the carpet.
Sandra is no stranger to long-distance motorcycle travel. She's only had her 'Blade two years and already it has more than 60,000km on the odometer with trips to Phillip Island, Melbourne and Canberra, mostly solo.
She will ride solo around Australia, but hopes to encourage other riders to join her. She has posted an itinerary of dates so riders can tag along for part of the journey.
"I was brought up on motorbikes and cars with two brothers and a car-crazy dad," she says.
"I've been riding since I was 14 or 15, starting on trail bikes. I swore black and blue I'd never get a road bike, but about 10 years ago a friend was selling her VRF1000F and I bought it cheap.
"I don't have a car now. My bike is my transport."
Sandra has now made it her mission to help others by undertaking her epic "Jaie's Journey", talking about the risks of suicide and other emotional/mental health issues which are largely taboo in many communities.
She points out that the Australian suicide toll is greater than the road toll but gets significantly less attention and funding.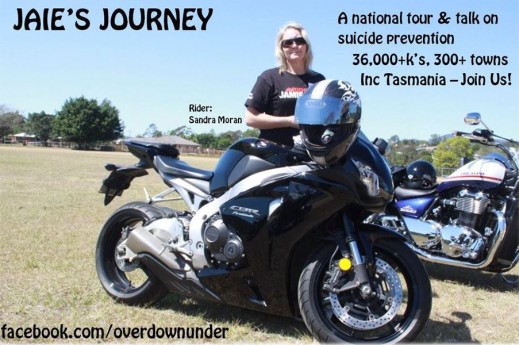 Jaie's Journey begins in Melbourne on August 1, 2015, heads north through NSW and Queensland, across the top end to Broome, down to Perth and across the Nullarbor, through South Australia and finishing in Tasmania on November 19.
That's more than 300 towns and 36,000km in 110 days.
"We want to get as many bikes as possible to come along for the kick-off and riders to tag along for at least part of the ride," she says.
A pre-Launch warm-up fundraiser will be held on July 25 from St Kilda to Ballarat. All details will be shared on the Overdownunder Facebook page and Jaie's Journey.
Overdownunder will launch its new SmartPhone Personal Services App at the Melbourne launch of Jaie's Journey. It's designed to help those in need and provide resources at the fingertips of people who might otherwise be struggling, especially in remote and rural areas.

Sandra will be supported by the Overdownunder bus which is a self-contained unit providing accommodation, kitchen and garage.
If you would like to host their stay in your town or provide any other support, you can email Sandra or Overdownunder.