MSR manufactures helmets for every price category. If you want to spend less and get more value, the Xpedition category is just right for you. If you want luxury, you should be happy with the luxurious edition.
The Mav 3 helmets are available at an excellent price range offering a unique set of features. The popular motorcycle legend Malcolm Smith is the founder of MSR. He created the company in 1971 as a small accessory business. Later, he expanded the brand to make it recognizable as a motorcycle apparel and gear manufacturer. For all types of riding needs, MSR makes riding gear which excels in quality.  Check price here.
The MSR Xpedition helmet review provides an insight into the features of the helmet that make it one of the desirable adventure touring helmets.
Benefits
Whether you like adventure touring, dual sports riding, or full off-road riding, you will fall in love with the Xpedition helmet the moment you put it on. The supremely effective dual density EPS liner provides excellent impact absorption during small and large crashes.
This helmet is customizable so that you can change the riding mode according to your choice. It is one of the basic adventure touring helmets that is available for $139.
Features
The Xpedition helmet is a full-face helmet weighing 3.88 pounds. It is not exactly a lightweight helmet for adventure touring, but if you want a solid helmet that doesn't cost a ton, you have to put up with a slightly heavier helmet.
When you pay less than $150 for a helmet, you should be prepared to face a lot of compromises. Fortunately, the Xpedition helmet doesn't look and feel cheap, and so there is no need to worry about losing on the style factor.
The helmet has an intermediate oval fit, and it should fit most head shapes. If you have an extremely round face or very long face, this helmet may not be right for you. Finding the right size suitable for your head shape is the key to finding the best helmet.
Shell Construction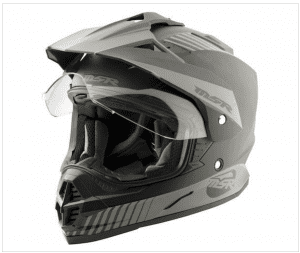 It is important to remember that the Xpedition helmet is a sub-$150 helmet and it is unfair to expect exotic shell construction. The helmet comes with the standard and basic advanced poly alloy plastic.
It is not as resilient as a fiberglass or carbon composite shell. However, it is sturdy enough to provide a safe riding experience. This helmet is designed as an entry level adventure touring and off road helmet. It means that it will probably be your first helmet when you want to experience adventure touring for quite a while.
If you are an experienced off-road rider, you may want to look at other options. The shell construction has an aerodynamic design which enhances your riding experience.
Interior
The interior of the Xpedition helmet is made of a dual density EPS liner that minimizes the effects of small and large impacts. The interior material keeps you cool by wicking away sweat and moisture inside the helmet.
It is not a luxurious liner, and it may not be as comfortable as the Cool Max liner found in other helmets. However, for the price point, it is still a good option. It is not extremely plush, but after breaking it in, you should be comfortable with the liner. With the right fit, the EPS liner suits perfectly well without creating pressure points.
Face Shield
The helmet ships with a clear face shield that has a compound curve shape. It is scratch-resistant, and the shield is optically correct. It also offers UV protection, which means that you don't have to worry about the harsh riding conditions.
However, if you need to ride on sunny days, you have to swap the face shield for a tinted one. Alternatively, you can wear sunglasses and get some sun protection. This helmet is flexible with goggles, and you should be comfortable with using the sunglasses inside the helmet.
Ventilation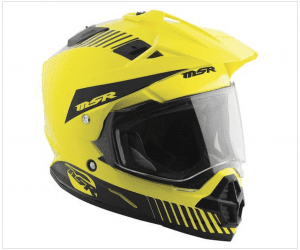 MSR has provided an excellent ventilation system for a helmet that costs less than $150. There are 9 vents in total, including the intake and exhaust vents.
The vents at the chin and chimney direct airflow inside the helmet, while the exhaust vents at the back provide a venturi effect pushing the warm air out of the helmet. The EPS channels also have good cutouts to make airflow channels inside the helmet.
The Hi-air velocity vents on the chin bar have a metal mesh that prevents the dirt and debris from entering the helmet.
Safety
The MSR Xpedition helmet has both DOT and ECE approval. This means that it is a safe helmet to ride off-road. Despite the plastic alloy shell construction, the helmet is surprisingly steady. The Double D-rings help you to put the helmet easily and take it off with ease.
Other Factors for Consideration
The MSR Xpedition helmet is a pretty basic helmet that lacks all the advanced features. However, considering the price point, it is a great helmet for riders who are starting out on their adventure touring journey. Sometimes, you need a simple helmet that offers adequate head protection, and the helmet is quite significant in this aspect.
The absence of a sun visor is a problem for riders who want to use this helmet for street riding. The excellent ventilation results in some wind noise, but it is better to listen to everything on the road. Overall, it is a good option if you want a spare helmet or are just beginning your riding days.