MRA Wind Deflector for Motorcycle Windscreens
I sold the Ducati GT1000 (Blog) recently and until another bike takes up residence, the Multistrada 620 is now my primary ride.
It will keep company with the classic BMW R65 that will never leave the garage.
I'm not sure what it is exactly about this smallest Multistrada, sold for only two years in 2005 and 2006, that keeps my interest.
But it's a lot of fun to ride; it's simple; it has a unique look; it's economical and it's a collector's item. So what's not to like?
Well, the stock windscreen is about it.
It was shaped to focus the air directly at the bottom of my helmet, which may be perfect for evaluating turbulence-induced noise for webBikeWorld helmet reviews but annoying for anything else.
I've been looking for a replacement for some time, realizing that I needed a lower windscreen that would direct the air towards my chest, underneath the helmet, to keep my head up in the clear air flow.
MRA Motorcycle Windscreen
The MRA windscreen from Germany fit the bill (Part Number 4025066099047), but I wasn't sure how the movable deflector on top would work.
But I took a chance, and the windscreen has worked very nicely, performing exactly as I had hoped, solving the buffeting problem.
MRA makes replacement windscreens for many different motorcycles, but the Multistrada version is different than most because of the movable deflector.
The package contained the windscreen with the deflector already mounted, some DIY edging and a few decals.
I thought I'd need replacement rivets to attach the windscreen to the Multistrada's fairing, but as it turns out, the Multistrada uses seven tiny little Torx T7 bolts.
These are each covered with a rubber-covered brass washer on the backside and I was able to reuse them with no problems.
A trip down to the local hardware store was needed to buy the last T7 driver in stock and a simple swap took only a few minutes and I was all set.
The quality of the MRA windscreen was perfect, but this is to be expected with a German product, TÜV tested and approved!
The screw holes fit exactly as they should and the installation was without drama of any kind.
There were no instructions for installing the dark smoke-colored edging, so I lined it up on the edge of the windscreen, measured and cut.
A couple of metal end clamps are provided, and I used a pair of pliers to give them a light squeeze on the end of the edging to keep it in place.
Let's take a pictorial look at the process, then I'll give you my riding impressions: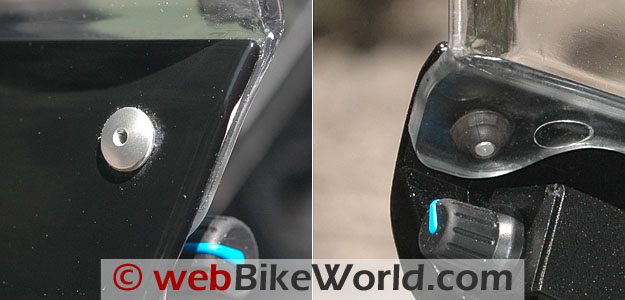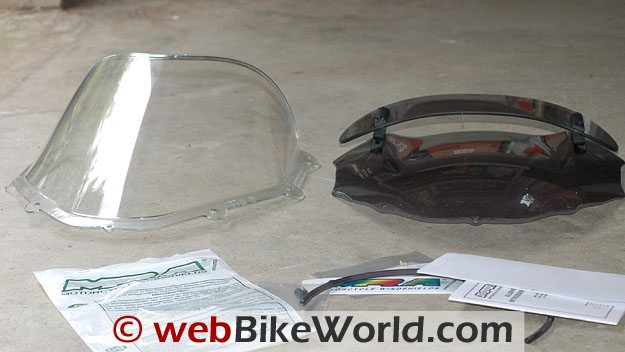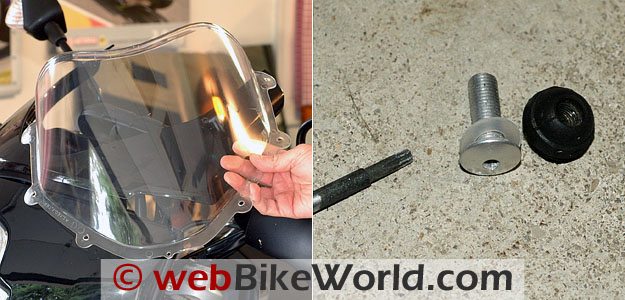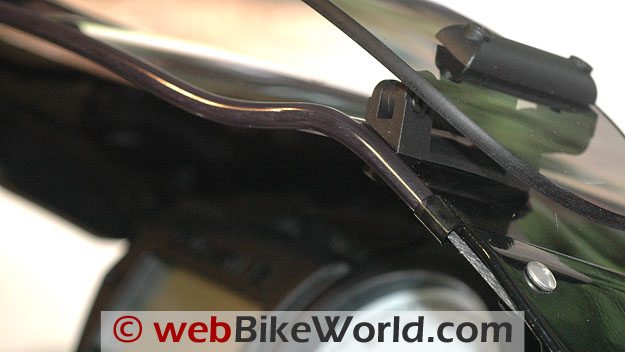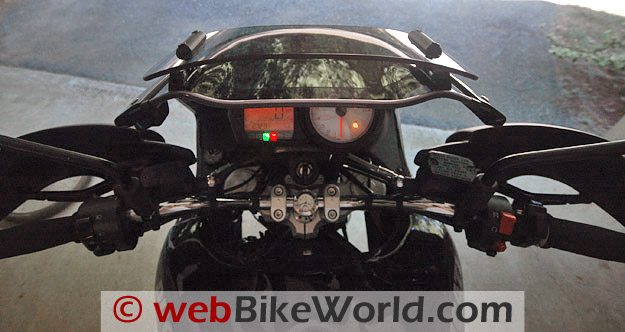 ---
Where to Buy MRA Motorcycle Windshield
Check Reviews & Prices on Amazon
See More: Motorcycle Accessories, Motorcycle Tire, Motorcycle Helmets
---
Riding Impressions
The MRA windscreen looks good, especially in the dark smoke tint that matches my black Multistrada. I will say that the deflector does seem a bit odd-looking, however.
The deflector can be removed, but would leave mounting holes and probably the base of the hinge assembly on the windscreen (I haven't tried to remove it).
The windscreen directs the air much lower on my chest, which still provides some protection from the wind but keeps my head up in the undisturbed air, greatly reducing the noise levels from the lower part of my helmet.
However, there is one price to pay: the instruments are partially obscured by the new MRA windscreen, which sits much lower than the original Ducati item.
This isn't something I care for and I hadn't considered it when I purchased the MRA windscreen, but I guess I can live with it.
The wind deflector is movable by hand, running through about three different heights, stopping at very stiff detents along the way (see the Flash slide show above for the animation).
It's rather difficult to move one-handed and not something to fiddle with when riding.
But, I have noticed no difference at all in the performance of the windscreen whether the deflector is raised or lowered.
Perhaps someone who is not as tall as me (5'10") might notice a difference, but I have tried every position and it doesn't seem to change the air flow.
If the windscreen had been available without the deflector, I would have purchased it; in fact, the deflector is what gave me pause to begin with, because I'm not very fond of the way it looks. But I guess I'll leave it on for now.
All told, I'm happy with the MRA windscreen and I think this modification makes the Multistrada much more enjoyable to ride, and I can highly recommend it as a quality product.
See Also: Ducati Multistrada 620 Blog
Master Listing of All wBW Motorcycle Product Reviews
w

BW

 Review: MRA Wind Deflector
List Price (2010): €119.90 incl. VAT
Made In: Germany
Colors: Clear or tinted.
Sizes: Fits many windscreens.
Review Date: July 2010
Note:
 For informational use only. All material and photographs are Copyright © webWorld International, LLC since 2000. All rights reserved. See the webBikeWorld® 
Site Info page
. Product specifications, features and details may change or differ from our descriptions. Always check before purchasing. Read the
Terms and Conditions
!
---
Where to Buy MRA Motorcycle Windshield
Check Reviews & Prices on Amazon
See More: Motorcycle Accessories, Motorcycle Tire, Motorcycle Helmets
---
Owner Comments and Feedback
---
From "M.L." (July 2010):  "I have run a smoked MRA on my '06 620 Dark for about 18 months. I am 6′ 0" and this screen completely eliminated the awful booming/ helmet buffeting I got from the stock screen.
I've gotten used to the minor inconvenience of the top of the instrument cluster being partially obscured and have found that the spoiler position does make a noticeable difference in airflow, especially at freeway speeds: 70+ mph…
This screen is one of the two mods I'd consider MANDATORY for this bike; the other being the G2 Ergonomics throttle tamer (review)."
Other WebBikeWorld Windshield Posts