Those of us who have experienced the misfortune of seeing our own bike in its "natural" position, on its side, know what a gut wrenching site this is.
On occasion it's a toss-up as to which is injured more, our pride or the bike.
And of course, this is most apt to happen when there's a crowd present to witness the event.
Someone once told me that "the stability of a motorcycle is indirectly proportional to the size of the audience".
I'm not proud to admit the fact that over the last 132,000 miles with my '99 BMW K1200LT (a near 900 lb. top heavy beast) I've seen it in this position more than once.  Luckily for me (and many other LT riders) BMW had the foresight to build in "tip-over" wings on the sides of the bike.  If it's dropped at a very slow speed or a stop, usually all that's injured is the plastic cover over the tip-over bar.
Other manufactures have incorporated similar devices in the bike's original design (as with Honda's GL-1800 Gold Wing and their ST-1300), but the majority have nothing in place to help minimize damage to the bike should this unfortunate event occur.  Maybe it's their way of ensuring continued business in replacement parts.
Sportbikes, or any bike with a fairing, are highly prone to this kind of damage purely by design.  On these bikes even a tip-over can have costly consequences.  A friend lost control of his new BMW K1200RS when removing it from the side stand and after a short struggle slowly dropped it onto its right side.  The resulting damage was over $1,000.00, not to mention the 3 weeks it was in the shop!
I have not dropped my '06 Yamaha FJR1300A and hopefully never will, but then do we ever "plan" on it happening?  I can't tell you how many times I've heard "It was just sitting there when somehow it rolled off the side stand and fell over" or something very similar.
A stationary drop is one thing, but what if it happens at a speed that's anything more than a crawl?  The potential for serious damage is real.  A visit to any of the motorcycle insurance auction sights will bear witness to the extent of damage that can result from a "low side" fall.
Obviously, preventing it from happening in the first place is the best plan, but in the real world of ever changing surface and road hazards the possibility is ever present for the pavement and your bike to get up close and personal.
Maybe in the future, via our divine government's intervention to protect us from ourselves, motorcycles will have some sort of gyroscopic system on them that will make it impossible for them to fall over or a set of small wheels that will pop out from the sides just before the bodywork makes contact.  Don't laugh!  Honda has already installed airbags on their Gold Wing!
But what if there was something simple you could add to your bike that could minimize the damage that can occur from such an incident?  Frame sliders, which are basically a type of knob device that protrudes out from the side of the bike, are designed to perform this task.
Since they stick out farther than the body work, their intention is to hold the bike up off the road surface enough to prevent the fairing from making contact with the road, or at least that's the idea.
Seems simple enough, eh?  What I didn't know is that there's a bit more to them than I realized.
For a frame slider to be truly effective, it must be mounted firmly to a structural point on the bike (often via the motor mount bolts as on my FJR1300), but what I didn't give much thought to was the material used in the slider itself.
What if, along with keeping the fairing off the roadway, the slider could help slow the bike's slide thus reducing the distance traveled which should also reduce damage suffered by the bike?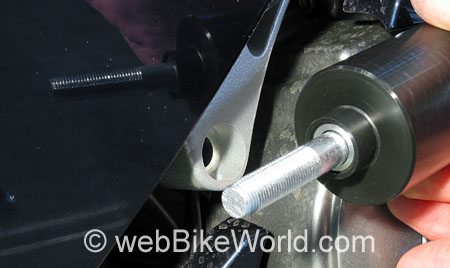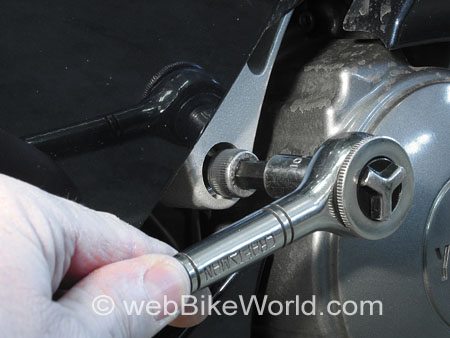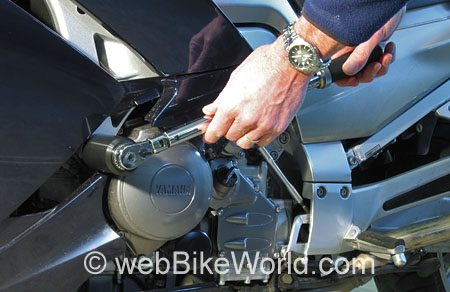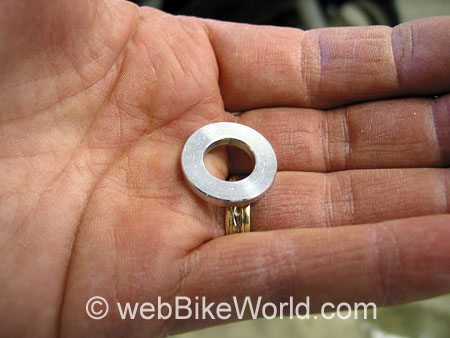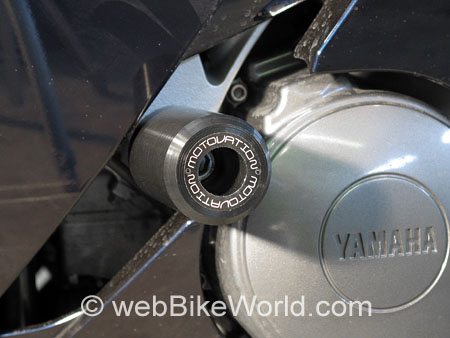 The material used in the slider would then have to be hard enough to withstand the forces applied during the event, soft enough to absorb some of the energy, yet not totally disintegrate.  How it's mounted to the frame will also determine how, and how much, stress is transferred to the frame.  It would only need to last through one event (kind of like the mesh type jackets some of us wear when it gets hot) after which it can be replaced.
I learned about this while searching for frame slides for my FJR at Motovation Accessories.  Motovation Accessories has what I thought was an excellent overview on slider design and placement.  It's worth taking the time to read.  I'm no engineer, but as an Automotive Technician for 37 years, it sure made sense to me.
Motovation Accessories came to be as a result of a couple of guys trying to get frame sliders for their sportbikes.  Unhappy with what they found available, they tried designing and making their own.
It started with just frame sliders and after their buddies saw how well their's performed, they wanted some too.  They discovered there was a niche for well designed sportbike accessories at an affordable price and moved forward to supply it.
Frame sliders are their basis, but Motovation Accessories also has rear axle, front fork and bar-end sliders available in addition to other sport-bike performance products.  Be sure to check out their website for a complete listing.
Motovation Accessories uses a "proprietary High Molecular Density (HMD) formulation of nylon" in their sliders.  "This nylon is impregnated during the extrusion process with UV inhibitors to resist destabilization of the molecular matrix and discoloration during prolonged UV exposure".
The bottom line here is since you don't know when, if ever, you're going to need these sliders they could be exposed to a lot of UV rays before they are "pressed" into service.  In the meantime, if not resistant to UV rays, their performance could seriously deteriorate, possibly causing them to shatter on impact.  Their sliders are also fitted with machined aluminum inserts at the mounting points for increased strength.
As far as where the sliders are mounted and how difficult it is to install depends on the model bike and the style slider chosen.  Some can be mounted in mere moments, as on my FJR, while others may actually require drilling holes in the fairings along with other modifications.
Motovation Accessories does have frame slider kits available for some bikes they refer to as "No Cut" sliders which do not require any cutting or drilling.  These are usually attached to a frame member via CNC milled and anodized brackets.
I noticed that some of the frame slider kits were referred to as "Race Sliders.  These, as explained to me by Roland at Motovation Accessories, are bolted directly into the frame providing the strongest possible solution, usually require fairing modifications and are best suited for race or track-day use.  If you're looking for the strongest arrangement and don't mind modifying your bike then these might be the ticket, even if you're not headed to the track.
The frame sliders for my FJR arrived in just a couple of days, but the bike was at the dealer for two small items under warranty so the box joined the others on my work bench for a week.  This turned out to be for the best because Motovation Accessories contacted me via e-mail to inform me that a spacer may have been missing from the kit (which it was) and that they would send one post haste if needed.  True to their word, the spacer arrived in just a day or two.  Great customer service in my opinion!
As I said, it took only a couple of minutes to install the sliders on my FJR.  Installation could be more difficult on other models, check their on-line instructions for further details.  All that was required was a 10mm Allen socket, ratchet, torque wrench and some removable strength thread-lock compound.
It was important to install one side at a time, since these were engine mount bolts, starting with the left side.  First the left lower engine mount bolt (both of which are easily visible and accessed through the fairing) was removed.
The frame has a deep recess on this side and the slider had a correspondingly machined diameter that allowed it to fit into the recess.  A drop or two of thread-lock was applied to the included bolt threads before installation and then torqued to the specifications listed in my shop manual.  I noticed the stock bolts were a 10.9 grade hardness and the replacements in the kit were 12.9 which is an even stronger bolt.
This was repeated on the right side.  The right had a much shallower recess which was brought even with the frame with the supplied stainless steel washer.  The slider on the right then sits flush against the frame rather than into the recess.  Voila!  Installation complete!
Both sliders protrude 3 5/8" (93mm) out from the frame and are 2" (51mm) in diameter with "Motovation" printed on the ends.  They are noticeable, but I don't find them offensive.  It would have been kind of neat had they been the same color as the bike.
Conclusion
Unlike most of the farkles (i.e., gadgets, accessories, etc.) we install on our bikes, frame sliders are something we hope NEVER to have occasion to use.  But, should that time arrive, frame sliders could be the difference between extensive ($$$) repairs and merely cosmetic damage, not to mention that injured ego.
They could also provide the ability to ride the bike home, or somewhere else, verses having to have it towed.  Very well made, reasonably priced and depending on the brand and model bike easy to install, a set of frame sliders from Motovation Accessories is money well spent in my book.
I'm envious of those riders that have never dropped their bikes, but then not everyone's perfect.
wBW Product Review:  Motovation Frame Sliders

Available From:  Motovation
Suggested Retail Price:  Slider kits starting at $54.99; 2006 FJR1300 kit is $89.99 + S&H
Colors:  Black
Made in:  U.S.A.
Review Date:  February 2007
Owner Comments and Feedback
Comments are ordered from most recent to oldest.
Not all comments will be published (
details
).  Comments may be edited for clarity prior to publication.
---
From "J" (5/09):  "I use your site often to check for reviews of products for my motorcycle.  After a recent trade for a Honda VF1000F Superhawk I was in the market for frame sliders.  I found your article on the Motovation style ones and was quite impressed by the in depth review, so I went over to their website and purchased them along with bar end weights.
The ones that were for my bike required me to cut into my fairing, and after installation I had set the bike down in my driveway to see how they functioned.  Sadly, they DID NOT protect the fairing OR the exhaust.  After checking with the company to make sure I got the right ones I was told that these were manufactured to protect the frame and not the fairing or exhaust.
There are at least 2 other companies that make sliders for my bike which extend just far enough to protect every other part of the bike from touching the ground and NEITHER require me to modify my fairing.  I am disappointed now that I had gone with the Motovation sliders instead of LSL or TRex, both look to also be high quality sliders."
---
From "D.C.":  "I've been looking for Frame Sliders for my 2005 Kawasaki Z750s and after reading your article I checked out the Motovation Website.  I was as impressed with the information available on slider designs and the thought that went into their designs.
The next day I jumped on the bike and made a 140 mile trip to their shop in Austin, TX to meet the owner and check out their products.  Roland, the owner, took the time to show me around explain in detail the design and materials used in their sliders and how they were manufactured.
I'm a Mechanical Engineer and I was impressed with both the design and the quality of the manufacturing that went into their frame sliders.  You can tell that the designers at Motovation are fellow riders, making a quality product for a fair price.  Following the clear instructions included with the sliders, installation took me all of 15 minutes. Thanks for the great review Chris."