An awareness campaign about the vulnerability of riders should be a priority of the new Queensland Government, says the RACQ in the wake of a spike in motorcyclist deaths.
While Queensland's overall road toll of 36 is similar to last year's record low for the same time of year, the 12 motorcyclist deaths is already 50% up on last year's tally.
RACQ technical and safety policy executive manager Steve Spalding says there is a need to reinforce the importance of motorcycle safety to Queensland's road users.
"We're worried about just how quickly the motorcycle fatality count is growing," says Steve who rides a 1996 Suzuki Bandit.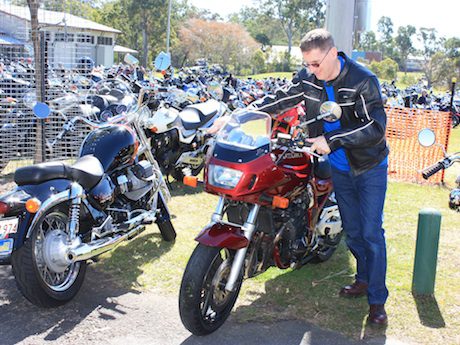 "Motorcycles aren't as visible on the roads as cars and trucks, and riding a motorbike doesn't offer the same level of protection as being inside of a car.
"Research shows they're four times more likely to be involved in deadly crashes than cars, and more than half of all motorbike crashes result in hospitalisation or death."
Last year the RACQ issued two videos urging all motorists to take motorcycle safety more seriously and watch out for riders.
Now Steve wants the new state government to give motorcycle safety greater attention in its road safety messaging.
"There are a number of ways to approach this," he says. "One is for government to raise the profile of motorcycle safety along the lines of vulnerability, the importance of riding safely and defensively and also reminding drivers to make sure they properly check, and indicate, before changing lanes or pulling out at intersections. Taking a moment to recheck if necessary can make the difference between seeing an approaching motorcyclist and not. Education is the key.
"I don't think the discussion should focus on who is more likely at fault, but simply raising the awareness of how to improve safety levels.
"We think government can take a lead on this issue by delivering good education, which provides better awareness and understanding of the vulnerability of a motorcyclist crashing. If motorcycle crashes are increasing then there is a case to target the issue as a priority.
"If there is a better understanding of the safety risks to motorcyclists, regardless of whether they are a rider or a driver, there is a real opportunity to reduce the risk of crashes.
"It's about keeping safety top of mind for both motorcyclists and motorists, and media messages and safety campaigns can make a positive difference."
Steve says there are some simple things all road users can do to help keep everyone safe.
"If drivers take an extra moment to look out for motorcyclists before manoeuvring and riders always adopt safe and defensive riding habits we can help cut the crash risk," he says.
"You don't get another chance when you come off a motorbike. Regardless of who is right or wrong – the motorcyclist is going to come off second best."