North America is a land of contrasts – even in motorcycling.
In Saskatchewan they're piling on stiff motorcycle restrictions, in Columbia they're lifting parking restrictions on motorcycles,  in LA a crash-prone drive is becoming a YouTube sensation and in Ohio they're proving you can take it with you.
But first to Saskatchewan where motorcycle-related deaths and injuries are up 20%. A  government review committee has made the following proposals: stricter requirements to get a motorcycle learners licence; training incentives for new riders; more mandatory gear for new riders and their passengers; inspections before registering wrecked bikes; stiffer penalties for drivers of all vehicles, including motorcycles; and possibly insurance coverage options.
In Columbia, they're more worried about parking issues with a bill that would prevent restrictions on motorcycles in public roadways and parking garages and provide more special parking spaces for the bikes.
In LA, Mulholland Drive,  made infamous by David Lynch's 2001 film, is also one of the most dangerous stretches of highway in the region. One section called The Snake is particularly dangerous, especially the 180-degree Edwards Corner where videographers and people with iPhones at the ready are waiting for crashes then posting them on YouTube. Search YouTube for videos such as "scooter crashes into guardrail" and "Ducati Crash in Front of Cop."  As a result of the YouTube phenomenon, police are patrolling that stretch of road in greater numbers … hence the video at the top of this post where a Kawasaki rider crashes in front of a patrol car. Maybe he saw the cops and hit the front brake while cranked over in the corner. Is that entrapment or just plain stupidity?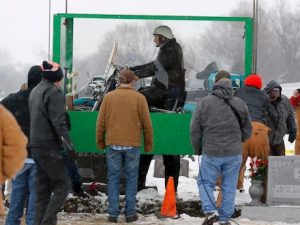 Finally, to top it all off, an 82-year-old Ohio biker has had his dying wish fulfilled by being burying astride his beloved 1967 Harley-Davidson Electra Glide in a see-through casket.
Billy Standley died of lung cancer and it took a team of five embalmers to prepare to body and secure it to the bike. He was dressed in his well-worn leathers, white helmet and glasses.