Riders should expect a host of discount offers in the New Year after Australian motorcycle, scooter and ATV sales continued to decline in the important Christmas quarter of 2017.
Overall, the market was down a massive 9.3% from 114,770 to 104,111. It was the first full-year negative result since the GFC.
Every sector was down, but the usually steady road bike sector suffered the most with sales down a whopping 15.9% from 47,780 in 2016 to 40,196.
At the third quarter, ATVs were the only sector with growth, up 4.5%, but even they took a dramatic downturn in the last quarter with -0.7% from 22,834 to 22,684. Off-road bikes were down 5.9% from 39,716 to 37,379 and scooters -13.2% from 4440 to 3852.
Usually the official national sales data is accompanied by a positive spin from the Federal Chamber of Automotive Industries (FCAI), but it was absent this time.
There is little positive spin that can be put on such an unexpected and dramatic downturn.
Positive spin
The only positive for riders is that importers faced with a surplus of stock are expected to offer substantial discounts in the New Year to clear stock.
Road bikes remain the most popular category with 38.6% of the market, followed by off-road bikes (35.9%), ATVs (21.8%) and scooters (3.7%).
Honda remains the market leader with 24,166 sales, down 8%, followed by Yamaha on 21,387 (-14.1%), Kawasaki (9986 -5.7%), Suzuki (9012 -9.2%) and Harley-Davidson (8903 -13.4%).
Harley remained the top road bike brand for the second year in a row, beating Honda by 1286.
The American company also had two of the top-10 bikes, beaten only by the Honda Postie bike with 1447, down 43.4% from 2558 in 2016.
In the third quarter the $30,000-plus Softail Breakout led the market. For the whole year, their learner-approved Street 500 was their best seller with 1182 sales, down 29% from 1664, while the Breakout sold 1150, down 23.8% from 1509.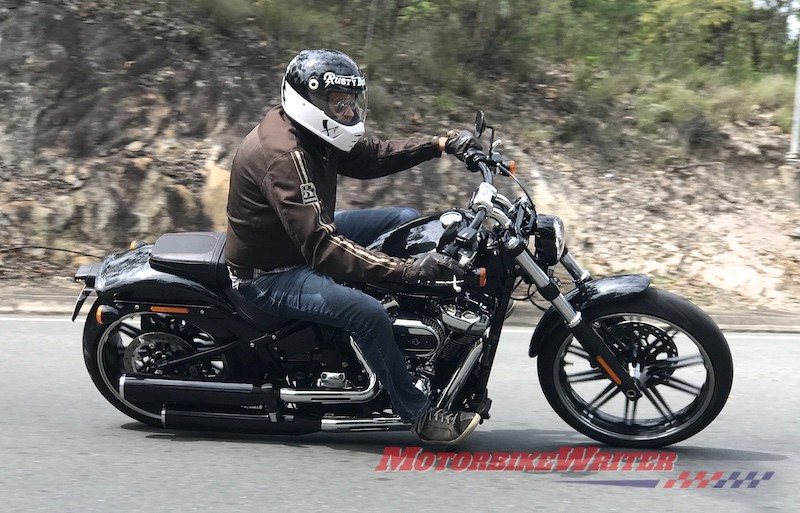 The only companies to record growth in the road bike sector were Husqvarna (60.3%) with several new road models, Indian Motorcycle (20.2%), KTM (6.2%) and Victory Motorcycles (3.6%).
Victory ceased production early in the year and sellout models became instant collector's bikes.
Below are the figures for 2017 from the FCAI.
(Note that several manufacturers do not supply figures to the FCAI, including mainly small-volume brands such as Benelli, Bimota, Bollini, CFMoto, Confederate, Daelim, EBR, Kymco, Laro, Megelli, Mercury, MV Agusta, PGO, Royal Enfield, SWM, SYM, TGB, Ural and Viper.)
2017 motorcycle, scooter and ATVs
2017
2016
TOTAL
104111
114770
-9.3%
Honda
24166
26276
-8%
Yamaha
21387
24899
-14.1%
Kawasaki
9986
10592
-5.7%
Suzuki
9012
9924
-9.2%
Harley Davidson
8903
10282
-13.4%
KTM
7590
8679
-12.5%
Polaris
6583
6037
9%
BMW
3029
3301
-8.2%
Husqvarna
2647
2168
22.1%
BRP Australia
2416
2524
-4.3%
Triumph
2301
3125
-26.4%
Ducati
1968
2013
-2.2%
Piaggio
1016
1075
-5.5%
Vespa
840
977
-14%
Indian Motorcycle
769
640
20.2%
Other
576
843
-31.7%
Aprilia
436
646
-32.5%
Victory Motorcycle
284
274
3.6%
Moto Guzzi
146
217
-32.7%
Hyosung
56
165
-66.1%
Norton
0
35
-100%
VMoto
0
78
-100%
2017 road bike sales
2017
2016
TOTAL
40196
47780
-15.9%
Harley Davidson
8903
10282
-13.4%
Honda
7717
9651
-20%
Yamaha
5564
7768
-28.4%
Kawasaki
4516
4798
-5.9%
BMW
2927
3178
-7.9%
Suzuki
2591
3124
-17.1%
Triumph
2301
3125
-26.4%
Ducati
1968
2013
-2.2%
KTM
1758
1656
6.2%
Indian Motorcycle
769
640
20.2%
Other
314
465
-32.5%
Victory Motorcycle
284
274
3.6%
Aprilia
196
273
-28.2%
Husqvarna
186
116
60.3%
Moto Guzzi
146
217
-32.7%
Hyosung
56
165
-66.1%
Norton
0
35
-100%
January – December 2017 compared to January – December 2016
January – December 2017 compared to January – December 2016
January – December 2017 compared to January – December 2016
January – December 2017 compared to January – December 2016
January – December 2017 compared to January – December 2016
January – December 2017 compared to January – December 2016
January – December 2017 compared to January – December 2016
January – December 2017 compared to January – December 2016