Many of us believe motorcycles are poetry in motion and Melbourne rider Sylvia Day has even written a poem about her Kawasaki Z900.
But before we get to her poem, a little about the poet.
Sylvia is 51 and started riding when she was 16 "up and down the trails around Sussex Inlet on a Honda CB250".
Fast forward to August 2014 and the riding bug bit Sylvia again, first with a learner Suzuki Inazuma 250, then a Kawasaki ER6N in 2015 and in 2018, she took over her husband's Ninja 650 L when he upgraded to a Ninja 1000.
That's when Sylvia "found my mojo for riding" with track days at Sandown, Broadford and Phillip Island.
Last July she upgraded to a Z900.
"I'm sure she is the bike I will have for many years. I am totally wrapped with her," says Sylvia who has been writing poetry for several years.
She felt inspired to immortalise her Z900 in verse after reviewing it for Kawasaki Australia.
My Z900 2019 Review of Scarlett
My big boy mates said 'You can't ride that"
At 5'2 you cannot touch the ground, the tyres will have to be flat!
I said 'Just you wait and see as I gave my hair a twirl'
I jumped on her at the dealership and screamed 'Oh What a girl'
She looks real super naked with her red shiny rims
Perfect 795mm seat height and the seat is super slim
210kg of Refined rawness with the power of an inline 4
Her enhanced intake notes coming from her 73.4mm bore
The injection of fuel flowing through her DOH Cam
Gives tingles to your fingers, filtering through the traffic jams
The clutch will slip and assist you when you're pushing the trellis frame
Around the track in the slippery conditions, she is feisty not tame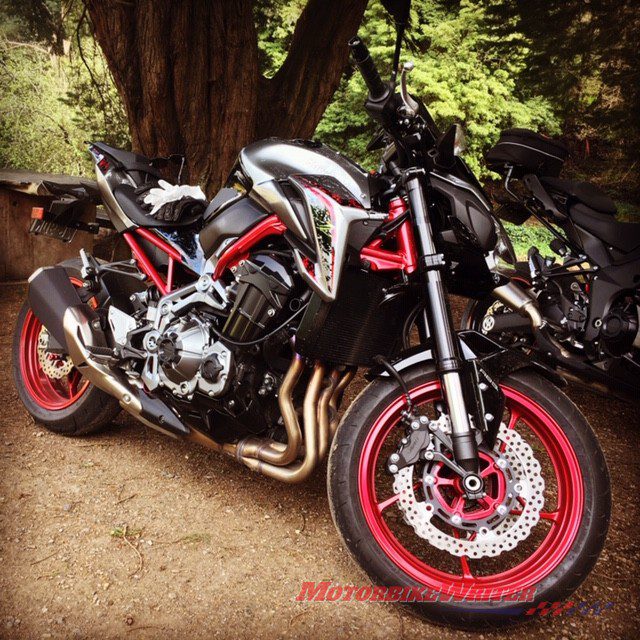 Her 92.0 kW @ 9,500 rpm will send shivers down your spine
4-into-1-pre-chamber-into-silencer layout is simply just divine
As I check out her rear suspension, the swing arm and the shock
I think back to her refined nimbleness when I rode around the block
The 17-litre fuel tank is really narrow at the rear
My knees can grip it tighter when I feel a little fear
Pumping fuel into her 16 valves, you can hear her quick revs climb
Her Silky-smooth power delivery facilitates control, the note is so sublime
Did I mention the fuel Injection, 36 mm x 4 with sub throttles valves
And the dual-bulb bright headlamp, in her shiny compact front cowl
What about the aggressive ninja styling and her sexy upswept tail
Looking at her from behind she does not need to hide under a veil
She is light, agile and sporty, the wide handlebar easy to reach
Loves cornering through the twisties or a cruise along the beach
Parked up after a day's riding she is a sight to behold
Kawasaki got it right and I hope they do not break the mold
To all you girls and guys looking for an Iconic Bike
Rush down to your Kawasaki dealership so you can zoom right past that trike
When you turn that key and start her up for the very first time
You will always yell out to anybody, hey do not touch her, she's mine.
So, to all the big boys who said to me 'Hey you can't possibly ride that'
Look at my shiny new bike, and my fine Kawasaki hat
I have found my forever Best Friend in the form of a motorbike
My Z900 is perfect, Scarlett your just my type.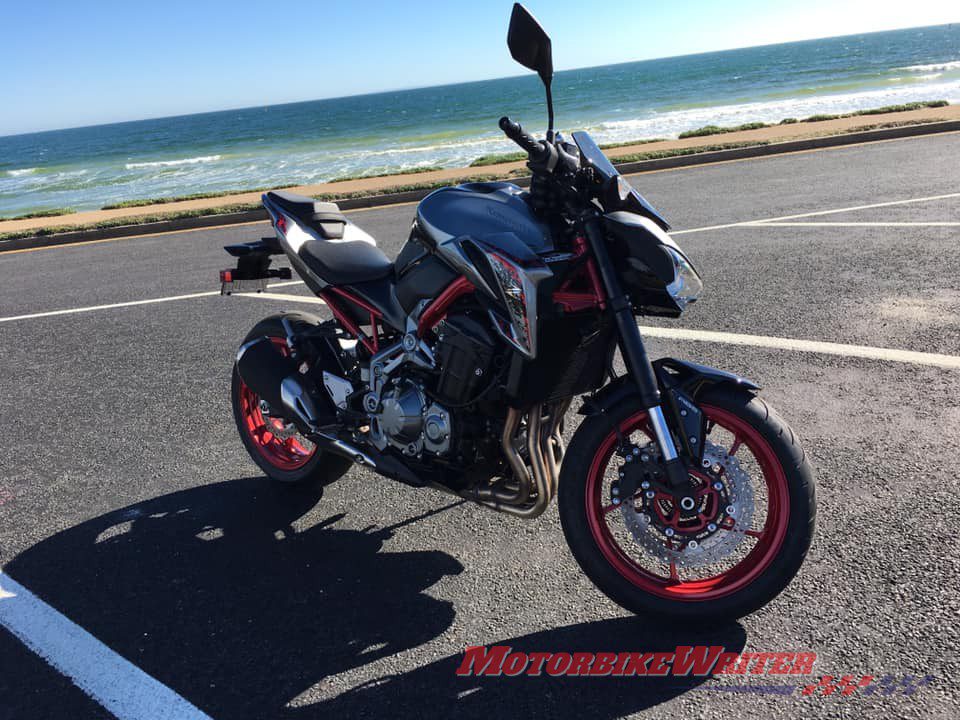 MBW fan
Sylvia says she is also a MotorbikeWriter.com fan.
"Your website is very informative," she says.
"The articles that stood out for me were on peer pressure and how to handle that in a group, how to break in new tyres, and the article on chicken strips considering how the boys look at each other's tyres after riding the twisties
"Another favourite was about Mark Knopfler's rides – I love Dire Straits and it was a very interesting article."
Tell us about your motorcycle in poetry or in a story.

Click here

to send details and photos via email.