USB Dual Port Adapter Image Gallery
The new BurnsMoto "Shorty" is a smaller (shorter) dual USB adapter that fits the BMW type electrical accessory outlet.
It's easier to use than the much longerBurnsMoto Dual USB Port (review) we reviewed in 2014.
The important point here is that this is a dual USB port and with all the USB-powered electronics used by modern motorcyclists.
And with all the USB-powered devices used by motorcyclists today, that's an important factor.
The BurnsMoto "Shorty" Dual-Port USB adapter has a lower profile, so it fits in smaller spaces on the motorcycle.
Also, the BurnsMoto adapter snaps into the mating DIN port with a secure feel, due to a redesigned DIN tip.
When combined with a high-quality DIN outlet like the Powerlet, with its tight manufacturing tolerances, the BurnsMoto adapter should stay put during a motorcycle ride.
The BurnsMoto Dual-Port USB "Shorty" adapter has two female USB Type A ports, so you may need a USB A-to-Micro B adapter cable to connect a cell phone or other devices using the USB Micro-B connector.
The ports in the BurnsMoto Dual USB can take an input voltage of 12 to 24 volts and the combined total output is 5 volts at 2.1 amps or up to 2A if one port is used.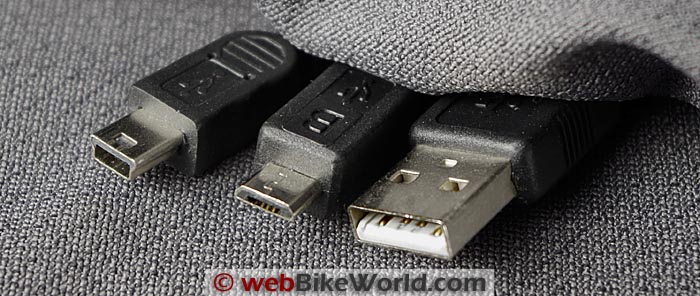 Background
USB (Universal Serial Bus) is a standard protocol for connecting peripherals or accessories. It also transmits a low amount of power (5 Volts, ±5%), which makes it more than just a connector; it can power and recharge connected devices. (For everything you didn't really want to know about USB is explained on the Wikipedia USB page).
On a motorcycle, this means devices like GPS, tablets used as a GPS (report), cell phones, smart phones, intercoms, radios, music players and more. If you're just out for a spin around town, this probably isn't an issue. But if you're planning a tour, you definitely want to keep all of your electronic paraphernalia powered up, charged and ready to go.
The world of USB connectors and ports is vast and getting more so all the time. From the first USB ports (USB 1.0) that were introduced in 1995, which transferred a meager 12 megabits per second of data, we quickly went to USB 1.1, then 2.0 and more recently, USB 3.0, which made an appearance starting in 2010 and which transfers data at a theoretical 5 GB per second.
The most recent standard is USB 3.1, which will start to be implemented this year. It transfers data at a theoretical 10 gigabits per second — nearly 100 times faster than the original USB spec.
Also recently announced is the new Type C connector, which is omni-directional (or reversible), meaning there's no "right way up". It will accept a Type C cable in any orientation — up or down — it doesn't matter. No more fumbling in the dark when trying to connect your cell phone; just push the connector tip into the port and it works.
And that's not all, as they say: the Type C standard, when used with another new protocol, the USB Power Delivery v2.0 specification, will deliver up to 100 Watts of power via the Type C cable. That will open up all sorts of new possibilities for powering who-knows-what devices. Widescreen TV on your handlebars anyone?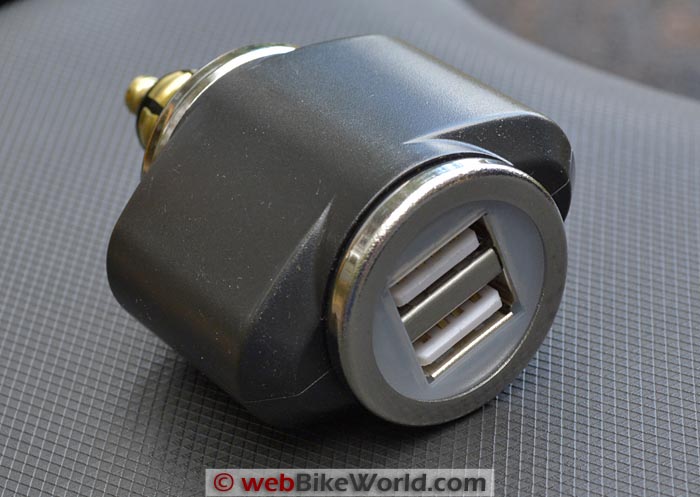 Back to Reality
USB 3.0 isn't even all that common yet so it will be some time before we can exploit all of this USB 3.1 goodness — just in time, no doubt, for the next USB specification to come along, packing even more punch.
In the real wold, many are still using the old-style USB Type A flat connector, a hoary beast compared to the Micro-B type now commonly found in today's cell phones (remember when each cell phone company used a proprietary connector so they could nip you for a special charger?).

The DIN Port
The other reality is that many motorcyclists don't even have an accessory power outlet on their motorcycle, much less the ability to connect a USB cable of any type.
No problem though — the good news is that's a fairly easy fix. If you don't have a power outlet on your bike, I'd suggest going for a DIN outlet, also known as a BMW-type outlet or Powerlet or Hella, Merit, etc. These accessory plugs and outlets meet the ISO 4165:2001 standard.
You can find a fused version for as low as $5.95 (plus shipping), ready to connect to your bike's electrical system.
The DIN-type BMW-style outlets have apparently been around forever. It is said that they were first used in German vehicles during WWII, although I have yet to see a definitive substantiation of that claim. In any case, they've at least been around for as long as I remember.
The first time I came across one on a motorcycle was on my 1986 BMW R65 "monoshock". It's worked like a charm ever since and I use it to connect to a Battery Tender with a home-made DIN-to-SAE adapter cable.
The DIN-style outlet is smaller than the old-style "cigarette lighter" ports found in vintage automobiles and it provides a nice, tight fit to the correspondingly diminutive male DIN adapter plug.
I bought a used 2007 BMW F 800 S a few weeks ago (and will start a Blog for it soon) and discovered that the dealer had installed a Powerlet port as part of the standard delivery service.
Powerlet makes a variety of electrical accessories, including their own branded version of the DIN outlet and connectors. The stuff is high quality but seems expensive; a Powerlet-branded DIN-to-SAE adapter cable costs around $23.95, while an Optimate DIN-to-SAE adapter cable can be found for about 14 bucks and change.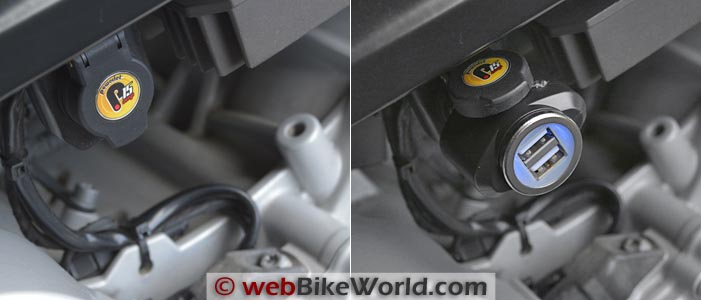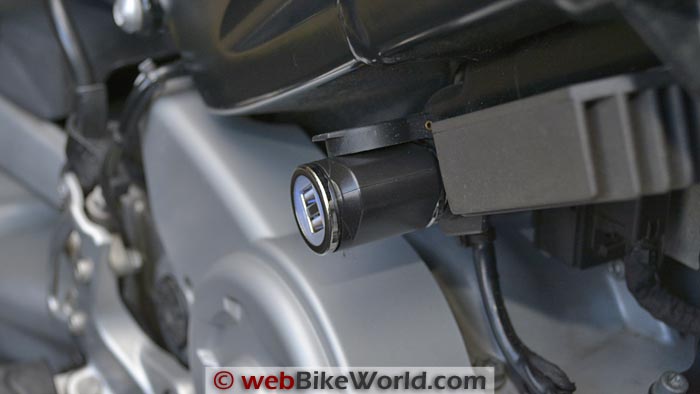 The BurnsMoto Dual-Port USB "Shorty" Charger Adapter
Which brings us to the subject of this review. The BurnsMoto Dual-Port USB charger is a compact device, at least when compared to one of their other products, the BurnsMoto Dual USB Port (review). This makes it much easier to handle and to leave connected on the bike.
On my F 800 S, the Powerlet port is located on the right side, under what appears to be the fuel tank but is actually a housing for the air box and battery. The BurnsMoto "Shorty" charger port connects firmly with a solid feel. This probably isn't the location I would have chosen had I been given a choice, but that's where it is and I'm not motivated to change it at this point.
The only issue with this location is that my leg will brush against a USB cable in the adapter. So the lesson here is to think about where you want your DIN port to be located for easiest access. Some mount it right on the handlebar, which may be a good choice but remember the handlebar moves back and forth.
By the way, the built-in port on my 2014 Suzuki V-Strom 1000 ABS (Blog) isn't the DIN type. I'm not sure what it is actually, because I don't have an adapter that fits. One of these days, I'll have to figure it out.
The BurnsMoto adapter is nicely made. It has a chrome bezel around the business end and when the adapter is inserted into the DIN outlet, it glows blue on the face where the two USB ports are located.
The adapter comes with a vinyl cover that fits around the rear bezel so the ports can be protected when not in use. I'm not sure how long the vinyl will last, however, once the sun and heat and use start to take their toll.
With the cover, the adapter weighs just 40 grams. The body has an oval shape and the overall measurements are approximately 40 mm x 43 mm x 30 mm not counting the actual male DIN connector, which adds another 22 mm or so to the overall length.
You'll probably want to get a 3′ USB cable to use to connect your devices and depending on the location of the DIN port, the cable could even be routed through the bike's frame up to the handlebar or dash or tank bag other suitable location. Then you could plug the Type A connector to the BurnsMoto adapter and you'd have the hot end with a Micro-B or other tip available to connect to a GPS or smartphone.
The BurnsMoto Dual-Port USB "Shorty" adapter has a list price of $29.95 with free shipping, which seems a bit steep but for some reason, many of these USB-type motorcycle products are more costly than you'd think. You could buy a single BMW USB port for about $21.00 (including shipping), but then you'd have only the single USB port. Go the extra 8 bucks for the BurnsMoto "Shorty" and you get dual ports.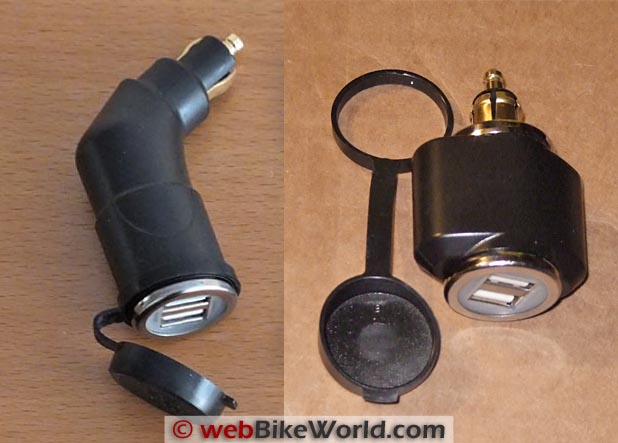 Conclusion
The Burns Moto Dual-Port USB "Shorty" adapter is a handy device that, with minimal care, should last for, well, at least until the Type A adapter is obsolete.
It's easier to use than the longer BurnsMoto Dual-Port adapter we reviewed in 2014 because it's smaller. It's also easier to carry, fitting into any pocket or side pouch on even the smallest tank bag.
The weather-resistance issue is still there, but the "minimal care" reference above means using common sense by not leaving the adapter continuously connected to the DIN port; covering both when not in use and thinking ahead so you don't have to recharge a device while riding in the rain.
Also, remember that neither the DIN port nor the adapter/charger/plugs are designed for continuous use. If you really need to power a device continuously, then work up a dedicated fused power line, direct from your motorcycle's electrical system.
See Also: Weatherproof Ports, Outlets, Connectors, Cables Reviewed  |  BurnsMoto Waterproof USB Port Review
w

BW

 Review: Burns Moto Dual-Port USB "Shorty" Adapter
Sizes: Different USB types
Review Date: January 2015
Note:
 For informational use only. All material and photographs are Copyright © webWorld International, LLC since 2000. All rights reserved. See the webBikeWorld® 
Site Info page
. Product specifications, features and details may change or differ from our descriptions. Always check before purchasing. Read the
Terms and Conditions
!
Owner Comments and Feedback