Australian-based international motorcycle travel company Compass Expeditions is launching a TV mini-series.
The two one-hour shows feature the 2014 Compass Expeditions trip from London to Magadan including the notorious Road of Bones which was the dramatic highlight of Ewan McGregor's and Carley Booroman's Long Way Round TV series. In fact, Charley narrates and presents in the show.
Compass Expeditions took 16 riders from London last May on the 105-day adventure ride with documentary filmmaker Robin Newell along for the ride.
The result, "Beyond Siberia – Riding the Road of Bones", will be shown at the Marché International des Programmes de Télévision in Canne, the world's most prestigious TV and digital content market in April 13-16.
They hope to sell the show to several broadcasters at the MIPT and eventually release it for DVD sales.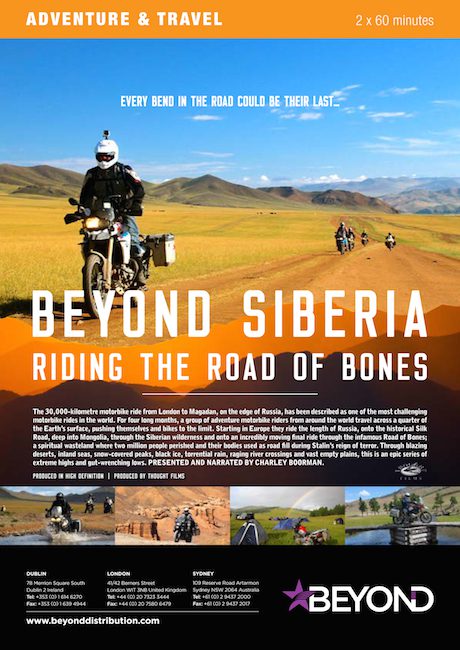 Jerry Cook of Compass Expeditions says the MIPT will have more than 1000 participants from 100 countries, 60 keynote speakers, 25 pavilions, 3800 buyers, 1600 exhibiting companies, 1700 production companies, 1000 VOD buyers and 300 journalists.
"It's about time the world caught on how exciting riding motorbikes is," he says. "Launching at such a prestigious TV and film market is testament to that."
Yvonne Body, the head of acquisitions at distribution company "Beyond", says the action-packed series will appeal to audiences all over the world.
"They will share the hardships and dangers of the ride, as well as the spectacular scenery in countries that very few people will ever visit," she says.
"This is true armchair adventure."
Meanwhile, Compass Expeditions is already planning their second TV series. It will be a two-part series on the challenging ride from Cairo down the full length of Africa to Cape Town 3 months later.
The African tour is full and runs from September 19 to December 2.