A Motorcycle Tour in France
"Give us a kiss – you're in France now!"
The first words John Eggleton spoke to me were typical of the relaxed, fun way he and his wife Jeanette run Bike Normandy.
From the moment I rode off the ferry and into the French sunshine, I knew I was in good hands. That was in 2005, and only the second time I'd touched foreign soil on two wheels.
Several years and  European jaunts later, I was back for another go.
The Bike Normandy package is a long weekend based at their gîte (that's French for 'holiday home'), with days spent enjoying the local roads and evenings unwinding over home cooking and cider made on the premises.
If you haven't ridden in continental Europe before, this is an excellent introduction. And even if you're a seasoned traveller, it's still nice to sit back and let someone else do all the hard work.
If you're travelling from the UK, John and Jeanette will meet you off the ferry at Caen, Dieppe or Le Havre. If you'd rather travel to Calais (Eurotunnel) or Cherbourg, they can arrange a mutually convenient meeting spot.
Once the group is gathered together there's a short safety briefing on the vagaries of French road signs, including how to tell when a vehicle joining your major road from a side turning has priority (the priorité à droite system).
Then it's time to hit the road — and oh! what roads! Whether you like scraping the pegs in a corner, winding the throttle to the stop or sitting back to admire the scenery, Normandy has the right road for you.
There are straights with miles of visibility, sweeping open bends and technical twisties, all running past pine forests, ancient castles and villages decked with flowers. There will probably be a visit to the 'Racetrack', a stretch of well-made tarmac with flowing, forgiving bends on which every rider can feel like Valentino Rossi.
I am forbidden to divulge its exact location, but there's not much risk of that; such is my sense of geography, I was thoroughly surprised to learn after completing the Racetrack that we had in fact been round it twice.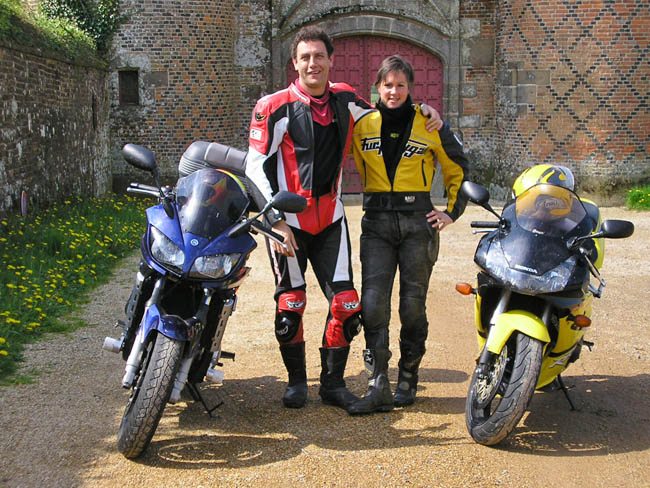 You can choose whether you want full-on riding with breaks only for refreshment or a sightseeing trip with options to stroll around scenic Honfleur, visit a cider museum or check out the D-Day landing beaches. We opted for the maximum-riding package, though there were a couple of photo stops.
France famously houses the same number of inhabitants as the UK in twice the space, so other vehicles are few and far between. When they do come in sight, the straight sections offer ample opportunities for an overtake.
Don't forget to salute the overtaken driver by sticking your leg out when you pull back in!
Their extensive local knowledge lets John and Jeanette change the day's route on the fly according to weather conditions, the skill of the riders and the types of bike present.
Both are Institute of Advanced Motorists qualified, so you're assured a safe and smooth ride. While many motorcycle tour operators give you a map at the start of each day and turn you loose, Bike Normandy uses the marker or dropoff system, in which the rider behind the leader  is 'dropped off' to mark junctions and pulls back into the group in the penultimate position.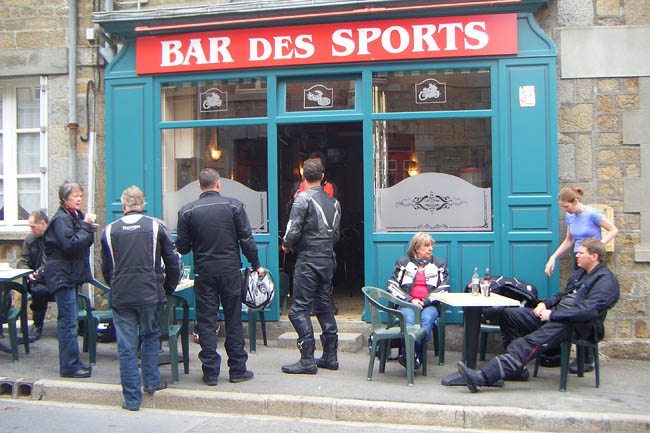 During the Visit
With John and Jeanette taking it in turns to lead and tail-end, and dropping markers in just the right spot, you can ride at your own pace confident in the knowledge that there's a marker waiting to point you in the right direction – and a tail-gunner bringing up the rear if you or your bike develop a problem.
On my recent visit the group included of two Triumph Sprint STs with pillions and luggage, a Street Triple, a Fazer, a Kawasaki Versys, a Fireblade and a 200cc Vespa (that would be mine!).
There were no complaints about route or pace; in fact, we finished each day full of praise and enthusiasm for the trip and each other.
Having local guides takes the guesswork out of riding abroad. There's no getting lost, or sucked on to some gigantic toll motorway, and no discovering when you're tired and hungry that there don't seem to be any restaurants open within a 50-mile radius. Instead, you will be treated to some excellent meals at restaurants that have been vetted beforehand — plus timely breaks for coffee or ice cream.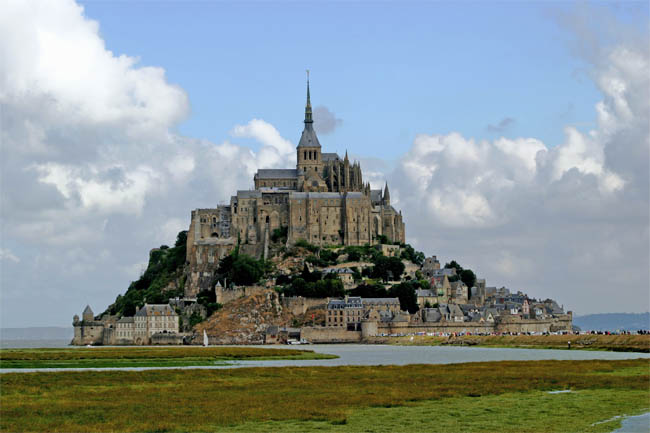 I realise that spending your time checking out prospective lunch and coffee stops, not to mention all those fabulous roads, is an onerous task, and my heart goes out to John and Jeanette for the sacrifices they make on their guests' behalf.
While I'm on the subject of food, did I mention the home-cooked meals? When I get back to base all I want to do is loaf on the lawn enjoying the panoramic view and playing with Della the Bernese Mountain Dog, but our hosts head straight for the kitchen to produce a four-course meal. Bike Normandy's spacious and comfortable gîte has room for up to ten guests…and their bikes, which repose under cover in the stable.
You can block book the whole place as a group or join a partially-filled weekend. When you book you'll be asked about your riding style — Leisurely, Moderate or Brisk — and placed with an appropriate group. As long as you're honest about your riding level and what you want to get out of the weekend, you should be in for an enjoyable and safe trip.
Whether the house is filled by one group or a collection of pairs and singles who've never met before, by the end of a day's riding there's always plenty to talk about over dinner (the cider helps!).
Bike Normandy offers longer tours including chateaux in the Loire, World Superbikes at Magny Cours and the Running of the Bulls in Pamplona, all with routes and hotels thoroughly researched in advance. There are also off-roading weekends during the winter and spring, if that's your bag.
As far as I'm concerned, though, the roads and sights that can be crammed into a weekend in Normandy are enough to keep me coming back.
And it's not just me, as the league table of Bike Normandy's frequent flyers proves. The current leader has visited an impressive twelve times since 2003, and there are plenty of runners-up with six, seven or eight trips to their name. I look forward to climbing further up that leaderboard…
For More Information
Contact Jean and Jeanette at Bike Normandy
More: wBW Reviews Home  |  Motorcycle Tours and Rentals  |  Motorcycle Museums of the World
Note:
 For informational use only. All material and photographs are Copyright © webWorld International, LLC since 2000. All rights reserved. See the webBikeWorld® 
Site Info page
. Product specifications, features and details may change or differ from our descriptions. Always check before purchasing. Read the
Terms and Conditions
!
Owner Comments and Feedback
---
From "R&S" (July 2011):  "First off, let me thank you for all of your good work bringing the world of motorcycling to our screens. To the point, I just finished reading the report by Alice Dryden on a motorcycle tour of Normandy. She did a good job of outlining the tour and it's highlights.
In fact, we just returned from a 6 week tour in Europe which included Normandy. With that in mind let me say this. Normandy is way down the list of most remarkable places to ride in Europe. I write to inform potential first time visitors that there is one destination that stands heads above all others…. the ALPS.
We visited Normandy after 12 years, and 100,000 miles of touring Europe, putting in about 10 weeks per year. Through the years we have been more interested in the scenic than the cultural, and we looked for the smallest roads to make our way, spending much more time in 2nd gear than 6th.
Through that viewpoint, we found Normandy properly placed in our plans, 12 years and 100,000 miles down the list. In short, there are so many more beautiful places, with better roads, friendlier people, best described in two words… THE ALPS.
There you will find some of the best motorcycling roads in the world, passing through some of the most scenic countryside, inhabited by friendly people, serving food every bit as good as that found in France.
And for us Americans, the culture we find throughout Europe is different enough to put us out of our comfort zone a bit, something we feel all good travel should do. So, I encourage all who can to put Europe on your list, only start with the high stuff, with the twisty roads."
Other WebBikeWorld News Posts