These revolutionary motorcycle stands allow motorcycles to be easily wheeled around your garage or workshop for easy parking.
The "dynamoto" stands are the work of Brisbane mechanical engineer Stuart Black and designer Stephen McGuiness who are looking for $30,000 seed funding from a community Kickstarter program to take their invention into series production.
"We've been working on these products and related other motorcycle/scooter products for about two years part time" Stuart says. 
While there have been other similar products, this motorcycle stand system is better for a number of reasons.
Rather than conventional swivel casters, they use Australian-designed and manufactured omni-directional Rotacaster wheels.
The special casters make a 200kg+ bike easy to push or pull in any direction and the large wheels easily roll over concrete expansion joints or cracks.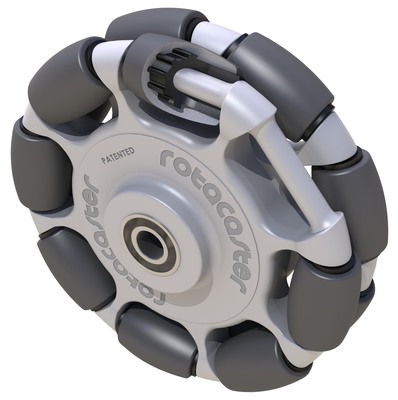 There are two rear stands: One type (in either left hand or right hand version) will fit bikes with a single-sided swingarm and a hollow rear axle.
The other rear stand suits bikes with a conventional swingarm and pickup spools.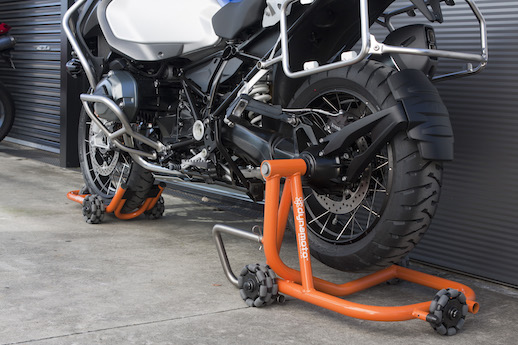 The revolutionary but simple front stand is unlike anything else on the market, and will suit all road-going bikes with 17" or 19" wheels.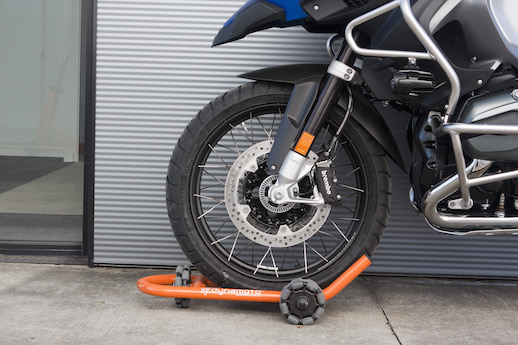 Both the rear stands have a unique anti-tipping device that stops it being inadvertently tipped forward and unloading when manoeuvring the bike (or perhaps even by a child when the bike is unattended).
Another unique feature is the outrigger on the right hand side of the double-sided swingarm stand has a closed loop which means you don't have to balance the bike with one hand while aligning the stand with the other.
Unlike a lot of bike storage devices, these stands are compact and simple. The rear stands double as a track day / race paddock stand as well.
Stuart says they are also working on rear-wheel stands for bikes without pickup spools, and devices for the cruiser market.
They plan to go into production in October with shipping before Christmas. The first batch of 50 will be for Australian customers, followed by exports.
A kit of one front stand and one rear stand will cost $595 for the first 50 supporters of the Kickstarter program, otherwise they will cost $675 retail. Shipping in Australia is free.
They are manufactured in Brisbane using high-quality steel precision tube, CNC laser cutting, CNC bending and robot welding.
"We decided to manufacture in Australia because we have direct access to and close relationships with our suppliers and we can be assured of the quality," Stuart says. 
"We hope to get the cost of manufacture down as volumes increase, and continue to manufacture in Australia. The decline in the Australian dollar is certainly helping as well."