Motorcycle simulators are becoming more realistic, helping to train racers, develop motorcycles, teach riders and even sell motorcycles to customers who have not yet got a licence.
The latest Dutch simulator from Cruden sounds like the most realistic we have seen yet by adding a visual reality head-mounted display so that the display responds to which direction the rider is looking and accounting for realistic counter-steering input.
Unlike some of the simplistic motorcycle computer games, the Dutch simulator manufacturer has created a very complex system that is as close to reality as you can get without riding.
Cruden spokesperson Claire Dumbreck says the B306-HMD motorcycle simulator has only just been unveiled and prices are not yet available.
"We have strong interest from road safety organisations, universities and race teams. We do not have a customer in Australia," she says.
The simulator incorporates a "6-DOF motion system in hexapod configuration, depth-map sensors for rider body tracking, an extra stiff steering actuator and a Head Mounted Display (HMD) for visualisation". 
Whatever that is! It all sounds very technical.
Cruden's CEO, Maarten van Donselaar, explains: "In developing the Cruden motorcycle simulator, it has been necessary to create more complex hardware and software than that needed for a car simulator.
"We have had to address riders' force-related bike control inputs as opposed to drivers' steering angle inputs as well as develop mechanisms that manage counter-steering, body-shift and widely varying riding styles and the requirement for a very large field of view, both horizontally and vertically.
"Our system with depth-map sensors continuously detects exactly how the rider is positioned on the bike and uses this information to alter vehicle behaviour accordingly. To complement this, a very stiff steering actuator allows for realistic counter-steering capabilities.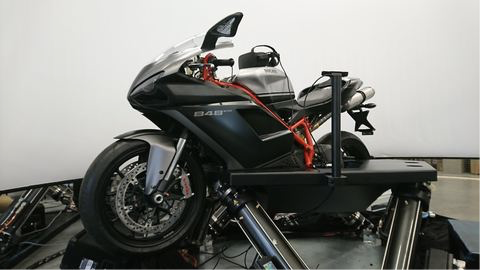 "We also decided to equip our B306-HMD motorcycle simulator with a Head Mounted Display (HMD), to offer a virtually unlimited field of view. An unprecedented level of immersion is aided by highly accurate graphics and a perfect integration of the HMD into Cruden's Panthera simulation software. This integration sees the HMD respond to the rider's head movements, not to those of the motion platform." 
The B306-HMD simulator is intended to be used by scientists researching how to make motorcycling safer on public roads, which requires a better understanding of variances in individual rider technique and the interaction of the rider with the environment.
Simulators are great for rider training as the rider can make a mistake without paying the cost of crashing and injuring themselves!
Cruden says its simulator can be used in high-level rider training, racing simulations and fine-tuning vehicle dynamics.
So it will probably be bought by race teams, motorcycle manufacturers and the very rich.