Editor's Note:  Now let me get this straight: I'm sitting in front of a computer, slaving away in the office, while Shawn is out renting a motorcycle in Kauai for a webBikeWorld article?  Uh, what's wrong with this picture?!
Well, it's tough duty, but somebody's gotta do it.  We sent Shawn on a mission: tell us what it takes to rent a motorcycle.  But did he have to go all the way to Hawaii to do it?  Here's his report…
It's the usual morning routine around here.  Make a pot of coffee, eat a banana and check email.
In the inbox there's a note from Rick, the Editor of wBW with an idea: why don't you go and rent a motorcycle and write about the experience?  You know, that actually sounds like fun.
This would give me a chance to try out a different ride for a day without having to commit anything beyond a rental agreement.  I've only ridden metric bikes (mostly from Honda, Kawasaki and Suzuki) and I thought this would be a great chance to try what seems to be the most popular brand with middle aged men in the United States: Harley Davidson.  For the record, I'm not middle aged.  At least not yet.
I did some quick research and found a Harley rental shop about 45 miles from me.  Perfect.  I can ride up on my bike, try a Harley out and then ride home.  Then came the next email.  This one was from work.  I was being sent to Hawaii for two weeks.  Please, oh please…
I knew my trip was going to be broken into two portions, one part on Oahu and the other part on Kauai.  Since I knew that I was going to have some time where I wasn't working, this seemed like the prefect chance to ride in a place that most people don't get the chance to.  I decided to seize the day.
Three days in Oahu, and then I'm off to Kauai.  80% or so of the population of the State of Hawaii lives on the island of Oahu.  The population of Oahu is something north of 800,000.  Kauai, on the other hand, has a population around 80,000.
It's not that Waikiki on Oahu isn't nice.  It is very nice.  But I've always read that Kauai was regarded as the "garden isle" so I thought I'd try to hold off until I got there to execute "Operation Harley Ride 2007."
After a single Google search, I had located a Harley Davidson dealer in the general area of my hotel in Lihue, Kauai. Kauai Harley Davidson is located west of the town on Kaumaulii Hwy a.k.a. Highway 50.  The Kauai HD store is very close to the Lihue Airport, Princeville (north shore) and Poi'pu (south shore) resort communities and the Nawiliwili Cruise Ship Terminal in case you're arriving via Norwegian Cruise Lines or Princess.
They even offer rider/passenger pick-up and return from Lihue Airport and Kauai Hawaii resorts.  Not only are they an authorized Harley-Davidson rental shop but you can even book your rental online if you'd like too.  Make sure you have a motorcycle endorsement on your license, but other than that they didn't want my insurance card as I was purchasing insurance from them for $20.00
Their rental rates were published on the website, but I was trying to figure out the total budget with items such as the security deposit, taxes and insurance.  So I fired off an email in hopes of getting a response later on that day.
Instead, I got an answer about four minutes later from the "dealer principal," Tim Lach.  Needless to say, I was very surprised especially considering the fact that I sent the email at 6:45am.  Tim got things off to a great start with quick, concise answers to my questions.
The answer to my questions was, by the way, "tax is minimal (4.167% plus $3.00); Security Deposit is $1,000.00 held against the credit card for 3-7 days, depending on the card type and issuing bank."  The only thing beyond that is they require you to return the bike filled with premium gas along with the receipt showing you filled up.
The total rental would cost $167.79, everything included except the gas.  The next big hurdle was to go down, pick out a bike and schedule my ride.
Finding the Kauai HD dealership was a breeze.  They are located directly across the street from the community college and it's hard to miss a dealer with all their bikes out gleaming in the sun.  The staff was quick to offer help and rental advice.
I explained that I'd never ridden a Harley before and that I was used to riding touring class bikes.  I told them that I was equally comfortable on sport bikes, but that I really wanted to try a traditional cruiser style.
They helped me narrow it down to two styles: the V-Rod and the Sportster 1200 XL.  I chose the latter, because it had more of the traditional styling I was hoping for, and the saddle height was lower than the V-Rod.  After making my choice I decided that I probably didn't want to ride in shorts and flip flops, so I scheduled my ride for the next day and took off for the hotel to make a plan.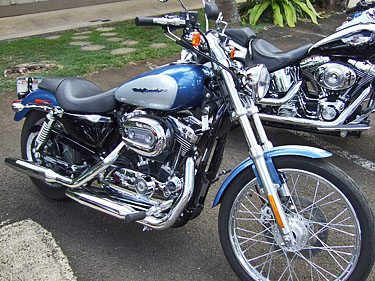 Almost immediately things started jumping out at me on the map.  In particular, a word that any motorcycle enthusiast would love: canyon.  Roads through a canyon mean curves like those normally found only on dancers wearing grass skirts.
Since this was Hawaii, I decided that all my entertainment should have curves and therefore I would be riding west towards Waimea Canyon.  I planned on riding back down to the beach and then coming back, all at a leisurely pace — after all, I had nowhere to really "go", and the purpose of the trip was to enjoy myself and try out the rental experience as well as the bike.
The next morning I took my sweet time getting up.  I had a light breakfast and was getting ready to go when I thought about delaying my arrival time on purpose — I wanted to see what happens if you show up late for a rental; do they give your bike away or not?
So I went diving instead.  Good thing too, because the water was really clear and I swam with some great fish that morning.  I knew that eventually I had to get out of the water — after all, unless you have gills, you're restricted in the amount of time you can spend out there.
So I went back to the room, showered and changed and headed to the dealership, arriving just before noon.  Guess what?  They were still expecting me and the bike was still there.  Not a big surprise I guess, as their service had been off the chart since the initial contact.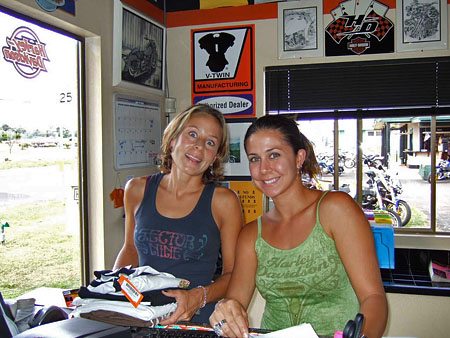 One of the technicians warmed up the bike while I completed the rental agreement and went and picked out a helmet for my melon.  The tech then walked around the bike with me and wrote down every nick and scratch, to ensure that I wouldn't get dinged for damage to the bike that I didn't do.
As it turns out, for a 2006 bike with 6,200 or so miles on it that is normally used for rentals, the Sportster was in great shape.  The tech walked me through the basic features of the bike then asked me if I had any questions.  Nope — it was time to ride.
The Sportster is pretty traditional sounding HD ride; I can't decide if that is good or bad.  There were three things that jumped out at me immediately: One, I'm not used to riding without a full face helmet.  The wind coming in behind my sunglasses made my eyes water up considerably once the speedometer went above 35.
Two, this thing shakes.  A lot.  I'm used to much less vibration.  Three, the feet forward sitting position takes some getting used to.  If you're comfortable with a more upright sitting position, the traditional cruiser will feel a little strange at first, but I found that I adapted rather quickly.
The bike has plenty of power through all the gears — the biggest thing I noticed is that it really likes first gear.  Most bikes I've ridden don't like to be shifted down into first, especially near a corner.  They almost always prefer second gear and will jerk heavily if you drop down into first.
Not this particular HD ride.  The Sportster 1200 seemed to love first gear as much as any other gear and I felt like I had plenty of control and power available no matter which gear I was in.  A quick crack of the throttle and you can expect a ten mile per hour jump in speed almost immediately.
Overall, the bike has nice styling and good performance.  The stock saddle is firm but I wouldn't really be able to tell how it would perform without getting up to my usual highway speeds and distances.  As Kauai isn't a very big island, this just isn't going to happen on this ride.  On the other hand, that isn't what this ride is about either.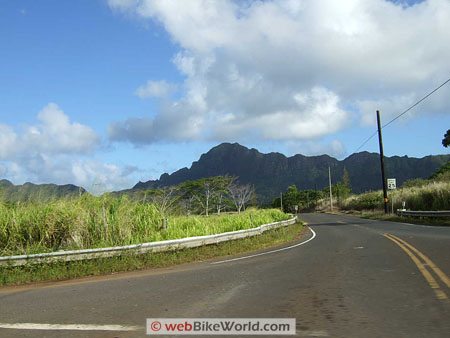 I left the dealership and headed west on Hwy 50 along the south coastline towards Waimea Canyon.  There are lots of smaller towns along the route, like Hanapepe and Lawa'i, so the top speed you'll likely see is about 50 MPH, slowing down to 30 MPH in the towns.
Truthfully, I never got up that much speed because I was constantly pulling over and marveling at the scenery.  There's little sign that hurricane Iniki ravaged this area in 1992, even though the eye of the storm went right over the areas I'm riding in.
Riding in paradise is a huge distraction; I must focus.  I continued west through the town of Waimea to the turnoff for Hwy 552 to head up into the canyon.  All I can say is that the roads lived up to my expectations.  There are a couple of things you need to know though — there are potholes.  They aren't everywhere, but they do exist and usually in a corner where hitting them would be less than advantageous.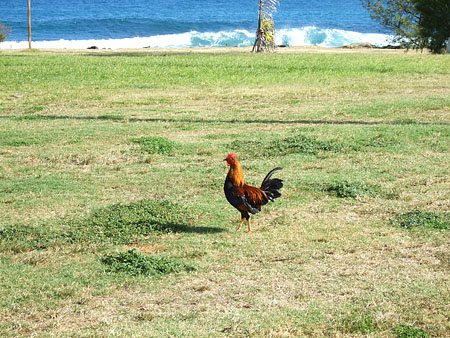 The other thing is chickens — they're everywhere!  Iniki broke them free from their cages and they've been breeding in the wild for 15 years.  Wild and running around.  Hitting one at 35 in a corner would be almost as exciting as the aforementioned pothole, so it pays to keep your eyes on the road around here.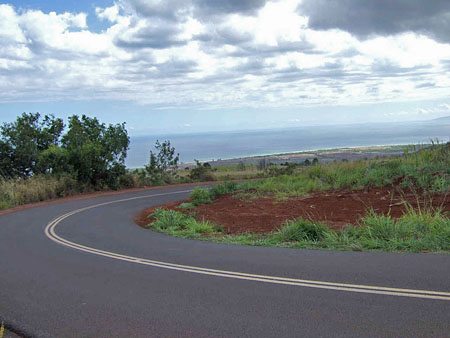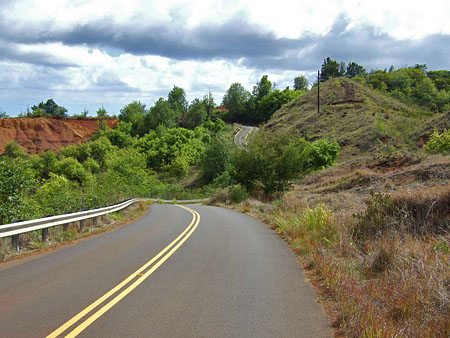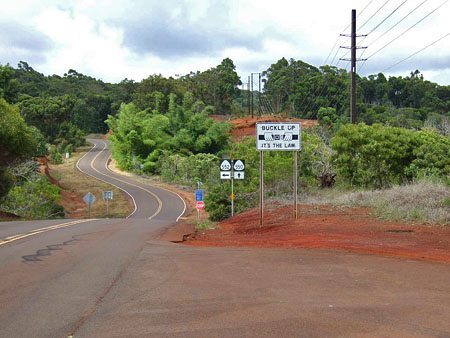 Up in the canyon, I intersected with Waimea Canyon Drive, a.k.a. Hwy 550 (photo above).  It was the perfect place to stop and reflect on the scenery again.  It also promised some great riding going downhill into some more of those turns.  The road delivered exactly what I expected and soon I was back at the beach again.
I decided that I would ride back east to ride down to Koloa and Po'ipu.  Once again, my instincts came through.  Koloa road is a great turnoff point and takes you through more of this great isle.  The small town of Koloa has some great little shops, but the victory dance was performed at Po'ipu beach.  I realized the reason I was dizzy was more than just the roads.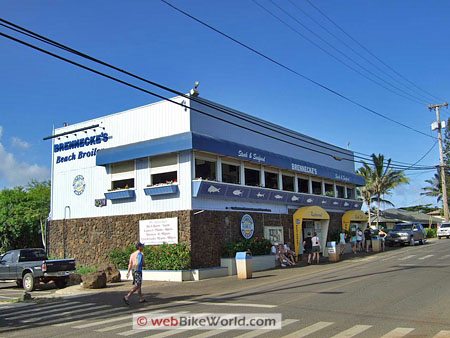 That light breakfast wasn't providing enough energy to keep me going, so food at Brennecke's Beach Broiler bridged the gap.  Two words: fish tacos. Two more words: most excellent.  Great views, great service and a great place to take a break.
I went down to watch a pair of sea turtles surf the rocky portion of the shoreline, and this is the point where I had to remind myself that I was actually being paid to be here.  Unbelievable — Someone pinch me!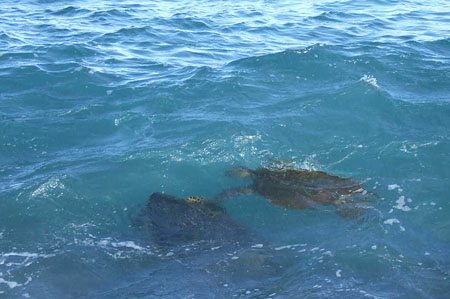 After leaving the beach, I rode north on Highway 520 back towards Hwy 50.  As it turns out, this road is mostly a "tree tunnel" and is extremely cool to ride through – both in temperature and experience!  I turned east and headed back to the dealership.  Although I had the motorcycle for a days' rental, I didn't have a days' time to spend so I would have to keep this short.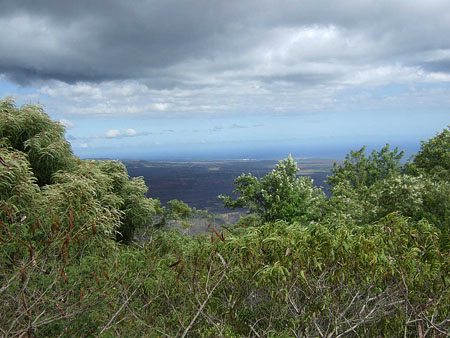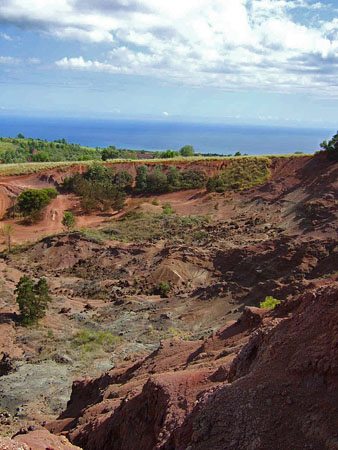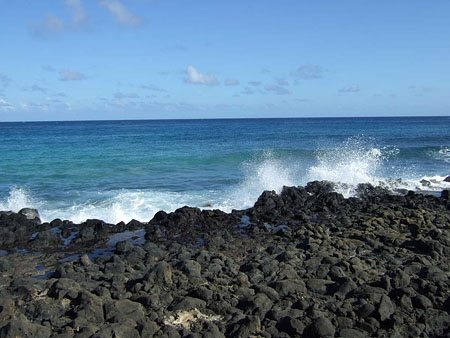 All said, the round trip was probably right around 100 miles or so.  At an average speed around 40 MPH I had taken four hours off the clock when you include my time taking photos and eating.  Although I didn't use the full days' rental, the experience was worth it.  Completely worth it
For the record, it wasn't until AFTER my ride that I discovered that Kauai Harley Davidson has a virtual tour site setup on their website.  C'est la vie…
I enjoyed the route I took, although later I would drive up to the north shore by Princeville and Hanalei (no sign of a dragon, sorry).  I can assure you that these destinations will be included on my next excursion.
I can't say enough about the people at Kauai HD or the people of Kauai in general.  I found everyone to be extremely patient and experiencing a new level of relaxation.  If you find yourself in Hawaii, it's worth taking time to visit the island of Kauai.  Most of the inter-island airlines will go roundtrip from Honolulu for less than $100.00 which makes a day trip to ride in Kauai a reasonable expenditure.  If you have the chance, even if it's just once, it's worth it.  It was truly the ride of a lifetime.  Mahalo!
Kauai Harley-Davidson
3-1866 Kaumualii Highway
Lihue, Hawaii. 96766
tel: 808.241.7020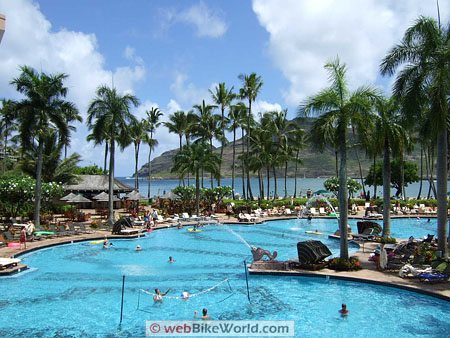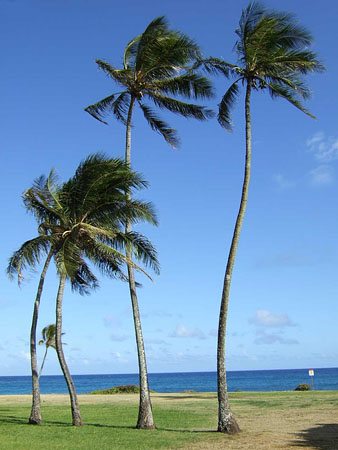 Note:  For informational use only.  All material and photographs are Copyright © webWorld International, LLC – 2000-2011.  All rights reserved.  See the webBikeWorld® Site Info page.  NOTE:  Product specifications, features and details may change or differ from our descriptions.  Always check before purchasing.  Read the Terms and Conditions!
Other WebBikeWorld News Posts