"I'm down, I'm down," a motorcycle officer calmly says into his police radio after being rammed by the driver of a stolen vehicle.
This dramatic video, released by Queensland Police, shows just how vulnerable even police motorcyclists are and the dangers they face in their duty.
Office rammed
The Sergeant, aged 50, suffered a dislocate shoulder and injuries to a rib, hand and ankle. He is recovering in hospital.
In the video, he is slowly pursuing the stolen vehicle on a rainy Wednesday night in Toowoomba when the car does a u-turn and slowly approaches the rider.
In the last 10 metres, the car revs and rams the motorcycle, knocking the cop off his bike.
"941, I'm down, I'm down. He's run into me," he says on the radio.
"I can't use my left arm. Drove straight at me, I was trying to get up on the side of the road to let him go past me," he says.
Tough job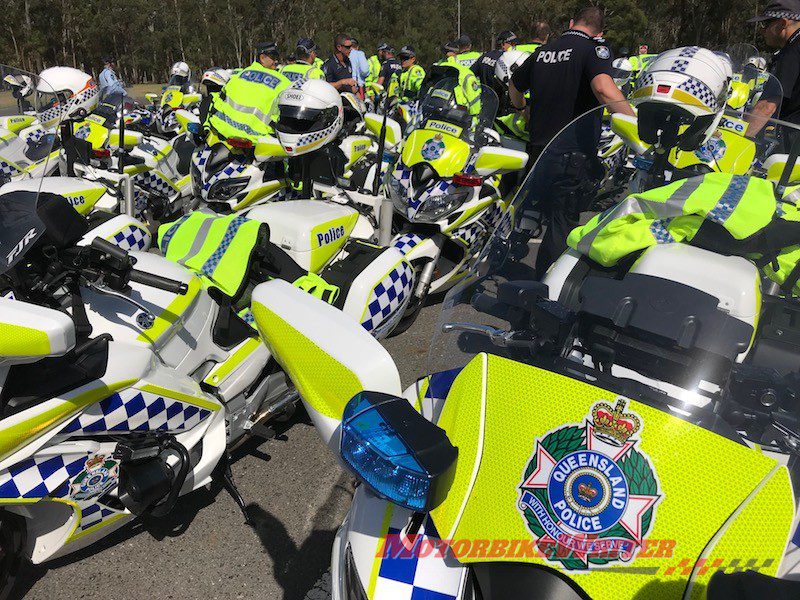 The job of a motorcycle cop is an important part of police duties, Queensland Police say.
"It differs significantly from the general perception of the motoring public," they told us.
"The primary function is to provide a high visibility presence on the road network across Queensland, thus positively influencing driver and rider behaviour.
"Having said that a rider's day may include a wide variety of functions, be they planned or emerging situations. QPS riders are expected to ride in all weather and road conditions."
The video quite clearly shows "emerging situations" and riding in "all weather" conditions.
Three charged
Detectives have now charged two men and a woman after they allegedly threatened a man at his house with a knife and demanded his Ford Falcon.
About 30 minutes later, the motorcycle Police Sergeant saw the car run a red light and pursued it until he was rammed.
The Ford was later found and the woman and one of the men were arrested "without incident" after they fled the vehicle on foot.
The driver allegedly assaulted and bit a police officer while being arrested.
A 29-year-old man is in the hospital under police guard.
A 20-year-old man and a 25-year-old woman have been charged with one count each of armed robbery, burglary and unlawful use of a motor vehicle.
They appeared at the Toowoomba Magistrates Court today.
Police expect to lay further charges.