One of the earliest motorcycle number plates to come to public auction, '4', has sold at auction for $150,000, setting a Victorian record.
The plates sold at the weekend Shannons Motorclassica plate auction and was only tipped to fetch up to $80,000.
There are two because motorcycles used to have a front number plate as well. Some safety Nazis and cops still think they should make a comeback so riders can be detected by front-facing speed cameras.
It was the only motorcycle plate in the auction which fetched $2.4m, including an auction record $181,000 for a "Q1" car plate.
The "4" motorcycle number plate is not the most expensive in Australia. It is believed the 80-year-old NSW "1" plate may have sold for close to $1 million.
That plate was originally owned by Bennett and Wood in 1918. It was bought by Honda's General Manager in 1935 and spent time on an MV Agusta in the '70s and '80s.
Personalised motorcycle number plates are big business, but they are not as valuable as car plates.
The Australian record for the most expensive car number plate was set in 2017 at the Shannons Sydney Autumn Auction where "NSW 29" fetched $745,000, beating the previous 2003 record of $689,000 for "NSW 2".
World record
But that is nothing compared with world record prices.
The world's most expensive plate is believed to be "25 O" which is on a Ferrari 250 SWB enviously owned by guitar god Eric Clapton.
The plate is now owned by Ferrari deal principal John Collins who paid £518,480 in 2014 and fitted it to his Ferrari 250 SWB.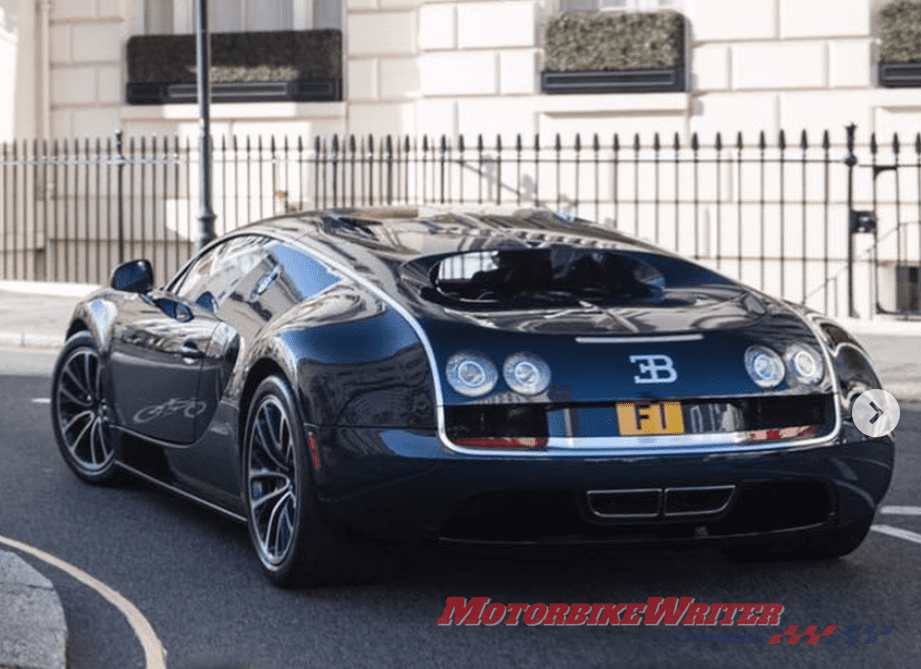 However, that could be eclipsed by British car mod businessman Afzal Kahn who is asking more than £12m for his "F1" plate which is on his Bugatti Veyron.
He has previously turned down an offer of £6 million.
He bought the plate for £440,000 in 2008, setting a UK record.
Show us your p
ersonalised motorcycle number plate! Insert a photo with your comments below.