Tough European emissions laws threatened to axe several much-loved models last year, but it seems many have had a stay of execution.
The Euro 4 rules introduced in 2016 were almost 50% tougher to pass.
For example, Euro 3 required a motorcycle to pass an emissions test when new, or after 1000km. Under Euro 4 they have to still be compliant after 20,000km or 35,000km depending on the size of the machine. 
Because the requirement was so tough, the European Commission (EC) allowed a couple of years for compliance.
That ended on December 31 2018 and many models are now no longer able to be sold in Europe and several other countries that follow the same stringent rules, such as Japan.
The axe has now fallen on most supersport models, many air-cooled bikes, single-cylinder adventurers and most Japanese cruisers.
Axe reprieve
However, manufacturers are still making some of the models that looked like failing the tougher tests, strictly for markets where the Euro 4 rules do not yet apply. They include Australia, the USA and South Africa.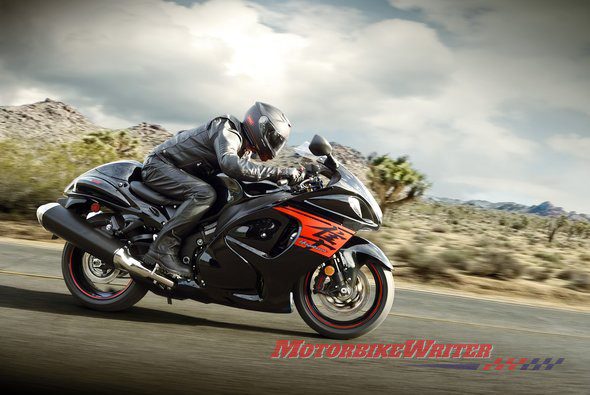 That is a big enough market to make it economically viable to continue production of bikes that continue to sell well, such as the Suzuki Hayabusa.
Suzuki Australia and the USA made special mention to customers that the model would continue in their markets.
The hyperbike will eventually be replaced by an updated Hayabusa, but in the meantime, the factory will continue to make the bike for non-Euro 4 markets.
When it does return to worldwide production, the Hayabusa may not even be Euro 4 compliant.
It may be Euro 5 compliant as that standard is coming in 2020 for new models and 2021 for existing models. 
But once again there may be a reprieve from the axe. That's not because it's too tough, but simply because the EC has not yet agreed on the exact standards and testing methods.
Emissions reduced
Since 1999, the motorcycle industry has gone from Euro 0 to Euro 4 and reduced emissions by 91%.
Despite those reductions, most motorcycles are now more powerful and economical than they were at the end of the last millennium.
And even though sceptics said the technology would make motorcycles more expensive, they are no more expensive in real terms.
Euro 5 will lead to new motorcycles that will have a range of solutions to the emissions problem.
That will include, but won't be limited to, leaner burn, liquid cooling, forced induction, hybrid technology and, of course, electric power.