Discovering a new, unique and interesting motorcycle-related product is always a thrill, and this LED motorcycle sign definitely meets that criteria.
I learned about them purely by chance in a motorcycle forum thread that just happened to catch my eye.
The signs are made in Quebec by Rene Wollin, who also runs Wolltech, a manufacturing company that makes "specialty microwave telecommunications circuitry from high frequency laminates".
Rene is also a Moto Guzzi fan and a connoisseur of classic motorcycles.  Check outhis photos of a Moto Guzzi 850T he completely restored — it's absolutely stunning, and the images of the restored Guzzi V-Twin sitting on the workbench are great!
Rene decided he needed a cool night light one day, and he also wanted to test a new CNC router and milling machine that he built by himself, believe it or not.  So he came up with the idea for this LED motorcycle sign, which has to be the most high-tech night light I've ever seen!
The black anodized base is machined from 6061-T6 aluminum, and the sign has 3 LED lights that illuminate the edges and the logo, which is engraved by a CNC milling machine.  The edge of the acrylic and the motorcycle logo are deliberately made to have a slightly rough finish to create a nice glow when illuminated by the LED lights.
By the way, Rene also designed and whipped up a batch of custom circuit boards to carry the LED lights, and the lights and batteries.  He uses AutoCAD to create the designs and machines everything on his custom CNC mill.  If you want one with the super-overkill aluminum base, get it quick, because this obviously is not a cost-effective way to make a night light.  The lights will eventually be supplied with an extruded aluminum base, which should give an even smoother look.
The LED lights are very bright, so Rene may end up adding a DC electric plug to save the 3 AA batteries (supplied with the light).  The light has a recessed switch on one side; see the photos below.
Rene currently makes the motorcycle signs with logos for BMW, BSA, Ducati, Harley Davidson, Honda, Indian, Kawasaki, Moto Guzzi, MV Agusta, Norton, Suzuki, Triumph, Yamaha.  He'll custom-make other motorcycle or company logos also.
The LED motorcycle signs cost $75.00 each plus $14.00 CAD or $18.00 USD for shipping.  For more information and to order a sign, visit Rene's eBay store.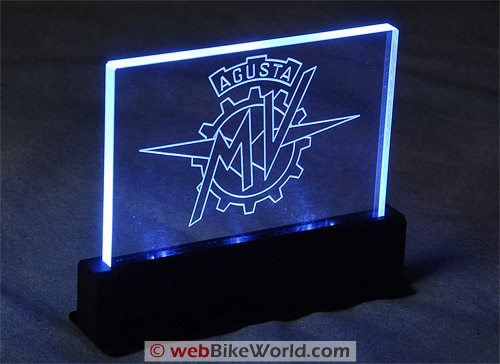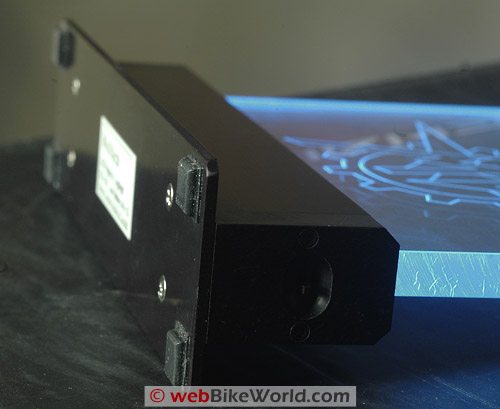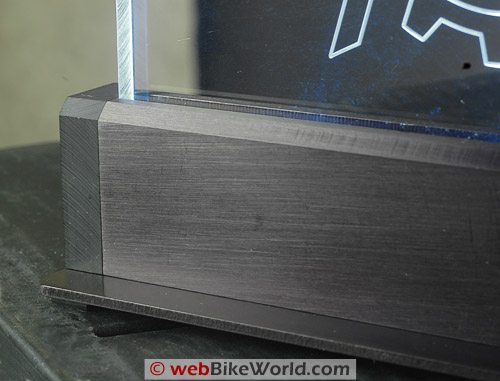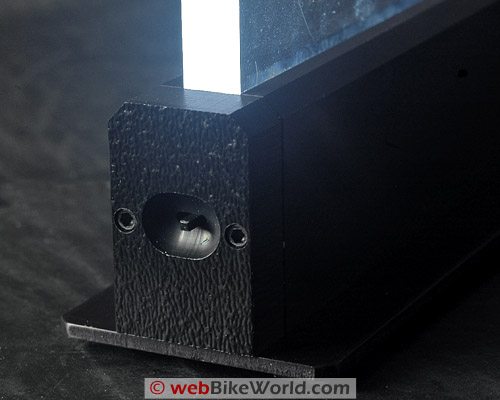 Note:  For informational use only.  All material and photographs are Copyright © webWorld International, LLC – 2000-2011.  All rights reserved.  See the webBikeWorld® Site Info page.  NOTE:  Product specifications, features and details may change or differ from our descriptions.  Always check before purchasing.  Read the Terms and Conditions!
Other WebBikeWorld Articles Posts