LED Brake Lights Image Gallery
Our most recent LED light article was published in November of 2007.
In that article, we compared a few of the latest motorcycle LED brake lights and tail lights.
That was our 14th article on the subject, but apparently it wasn't enough for our readers, who immediately asked for more!
You sent us many emails, each requesting yet another new type of LED light that we should try.
What's interesting about this, beside the reader response — which has been fantastic — is that so many different types of LED lights have suddenly become available.
Back in the old days, at the turn of the century (21st!) it wasn't easy to find LED lights in sizes and shapes that would fit a motorcycle. The lights that were available weren't very bright and the light they emitted was highly directional, so if the light wasn't viewed straight on, it would look rather dim.
This problem was — and still is — compounded by the shape of most brake and tail light reflectors and lenses, which have been optimized for the nearly 360-degree brilliance of incandescent bulbs, but which usually fail miserably at putting out the same level of light when an LED is installed.
LED light manufacturers have been working to overcome this issue, and they've introduced a few innovative solutions. As a result, we've seen many new types of LED lights become available recently, each one different from the next.
Many of the newer lights have some or most of their LEDs distributed radially around the circumference of the light. These radially mounted LEDs are designed to bounce some light against the reflector, hopefully making the overall light output of the LED unit the equivalent of an incandescent bulb.
Of course, individual results will vary, depending upon many factors, including the configuration of the LEDs, the shape of the reflector and the lens, and the relationship between the LED light and its position within the housing.
It's impossible to evaluate every configuration with every available LED light for sure — but now there's another problem: it's becoming more difficult to evaluate even a small group of LED lights to compare their output.
One of the reasons for this is because this new generation of LEDs, shown below in the photos, vary so widely in their size, shape, diameter, overall length and even in the size of the base that it's becoming impossible to compare them when using a single brake light housing. There's absolutely no standardization on the sizing, and the wild designs vary so much that some of the units don't even come close to fitting into our GT1000's tail light assembly.
This is in stark contrast to the good 'ol 1157 bulb — it's size, shape and dimensions were standardized a long, long time ago, so you can pretty much bet that any tail light that accepts one 1157 will accept them all, whether you're replacing it in Flatbush or Feodosia.
This has only become a problem recently, and we only just discovered how much of an issue it is with this most recent batch of LED lights. I guess we're going to have to see if we can find a big tail light assembly from a used motorcycle parts recycler (i.e., junkyard), or find one from a truck or a trailer that we can mock up to use as a test rig and which will fit anything we can put in it.
When we do, we'll be sure to compare all of the 1157-style LED replacements we've been collecting. In the meantime, the only bike we have available that can still hold an 1157 style base is the GT1000. But there's another problem, which we described previously in our last LED comparison article.
The GT1000's reflector and lens is a single unit, as you can see in the photo below. The reflector has a hole that just allows an 1157 bulb to fit through, and maybe a few of the LEDs with about a 24 mm diameter or less. Some of the new generation of LED lights don't fit.
Now this may be a problem only with the GT1000, but it may also be an issue with the tail light assemblies on other motorcycles. The shape and dimensions of the 1157 bulb has been standardized for many years, so most of these reflectors are optimized for the 1157 bulb and nothing else, so try and fit, say, a 25 mm by 55 mm "Light Tower II" (see below), and you may have problems.
You can see that the dimensions listed below for each light vary widely, while a standard 1157 incandescent bulb will always be the same width and height.
Anyway, that's all the disclaimer… As I said, we'll have to come up with a better solution, and I think the only answer is to develop a "test" rig that will swallow just about any LED we can throw at it.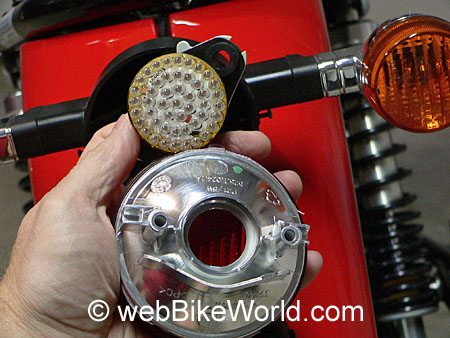 LED Brake Light and Tail Light Comparison
In the meantime, let's carry on. Based on your suggestions, we purchased 11 different 1157 LED replacements and 4 different 921 "wedge" LEDs for evaluating a replacement for the GT1000's turn signals. Out of this group, only five of the 1157 LEDs would fit the housing, and although all four 921 LEDs fit, one was defective.
So we debated how best to present this information. Granted, the GT1000's one-piece lens and reflector assembly is the primary reason we couldn't use most of the LED lights, but we did gather some useful information, so here's article #15 in our continuing quest for the perfect LED replacement light.
This time, we're giving you a photo of each light and a brief description of each. Since static photos don't really do much to illustrate the light output of an LED (or any motorcycle light for that matter), the video (below) tells the real story. It also isn't close to the reality of the light output, but at least the video was taken under the same conditions, at the same settings, all within 15 minutes or so, so you can at least compare light to light and see what you think.
I think you'll find that in this case, with this batch of LED lights, the original 1157 incandescent is brighter — much brighter — and the spread between the 1157 incandescent in running light mode and when the brake light is engaged is huge, and brilliant; just what you want when you squeeze the brakes.
The 921 LED wedge bulb replacements are a slightly different story — the "Ultimate 921 Matrix" in white isn't quite as brilliant as the 921 incandescent, but the LED has an extremely rapid on/off cycle compared to the incandescent, plus a quicker flash (due to the nature of the LED light), and this may be an acceptable tradeoff because the rapid blinking and almost zero decay with quick dark/light may attract more attention of following vehicles than the standard 921. I'll leave it up to you to decide.
Surely the story isn't complete by any means, and LED technology is rapidly evolving, so we're already gathering a list for the next round. We plan on having a new tail light assembly that will fit a much wider variety of the new shapes that are becoming available — but remember, your results may differ from ours, because each reflector and lens is different.
Notes
We purchased most of these LED at Autolumination, which has a huge selection. The "Cool Spots" lights were purchased online (somewhere, I don't remember), and were suggested by several webBikeWorld visitors.
Two of the lights came from our friends at Custom Dynamics, who, as of this writing, still offer the brightest LED 1157 replacement we've found, with their big LED "Cluster" light that we reviewed several years ago.
The LEDs shown in the table below correspond to the sequence in which they are demonstrated in the video. All dimensions are close approximations, in millimeters. Width is the width across top at widest point; length is total length, right to the tip of the dual contacts.
w

BW

 Video: Motorcycle LED Brake Light, Tail Light and Turn Signal Comparison
LED Brake and Tail Light Bulb Replacements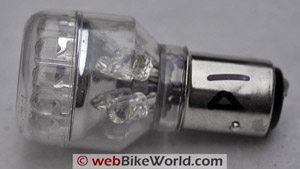 "Cool Spots" LED
25 Red and White LEDs.
Price: These were priced at a ridiculous $25.95 each, and in our opinion, the light isn't anywhere close to the original (and cheap) incandescent.
Dimensions: 25 mm x 50 mm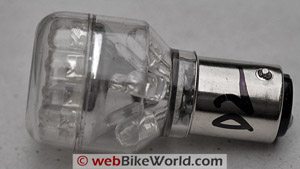 "Cool Spots" LED
25 Red LEDs (red version of the light above).
Price: Also priced at an equally ridiculous $25.95 each. Ditto.
Dimensions: 25 mm x 49 mm
Publication Date: November 2007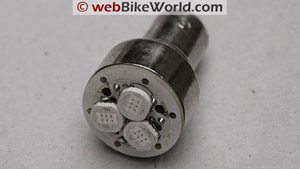 "Super Star" 3 Watt
About the same as the Cool Spots and not as bright as the original 1157 incandescent bulb.
Price: $12.99.
Dimensions: 24 mm x 42 mm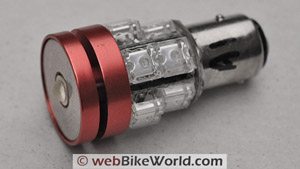 "Eagle-Eye Tower"
Has what appears to be a single "Luxeon" 3 Watt LED at the top and 10 LEDs mounted radially. Claimed to have a patent-pending special control circuit that does…something. Fairly bright, not as bright as the 1157 incandescent, and probably not worth spending the $24.99.
Price: $24.99 each – ouch!
Dimensions: 24 mm x 49 mm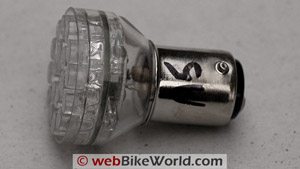 "Matrix" LED
24 LEDs; the 18 LEDs on top are supposed to be mounted to throw a 45-degree light angle and includes 6 radially mounted LEDs.
Fairly even light on both running light and brake light, but not as bright as the original 1157 incandescent.
Dimensions: 25 mm x 37 mm
1157 LED Replacements That Did Not Fit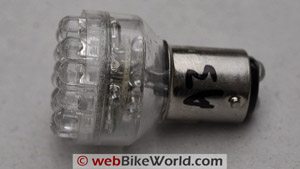 "Matrix II"
18 LEDs mounted on top; two rows mounted radially, one row with 6 and one with 8, for a total of 32.
Price: $13.99
Dimensions: 26 mm x 37 mm (Just a touch too wide).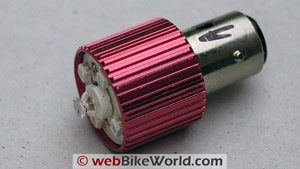 "Eagle Eye 5"
One 5 Watt Led surrounded by four LEDs, all facing forward (or rearward). Claimed to be "The most powerful led tail-back up light bulb ever made."
Price: $24.99
Dimensions: 24 mm x 45 mm (Too wide).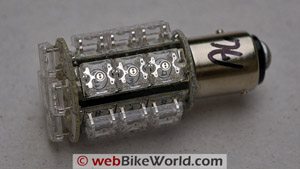 "Light Tower II"
20 "Wide Angle Oval" LEDs. Claimed to have patent pending control circuitry.
5 LEDs face forward; 15 mounted radially.
Price: $17.99
Dimensions: 25 mm x 55 mm (Too wide).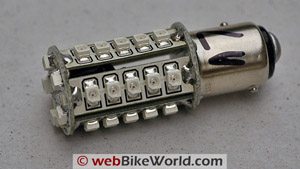 "SMT Tower"
5 forward facing LEDs; 25 mounted radially.
Price:  $24.99 (Ouch!)
Dimensions: 19 mm x 52 mm (Base too short between contacts and round plate at lower end of LED tower; likely to be a problem with many 1157 receptacles).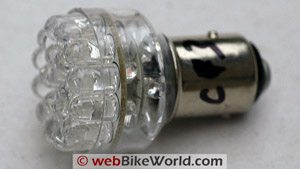 Custom Dynamics "Street Magic"
32 LEDs, Red and Amber.
Price: $8.99
Dimensions: 26 mm x 42 mm (Too wide).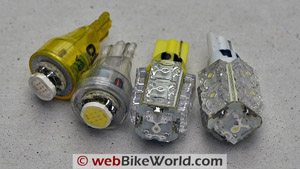 Super Star Amber, Super Star White, Ultimate 921 Matrix Amber, Ultimate 921 Matrix White
Shown left to right in the photo.
Price: Super Star $7.99; Ultimate Matrix 921 $9.99
The Super Star White LED was defective. The Ultimate Matrix White actually looks pretty good; not as bright as the original 921 incandescent, but even light with faster cycle times. The amber was nearly as good, but the Super Star amber was weak.
Note:
 For informational use only. All material and photographs are Copyright © webWorld International, LLC since 2000. All rights reserved. See the webBikeWorld® 
Site Info page
. Product specifications, features and details may change or differ from our descriptions. Always check before purchasing. Read the
Terms and Conditions
!
Owner Comments and Feedback
---
From "C.E.":  "Thanks for the latest article on the LED bulbs. Please keep up the good work . You are correct to say the range and selection of options out there is bewildering much less no way for us to know what will or will not fit, and which bulb may be worth the $ we spend on it.
Many of us look for ways to reduce the electrical loads on our bikes, especially the older ones, but most of us don't want to compromise visibility and safety to do it. So please, keep aggressively testing them and letting us know which ones fit the standard housings and which ones match, exceed or don't match the output of the standard incandescent bulbs."