Glove Gauntlets Image Gallery
I've noticed something very strange in the last three or four pairs of gloves that we've reviewed recently on webBikeWorld.com. Apparently, glove designers are in a conspiracy to shrink the gauntlet!
Now maybe four pairs of gloves from as many different manufacturers may not be statistically significant, but I'm starting to wonder if we're starting to see a trend here.
I first noticed it with the Icon Merc gloves, which have a double gauntlet, but the inside layer is so narrow that it barely fits over any jacket sleeve, no matter how thin.
The Joe Rocket GPX 2.0 gloves also have a narrow gauntlet, although the unique elastic adjusters are somewhat of a compensation. The Held Ninja gloves are only slightly better.
And the REV'IT! Solar mesh gloves we recently reviewed also have a very narrow cuff, but apparently it is by design (see below for more information).
Some gloves, like the OSI Coolguard and FirstGear Burnout gloves, do not have gauntlets at all, but they are designed for specific uses and are not the subject of this article.
A gauntlet has been defined as "An armored or padded glove intended to protect the hand and wrist from attack".
For our purposes, the gauntlet on a motorcycle glove is that portion of the glove that extends above the wrist. It is, or was, intended to cover the cuff, or the lower portion of the motorcycle jacket sleeve and to offer added protection to the rider in this sensitive area.
Photo 1 (below) shows my old pair of Teknic Violator gloves (one of my all-time favorites). You can see the nice, big, comfy gauntlet on these gloves, which fits over every motorcycle jacket I've tried, and is fully adjustable!
Is this type of gauntlet disappearing?  Apparently so.
I stopped by a local motorcycle shop who has a large display of many different brands of gloves and tried on a few. Olympia, Alpinestars, Held and Spidi — all of the gloves I tried have very narrow and/or short gauntlets.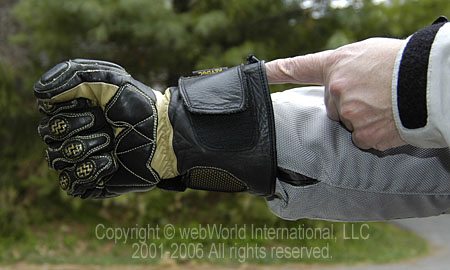 In my opinion, a motorcycle glove gauntlet should have plenty of room to fit over just about any size jacket cuff, whether the jacket is thin or thick, with or without a lining.
The gauntlet should have some type of fastener, usually "hook and loop", to secure it tightly to the rider's arm. And the glove should have a secondary wrist fastener that will make sure the glove stays put. The most secure motorcycle glove attachment system we've seen so far is the design on the Marsee Race Glove.
The gauntlet should be designed in such a way that it does not prevent the glove from being pulled fully on to the rider's hand.
The recent trend towards shorter or narrower gauntlets is causing a number of problems; a short or narrow (or both) gauntlet can prevent the glove from being pulled securely on to the rider's hand.
An ill-fitting glove may not offer protection in a crash when the glove is supposed to be doing its job.
So please, motorcycle glove designers: give us back our gauntlets!
Innie or Outtie?
Whilst pondering this situation, we discovered that some motorcycle gloves are designed to be worn under the jacket cuff, which may partly resolve the problem of short or narrow gauntlets.
During our recent review of the REV'IT! Solar mesh gloves, we learned that gloves manufactured by REV'IT! are designed to be worn under the specially designed jacket cuffs on REV'IT! jackets.
REV'IT! says that this both gives the jacket a cleaner look and also prevents water from running down the rider's arm and into the glove. The waterproof liners on most REV'IT! jackets are specially designed with elastic at the cuff so that it will fit inside the gauntlet (see Photo 4 below).
Wearing gloves under, rather than over, the sleeve is something new to us, although I now remember seeing motorcycle riders in Europe wearing their gloves under their jacket sleeves.
Photos 2 and 3 (below) show a REV'IT! Solar glove worn under and over a REV'IT! Airforce mesh jacket. You can see that the cuff looks much smoother in Photos 2 and 3 and avoids the bunching evident in Photo 4.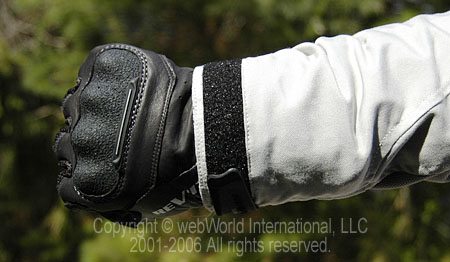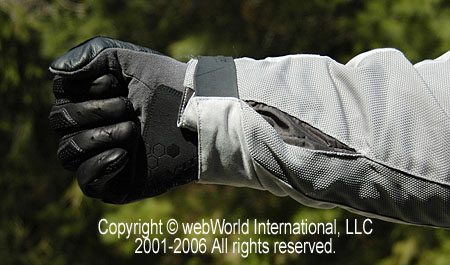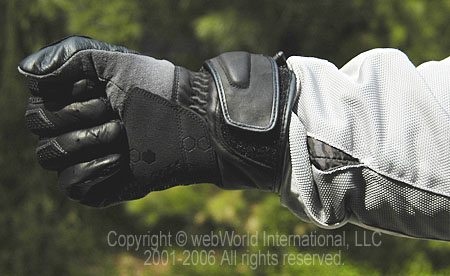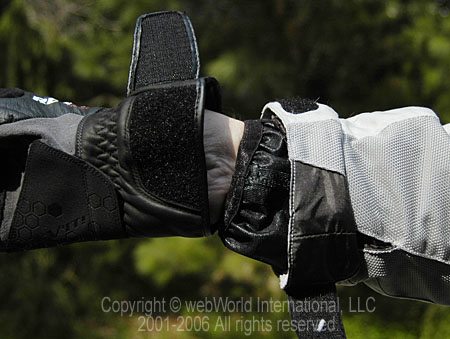 One interesting thing I've discovered that it actually seems easier to wear the gloves with the gauntlet under the jacket than over and it also takes me less time to get the gloves on and adjusted correctly prior to a ride.
However, it may take some time to get used to wearing my gloves this way and some jackets just don't seem to be compatible with wearing the gloves underneath the cuff.
Which leaves me puzzled as to why some of the recent motorcycle gloves designed for track days or racing, which are obviously meant to wear over the sleeve, seem to be coming with ever-narrower gauntlets.
End of diatribe #456.7!  What do you think? Ping us at editor@webbikeworld.com
Publication Date: April 2006
Note:
 For informational use only. All material and photographs are Copyright © webWorld International, LLC since 2000. All rights reserved. See the webBikeWorld® 
Site Info page
. Product specifications, features and details may change or differ from our descriptions. Always check before purchasing. Read the
Terms and Conditions
!
Owner 

Comments and Feedback
---
From " e' " (11/08):  "I have pretty much always worn gloves with a gauntlet underneath a jackets sleeve, every time I would gear up with a group they would say, hey a gauntlet needs to be outside the jacket.
I then casually explain that no, it should be placed underneath the jackets cuff and explain that unless you're on a chopper with your wrist north of your elbows that in the rain water will slide right down into your waterproof gloves…which will suck for you.
I have overturned many to this concept and all of them come back and tell me how much better they're able to flex their wrists without having anything pinch while working the throttle.
The few times I prefer a gauntlet over a sleeve is when its <10 F out and DRY, in those temps, with an unfaired bike no matter how tight you manage to get the gauntlet or cuff some cold air may seep through, however I am rarely traveling faster than 50-60 in those temps, I'm just not riding far enough away in that cold a weather to really need to make up time by riding faster."
---
From "R.":  "I agree, it seems nowadays finding a MC glove with a decent gauntlet is becoming harder. If I have a choice I'll buy a new glove just because it has a decent gauntlet. Why, because I expect 4 things from my MC gloves, sun, rain, cold weather protection, and comfort, besides road rash protection.
Tell you something else, I have a pair of cheap($35) leather winter gloves that have served their purpose for 15 years now, even after crashes. Because they're not better insulated, they work great with heated grips."
---
From "P.F.":  "I saw you wrote a article about the shrinking gauntlets. I'm fairly new to motorcycling (in fact I'm just starting). But did some sailing before (not much but enough to answer some questions).
With sailing gear most jackets have what is called a storm cuff. It's basically 2 cuffs on a sleeve. One inner cuff and a outer cuff. You tighten the inner cuff. Then put on the glove and strap the glove over the inner cuff, then pull the outer cuff over the glove. It's a water sealing, and I might add it works pretty well.
Why am I telling you this? Well, because I'm seeing more and more motorcycling jackets in the higher end getting outfitted with these storm cuffs. But of course there is a catch, the glove you need to wear should be shorter and less wide then the outer cuff of the sleeve of such a jacket. It could be the reason why gauntlet type gloves are getting smaller. To accommodate for these storm cuffs."
---
From "R.T.":  "I'm a big fan of long gauntlets. My normal riding gloves are Held Profi gloves: they've got to have some of the longest gauntlets I've ever seen. I always have the fear that as I slide forwards that the pavement will push back on my jacket's sleeve and expose bare skin to be chewed by the asphalt.
I'm also much more comfortable with the gloves overtop. It's more aerodynamic: I don't need to worry about air filling my sleeve if it's not tight enough nor do I have to worry about a wayward insect finding itself forced into the cuff (like that wasp that made its way into my helmet one sunny summer day).
On the track I wear MotoGP Nitrous gloves. The gauntlet isn't as impressive but is worn overtop of the sleeve. I feel that the long gauntlet offers far more protection.
I have rain gloves and they serve only a single purpose: to be worn in the rain; those I wear underneath my jacket. They're much like my rain pants: meant for rain (or, in the case of the rain pants, cold weather riding)."
---
From "E.S.":  "Whether the glove "should" be worn under the sleeve or over depends on the jacket, glove, and conditions. I have a First Gear "Scout" jacket. It has these little "scoops" that open on the lower forearms for ventilation in hot weather. Large gauntlets would interfere with that. It also has zippers over a gusset at the end of the sleeve to loosen or snug up the fit.
Thus, in nice weather I wear an unlined leather glove that fits easily under the sleeve. Closing the zippers makes for a snug, but not tight fit. In cooler weather, I put the liner in the jacket.
Gloves definitely do not fit under the sleeve when the liner is in place. Then I close the "scoops" and zippers and wear Gerbing electric gloves (which plug into the "gloves circuit" of the liner, which I had Gerbing wire up). Fortunately, the Gerbing glove still has an adequate gauntlet and fits nicely over the sleeve."
---
From "D.M.":  "Hi all – first thing must say great great site! Just finished reading the article about the gauntlets getting smaller and to start I have to admit that in the 13 years that I (have been riding motorcycles) I didn't (own so) many pair to be an expert (plus the first were very budget aware, shall we say).
Anyway, my current two pairs are for the summer; a pair of Joe Rocket Phoenix I think and for the winter a pair of Alpinestar Gortex. The summer gloves — I do wear them on top of the sleeve as my summer jacket is of a short cut, but as for the winter gloves I do wear them under the sleeve.
The main reason for that is because I myself at least believe that the water proofing will be better that way, meaning the water could get down and onto the glove instead of into it.
What I wanted to ask was do you think there is a difference in protection between wide (over the cuff) gauntlet design and a narrow (inside cuff) style ? I am not talking about short/non-gauntlet type."
Thanks for your comments, D.M.: My opinion is that a longer gauntlet has the potential of offering more protection to the wrist and forearm. But without scientific testing, who knows?
---
From "K.W.":  "Must say I agree with you…as far as I'm concerned, gloves should be worn*/ over/* the jacket cuffs. My all-time favorites have been Tourmaster Roadrace II's, which have been discontinued for quite awhile now.
I've owned at least (4) pairs since the mid-80's. 1st pair was stolen, 2nd & 3rd pairs got me into the late 90's, and my current pair is still in great condition. Best of all, there's NO hook & loop / Velcro anywhere on them! The clever zipper design allows them to be cinched down & close off virtually all air movement.
My biggest pet peeve with riding garments today is the over-reliance on hook & loop fasteners…give me a good quality zipper */anyday/*! The leather in some of the fingertips of my Roadrace II's wore thru but the zippers were still in good working condition."