Another Queensland Police and Transport and Main Roads (TMR) blitz on motorcycles is expected in the next couple of weeks, particularly concentrating on noisy exhausts.
As part of Operation Grenadine on April 28/29, Queensland Police issued 16 vehicle defect notices and TMR officers issued six defect notices.
TMR could not provide a breakdown of the defect notices, but it is believed they were mainly for noisy exhausts.
There are now rumours on social media that the blitz will be repeated soon following more residents' complaints about noisy bikes.
Police and TMR would not confirm this.
Defect notices blitz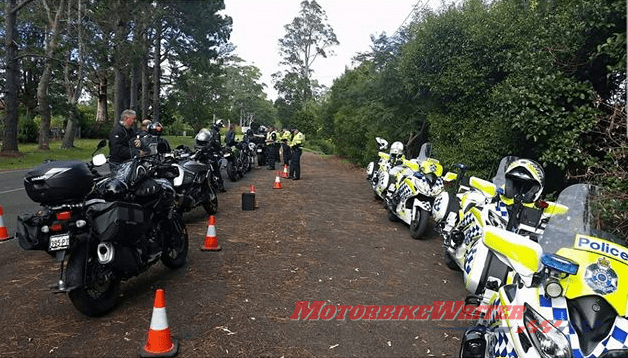 A TMR spokesman says defect notices do not have a penalty or fine attached, "provided the registered operator of the vehicle complies with the requirements of the notice".
"Minor defects may be categorised as self-clearing, which means the registered operator is required to remedy the defect, with the vehicle not required to be independently inspected.
"With more serious defects, the defect needs to be remedied and the vehicle inspected at an approved inspection station by Queensland Police or at a government inspection facility, as specified on the defect notice. 
"The rider of a defective motorcycle may alternatively be issued with an infringement / penalty notice for driving or parking a defective vehicle on a road.
"The penalty ranges from $126.15 to $252.30, depending on the defect."
There are also heftier penalties if your bike is found defective for the same issue within a 12-month period.
Aftermarket exhausts
One of the main problems with receiving a defect notice for an aftermarket exhaust is it costs money and time to take your bike for a further inspection.
Brisbane Barrister Levente Jurth believes aftermarket exhausts are not illegal, anyway.
He has studied the laws and determined that police and authorities do not have the expertise nor objectivity to sustain a conviction for the alleged offence.
Read his comments here and maybe print out a copy to hand to police or TMR officers when they try to issue a notice.