Motorcycle riders are the most safety conscious of all road users and the bigger the bike, the safer we become, busting the myths lapped up by lazy mainstream media that demonise riders.
Police and politicians are often heard blaming riders – particularly those on big, high-powered motorcycles – for the high road toll.
We are sick of hearing them trot out figures in media reports that show the high proportion of motorcycle crashes compared with cars and the abnormal increase in motorcycle fatalities.
The true story on crash statistics is actually provided in the 2012 Road Deaths Australia report from the Department of Infrastructure and Transport 2013.
Stats
First, the damning stats:
The rate of motorcyclist fatalities was 5.5 times higher than that of vehicle occupants;
Vehicle occupant fatalities were 0.55 per 10,000 registered motor vehicles, compared with 3.16 per 10,000 motorcycles; and
Motorcycle riders made up 22% of serious casualties, yet motorcycles accounted for just 4.2% of all registered vehicles.
Not much has changed since then.
However, the FCAI points out that over the past 30 years the number of fatal crashes per 10,000 registered bikes has dropped by 79% despite motorcycling being the fastest growing vehicle segment with numbers doubling over the last decade.
Since motorcycles are the fastest-growing vehicle segment in Australia, it would seem reasonable that motorcycle crashes would increase at a faster rate.
However, the real result is that they are reducing as a proportion to the increasing number of riders, the amount of time they ride and the distances they cover.
In other words, we are becoming safer road users.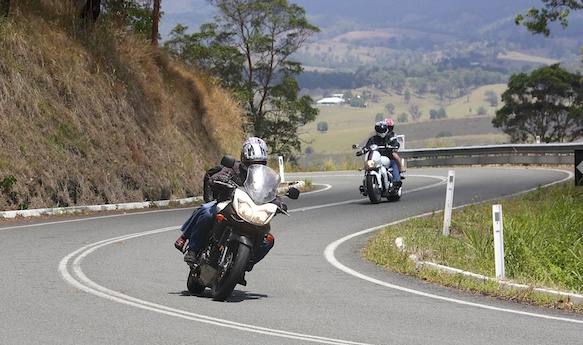 And don't let people tell you that the higher the bike's power and bigger its engine capacity, the more dangerous the rider. More myths!
In fact, the same statistics show that 42% of bike crashes occur on bikes with less than 500cc, 36% between 500 and 1000cc and only 22% for capacities greater than a litre.
That could bear a relationship to the number of bikes in those capacities.
Also, perhaps the more higher powered the bike, the more circumspect we become, the more attention we pay to bike maintenance and the more likely we are to wear all the gear.
Unfortunately, the same statistics show that when big bikes crash there is much more weight involved and the speed is usually faster, so injuries are usually worse and the fatality rate higher.
We're not oblivious to the dangers of riding. In fact, that is probably what makes us more observant and safety conscious.
We have to be. The consequences are dire!
Myths
As for the myths that riders are most often at fault, the Motorcycle Council of NSW says that in multi-vehicle collisions, the other driver is at fault in 38% of cases and the rider 22%.
As a comparison, ask yourself these questions about car drivers:
How many car drivers take advanced driver training courses?
Have you ever seen a car driver wear any protective clothing?
How many cars have extra lights and reflective tape so they can be seen?
How many drivers check their vehicle regularly or before they take off?
How many drivers scan the road for gravel, oil and other hazards?
How many drivers share driving tips with other drivers?
How many cars have bald tyres or non-functioning lights or indicators?
Now ask yourself the same questions of riders and their bikes. Rather than the myths about us being reckless and careless, I'm sure you will find we are generally far more attentive to our vehicles, our skill levels and our crash protection.
A 2016 survey in the UK found riders were also far more aware of road signs and road rules than drivers.
So when someone says you must have a death wish because you ride a high-powered death machine, you should smash the myths and reply, "No, I have a life wish".