"T" Motorcycle Brands
Names, Logos, & a Brief Company History
We are attempting to create a massive database on all things motorcycle, and archiving the history of the brands that have helped shape this industry is something that we think is important.
We consider this list "complete for now", but it will never be finished– we are building and expanding our motorcycle brands research section over time. If you know of another motorcycle brand or custom bike builder that starts with A and isn't listed here, please get in touch so we can add you to this list!
Popular Brands

A British namesake, Triumph has a tumultuous history but it has overcome adversity to become a leading motorcycle manufacturer, with iconic machines like the Rocket cementing Triumph's place in Powersports prestige.
All Brands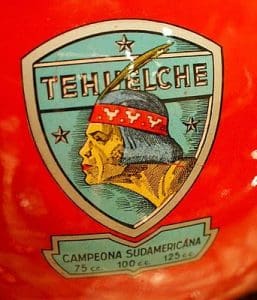 Tehuelche
Tehuelche was an Argentine motorcycle that was presented to the public in March 1957, and produced only until the middle of 1964. The "Tehuelche" was a source of great pride to Argentina, although it disappeared from the memory of following generations of Argentines. Other attempts were made, mostly unsuccessful, to produce an Argentine motorcycle; however, the Tehuelche was the only motorcycle that was mass-produced continuously in its seven years of manufacturing in Argentina. The Tehuelche distinguished itself not only by the characteristic sound of the gear train (SOHC engine), but also for its excellent performance in its racing career.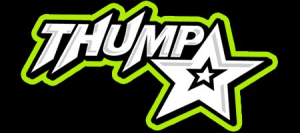 Thumpstar
Thumpstar is a pit bike manufacturer that was founded in Australia in 2004 by Timothy Hunter, a motor-cycle dealer and racer. The first Thumpstar models were released into the market between 2004 and 2006. They were the JNR 90cc, Super Hunge 110cc and the Professional Hunge 125cc. The most successful was the Professional Hunge with its CNC TUV certified full billet T6 heat treated alloy frame. Thumpstar became a well-known pit bike brand with global sales turnover reaching more than A$45 million in its first 13 months of business.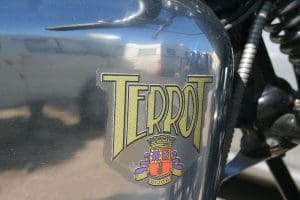 Terrot
Terrot was a motorcycle manufacturer in Dijon, France. Charles Terrot and Wilhelm Stücklen had founded a machinery factory in Cannstatt, Germany in 1862, and Terrot added a branch factory in Dijon in 1887, and in 1890 the Dijon factory added bicycles to its products. In 1902, the Dijon factory made its first motorcycle. It was powered by a 2 bhp engine supplied by Zédel of Switzerland. After that, Terrot built motorcycles with engines from 173cc to 498cc from proprietary engine suppliers including the Swiss manufacturers MAG and Dufeaux, the English makers Chater-Lea and JAP along with Givaudan engines from Lyon, France. In 1951, Terrot produced its first motor scooter, called VMS. In the 1950s, the company focused on the market for mopeds and lightweight motorcycles. In 1958, Peugeot took over the company. In 1961, production ended at the former Terrot factory.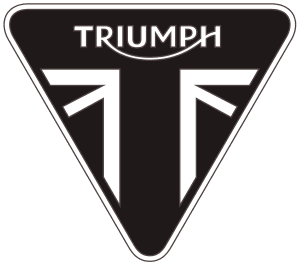 Triumph Motorcycles Ltd (FKA "Triumph Engineering")
Triumph Motorcycles Ltd is the largest UK-owned motorcycle manufacturer, established in 1983 by John Bloor after the original company Triumph Engineering went into receivership. The new company, initially called Bonneville Coventry Ltd, continued Triumph's lineage of motorcycle production since 1902. They have major manufacturing facilities in Thailand. During the 12 months preceding June 2017, Triumph sold 63,400 motorcycles.
Triumph Engineering Co Ltd was a British motorcycle manufacturing company, based originally in Coventry and then in Meriden. A new company, Triumph Motorcycles Ltd based in Hinckley, gained the name rights after the end of the company in the 1980s and is now one of the world's major motorcycle manufacturers.

TVS Motor Company
TVS Motor Company (T.V.S) is an Indian multinational motorcycle company headquartered at Chennai, India. It is the third largest motorcycle company in India with a revenue of over ₹20,000 crore (US$2.8 billion) in 2018–19. The company has an annual sales of 3 million units and an annual capacity of over 4 million vehicles. TVS Motor Company is also the 2nd largest exporter in India with exports to over 60 Countries. TVS Motor Company Ltd (TVS Motor), a member of the TVS Group, is the largest company of the group in terms of size and turnover.

Terra Modena
Terra Modena Mechatronic srl is an Italian company based in Modena, founded in 2015. The owner and founder is Dario Calzavara. The company, better known as TerraModena designs and develops integrated electrical systems [EIPS] for nautical use. The company is also known for the Terra Modena 198 the supermotard bike that is equipped with a monocylinder F1 engine developed by the HPE of Piero Ferrari in the years 2005/7.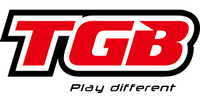 Taiwan Golden Bee
Taiwan Golden Bee Co. Ltd. (TGB) is a Taiwanese manufacturer of engines, scooters, and ATVs (All terrain vehicle, Quad or Quad bike) in general. The company was established by Chi-Fu Chang, who had previously run the Taiwanese division of Vespa and applied the manufacturing techniques from this to TGB.

Tunturi
Tunturi is a Finnish manufacturer of bicycles, mopeds, and fitness equipment. Tunturi's history began in 1922. The foundations of the Tunturi brand began when brothers Aarne and Eero Harkke set up a small bike shop, Pyöräkellari Oy, in Turku, Finland. The name Tunturi comes from the Finnish word for a fell. Bike repairs were the shop's main focus at first, and then gradually they added some small-scale production, manufacturing Tunturi branded bicycles. The brand was very successful and within a few years the small shop was exchanged for a factory. By the 1950s the Tunturi brand was the domestic market leader in mopeds.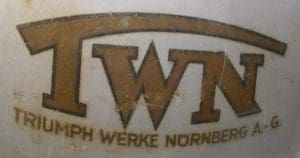 Triumph (TWN)
Triumph-Werke Nürnberg AG or TWN, was a German bicycle and motorcycle company. In 1886, Siegfried Bettmann founded the Triumph bicycle factory in Coventry, England, and in 1896 he founded a second bicycle factory in his native Nuremberg, Germany, under the same Triumph name. Both factories branched out into making motorcycles: the Coventry factory in 1902 and the Nuremberg factory in 1903.

Tohatsu
Tohatsu Corporation) is a Japanese company manufacturing and selling outboard motors, pleasure boats, portable fire pumps, small fire trucks, pumps for construction and drainage, and refrigeration units for transportation. In 1950, production and sales of motorcycles began. 1955 brought aggressive growth to Tohatsu. Capital increased to 150 million yen and production on a new line of engines started. Sales offices were established in Fukuoka, Nagoya, Tokyo, Sendai and Sapporo. Dealerships were set up throughout Japan. In the mid-1950s, the company held the top market share, with 22 percent of the Japanese motorbike market. They also manufactured racing motorcycles and achieved success in Japan and abroad. Financial problems led to the discontinuation of Tohatsu motorcycle production in 1964.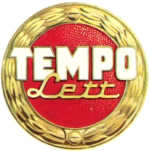 Tempo
Tempo was a Norwegian motorcycle and moped brand. Jonas Øglænd made the rolling chassis and most of the parts thereof, and Fichtel & Sachs AG made the engines for the majority of the models. Tempo also made motorcycles. The smallest one was actually a Corvette with a full effect version of the fan cooled 49 cc engine producing 4,3 hp. Sold as the Comet, this small motorcycle had a longer seat allowing two persons to ride. Similar versions of the Panter was sold asTrigger and Sprint, sporting a 5,2 hp full effect version of the wind cooled engine and somewhat different styling. After 1972 the company made mopeds only.
Tandon Motorcycles
Tandon Motorcycles were manufactured in Watford by Devdutt Tandon (1902–1980)—from 1947 to 1959—for export to his native India and other third world countries initially. The simplicity of the initial Tandon design reflected the chosen export market where the two-stroke engined motorcycles were to be sent CKD (Completely Knocked Down) for assembly abroad.] Indeed, it took one Tandon factory worker only eight hours to completely assemble four Tandon motorcycles. The model in question was the 122 cc Milemaster, powered like all but the last Tandons by a Villiers two-stroke engine. Tandon received great publicity when Pandit Nehru, the Prime Minister of India, was photographed astride a Milemaster while visiting Caxton Hall in 1948.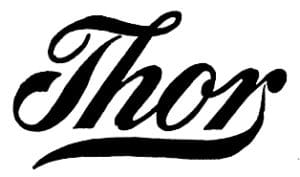 Thor
Thor was an American manufacturer of motorcycles and motorcycle parts especially engines, founded in 1901 in Aurora, Illinois. From 1901 to about 1907 it made engines under license for Indian motorcycles of Connecticut, which Thor was also allowed to sell on the open market. Thor also sold a large variety of parts, especially cylinder heads. and when the agreement finally ended, entered the motorcycle market on its own selling complete bikes until about 1920. Some of its success were supplying engines to many motorcycle manufacturers of the period, some record setting bikes in the early 1910s, and V-Twin engines with automatic valves.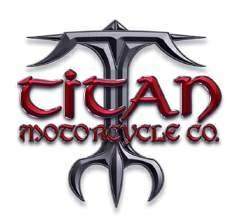 Titan Motorcycle Company
Titan Motorcycle Company was an American motorcycle manufacturer that was founded in 1995 in Phoenix, Arizona and was the first custom motorcycle company to produce in volume.
TIZ
TIZ was a motorcycle manufacturer. Following the German Invasion of the Soviet Union, the plant was transferred east to the town of Tyumen in the Ural region and became known as TMZ.