Motorcycle Luggage Review Summary
Motorcycle Luggage Image Gallery
The motoPOCKET line of textile soft bags are lightweight and have simple and effective mounting solutions.
Extremely versatile and just plain useful, they seem to blend into whatever piece of luggage they are being used with — a testament to their versatility and durability.
No matter if travelling near or far, adding some of the motoPOCKET bags to your pack-transport-access strategy will certainly pay off in the near or long term.
Most of the materials and components used in the motoPOCKET products are sourced in the U.S.A. and the bags wear their "Made in the USA" tags proudly.
The motoPOCKET products have a lot of competition in a very crowded soft luggage accessory market, but they do stand out and they should stand up; their design, tough construction and versatile mounting solutions reflect a valuable insight into market requirements.
You might find cheaper products to address requirements, but you will be hard pressed to find better products for the price than the motoPOCKET bags.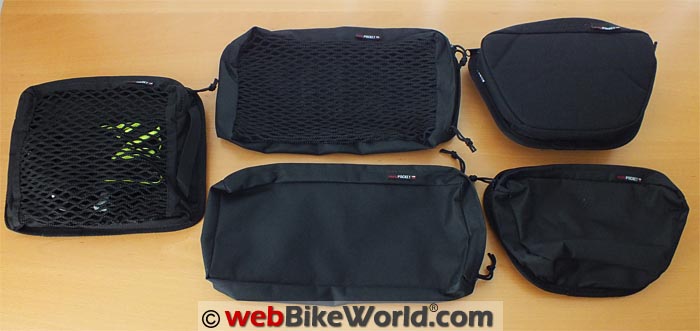 Background
We all carry "stuff" — some of it useful, some not so much; some of it expensive, some not so much and some of it small, some of it not.
But no matter whether the "stuff" falls into any or all of the previous categories, it needs to have a secure residence somewhere on the motorcycle.
There truly is no shortage of ways to carry the "stuff" on a motorcycle, but as individuals we all have our own take on what could or should constitute suitable storage vessels, be it large hard bags or panniers, top cases or top boxes or some form of soft or hybrid container.
And again, the solutions can be cost effective or not. But we pursue all options anyway it seems; making for a very healthy accessory market regarding storage to carry our belongings.
So let webBikeWorld throw another line of products on the table: the motoPOCKET line of accessory bags.
These are "An ingenious range of storage solutions that take advantage of the precious space on your motorcycle…enabling you to access your essential items at a moment's notice…cell phone, wallet, gas card, garage door opener — you name it."
Based in San Diego California, adventurePOCKETS — the manufacturer — identifies itself as a "young company", making a line of products under various brand names, including the motoPOCKET line of accessory bags for motorcylces.
After some early investigation into methods to attach the bags, the company formed a relationship with 3M, well-recognized for their diversified and functional mounting and fastener solutions for attaching almost anything.
Keeping things close to home is also important to the company. To the extent possible sourcing for the materials and components used on the motoPOCKET and other products is done from within the U.S.A.
For marketing purposes, the products are categorized into well-recognized motorcycling categories: all, cruiser, touring, mopeds & scooters and adventure). This despite the fact that there is a great deal of product overlap between these categories, given commonality and versatility.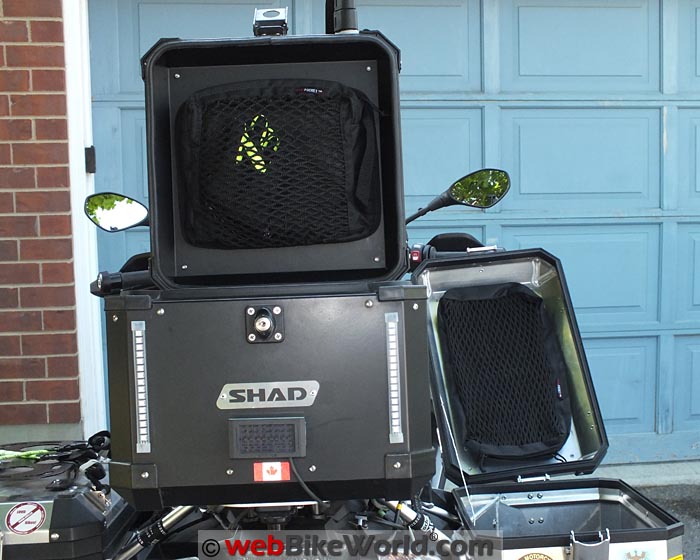 The motoPOCKET items in this review include the following:
motoPOCKET Top Case Bag: designed to hold travel documents, vehicle registration, passport or maps. Attaches to the inside of the top case lid with a 3M adhesive pad. Detachable so you can carry it with you when needed.
motoPOCKET Side Case Bags (with and without netting):  holds various items, including documents, valuables, first aid kit, etc. Attaches to the inside of a side case cover with a 3M adhesive pad. Detachable.
motoPOCKET Windshield Bag: attaches to the inside of a windscreen. Detachable. Order multiple 3M adhesive pads and you can mount the bag on all your motorcycles. Designed to hold a cell phone, garage door opener, eyeglasses, etc.
The motoPOCKET Handlebar Bag: attaches to a handlebar (if you have room). Also detachable (uses hook-and-loop tabs). Also designed to store a cell phone, garage door opener, eyeglasses, sunglasses, etc.
Bag Measurements
Bag measurements  are approximate, given the soft shape and form. The windshield and handlebar bags have a trapezoid shape. The windshield bag is 27 cm tall and the handlebar bag is 18 cm tall (10″ and 7″). Both have a height of 16 cm (6.2″) and width of 5 cm (1.9″).
The top case bag meassures 29 cm by 23 cm by 5 cm (11.4 x 9.0 x 1.9 in). The side case bags (netted and plain versions) measure 36 cm by 16 cm by 5cm (14.2 x 6.2 x 1.9 in).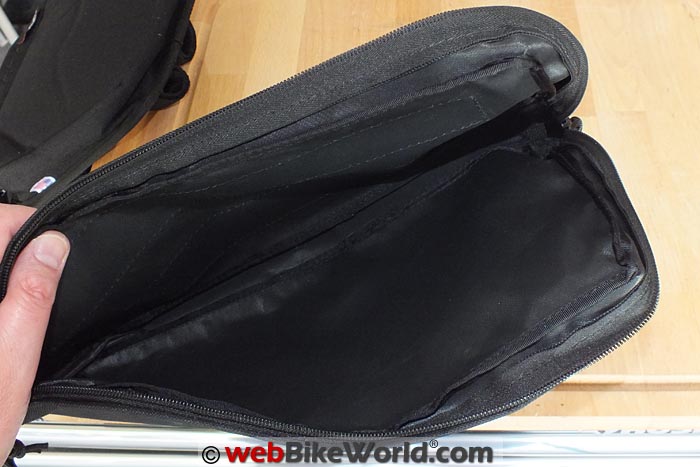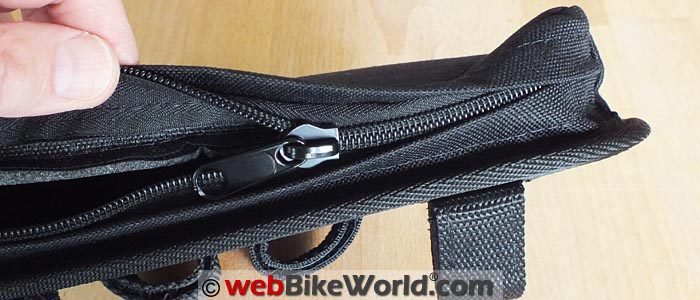 motoPOCKET Product Details
All of the motoPOCKET bags are constructed of a lightweight textile fabric of unknown density (denier) and large heavy-duty, smooth-running black zippers (not branded) stitched into the material.
The bags feature an inside gathering and external over-flap around the zippers to both protect and provide additional protection from the elements. The bags are listed as "water resistant", which they are.
Each bag has a coated tight weave textile inner liner as the primary moisture shield that works very well, although the main stitch seams and zippers are weak points.
Both the windshield and handlebar bags are designed to be used as externally mounted bags, although the handlebar bag is more likely to be mounted or used for exposed applications where the elements may have more impact.
The 3M 300LSE (Low Surface Energy) Adhesive Transfer Tape stick-on is an easy to use and effective mounting solutions for the bags. It has high bonding strength to most surfaces, including plastics and powder-coated paint or aluminum surfaces (either bare or coated).
It will even tack on to lightly contaminated surfaces as well, although cleaning said surfaces first always helps.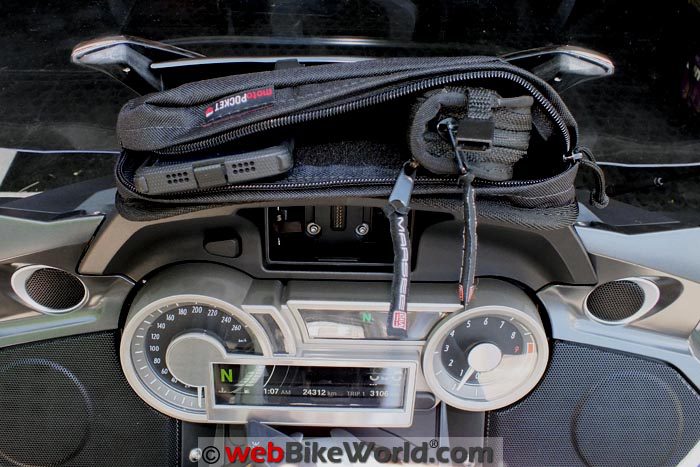 The motoPOCKET Windshield Bag
This bag, like most of the motoPOCKET products, can be used for multiple applications. It mounts to available space on a windshield or on top of the instrument console, especially on larger touring machines that have available real estate.
Trapezoidal shaped, the bag is very much a glove-compartment style piece.
Whether mounted on a windshield, dash, lid or side-wall, it works great for carrying a cell phone, garage door remote, eyeglasses, passport or other small items.
The Windshield bag was test-fitted on a variety of windshields; some work, some don't, but it ended up finding a perfect home on the upper (console) deck of a BMW K1600GTL.
It sits forward a bit, adding to the shade coverage for the in-dash GPS and does not interfere with the adjustable windscreen.
Its large shaped fastener pad wasn't needed in total, but did serve to provide two curved sections adhered to the front edge of the deck closest to the rider, with a smaller section cut and fastened to the forward edge of the GPS cradle pop-up component.
Installing or removing the GPS remains simple and safe; pull the bag off the fastener sections and activate the pop-up bottom on the dash — the windshield raises automatically as the cradle slides up. No muss, no fuss and once back on the fastener pads the bag isn't going anywhere.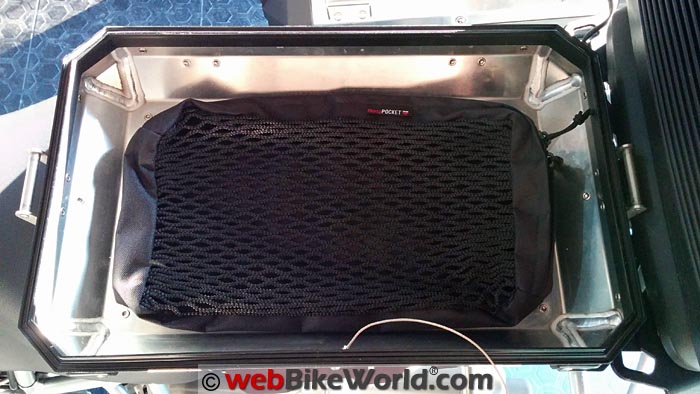 motoPOCKET Top Case Bag (With Netting)
This almost-square soft bag is, as intended, well suited for the lid of a top box, case or trunk or, similar space to hold whatever — within size, weight and safety limits of course.
A one-way zipper runs along the top while the elasticized netted front provides easy viewing of contents and also expands a fair bit to hold bulkier items. This bag is a good hand tote using the small strap stitched onto one end.
motoPOCKET Side Case Bags (With and Without Netting)
Definitely rectangular shaped, these elongated bags are ideal as side (or top) case organizers, holding personal items, travel documents, registration, passports, maps, etc.
With a two-way zipper running the full length of the top and down one side, access for packing and retrieving items is very good. And of course, the net version allows users to easily see what is inside and provides expandability.

motoPOCKET Handlebar Bag
Listed under the "All" and "Cruisers" category, I originally didn't consider this bag — not that it isn't useful. Quite the opposite, in fact.
The handlebar bag is likely to see more direct onslaught from the elements, but its internal liner, stiff back and foam padded front interior make it a pretty tough piece.
These features also provide a great secure repository for personal essentials and other small items. It even has a small clear sleeve pouch attached on a flap to the back wall.
Two of the loops straps with fastener material are horizontally oriented at the top for engaging a handlebar while the lower two are vertically oriented to use around fork legs or frame sections on motorcycles, bicycles or…something.
Once mounted, the handlebar bag isn't easily dislodged and should be more than capable of surviving a fair bit of abuse while keeping its contents relatively dry. It will definitely keep its shape dry or wet.

Overall Observations
Durability
none of the motoPOCKET bags have shown any design or build shortfalls so far, although it is relatively early days.
The windshield and handlebar bags, which are designed to work in an external environment (as opposed to being deployed inside the luggage) reveal a bit heavier construction and so far they are handling their assigned tasks without any issues.
Water Resistance
The motoPOCKET bags are indeed water-resistant; only seams and zippers have proven to be weak points, which knocks the rating down a point or two.
The zippers are not the self-sealing waterproof type and generally the top over-flap sections covering the zipper run aren't large enough to provide a good "umbrella" of sorts for the zippers.
Using better quality water-resistant sealing type zippers (even if only for the externally mountable bags) and/or increasing the over-flap would be simple remedies that shouldn't add much to the bottom line.
The seams are another matter when it comes to water resistance, however. Using a lightweight dry lining of sorts is good but unless it is a true free-standing liner, stitching the layers together without further sealing on the inside or out compromises any moisture integrity.
Applying a readily available sealing compound to the interior seams or spraying the exterior of the bags with a good textile-compatible application will help in situations where better water resistance is needed.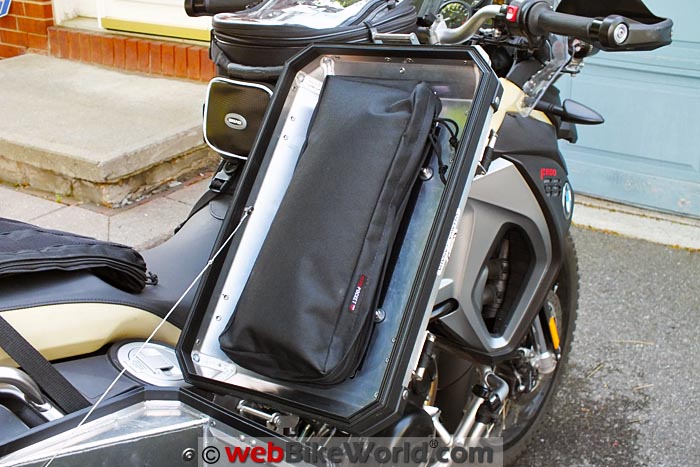 Conclusion
The motoPOCKET adventure-oriented bags are not revolutionary but they are evolutionary in some ways through design and application enhancements of tried and true shapes and mounting techniques for soft bags.
Like a certain line of "really useful boxes" — many of which remain in use after a number of years to organize and hold all sorts of things in and around the garage and while travelling — the motoPOCKET bags are indeed really useful.
And when it comes time to bring your gear indoors, there is no need to unpack the motoPOCKET bags (for the most part), as they can be easily separated from the mounting strips and carried along with other luggage and gear.
The bags are so useful, reliable, functional and unobtrusive that they blend into whatever piece of luggage they are being used with, which is a testament to their versatility, durability and value.
w

BW

 Review: motoPOCKET Accessory Luggage
List Price (2015): $39.95-$45.95
Made In: U.S.A. (some imported parts)
Colors: Black, Green, Red, Orange, Blue.
Sizes: Various
Review Date: May 2015
Note:
 For informational use only. All material and photographs are Copyright © webWorld International, LLC since 2000. All rights reserved. See the webBikeWorld® 
Site Info page
. Product specifications, features and details may change or differ from our descriptions. Always check before purchasing. Read the
Terms and Conditions
!
Owner Comments and Feedback