The Breakdown
Motonation offers two choices when shopping for a short length glove. The Campeon is a short length leather glove that is designed for sport and freestyle riding. The Rapita is a short length textile mesh glove that is designed to handle the summer heat. And because I reside in Phoenix, Arizona, the Rapita is likely to be a glove that I could wear for a good portion of the year.
Pros
Good palm protection and padding, Double stitching, High tensile strength nylon thread, Reinforced fingertips, Touch screen friendly fingertips, Solid knuckle protection, Neoprene cuff, Great Airflow, Excellent customer service
Cons
Fingers are a bit boxy. No ladies sizes. Disproportionate thumb sizing
My Criteria And Gloves Of Choice
For me, touch is important. I like to have the ability to touch lightly with just a finger or two if I am moving my helmet screen or adjusting my glasses. And in a lot of cases, a bulky glove does not allow for those fine motor motions. And even a thinner material can limit touch if the fingers are cut large and do not fit snugly to my fingers.
Because of my pickiness, I have amassed quite a collection of gloves over the years. I have a fully lined leather glove for winter. Yes, Phoenix does have a winter, it's just not as harsh as most of the rest of the country. And on occasion, I do ride north toward Payson or Flagstaff to get out in the fresh air to see the mountains and enjoy minimal traffic. The leather is important to block the cold air out on those excursions.
I also have a set of leather gauntlets that were brought to accommodate a jacket with narrow sleeves. There was no space for gloves on the inside so I switched over to gloves that when over the jacket. I also particularly like the gauntlets for the massive solid armor protection on the fingers and knuckles as there are rocks flying everywhere in the desert. The fingers are perforated so I can wear them in warmer weather or in cooler weather with a liner.
For summer I would alternate between a short length mesh glove with full fingers and a short length combo mesh and leather glove with cut off fingers. The palms are a very thick leather but the entire back of the hand from the knuckles to the velcro strap are mesh. These tend to be my favorite due to the ability to have my fingertips exposed, but it can get too hot for these gloves. I have had burns on the exposed backs of my fingers when it gets really hot and sunny. As a result, I was eager to get ahold of a pair of the Rapitas and give them a try.
Bargain Pricing
The Motonation Rapita gloves are listed on the Motonation website for just $39. This is a very reasonable price for a glove that offers great protection and great airflow. The Alpinestars Atacama Air Gloves are comparable for airflow but offer less protection and sell for $69.95 on Revzilla.
Shopping Now? We Recommend:
webBikeWorld works closely with Revzilla, 2WHEEL, and Amazon to provide our testers with quality products to review. While we have an affiliate relationship and receive a commission from items purchased, this addition comes at no additional cost to you. It is the primary way we pay for our site and reviewers.
RevZilla

Free shipping on orders over $40
30-day no-nonsense return policy
Excellent selection of all major brands
Awesome pricing
Amazon

Free shipping (with Amazon Prime)
30-day return policy
Excellent selection
Competitive pricing
Features – Motonation Rapita Textile Mesh Gloves
Sizing
I have never had the opportunity to try on any pair of Motonation gloves so I was at the mercy of the catalog size chart and general experience to guide my selection. It's pretty simple with most gloves as the sizing is the generic choice of small, medium, large and so on. The Motonation gloves are offered in size small through size extra, extra large, so there is a great assortment to meet just about every hand size.
I ordered a medium which the chart indicated. The measurement is the circumference of your hand right at the point where your thumb meets your palm. I measured just over 8 inches and the chart indicated 8.3 inches for the medium.
Also, keep in mind that the gloves are only available in men's sizes. For me, men's gloves normally work fairly well as I have a wide palm for a woman but I sometimes have issues with the fit in the fingers. I have somewhat long fingers but they are narrow so a glove with a more generous finger cut doesn't work very well for me.
| | | | | | |
| --- | --- | --- | --- | --- | --- |
| USA Sizing | SM/8 | MD/9 | LG/10 | XL/11 | XXL/12 |
| Circumference of Hand (cm) | 20 | 21 | 22 | 23 | 24 |
| Circumference of Hand (in) | 7.8 | 8.3 | 8.7 | 9 | 9.4 |
The Fit
When I put the Rapitas on I found that the palm fits very well as did the wrist strap. That I found a bit unusual as the straps are usually designed for larger wrist being men's gloves. My wrist is 6.5 inches in circumference right at the carpal bones. (the bump on the outside of the wrist) The length of all of the fingers was great but the thumb, index finger and pinky finger were all a bit loose.
When I took the glove off, it was obvious that the two exterior fingers and the thumb were cut larger. This could be to increase the range of motion but it just wasn't a great fit for me.
When I flex my hand or make a fist the solid knuckle protector fit perfectly and did sit right above my knuckles to make finger and hand movement very easy and comfortable. In addition, the added layer of reinforcement and padding on the palm also fit perfectly. The gloves are made with a slight curve to the fingers so they conform well to a natural hand position from the moment that you put them on.
The Construction
The Ripita palm is made from Clarino synthetic leather and is reinforced in the key grip and wear areas. The thumb is also reinforced in the area that is in contact with your bike grips. And all of the reinforced areas are double stitched with high tensile strength nylon thread for added durability.
An added feature is the reinforcement on the tip of the thumb as well as the index and middle fingers. This area includes an added material to allow you to operate a touchscreen. An extra memory foam pad is inserted at the heel of the hand for added impact protection in the event of an accident.
The Venting
The back of the hand is where all of the airflow and cooling is happening. The Clarino leather covers the potentially high impact area around the resilient plastic mesh armor knuckle protector and around the split rubber pads on the top of each finger. The backs of the fingertips, up to the second knuckle, are made of vented mesh textile to promote great airflow through the glove when your hand is grasping the bike handlebar grips.
An additional panel of vented mesh covers the center portion of the back of the hand, while a solid nylon material is used for the sides and for the back side of the thumb.
Knuckle Protection
A great feature of these gloves is that the knuckle protector is a separate layer that sits on top of the vented mesh material and is attached to the fingers and the side of the hand. But having the back of the protector loose allows for great airflow under the protector while still providing an awesome safety feature. This construction is also what allows you to flex your hand and make a fist without discomfort.
The Cuff
The cuff of the Ripita is constructed of neoprene for a snug fit. The 1-inch wide hook and loop closure add to the secure fit. An additional benefit of the neoprene is that it helps to absorb the sweat that can run down your arms and cause your hands to get wet and loose grip. And the final comfort feature of these gloves is the soft interior and well-finished seams. There is nothing worse than a glove that has rough or bulky seams that rub against your hand and cause irritation on a long ride.
Safety
Safety is what gloves are all about. If riders were not concerned with protecting their hands then we would all be enjoying the freedom of riding with naked hands. But flying rocks, debris and the thought of feeling the skin literally ground off of your hands as you slide across the asphalt is enough to make most riders forgo the added feeling of freedom that comes with no gloves. The reward is just not worth the risk.
The Armor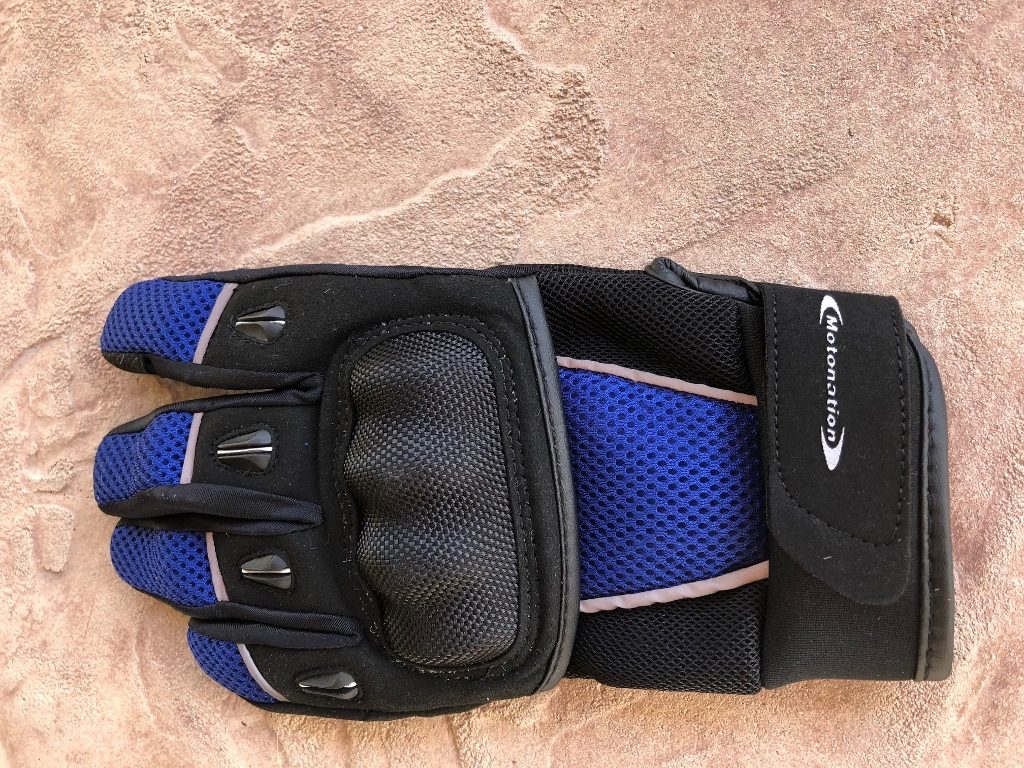 In addition to providing complete coverage for your entire hand as well as a couple of added inches of coverage for your wrist and lower arm, these gloves offer a decent amount of armor. The split rubber pads on the backs of the fingers almost look like they are more decorative than functional but they do provide a good amount of protection.
Just to test my theory, I tried smacking the back of my hand against a solid countertop to see how the pads worked.
Surprisingly, they do offer some good protection for your fingers without impeding range of motion. In the same very non-scientific method, I was also able to determine that the plastic mesh armor provides some good protection. Grasping the knuckle protector on both sides of the hand, I could flex or bend it.
But when it came to denting the knuckles by smacking it into solid objects, I had no luck. In addition, the mesh covering held up remarkably well to my neanderthal testing methods.
Reflective Piping
The final safety feature included in the Ripitas is reflective piping. Two rows of 3M reflective piping run up the sides of the vented mesh on the back of the hand as well as across the knuckle of each finger. It's not a huge surface area but it does have a highly reflective surface that will definitely catch some light in a dark environment and let people know that you are approaching which is all that you can ask for so it meets the need perfectly.
The Selection
Motonation doesn't normally offer a huge choice of colors when it comes to their products for street riders. When you venture to the back of the catalog to look at the off-road gear such as boots and socks, you can get some really bright, vibrant choices but street gear is more basic.
The Ripita gloves, however, do seem to be the exception to the Motonation rule of subdued color choices. All of the gloves have the black Clarino synthetic leather palm but the vented mesh is offered in red, white, black and Hi-Viz yellow.
A Potential Miss – Don't Forget the Ladies
I understand that there are fewer ladies out there on bikes than there are guys, but our numbers are growing. According to the Motorcycle Industry Council, women account for 14% of all riders which is up from 10% in 2003.
That might not sound like a segment of the population that is worth chasing with gender-specific gear but you might think differently when you know that the percentage translates to 1.2 million ladies who are riders!
And I applaud Motonation for offering ladies a couple of choices for footwear as well as jeans and a ladies jacket but ladies gloves would be a great addition to complete a set of gear. Having a well-fitting glove is a pretty significant addition to any riders gear. And one that I believe makes for a much safer rider. And just like the narrower foot mold for a ladies shoe or boot, the ladies glove would work from a narrower sizing pattern. But the result would be a glove that really fits a lady's hand and one that they would be happy to purchase.
Shopping Now? We Recommend:
webBikeWorld works closely with Revzilla, 2WHEEL, and Amazon to provide our testers with quality products to review. While we have an affiliate relationship and receive a commission from items purchased, this addition comes at no additional cost to you. It is the primary way we pay for our site and reviewers.
RevZilla

Free shipping on orders over $40
30-day no-nonsense return policy
Excellent selection of all major brands
Awesome pricing
Amazon

Free shipping (with Amazon Prime)
30-day return policy
Excellent selection
Competitive pricing
Test Ride Observations
Overall the Ripitas is a very comfortable glove. The pre-curved fingers and neoprene cuff allow the gloves to conform to the rider's hand and wrist very well. The inside of the glove is also finished very well so there are no stray strings or abrasively sewn seams to irritate your hands as they get warmer. I found the glove to be very comfortable as soon as I put it on.
The First Ride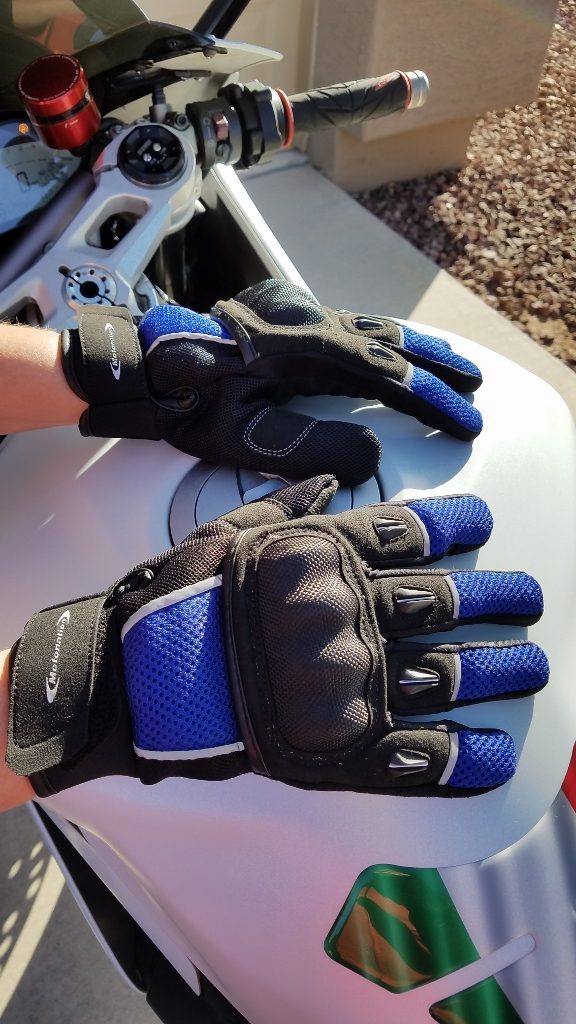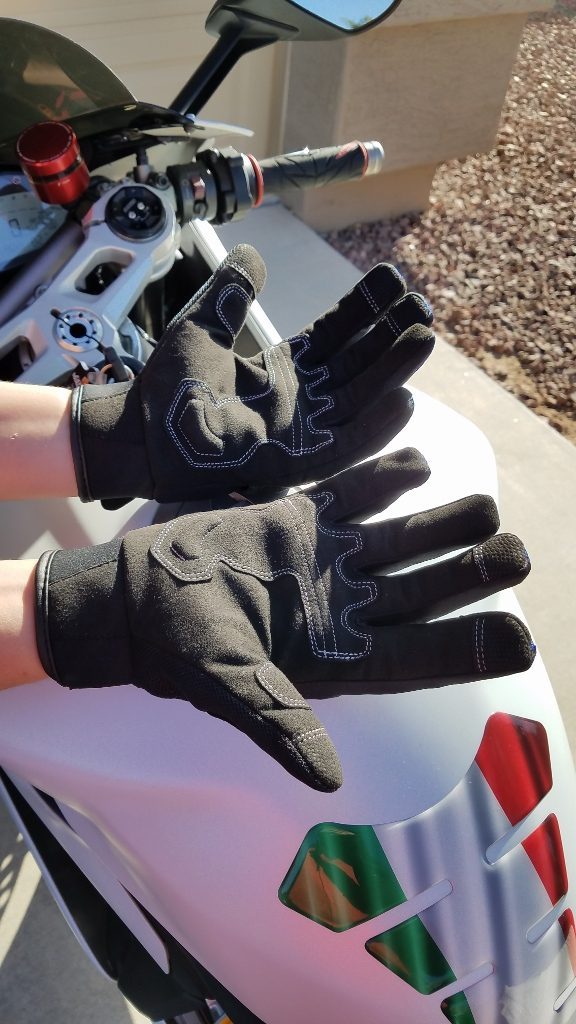 My first ride was early in the morning and the temperature was around 75 degrees. The gloves were very comfortable and I was able to clearly feel the cool air as it was entering through the mesh on the top of my hands. There was enough airflow that I never found my hands were soaked with sweat as they had been when I was wearing other summer weight gloves.
The "floating" knuckle protectors are a great design feature for the comfort as well as the safety. I have worn other gloves that looked like they would fit very well but after a few minutes with my fingers wrapped around the grips, the protectors were gouging into my knuckles. That was never an issue with these gloves.
I also think that in the event of an accident, my hands would fare better with these knuckle protectors and not have any cuts as I would expect from some other brands. The wrist straps also fit very well and I was able to easily fit them inside the sleeves of my jacket.
The only real issue that I had with the gloves was in the thumb area and the larger pointer and pinky fingers. The thumbs felt a little awkward, almost like they were a bit too long. The thumbs are two pieces of material sewn together and come to a rather flat point for lack of a better term. I prefer a thumb with an inset on the sides to give it a more box-shaped end. But I did get used to these after a ride or two. The two fingers with the more generous cut just felt a little loose but it really wasn't an issue.
Heating Up
After a few rides that got a bit warmer, the gloves softened even more and were really comfortable. My only problem was that they almost felt a little bit larger as they broke in. By the end of the fourth ride I found that when my hands were warm and sweaty, they moved pretty freely in the glove.
This meant that each time to took my hand off of the grip, the glove moved and I felt like I needed to readjust my hand in the glove as I regripped the bike.
I attribute a lot of this to the fact that these gloves are cut for a man's hand and not a woman's. I have never tried on a small but not would be interested in trying the small to see if that is a better selection as the gloves break in and possibly get a touch larger.
A Second Opinion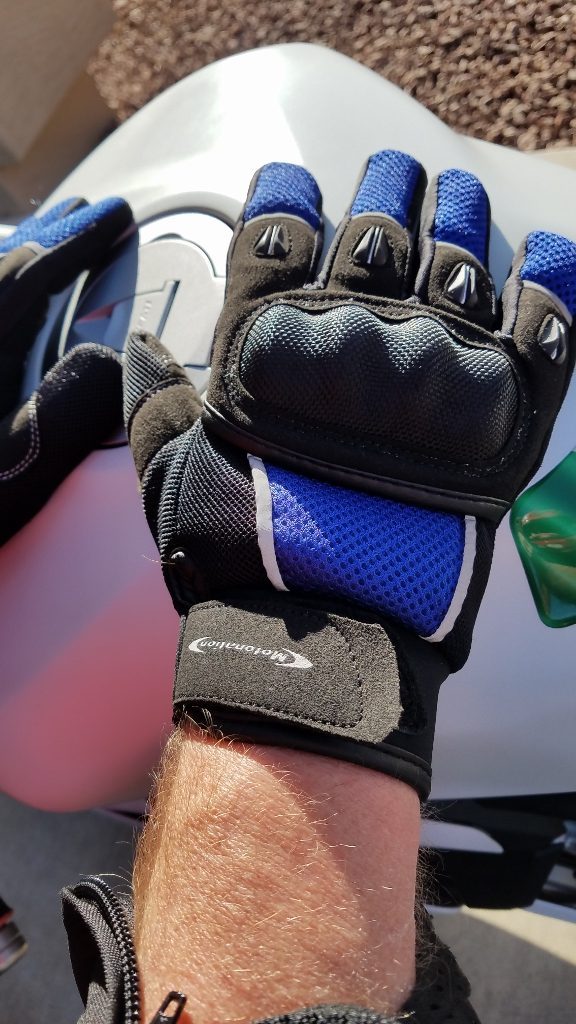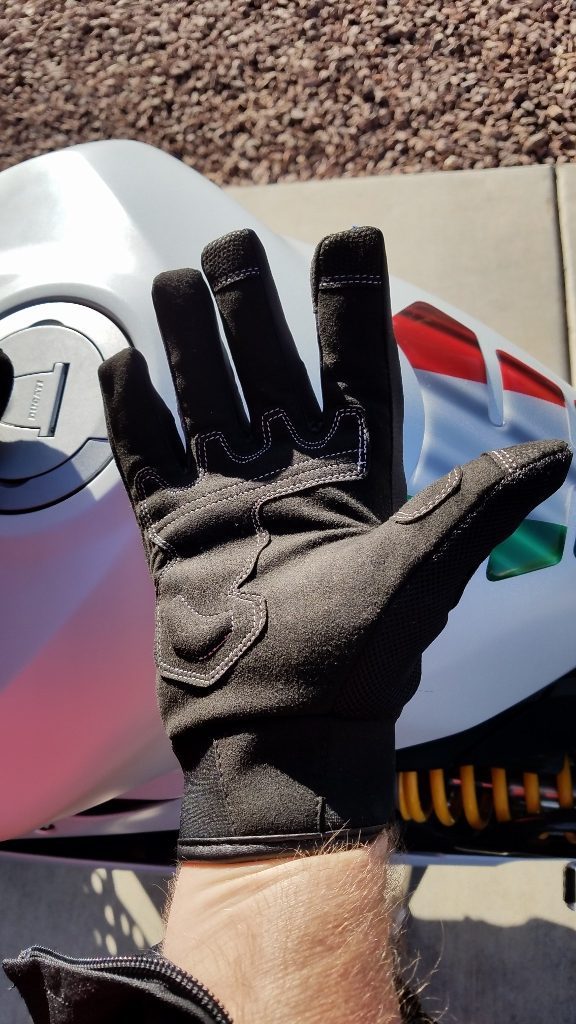 Knowing that I was testing and passing judgment on a glove that was designed for a man, I wanted to be fair and get a mans opinion on the gloves. My husband commutes almost every day on his bike so I gave him the Ripitas for a test day. His palms are about as wide as mine but his fingers are a little larger so I thought this might be a more fair assessment.
He was more satisfied with the overall fit of the gloves. His fingers fit a bit better than mine as I had expected. He also said that the gloves are very comfortable and that they provide a bit better airflow than the gloves that he normally wears which cost about twice as much as the Ripitas.
The Verdict?
Priced at just $39, the Motonation Ripita is a very reasonably priced entry-level summer weight short length glove. Most of the other gloves in this arena are going to cost $70 or more to offer comparable ventilation and protection. One of the key differences between the Ripita and the more expensive gloves is that the higher price tag gets you a natural leather versus the Clarino synthetic leather.
The pro for natural leather is the durability. It is a single piece of hide that survived on an animal and is now going to offer you the same protection. There are no threads or individual particles to break down or unravel. And while man-made materials to go through a quality control process, there is the chance for a defect or slight variation in the product.
This is the reason that the durability of a man-made material can come into question. Most industries just consider a natural leather hide to be more durable than synthetic material.
The con for going with the natural leather is the higher price tag and its impact on your application or intended use of the product. In the case of summer weight gloves, do you really want them to last for two or three years? I don't care how much airflow and ventilation you add to a set of gloves, if I wear them for a full summer in the Phoenix heat then they have served their purpose. I don't want to begin to think about the sweat that those gloves have endured or the aroma that is associated with it.
For $39 I got to ride around all summer and not burn or wear the skin off of my hands. That's a really good deal in my book. Now if we were talking about a $600 pair of boots or a $500 jacket, then I would have a different expectation. But gloves are in constant contact with your skin and the grips on your bike so after a summer of riding they are going to be well, gross I guess is a good word.
Motonation Overall
Overall, this year is my first experience with any Motonation apparel and I have to give them a round of applause overall. For the price of the items that I have "hands-on" tested, I am very satisfied and impressed. And I hope to have the opportunity to test more of their gear in the future. I also look forward to seeing the Motonation product line expand.
I think that the quality and reliability of their gear is going to earn them an ever-growing share of the market which should allow them to bring out more awesome gear options. As of today, I am very happy with the Ripita gloves and I will continue to wear them and monitor the durability and modify this review should discover any serious issues.
And just a side note – even though this testing occurred prior to May 1st, we have already hit 100 degrees in the Valley of the Sun, so the Ripitas have been put to the test and they are holding their own in a pretty hot climate.
Pros
Good palm protection and padding
Double stitching
High tensile strength nylon thread
Reinforced fingertips
Touch screen friendly fingertips
Solid knuckle protection
Neoprene cuff
Great Airflow
Excellent customer service
Cons
Fingers are a bit boxy
No ladies sizes
Disproportionate thumb sizing
Specs
Manufacturer: Motonation
Price (When Tested): $39
Made In: Pakistan
Alternative models & colors: Red, White, Black and Hi-Viz Yellow Mesh
Sizes: S / M / L / XL / XXL
Review Date: May 2018
Shopping Now? We Recommend:
webBikeWorld works closely with Revzilla, 2WHEEL, and Amazon to provide our testers with quality products to review. While we have an affiliate relationship and receive a commission from items purchased, this addition comes at no additional cost to you. It is the primary way we pay for our site and reviewers.
RevZilla

Free shipping on orders over $40
30-day no-nonsense return policy
Excellent selection of all major brands
Awesome pricing
Amazon

Free shipping (with Amazon Prime)
30-day return policy
Excellent selection
Competitive pricing
Motonation Rapita Textile Mesh Gloves Image Gallery