KTM 
Wins 2005 125cc World Championship Constructors Title
Mika Kallio Takes Second in Championship With Victory
16th and Final Round, Valencia, Spain
November 6, 2005
Austrian motorcycle manufacturer KTM today clinched the 125cc Road Race Constructors' World Championship with Mika Kallio's brilliant, last corner victory in the Valencia Grand Prix.
Kallio's teammate in the Red Bull KTM squad, Gabor Talmacsi, finished second in the race, adding to the celebration for KTM.  Young Spaniard Julian Simon rode a fast and steady race from 12th on the gird to finish 8th for the KTM team.
The road race constructors' world championship for KTM adds to the company's already established reputation as world champions in off-road competition.
Today's result also confirmed that Kallio finished second in the world riders' championship, just five points behind new world champion Thomas Luthi who finished in ninth place in the race.
Luthi went into the race with a comfortable 23 point advantage.
Kallio claimed his fourth victory of the season with a final corner pass on Mattia Pasini after a hard-fought 24 lap race.  Both Kallio and Talmacsi were always in the leading group, running in fourth and fifth positions until mid-race, when race leader Sergio Gadea crashed out.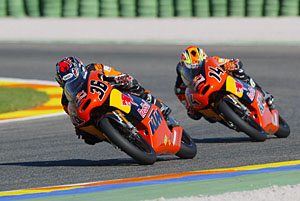 New leader Pasini then battled with Kallio, with the KTM rider forcing his way through to victory at the final corner.
This also allowed Talmacsi to come through from third to second place on the run to the chequered flag.
Interviews
MIKA KALLIO #36 – First – World Championship: 2nd/ 237 points: "I won the race but still I'm a little disappointed to have lost the world championship.  All I could do was win the race today but it was not enough for the riders' title, although KTM have won the manufacturers championship.  I tried to pass Pasini earlier but he was braking very late so I waited until the final corner.  This was an important victory for me, I wanted to show everyone I could win the race here."
GABOR TALMACSI #14 – Second – World Championship: 3rd/ 198 points: "It was an incredible race, run at a very fast pace and when Mika made his move on Pasini at the final corner I was also able to get ahead into second position.  I've never been second in a GP before but I'm happy because it was a fantastic final race of the season.  I concentrated on following the group and thinking of the championship result — this is a great day for KTM."
JULIAN SIMON #60 – Eighth – World Championship: 7th/ 123 points: "I'm happy with the result and to be seventh in the championship, it has been a good season for me with a lot of support from the KTM team. In the race I had some problems towards the end with my rear sliding and also my engine felt like it was a little down on power compared to the others.  But I learnt a lot this year and I'm looking forward to racing again with KTM in 2006."
Harald Bartol – Technical and Managing Director: "Mika did a perfect race and got the result that I expected of him.  Winning the constructors' championship for KTM is satisfying but for the riders' championship I was always worried that Mika would lose by five points — which are the points he lost when with the result at Qatar when Gabor won the race."
Other WebBikeWorld News Posts