MotoGP "Grid" Jacket Review
A good looking, versatile riding jacket that is built to last. MotoGP Apparel — you see adverts for it now and then… But they don't seem to have as much of a marketing push as many of the big names like Joe Rocket, Fieldsheer and Scorpion (yep, I think they're a big name now too).
And now there are two MotoGP official clothing manufacturers. The MotoGP jacket shown here is part of the MotoGP clothing line marketed and sold by Tucker Rocky, one of the largest U.S. distributors of motorcycle products and apparel. The Tucker Rocky MotoGP apparel is the "Official Licensed Apparel of MotoGP Racing", according to the company.
But Alpinestars also recently announced an official MotoGP clothing collection, according to this London Bikers news article. So far, the lineup includes MotoGP jackets branded with the MotoGP name and officially licensed by Dorna, the promoters of MotoGP racing. And it's not clear whether the Alpinestars MotoGP jackets will be sold in Europe only or distributed in the U.S.
The Alpinestars MotoGP licensing agreement was announced in September of 2008, and the official MotoGP clothing is supposed to be ready for sale in 2009. Whether the Alpinestars version of the "official" MotoGP clothing will supersede the Tucker Rocky MotoGP brand in the U.S. remains to be seen, but there's some potential for confusion, so it will be interesting to learn how this will play out.
I have to admit I purchased my MotoGP Grid jacket after learning about the company and the jacket only 10 minutes earlier.
The fact I purchased it on the spot was a testament to the way the jacket fit and felt on me — even though it cost more than I planned on spending that day.
I have to be fair though; the guy behind the parts counter at the dealership spotted me as soon as he saw me eyeing the jacket. "Don't try that jacket on. If you do you'll take it home".
Now I was in retail for nearly a decade, and I thought this a strange sales strategy, but I was warned. And he was right. And now over two years later, I still like the jacket enough to write about it.
Also, the Grid jacket is still available and it hasn't changed a bit since its release, which proves the old adage "if it ain't broke, don't fix it".
The Tucker Rocky MotoGP Apparel website doesn't provide much info on the brand itself. It does mention that the products are "Italian designed and inspired by the spirit of MotoGP racing". Also, one is told that their products are only sold through Tucker Rocky distributing dealers, which isn't a bad thing since Tucker Rocky has a pretty vast distribution network, at least in the U.S.A.
Since I've owned the MotoGP Grid jacket for over two years this is not only a review but a long term assessment as well.
In the time I've owned this jacket, it is has been rained on, hailed on, and even crashed in. The photos may reveal a bit of wear here and there, but this should be expected in a jacket that has seen about 15,000 miles over two-and-half years.
---
Where to Buy MotoGP "Grid" Jacket
Check Reviews & Prices on Amazon
Check Reviews & Prices On RevZilla
Also: Motorcycle Jackets, Motorcycle Gloves, Motorcycle Boots, Motorcycle Pants
---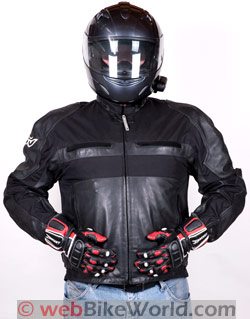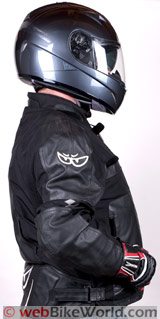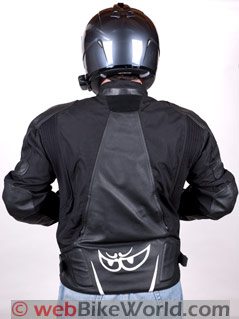 Construction and Protection
The MotoGP Grid jacket is a combination of cowhide leather and Cordura 500D cut in a subtle (i.e., "less racer-boy") yet sporty looking fashion.
Though MotoGP do not provide details, the leather used in the jacket feels quite thick and is reasonably soft. The jacket is lined with a thin polyester mesh, which provides a nice feel and is also part of the material construction that holds the back armor in place. The jacket also has a good solid heft to it and it feels quite sturdy
There are several nice touches to be found on the Grid jacket, including YKK brand zippers, stretch panels behind the shoulders, and venting that works rather well.
A soft micro-suede type material is used on the collar and the wrists for comfort. You'll find this same material covering every zipper on the front pockets as well as the sleeve cuffs and cuff zippers, which should prevent the jacket's hardware from scratching the fuel tank.
And while we're talking about zippers, MotoGP has placed a large zip pull on the main zipper, making it easy to operate when wearing gloves.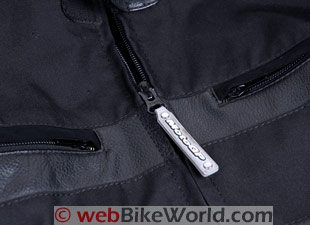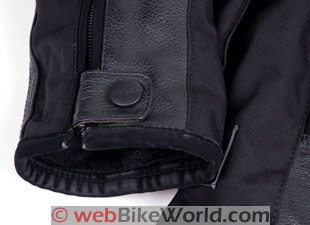 The jacket snaps (which are plastic coated) used on the wrist cuffs click together very positively — which is something that should be the norm, but which I find lately is becoming more and more the exception.
Snaps used on protective clothing should stay where you put them, especially when they are used to keep armor in place, and MotoGP has chosen correctly here
Maurex branded CE-approved armor is provided in the shoulders and elbows of the jacket. Maurex armor is used in high-quality motorcycle clothing, such as RST and others.
The provided back protector is just a simple foam pad but fortunately it is easily replaced. In this case, I replaced the standard foam pad with one of the SAS-Tec back protectors reviewed with Furygan "Fighter" Leather Motorcycle Jacket the which is inexpensive and easy to cut to the correct shape for fitment.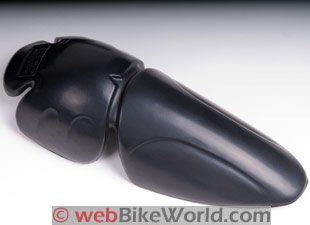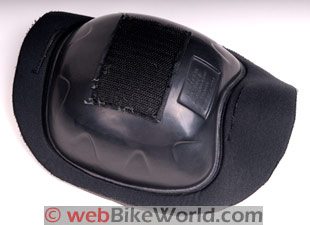 (L) Removal of the elbow armor by reaching in the sleeve. (R) Zippered access in liner to reach the shoulder armor.
All of the armor is easily removed in case you need to replace it or take the jacket to have it cleaned. The elbow armor is in a pocket with a simple hook-and-loop closure.
The back protector is also easily accessed via a simple hook-and-loop flap. A zipper in the liner provides access to the shoulder armor. This allows you to reach up and remove the armor from its hook-and-loop fastener located behind the leather covering the shoulder.
Another nice feature is a full circumference zipper for attachment to a pair of MotoGP pants, which creates a two-piece track style suit.
Not pictured is the extra half of the zipper, which can be sewn on to non-MotoGP brand pants if desired. I still don't understand why the various manufacturers don't standardize these zipper connections…but I digress.
Get a separate back protector or add a CE-type upgrade to the back pad and a pair of track-worthy pants and you should be ready for a track day (depending, of course, on the rules regarding protective gear at your track).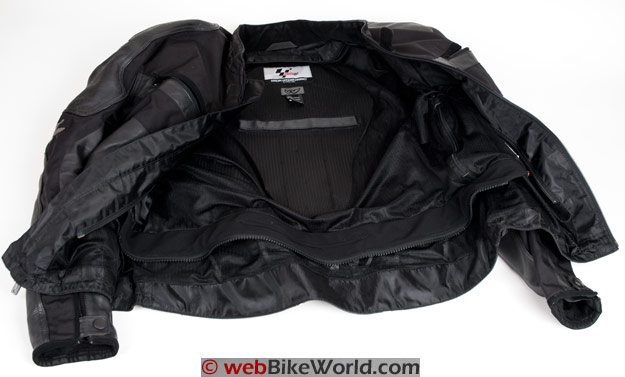 ---
Where to Buy MotoGP "Grid" Jacket
Check Reviews & Prices on Amazon
Check Reviews & Prices On RevZilla
Also: Motorcycle Jackets, Motorcycle Gloves, Motorcycle Boots, Motorcycle Pants
---
Fit and Comfort
MotoGP offers the Grid Jacket in sizes ranging from S to XXXL, and the jacket seems to run close to true, if maybe a little on the snug side. To help adjust the fit, two adjustable hook-and-loop straps are provided on each side of the jacket at waist level.
Where most major brand jackets fit me comfortably and allow enough room for me to wear a couple of layers of clothing underneath, the Grid jacket doesn't have much extra room. Indeed, with the liner in place for cold days, I can't get much more than a long-sleeve shirt underneath.
So the jacket is snug — did I mention that?  I'm pointing this out because I think this is how a motorcycle jacket should fit in order to provide the best protection in a crash. And the way this jacket is cut makes one feel well protected.
I can definitely feel the armor being held against my joints and back — not in an annoying way, but it feels reassuring.  Now obviously your body type will determine if you fit into the Grid jacket as well as I do, but I feel the design and the cut of this jacket are both well thought out, and that plays a strong role in keeping the armor in place.
The jacket's sleeves are cut for the riding position and the jacket is indeed at its most comfortable when riding, but it's not uncomfortable off the bike either.
The expanding panel sections behind the shoulders do make a difference when I'm moving around, and they allow for plenty of arm rotation. The panels also make a noticeable difference in keeping the jacket (and the armor) snug against the rider's body when on the bike.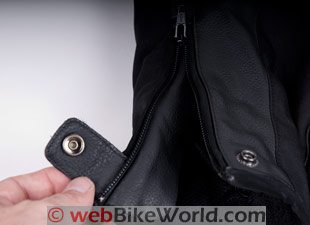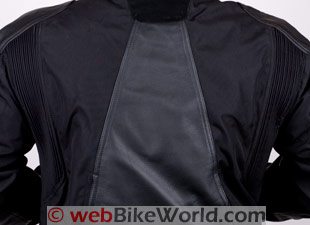 (L) Cuff zipper and snap (Sadly not adjustable). (R) Expansion panels behind the shoulders.
The wrist closures use zippers and the cuffs include a snap at the end of the sleeve. While the snap is of good quality as mentioned earlier, it would have been nice to have the ability to adjust the size of the opening.
An additional snap or two, or even an adjustable hook-and-loop strap would make it easier to get some of the gauntlets on my gloves to fit over the sleeve opening. Not a deal-breaker by any means, but I noticed it, so you're going to read about it.
Now this being a black leather and textile jacket means that it probably doesn't stand out on paper (or pixel) as a warm-weather-friendly piece of clothing.
However, it turns out that the Grid jacket flows quite a bit of air and it is quite comfortable into the mid eighties (~30 C) as long as you aren't stopped in traffic too long.
The venting comes from perforated sections inside the chest and hand warmer pockets as well as two exit vents in the lower back area. The chest vents really do most of the work taking in air, since the hand warmer pockets, which also serve as vents, sit low and behind the fuel tank limiting airflow to them.
It turns out the two chest vent/pockets actually are useful as pockets too. They are more than adequate for a wallet, iPod, etc. and yet they are deep enough to allow air to pass through the perforated section of the pocket even when holding one of the previously mentioned items.
When it turns cold, you can install the included full sleeve, zip-out liner that extends the usable temperature range for the jacket. The quilted liner can provide several more weeks of riding into the winter, which means about the mid-40's (~7 C) for me at normal secondary road speeds. Unlike some liners, this one does not become usable as a standalone windbreaker type jacket.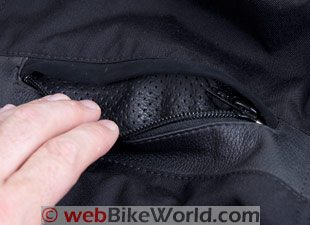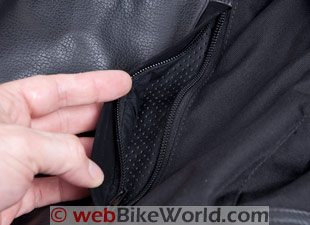 (L) Chest pocket/vent. (R) Hand warmer pocket showing vent.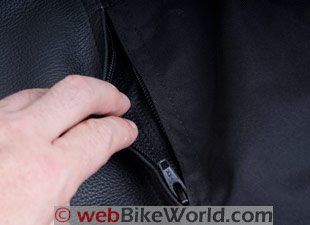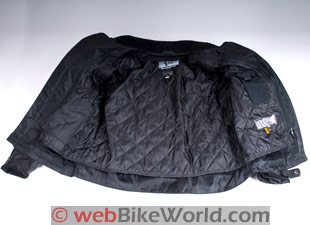 (L) Rear vent located near the kidney area. (R) Included quilted liner installed.
---
Where to Buy
MotoGP Grid Jacket
Check Reviews & Prices on Amazon
Check Reviews & Prices On RevZilla
Also: Motorcycle Jackets, Motorcycle Gloves, Motorcycle Boots, Motorcycle Pants
---
The Long Haul
This jacket was purchased back in December of 2006 and since then it has served as my "go to" jacket whenever I get ready to ride. I wear it almost all of the time, except when the temps get very high or drop below about 45 degrees F. I've logged a bit over 23,000 miles on two bikes since that time and I guess the jacket has seen at least 15,000 of them, if not more.
Within the first few months of riding with the Grid jacket I was caught in a downpour on a group ride in Virginia. To my surprise, the parts of my body that were covered by the jacket remained quite dry, even though it is not advertised as waterproof.
In fact, several of us sat outside for several minutes in the rain, waiting for other riders to put on their rain gear. Between standing (sitting on the bike actually) in the rain waiting and then riding back to the mountains we spent a good 45 minutes in the wet, but the jacket stayed dry on the inside.
Now I'm not saying this jacket qualifies as rain gear, but it did go above and beyond its design parameters that day. Sadly though, on a recent trip to the same area with the same group, we were rained on again and this time the water quickly intruded.
I am assuming the Cordura was probably originally treated with a Scotchguard type of protectant when the jacket was manufactured, and over time it has worn off. I will be treating it with an additional coating of Scotchguard soon.
On the trip two years ago, my ZR-7S and I managed to find ourselves in the guard rail after going wide in a decreasing radius, downhill, right-hander (the lengths we go to for research at wBW). I stayed on the bike till the very last second and only slid maybe about ten feet as I approached the rail. I was wearing this jacket at that time and except for some light scuffing on the shoulder and sleeve, it is hard to tell the crash ever occurred (but my leg reminds me on occasion).
So having been rained on occasionally, seen thousands of miles in the sun and briefly meeting the pavement, the MotoGP Grid jacket has held together admirably.
I have found no evidence of stitching coming undone or any loose threads to speak of. The zippers continue to work flawlessly and never jam.
The leather, as one would expect, has softened a little over time but shows no sign of drying or cracking. On this last point I should note that once a year I clean and condition the leather with Leather Therapy brand conditioner. Still, that's not much maintenance, considering the way this jacket gets treated.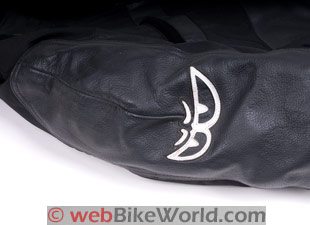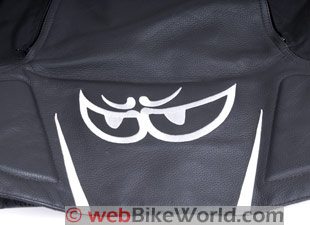 (L) This is the shoulder that hit the ground; hard to tell anything happened there. (R) Reflective logo for visibility. Too bad it sits so low!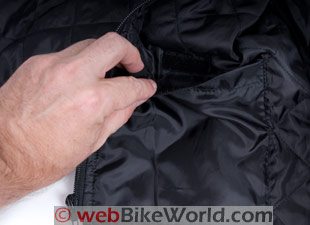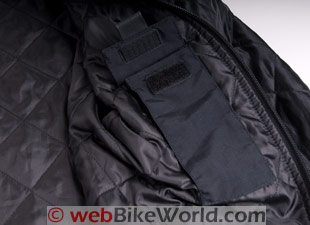 Some parting shots of the various pockets both in jacket (top pair) and the pockets in the liner (lower pair).
Conclusion
The MotoGP Grid jacket seems to be the real thing. It is comfortable in a variety of temperatures and the protection seems to be well designed and, based on my crash testing, quite effective.
One nit to pick is that being available in either black or gray/black isn't exactly a recipe for high visibility. Tucker Rocky has embossed the MotoGP logo on the back and shoulders of the jacket, and these are highly reflective. However, the logos are placed rather low on the back and could easily be obscured by the passenger seat on the average sport- or sport-touring bike.
In the final analysis, The MotoGP Grid jacket is a good quality jacket at a reasonable price. This jacket was priced at $179.00 when I purchased it but I see going for more these days. I still would not hesitate to replace it with another one just like it, even if I had to pay a bit more, so here's to hoping it stays in their lineup for some time to come.
w

BW

 Review: MotoGP Grid Jacket
Manufacturer: MotoGP Apparel (As of June 2010, the company is apparently no longer in business).
List Price (2009): $269.95
Colors: Black or Gray/Black. Sizes: S to 3XL
Made In: China
Review Date: June 2009
Note:
 For informational use only. All material and photographs are Copyright © webWorld International, LLC since 2000. All rights reserved. See the webBikeWorld® 
Site Info page
. Product specifications, features and details may change or differ from our descriptions. Always check before purchasing. Read the
Terms and Conditions
!
---
Where to Buy
MotoGP Grid Jacket
Check Reviews & Prices on Amazon
Check Reviews & Prices On RevZilla
Also: Motorcycle Jackets, Motorcycle Gloves, Motorcycle Boots, Motorcycle Pants
---
Owner Comments and Feedback
---
From "A.S." (August 2012): "Some info on MotoGP Grid Jacket. It is made by Berik. Here in Slovenia, Italy, Austria, Germany … Berik is as known and popular as Dainese, Astars, Spidi."
Other WebBikeWorld Jacket Posts