Contributed post  (Photo by Rotatingmass, License)
February-April time is the traditional start to a number of racing series around the world, as the winter weather beginning to fade and race tracks becoming usable again. With this in mind, the 2019 MotoGP Season has just begun, with the first race of the season in Qatar. The season will run through to mid-November, with the final race being run in the Spanish city of Valencia on 17th November. These 9 months will see the riders and their teams travel to 16 different countries, over 19 races to battle it out for the MotoGP championship titles.
The 2019 MotoGP season will span all continents (except Antarctica), travelling as far south as Australia, as far west as Argentina, as far east as Japan and as far north as the Netherlands. The championship will also return to Thailand after the inaugural race in the country won "GP of the Year" in 2018.
Rider Lineup
With such a strong line up amongst the 22 MotoGP riders this year, it will be a closely-fought battle for the title. For those looking to wager on the outcome of these exciting 2019 races, Oddschecker provides a list of the main bookmakers with a number of bonus bets offers for new players. As always, the winter break has seen a number of rider changes, with promotions from the junior championships and existing riders moving between teams.
Jorge Lorenzo vs Marc Marquez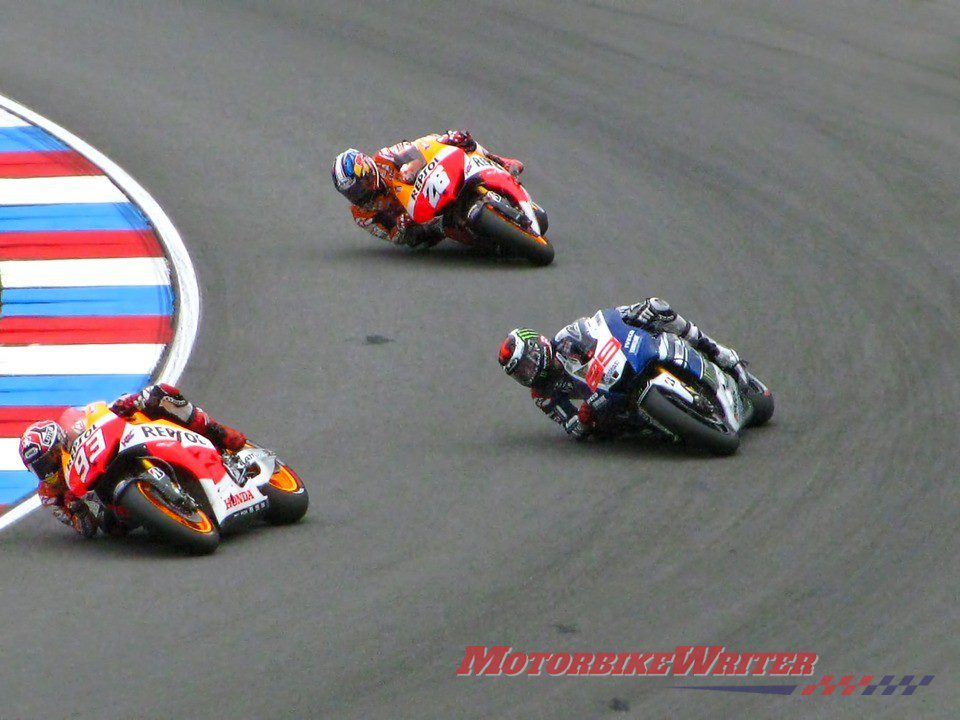 The retirement of Spanish rider Daniel Pedrosa at the end of the 2018 season left a space at Repsol Honda; he will be replaced by 3-time MotoGP champion, and fellow Spaniard, Jorge Lorenzo. Although he only has 3 titles to his name, Lorenzo has also finished the season in second place on a further three occasions. With 47 wins to his name from 189 starts, he wins 25% of his races on average, so expect him to pick up a solid number of victories this year. Joining Repsol Honda, Lorenzo joins fellow Spanish rider Marc Marquez: between the two of them they have won 8 of the last 10 MotoGP world championships.
At just 26, Marc Marquez is one of the most successful motorbike racers in the world. He has won 5 world championships at the top MotoGP level, winning all but one titles between 2013 and 2018. The only year he didn't win, 2015, he was beaten by his new teammate. Marquez has 44 wins from 109 starts, meaning he's won around 40% of all his races. Based on the dominances that these two riders have shown in the last decade, expect sparks to fly as they battle it out to prove who is number 1.
Valentino Rossi
At 40 years of age, Rossi is one of the oldest riders on the grid. He holds 7 MotoGP titles, with only fellow Italian Giacomo Agostini holding 1 more title than him. Rossi is also the only rider in history to win at least one championship in four different classes (125cc, 250cc, 500cc and MotoGP). Since his dominant years in the 2000s, Rossi hasn't won a title for a decade, although he did come second in 2014, 2015 and 2016. Whilst he certainly isn't favourite to take the title this year, only a fool would count out Rossi this early on.
MotoE
2019 is set to be the inaugural season of the FIM Enel MotoE World Cup. It is a new class of motorbike racing that uses motorcycles that are powered only by electric motors, making it the two wheeled equivalent to the FIA's Formula E championship for single seater car racing. However, unlike Formula E, MotoE will follow the main MotoGP championship for five rounds in Europe, holding support races on the same weekend like Moto2 and Moto3. Unfortunately, a fire broke out at the Jerez race track in Spain during a test session, with all 18 bikes destroyed in the fire. Whilst MotoE has confirmed the championship will still begin in 2019, it has not yet announced a revised calendar as it is expected replacement bikes will not be ready in time for its planned first race on 5th May.