The Moto Talbott Collection
THE MOTO TALBOTT COLLECTION MOTORCYCLE MUSEUM
Moto Talbott, as it has become known locally, opened about a year1 ago in the beautiful Carmel Valley, on California's central coast. Just minutes from the Quail Lodge, which hosts the Quail Motorcycle Gathering each year. So this very prestigious area is becoming known for more than wineries and equestrian centers, it's becoming a hotbed of classic motorcycle activity. Moto Talbott is the manifestation of Robert Talbott's lifelong passion for motorcycles. After a successful 33-year career as a vintner and winemaker, Talbott has reached that magical point in life (that most just aspire to) of being able to live out his dreams. In this case, part of that dream is a stunning motorcycle museum with over 160 motorcycles on display. While in Carmel Valley covering the Quail, I stopped in and spent a couple of hours with Richard Watson, Moto Talbott's resident Brit bike expert. He took us on a personal tour, with lots of interesting backstories and side bars. The collection itself is really quite eclectic, taking in a wide range of interests.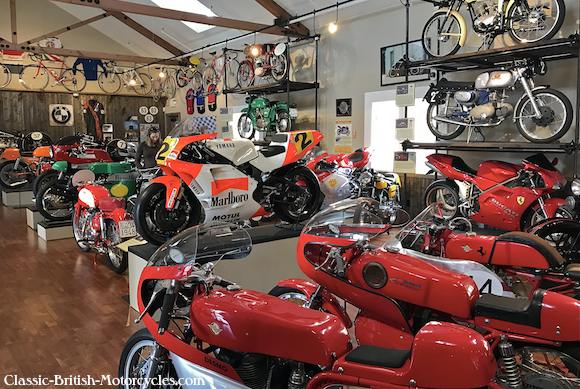 ABOVE & BELOW: Upon entering the Moto Talbott Collection, you are immediately greeted by a large room with a vaulted ceiling, absolutely loaded with incredible bikes. Race bikes, Italian bikes, Brit bikes, old bicycles, race memorabilia, you name it. A room like this could take an hour or more to go through in any detail. There's that much good stuff to look at.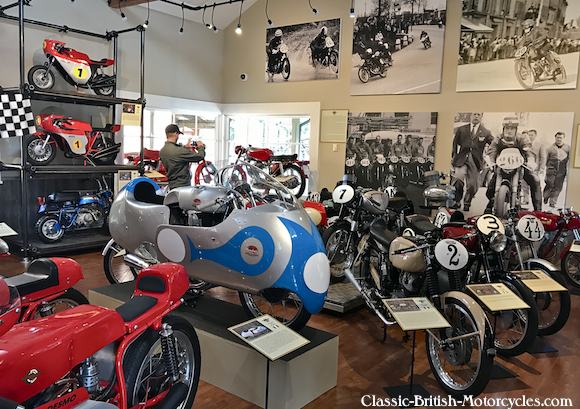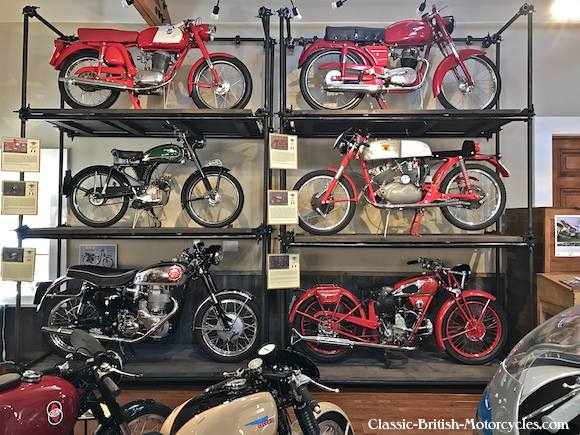 ABOVE & BELOW: Each bike is nicely presented, and well-represented by a placard explaining what you're looking at, and why its important. As much as I'd like to think I know about bikes, I learned a lot of new stuff.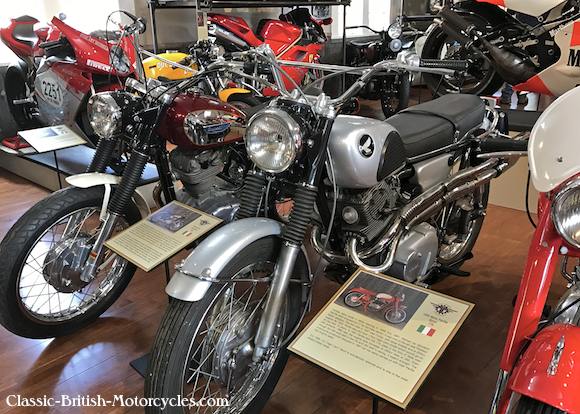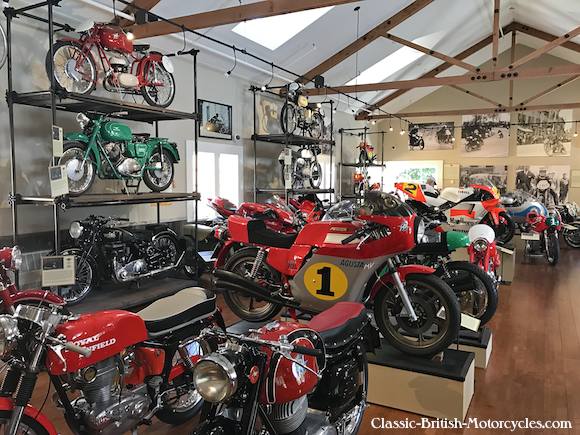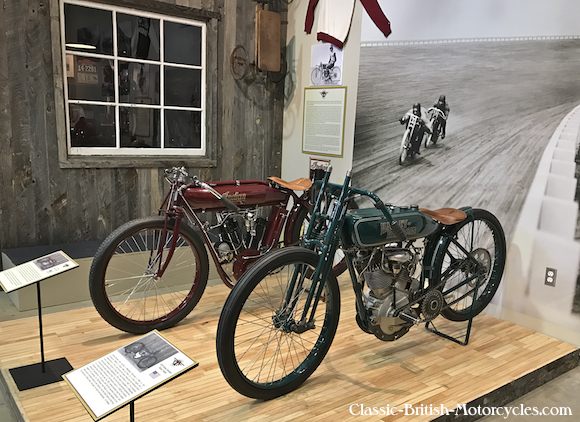 ABOVE: Many of the displays were done diorama-style with nice backdrops setting the scene. These two antique board track racers are displayed on a board track with a wall-sized mural of board-tracking in back.
BELOW: Every type of motorcycle seemed to be on display, even choppers, both old school and new (er). Most museums simply get a Captain America clone, but that's been overdone. It was nice to see a rusty old Triumph chopper for a change. The Honda 550 chopper in front showed a later trend.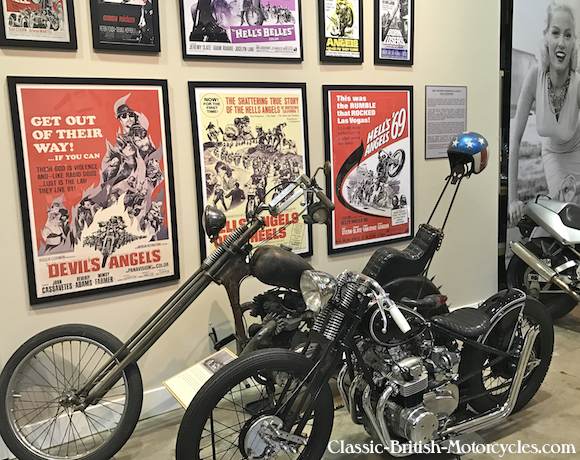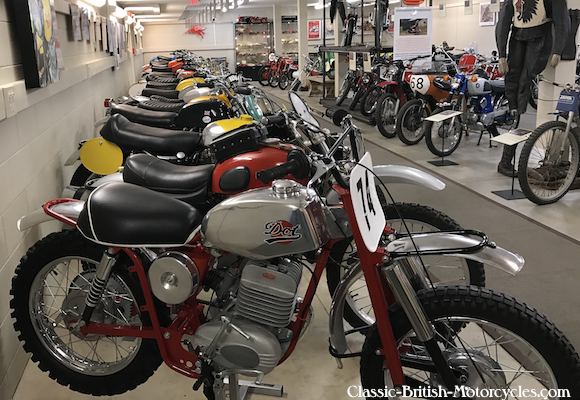 ABOVE & BELOW: The Moto Talbott Collection has a huge room full of classic dirt bikes of every kind. Above is a 1964 DOT, built in England. Designed to be immensely strong, the "DOT" name stood for "Devoid of Trouble".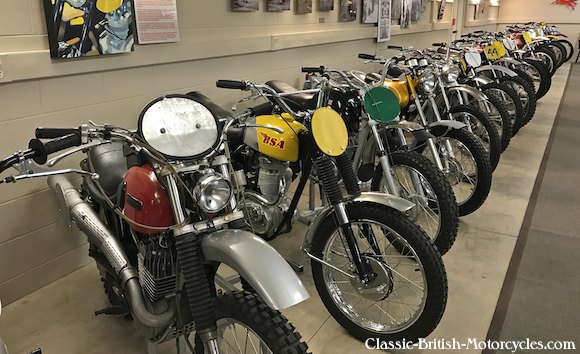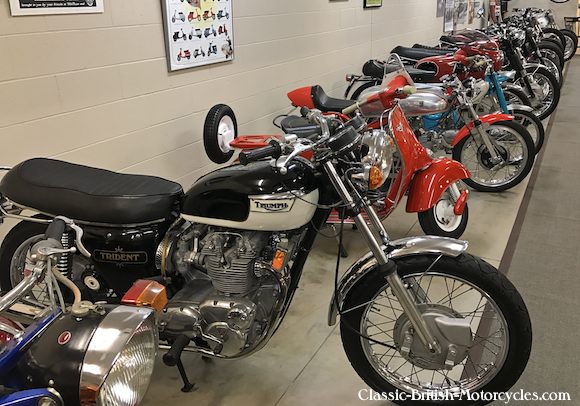 ABOVE: The Moto Talbott Collection has a great selection of classic street bikes including one of my personal favorites, the Triumph Trident.
BELOW: Just a small slice of the race bikes on display, along with lots of cool racing memorabilia.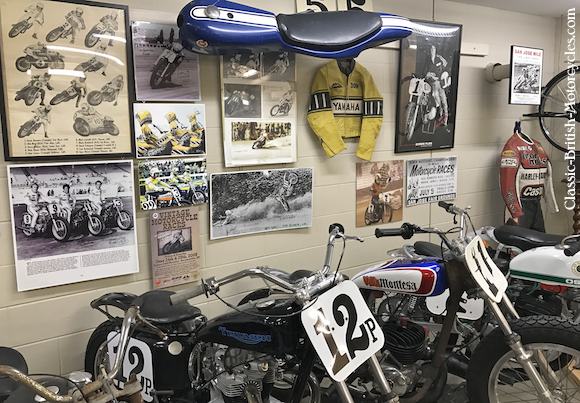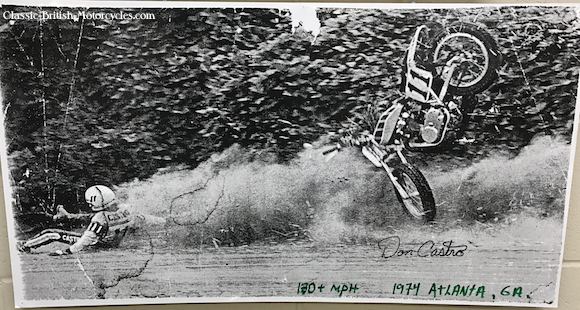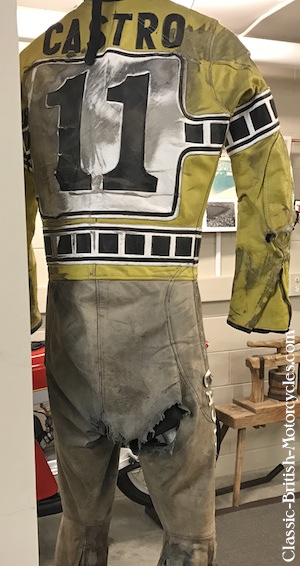 ABOVE & LEFT: On the subject of cool racing memorabilia, how about this? Don Castro sliding to a stop from 130 miles-per-hour on his butt! To the left, you can see what was left of his leathers. OUCH!!!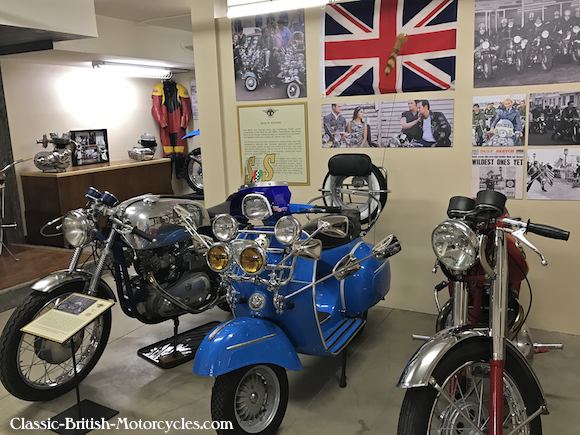 ABOVE: A display dedicated to the 'Mods vs. Rockers' phenomena back in Britain in the 50s and 60s. Mods wore nappy little suits and ties and road loaded-up scooters like the blue one above. Rockers wore black leather and chains, and road 'real motorcycles' mostly cafe racers like the far-left and far-right bikes. Typical of the Moto Talbott, they tie history and culture together with the motorcycles to give them all relevance. Nicely done.
BELOW: In keeping with the eclectic-ness (is that even a word?) of their collection is this weird little Decopod. One-of-6 built by artist Randy Grubb. The hand-formed aluminum body weighs just 30 pounds and drops onto a new Paggio Fly 150 scooter. Supposedly capable of 60mph, it begs the question: Why?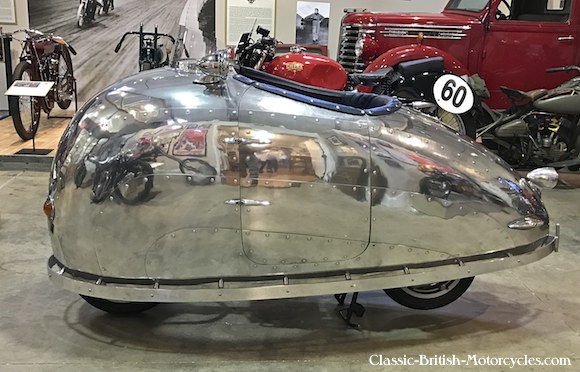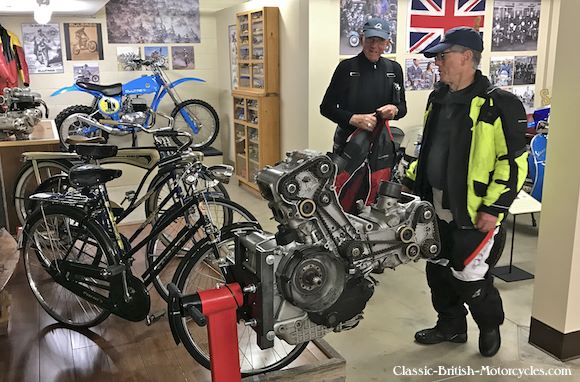 ABOVE: Numerous and varying displays vie for your attention. Engines, old bicycles, toys, historic photos, etc.
BELOW: This Ducati V-twin cuataway engine allows you to turn it (there's a crank on the other side), to see the timing belts work, and even better, its Desmodromic valve train system in action.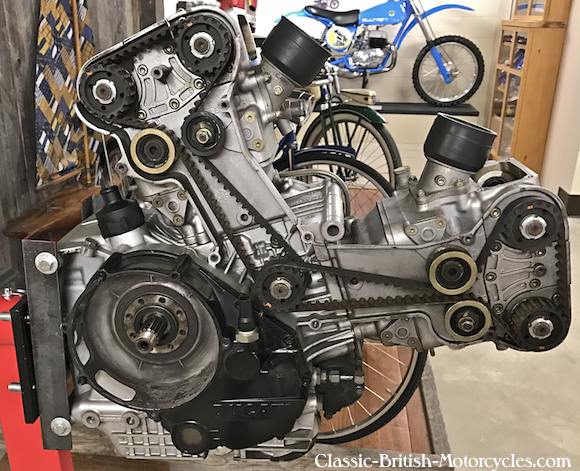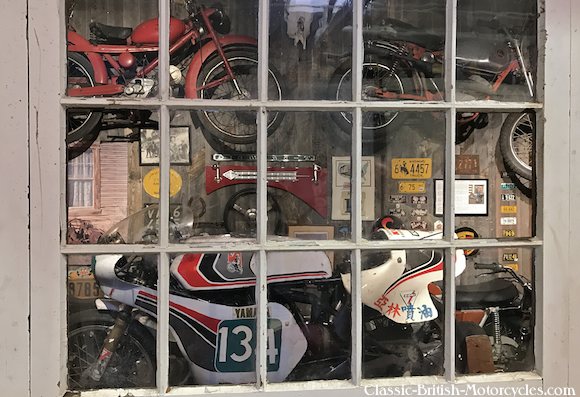 ABOVE: Paying tribute to 'barn-finds'.
BELOW: Robb Talbott and I have something in common. Our first bikes were both mid-60s Honda 55s with step-through frame. Mine was even red, just like this one. This isn't actually Robb's first bike, but it's just like it. It will have to do until he finds his actual first bike, which he is working on.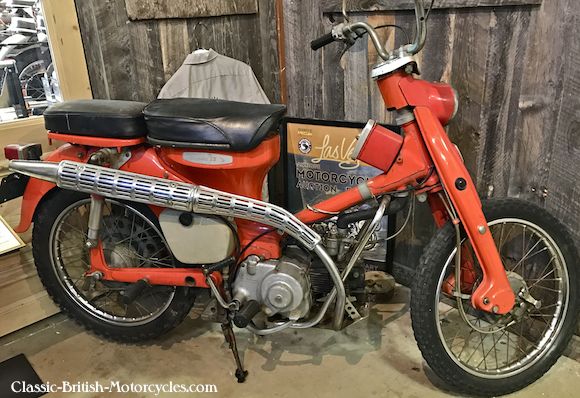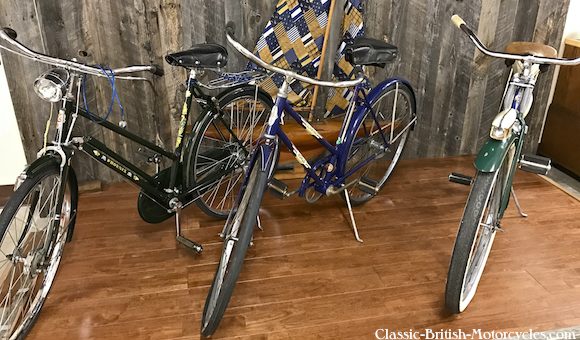 ABOVE: Robb Talbott is into other things besides just grapes and motorcycles. He loves antique bicycles as well, and has a very impressive collection going back to the earliest days of bicycling, his oldest bike is an 1892, with wooden rims, no less.
BELOW: A great deal of the spirit of the Moto Talbott Collection seems to be wrapped up in Robb Talbott's father, Bob Talbott. Among many other very impressive things, the elder Talbott was a Major in the 8th Army Air Corps, and flew a B17 bomber during World War II, and this huge radial engine from a B17 commemorates that. There are also uniforms, photos and lots of other WWII-era memorabilia remembering his father and the exceptional life that he lived.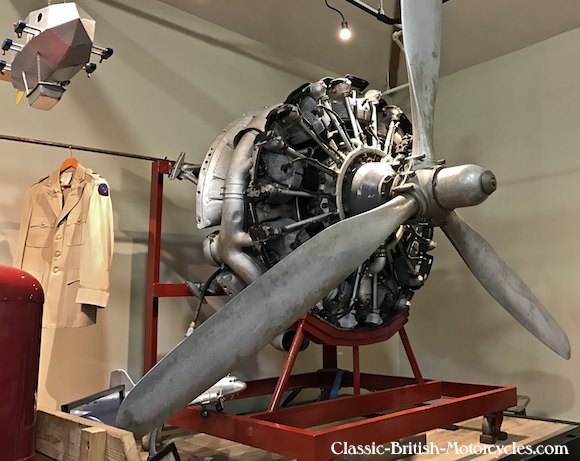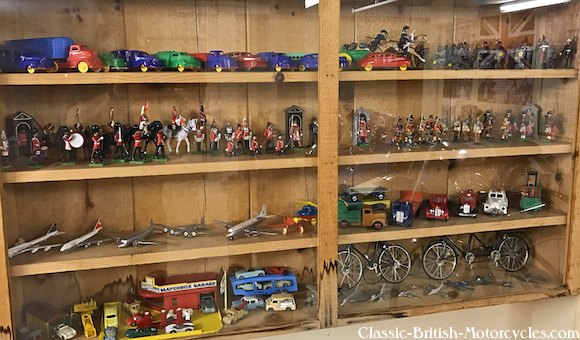 ABOVE: Bob Talbott was into toys of many different types, some dating back to 1900. Both his interest in them and his collection were passed on to his son, Robb.
BELOW: The elder Talbott became a distributor for dash badges back in the day when they were common and there was a market for them.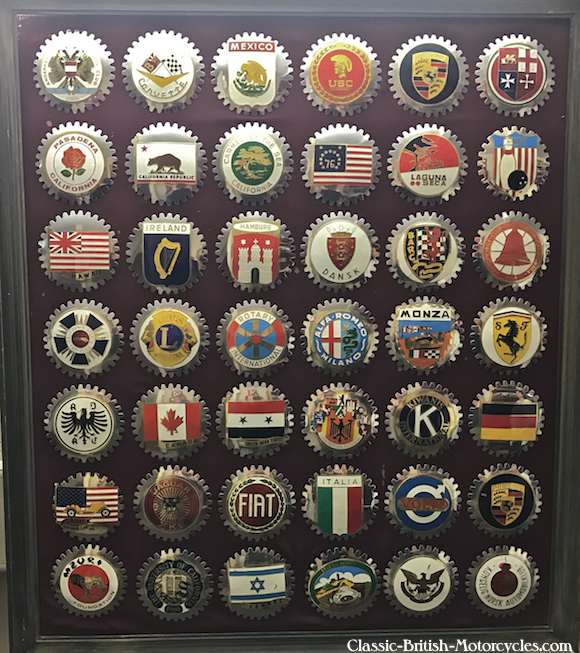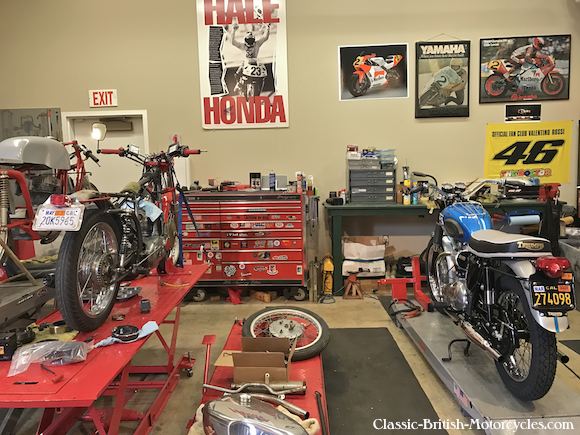 ABOVE & BELOW: Here lies the guts of the operation. The Moto Talbott Collection has a very capable restoration shop on the premises that performs all manner of restoration and repair on a wide range of bikes. It's run my master-mechanic Bobby Weindorf.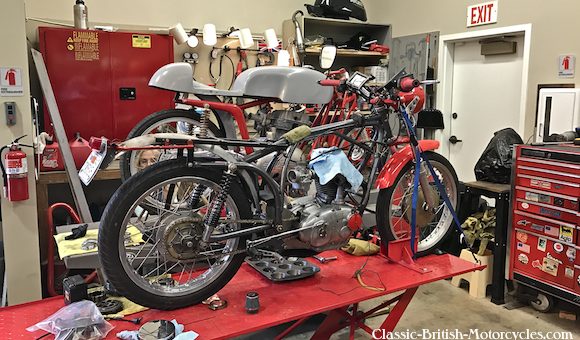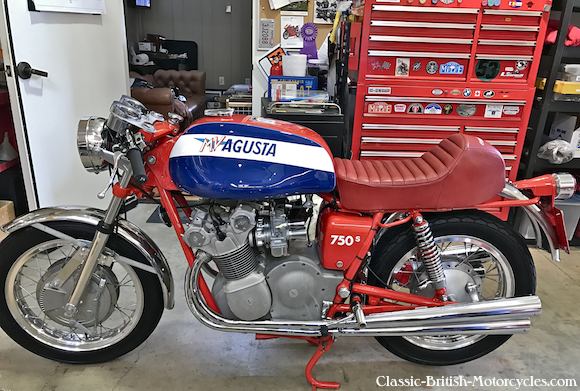 VISIT THE MOTO TALBOTT COLLECTION SOON
If you're ever in California, this is a trip worth taking. The Moto Talbott Collection Motorcycle Museum is located at 4 East Carmel Valley Road, Carmel Valley CA. Their phone number is (831) 659-5410 and their website www.mototalbott.com. Their hours run Thursday through Sunday from 11:00am to 5:00pm, closed on Monday, Tuesday and Wednesday. Admission is $12.00 for adults, $10.00 for seniors and military, and $7.00 for kids. Make sure to allow yourself enough time. You don't want to rush through, it's too good.