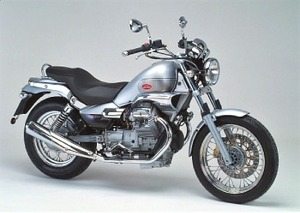 With the arrival of the new Nevada Classic 750 i.e., Moto Guzzi becomes one of the few motorcycle manufacturers in the world to boast entire range equipped with electronic fuel injection and catalyzed exhausts with Lambda oxygen sensor emission control.  Every model in Moto Guzzi's 2004 range fully complies with Euro 2 standards.
The Nevada Classic 750 I.E. has been re-designed along the same lines as the Breva V 750 i.e.:
Exceptional agility without compromising on road holding;
Easy riding thanks to an ultra-low seat height (only 760 mm);
Light weight (only 184 kg dry weight);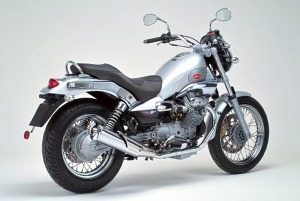 Maximum comfort even for the passenger thanks to the new seat design.
The easy-to-ride Nevada Classic 750 I.E. is perfect around town as well as for short and medium distance touring.  It is unbeatable not only for experienced but also for novice riders and those who desire a lower seat height.
While the Nevada Classic 750 i.e. remains totally faithful to its Moto Guzzi origins in terms of overall design, the 2004 model is completely renewed.  Compared to the old carburetor model, 87% of components have been redesigned or renewed (383 components out of a total of 441).  Main focus on the totally new back part of the Nevada, completely re-designed, on the new seat, on the new wheels and the new tank.
The Nevada Classic 750 I.E. is also the only "entry level" custom with shaft drive and electronic injection
Other WebBikeWorld Motorcycle Reviews
wBW Motorcycle Reviews Info