Motorcycle Racing Summer Image Gallery
The MOTO-D summer undersuit is a surprisingly comfortable and very stretchy liner for leathers, textile or other riding gear.
It makes climbing into and out of leathers a lot easier and it reduces chafing.
Works just as well under a textile street jacket and pants outfit and it's surprisingly cool and comfortable even in hot weather.
Wicks away moisture and keeps leathers and other gear from feeling sweaty and damp.
I've never been a big fan of motorcycle underwear, or undersuits as this one is called.
They seem to add more heat and another layer that isn't really what you want on a hot summer day.
The idea is that they help to wick away moisture while acting as a "sliding" barrier between the bod and the inside of the leathers.
If you've ever tried to peel off a pair of leathers after a hot summer day ride, you know what a pain — literally — it can be.
I've actually thrown my back out and strained muscles on more than one occasion, trying to peel off a set of snug-fitting race leathers.
And let's not even discuss what the inside of the leathers look like after one of those hot day rides…
The problem is that many or most of the one-piece motorcycle underwear suits designed for under-leather wear are too thick, too grabby or generally not all that well suited, if you'll pardon the pun, for their intended role.
But, I have to admit, this MOTO-D summer undersuit is different and worth this webBikeWorld "Quick Look".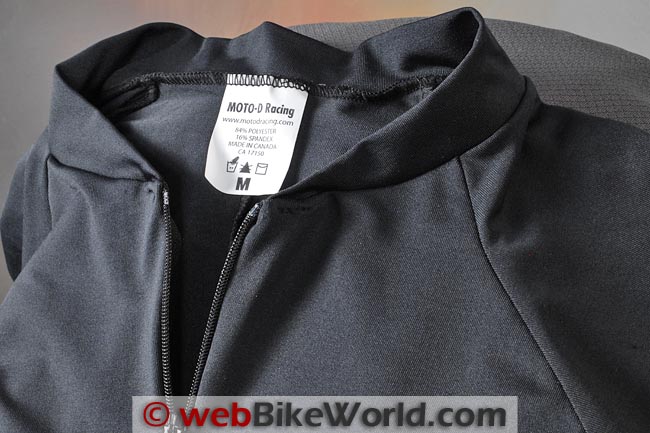 The MOTO-D Summer Undersuit
The MOTO-D undersuit appeared one day out of the blue and it's been bouncing around in the queue for several months.
The Editor couldn't get anyone to pose in it for photos (for obvious reasons) so it kept getting bumped to the end of the line.
I "volunteered" recently for the job and although you won't find a full-length photo of me or anyone else in the things, I have worn them under a leather one-piece semi-perforated suit and also under a few different combos of textile pants and jackets.
MOTO-D is a small U.S. motorcycle accessory developer/manufacturer and the undersuit is made in Canada to their specifications. The fabric is what does the trick: it's 84% polyester and 16% Spandex, according to the label.
It feels sort of like a thick pair of — shall I say it? — women's stockings. It's very stretchy and the tiny mesh keeps it surprisingly cool.
It's a one-piece design, with a front crotch-to-neck, two-way zipper of unknown origin (the two-way zipper allows easy rest stops for men).
The stitching is good; I'm not sure what type of stitching and hemming is used or what it's called, but the only issue is that the bunched seams should either be flat or on the outside of the garment.
As it is made, the seams are not flat and the edges of the fabric come together in a seam that stands out from the body of the fabric, which can press on the skin.
For example, three seams come together under the arm pit, each standing out from the surface.
They probably didn't want to put the seams on the outside for marketing reasons, because it wouldn't look correct and they wanted a smoother outside surface. Also, I can understand where flat seams would be too expensive for a $65.00 undersuit.
It's not a real big deal but I can feel the seams on some pressure areas, but maybe I'm sensitive. Again, for 65 bucks, it can be overlooked.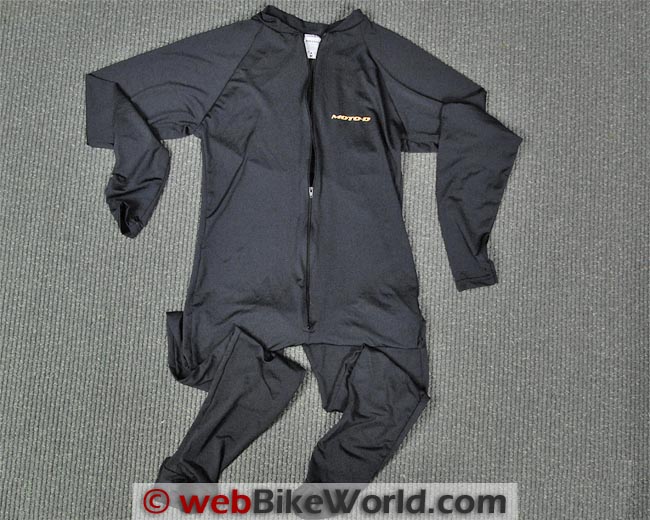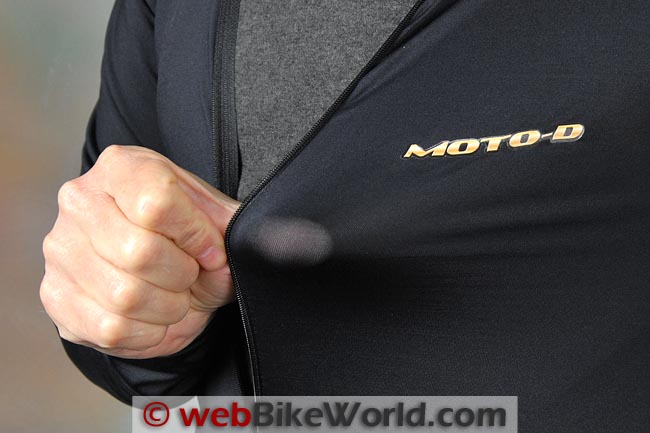 Fit and Sizing
Besides the "cool" fabric, the stretch helps do the trick also. It's really, really stretchy; the size M should fit a huge range of riders, probably two sizes up or down from about a typical U.S. street size large; i.e., 44″ chest, 35″ waist and 31″ inseam with about 34″ dress shirt sleeve length.
The company told the Editor that the undersuit in size M is the most popular because it fits the most people of "normal" size range.
Looking at their sizing chart, they say the size M fits a 40″-42″ chest, but I actually think it's more like 42″-45″ or so.
The limiting factor is the distance from the crotch to the shoulders and anyone over about 6 feet tall may find there's not enough stretch in the M for the torso.
Although the legs seem long enough for a 32″ inseam at least and the arms probably up to a 35″ or 36″ dress shirt equivalent.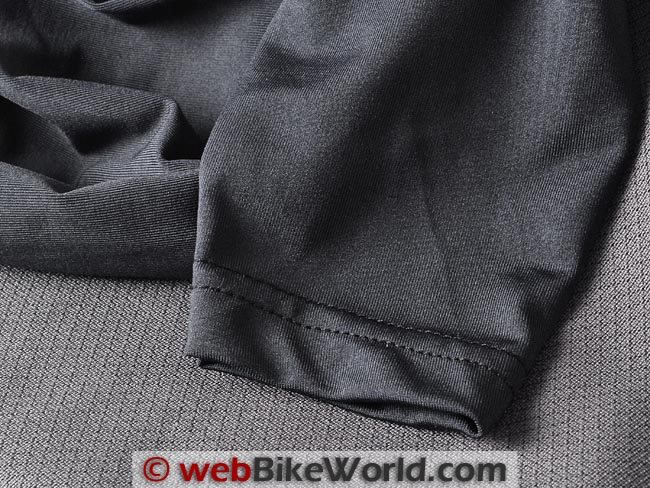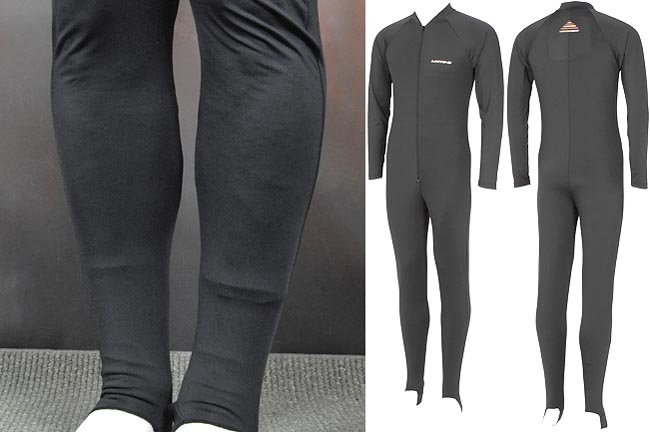 Riding With the MOTO-D Summer Undersuit
I have to say, all things considered, this suit does the job as advertised. In fact, I'd probably say it works better than any of the other summer underwear I've worn that was reviewed on webBikeWorld.
The most surprising thing to me is that wearing the suit doesn't seem to affect my body temperature.
I'm not sure if it's because of the fabric type or the "see through" elasticity, which is thicker than a pair of Bohn Cool Air Bodyguard armored underwear (review) but not nearly as thick as the Becka Coolwear undersuit (review).
Of course, the undersuit reviewed here is the summer version; MOTO-D also makes a thicker winter version of the undersuit.
Another surprise is that this undersuit works very nicely under a textile jacket and pants outfit. Textile can get pretty hot in the summer also.
The fabric in the undersuit seems to wick moisture and then any vents that are open give a good cool feeling as the air blows over the material.
The MOTO-D undersuit works much better than the vaunted LD Comfort underwear (review) in my opinion, especially for summer. The LD Comfort underwear is too thick, too loose and doesn't have enough ventilation.
I tried the undersuit both ways and best results will occur when the suit is worn with no other underwear underneath.
I have a hard time doing that though for social/psychological reasons, so I wear a pair of undershorts under the MOTO-D suit and I even wore a casual T-shirt over the undersuit just for modesty's sake. Call me weird…I don't have a problem with it.
Conclusion
The MOTO-D summer undersuit is actually a pretty good deal and they offer $10.00 shipping anywhere in the world. It works as advertised and probably better than most of the other summer undersuits out there.
If you haven't had good luck with motorcycle underwear before, you may want to try these and I think you'll be pleasantly surprised at how well they work for summer use.
Also, they make sliding into and out of a set of one-piece leathers much less aggravating than it is without the suit.
So if you're into leather (for whatever reason) or a track-day fanatic, the MOTO-D undersuit is for you. Just be sure and hand wash it in Woolite after the ride…
More wBW Heated Clothing Reviews  |  Motorcycle Glove Reviews
w

BW

 Review: MOTO-D Motorcycle Undersuit
Manufacturer: MOTO-D Racing
List Price: Summer: $64.95. Winter: $69.99.
Colors: Black.
Sizes: XS, S, M, L, XL (But stretch fabric fits a wide range of sizes in each letter size).
Made In: 

Canada.

Review Date: June 2012
Note:
 For informational use only. All material and photographs are Copyright © webWorld International, LLC since 2000. All rights reserved. See the webBikeWorld® 
Site Info page
. Product specifications, features and details may change or differ from our descriptions. Always check before purchasing. Read the
Terms and Conditions
!
Owner Comments and Feedback
---
From "B.L." (June 2012): "There is no accommodation made for calls of nature. I cannot imagine how I would get out of this thing in a gas station restroom!
I like the idea of a one-piece, for its simplicity, but it just is not practical for casual, or touring, use. Yes, as a guy, I can get by (for rest room breaks); for women, forget it.
I've used the Under Armor synthetic boxer briefs, with great success. I also have their long- and short-sleeved under shirts, which also wick away sweat, keeping me cooler, and drier. They are much more practical for touring, both for males, and females (female panties are available).
The Under Armor products, by the way, wash up in the sink, with hand soap (on the road), and they air dry overnight; they can also be run through the washing machine (air drying is required, however). No Woolite needed. Cheers!
Editor's Reply: Just to note, as mentioned in the review, the MOTO-D suit has a two-way zipper that opens from either the top or bottom, so it's easy for men to unzip for rest room breaks. No problems unzipping it wearing pants or regular motorcycle outfits (relief in a one-piece leather suit is problematic anyway). The suit is designed for men.
It does not require Woolite for washing, that was only in jest. Regular soap, dish soap, whatever, will do the trick, same as Under Armour or any other polyester underwear.
We've reviewed some Under Armour gear also, I own some Under Armour undies of different types that I wear for various activities in winter and summer, but I prefer this to be honest."