Intercom Headphones Review Summary
Review Summary
The MPlus by Motikom is a personal BT communication system developed as an ongoing Indiegogo activity. wBW does not always do or get to do reviews on products under active development but Motikom offered up the MPlus late last year…and here we are. From form, fit and function perspectives the MPlus is unique, with attributes making it very well suited for so many other activities as well. The Neckband piece sits around the neck and over the shoulders and collarbone and can be shaped for a conforming comfortable fit. The HD stereo headset earpieces on long leads use ergonomic changeable Ecofit Gel seals for noise protection, Ear Tip pieces provide extended comfort and audio driver components create an excellent listening environment. Audio input is via surface-mounted microphones on the left and right sides or a detachable helmet mounted boom or thin wire microphone. The BT Intercom has a range of up to 150m and the system's patented Active Hybrid Dynamic Noise Cancellation feature provides five levels of noise management. The MPlus is a different rendering of a personal BT headset system with a motorcycling focus; but is truly useful for a host of other activities, providing a great return on the investment.
Build Materials & Quality
BT Pairing & Connectivity
Overall Audio Performance
Pros
Unique form and fit
Neckband layout is flexible, adaptable and low profile
Sturdy design and smoothly finished with flush mounted or end-fitted controls
Dual neckband microphones with external boom or thin wire microphone for helmet use
Earpieces are ergonomically designed with very functional and comfortable components
Excellent audio from stereo earpiece headset
5-Level Hybrid Dynamic Noise Cancellation provides noise cancellation tailoring
150m range Intercom for personal two-user configurations
Universal Intercom Pairing support
Multi-device pairing for smartphone or navigation device audio
Excellent battery life
Cons
Neckband can move around depending on cockpit environment and gear worn
Short intercom range (although appreciated for intended functions)
BT device compatibility has some (current) limitations
Earpiece leads are short – issue acknowledged and being addressed by Motikom
Intercom Headphones Image Gallery
Introduction
While we cope with the ups and down of our COVID-19 pandemic world, many of us are also well into or at least getting cranked up for another riding season – appreciating regional limitations and concerns of course; motorcycling can truly be an insular and socially distanced safe activity.
One of the best ways, at least for me, to cope with things, especially over the winter months, is in having new and different products to look at and then anxiously look ahead to spring when said new products can then be put into use.
The subject of this review is not new-new per se, having been received way back in late November 2020, with a couple of cold late season rides squeezed in for initial testing – just enough to whet the appetite regarding the new systems.
Over the winter months, in digging further into this new product, some great information and constructive dialogue ensued with the development team to provide valuable insights into how this evolving product came about and the direction being taken.
But before we jump into specifics, there are a couple of relevant motorcycling challenges that need to be identified and kept in mind as this review unfolds…
First off is that motorcycling is a noisy experience and secondly, the 'noisy experience' always intrudes when trying to communicate while riding – n'est-ce pas? And many of us spend a lot of time (and money) in managing or trying to manage both.
While the noise issue is addressable to varying degrees, it is never really eliminated. But the second is (far) more manageable, although it never ceases to amaze me how little attention, we (actually) pay to address or resolve this matter.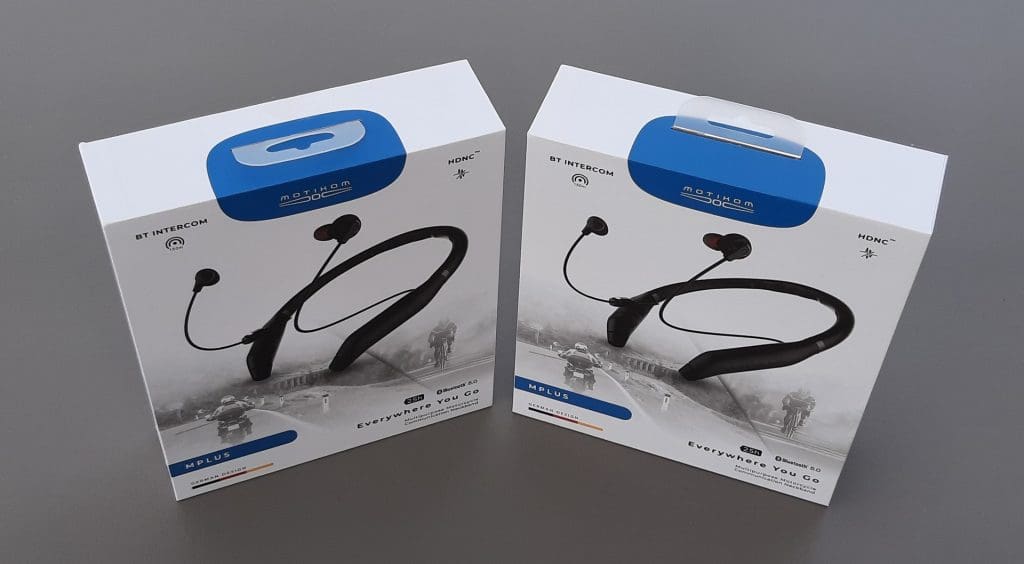 Motikom & the MPlus Headset
Motikom is the brand name for Audikom Technik Limited, a company founded in 2018 and headquartered in Hong Kong but with German connections. The company focuses on creating and adapting advanced acoustic and communication technologies to develop innovative sound products for consumers.
In October 2019, Motikom announced the launch of an Indiegogo Campaign to bring the 'Multipurpose Motorcycle Communication Neckband' or, the MPlus through development to product.
Designed for motorcyclists (and outdoor activity enthusiasts) the MPlus is touted as the world's first crossover headphone system with noise cancelling and Bluetooth (BT) Intercom for motorcyclists.
A specific goal of the MPlus is to provide a personal communication headset for motorcyclists that addresses two of the biggest challenges facing motorcyclists: one of course being noise and the other, given use of a communication capability, how to provide audio – input and output, comfortably, while riding.
Motikom feels that most products on the market are bulky, expensive and can be unreliable. As well, many systems lack portability and are not easily transferable between multiple helmets necessitating additional investment for additional components or even multiple systems.
Related to this portability, Motikom also has another objective – to provide a solution that has many applications, mounted or dismounted; and to that end, the Motikom does indeed provide a lot of versatility for virtually any type of activity.
The MPlus system uses Bluetooth v5.0 with its enhanced protocols, simplified secure connectivity, fast switching, and excellent power efficiencies.
Sitting around the neck, the system uses in-ear stereo headset pieces while providing multi-device pairing and a BT intercom for full duplex (two-way) communication between two MPlus headsets up to 150m (490ft).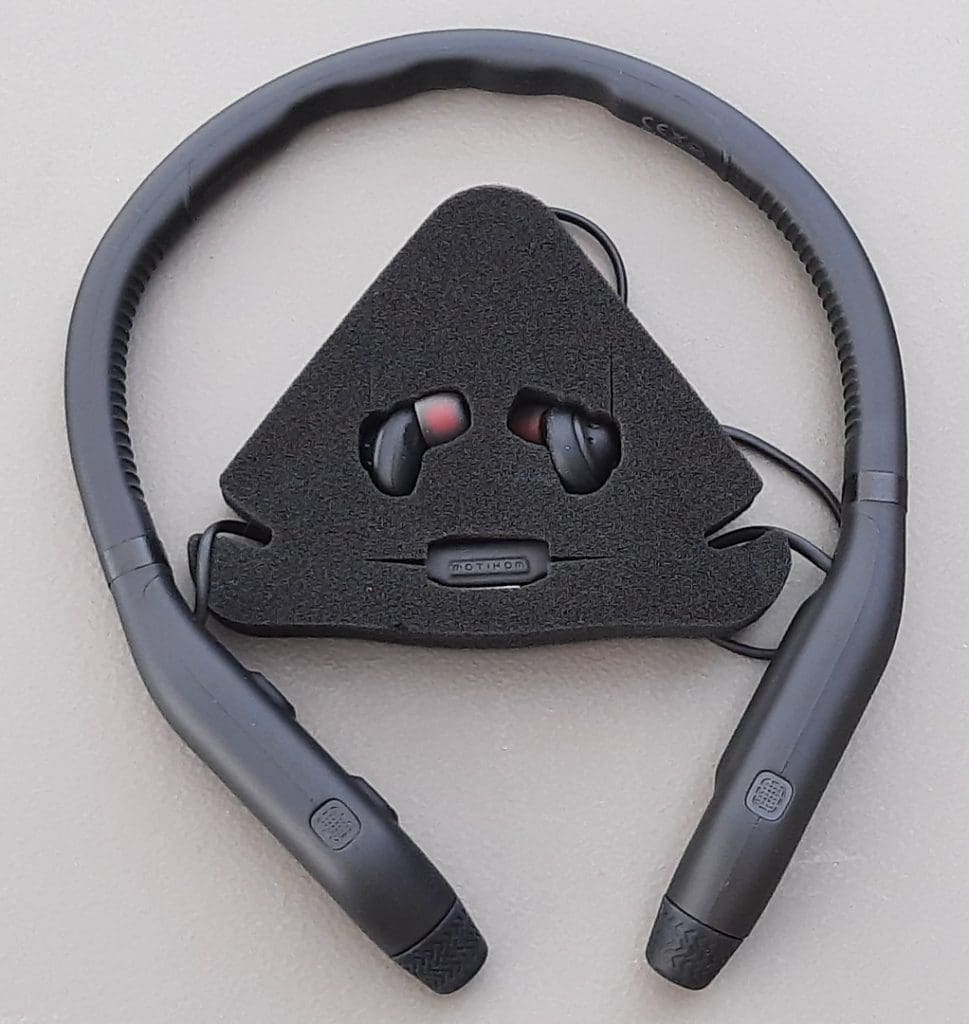 First Impressions
The MPlus by Motikom is one of the most well presented and well packed kits received for quite some time; and while everyone seems to be getting on the packaging standards bandwagon (all good), the Motikom, and IASUS Concepts retail packaging is tops in my book.
Each MPlus comes carefully and protectively secured in its own high-quality durable perimeter zippered storage/carry case with the in-ear speakers and leads nestled securely in a foam form. Three lightweight boxes, all marked with their contents, hold system components and mounting pieces packed in recyclable material bags.
In lifting the main MPlus Neckband or collar, with its in-ear speaker inserts dangling on their leads out of the carry case, the piece is at once quite lightweight but with some heft and a solid feel, with the weight focused on the front, for a reason (see Form and Fit).
The Neckband is well formed and smoothly finished with flush mounted audio pickups and controls, along with rotating bezel controls on the end of each side; it looks well prepared for rugged exterior use.
Kit Contents
Lifting the top section of the heavy duty box reveals the spiffy MPlus carry case housing the Neckband or collar component and integrated lead in-ear (headphone) pieces. The bottom layer is formed by three additional box containers holding the rest of the goodies.
Included in the additional containers are: 2 sets of hook-n-loops fasteners, 2 sets of double-side tape, 2 sets of EcoFit Ear Gels (Small & Large), a microphone sponge (sock), wire microphone sponge and hook-n-loop fasteners, micro-USB charging cable, microphone adapter, S/M/L sized ear tips, the boom microphone, and a pocket-sized User Manual.
Features & Specifications
Features (Compilation)
Unique innovative design and form factor system
Innovative Twist Control System (TCS)
Ergonomic adjustable neckband provides multi-activity versatility
Features Bluetooth v5.0 for connectivity, switching and power enhancements
Hybrid Dynamic Noise Cancellation (HDNC) with five level controls
Voice prompts/announcements
AI Assist Compatible – like Siri and Google Assistant
Earpieces with ergonomic EcoFit Gel Inserts and Ear Tips for use with all helmets
Full duplex Bluetooth (BT) Intercom between two devices
Intercom range of 150m (under ideal conditions)
Universal pairing capability
Integrated Dual Omni-Directional and separate boom and thin wire microphones
Back Light Indicator for conspicuity and charging indicator
Integrated waterproof micro-USB Type C interface port
IP67 Dustproof & Waterproof
Specifications
Bluetooth: v5.0
Weight: 152gr (5.4oz) – neckband only
Dimensions: 17 x 19.5 x 1cm (6.7in x 7.68in x 0.40in)
Speaker Driver Unit: 10mm
Operation Time: up to 25hrs (depending on use)
Operating Temperature: -10C to 50C (14F to 122F)
Charging Current: 500 +/- 50mA
Charging Time: 2.5h
Standby Time: 8d 10h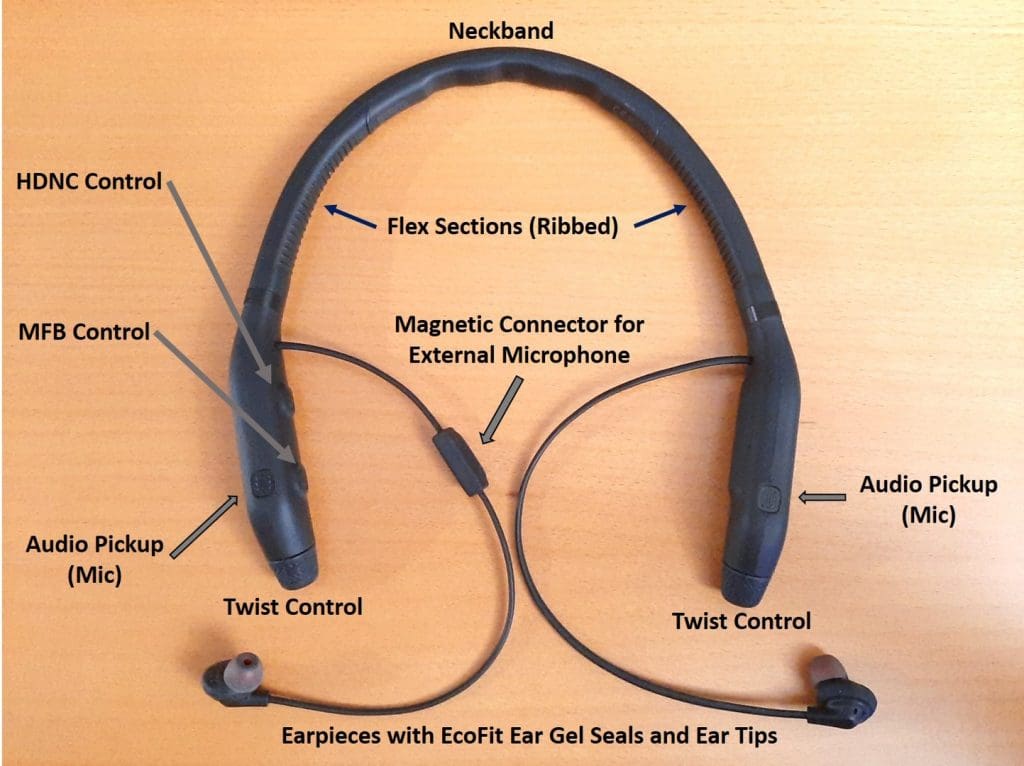 MPlus Walkthrough
Form & Fit
There is no denying that the MPplus by Motikom is unique in its styling and innovative in its overall design and as stated by one of the Motikom principals, "the design is unique for the (bikers)…it may take time to let them understand the advantages". This statement was not made as a negative but a fact, and I couldn't agree more.
Designed for use with any type of helmet – half-face/shorty, open face, flip-up/modular or full- face, the primary headset component is a collar-shaped piece that sits around the neck on the shoulders and collarbone, with surface mount audio pickups and stereo in-ear headphones on short leads integrated into the collar.
And while it can be used with any type of helmet, placement of the neckband and use of earpieces allows the system to be worn for many other activities as well – whether any sort of helmet is involved or not; it truly is a versatile personal BT communication headset.
The neckband is an ergonomically shaped 3D adjustable piece with a flex or adjustment point on each side (indicated by the ribbed contouring) for 'round the neck placement and adjustability for comfort (my oft-broken collarbones come into play here) and security – although the type and thickness of clothing worn does impact its positioning and stability.
A design feature has the weight focused in the bulging front section of each side so that when the neckband is worn and properly adjusted it will sit in a stable position, although it can still move or be moved around depending on the cockpit environment and, as noted above, clothing or outer gear being worn, especially a neck brace and related PPE.
Two MEMs audio pickups or microphones are surface mounted (flush) on the top frontal curved portion of each side of the neckband. Controls consist of two right inner side pushbuttons and individual twist controls on each end of the collar – different, but functional.
The right earpiece lead has the in-line connector for the optional use external boom or thin wire microphone that is intended for right side mounting but can, with some adaptation, be mounted internally or externally on either side of the helmet. Flipping the collar over reveals the waterproof micro-USB port on the right side.
It should be noted that the open micro-USB port is a waterproof piece and the internal PCB components are all sealed as well, so no weather-cap is provided or needed for this port.
And at the back of the MPlus is a stylized Motikom logo insert featuring Red LED backlighting to provide a distinctive low-light/night-time personal conspicuity marker and visual charging indicator.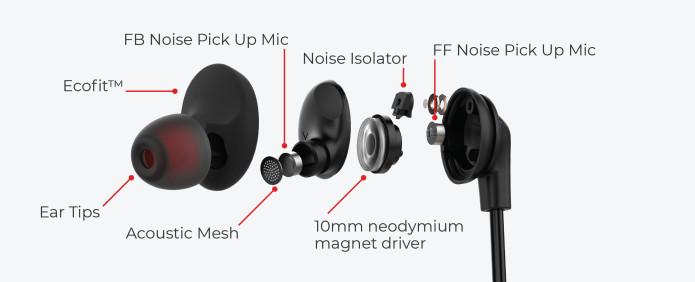 Personal In-Ear Headset
A hard to deny benefit of using a personal or in-ear headset system is the ability to or potential to significantly reduce noise levels relevant to the ambient and cockpit environments including motorcycle generated noise.
Removing the 'noise' environment completely is not desirable; audio is a critical input for maintaining sensory 'balance' and a key contributor to situational awareness. We need to be able to discern, recognize and react to discrete sound sources within the noise or ambient environment – like an emergency vehicle for example.
Even so, the ability to statically or dynamically attenuate or manage noise levels is good on so many different levels, especially protection of hearing over the long term. And an overall reduction in or management of 'noise' minimizes related distractions allowing the user to better focus on the dynamics of riding for enjoyment and, safety.
Admittedly not everyone can utilize an in-hear solution; my own personal tolerance is limited to four or five hours at a stretch but, the ability to use in-ear solutions can provide improved audio particularly related to the clarity of intercom or mobile phone communications, along with being able to enjoy any, and all audio sources at reduced volume levels.
Despite this stated (personal) limitation, once properly fitted (see MPlus Configuration & Use Section), the whole earpiece is extremely comfortable for almost all day wear, with a great seal and consistent firm (without pressure) contact with the ear canal for optimum effectiveness.
The earpieces and changeable components form a (very) comfortable insert. But after initial use and in considering the user's build, gear being worn and (any) movement of the neckband, a recommendation was made to have the length of the earpiece leads increased; Motikom has acted on this with the change made for new production pieces…
Audio Input & Output
Input wise the dual flush-mounted MEMS audio pickups work extremely well, with the left and right microphone layout optimizing audio pickup (reception) of speech generated by the user, without bring along (all) the ambient noises that can be so prevalent in the air, cockpit, and helmet environments.
Audio output and the listening environment is excellent from the in-ear speakers, thanks to the extremely efficient and effective 10mm neodymium magnet driver and the components used to isolate and manage noise these pieces are on a very short list of the best used to date.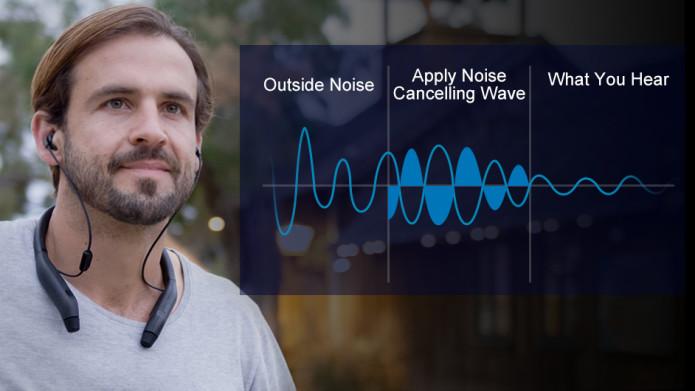 Active Hybrid Dynamic Noise Cancellation or HDNC
A significant contribution to management of the overall audio environment when using the MPlus is its advanced active hybrid dynamic noise cancellation control system or HDNC, a feature that provides better noise reduction through or across an ultra-wide frequency range (up to 2kHz) of the sound spectrum.
HDNC maintains high-quality acoustic performance, with its five levels of sound control ranging from ultimate noise cancellation to amplification of surround sounds providing the user with greater flexibility so the sound or audio environment can be better fitted to their needs in different environments.
This multi-level approach provides a versatile and dynamic solution to managing the noise/background environment relative to user requirements and while not (totally) unique in that some top-tier systems provide some form of noise/sound management, there is no doubt that HDNC is (clearly) effective…
And it's also a far better solution than having to continually crank up the volume to try and overcome ambient noise levels; an action that is also harmful to hearing and relatedly, safety.
The five discrete HDNC levels are:
Level 1 – Ultimate noise cancelling level (default), the quietest level, minimizing engine and wind noise while still allowing horns or emergency vehicle audio to be heard.
Level 2 – Medium noise cancelling level, more surrounding sound is heard at a comfortable level.
Level 3 – Mild noise cancelling level, essentially a neutral setting vis-à-vis the helmet environment.
Level 4 – Natural surroundings sound level, more like the sound environment but without a helmet and allowing a close conversation, and
Level 5 – Talk-Through (Ambient) level (see Configuration & Use Section), amplifies surrounding sound (even whispers), have a conversation with the helmets on.
No matter for what or where you are using the MPlus – airplane, riding, other personal or public transportation or just wandering in a crowded/noisy environment, being able to step-through the five HDNC levels to find the optimal listening environment is an excellent feature that works.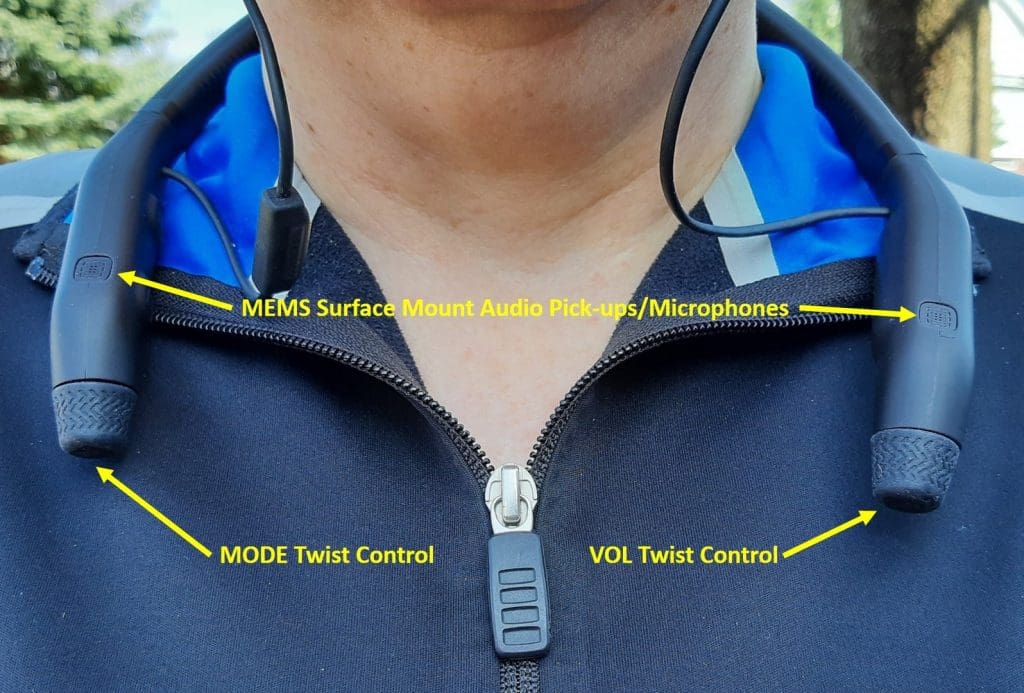 Controls & Twist Control System
There are two push button controls on the inner face of the thicker frontal or bulge portion of the right side of the neckband. The front button is the MFB or multi-function button, while the rear button is the five-stage HDNC control.
These buttons do take more effort to access when the piece is being worn, but depending on system use, they won't or shouldn't need to be constantly accessed – that level of interaction is designed into the more easily accessed end-fitted twist controls.
And the unique end-fitted Twist Control System or TCS provides (relatively) easy control of the most-used inputs with light to medium weight gloves with heavy winter gloves taking some practise, but manipulation is doable. The right twist control is 'MODE' while the left twist control is 'VOL'. One feature common to the left and/or both controls is 'On' and 'Off'.
Assigned functions of the controls are:
MFB (right inner front) – Intercom On or Off, manage paired devices and initiate reconnection searches
HDNC (right inner back) – selects desired noise cancellation; Talk Through (Ambient) Mode, reset MPlus and On or Off of the BT Signal…
MODE (right twist control) – control music playback (AVRCP), handle phone calls, activate the virtual or digital assistant (of the paired device) and last number redial
VOL (left twist control) – Vol Up (twist outwards), Vol Down (twist inwards), Quick On or Off, Talk-Through (Ambient) mode, mute or unmute phone calls and manually disconnect a device, and
MODE & VOL – an inward twist with both controls turns the system On or Off.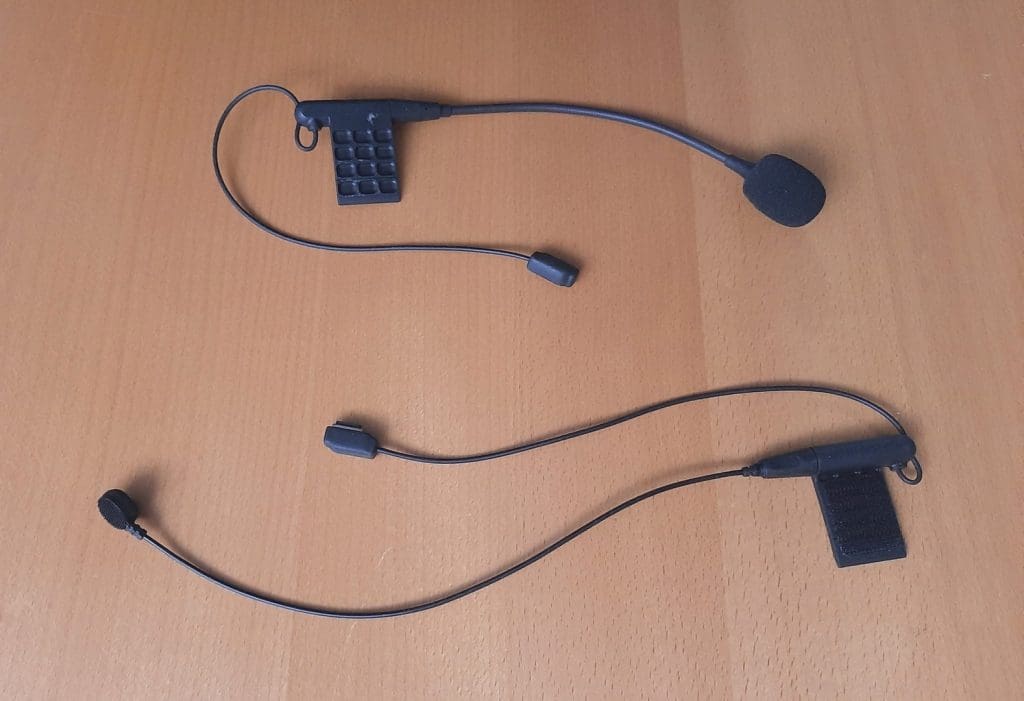 External Microphones
Two microphones are included with the MPlus kit – a thin-wire microphone with a 30cm (11.8in) flexible lead and a long 24cm (9.5in) boom microphone component, both with a 3.5mm stereo jack.
One end of the external microphone component has the four-pin magnetic connector that mates to the in-line piece on the right earpiece lead, while the other end is a mounting plate with a recessed 3.5mm plug. Simply separate the 3.5mm connection to change the type of microphone. Hook and loop pieces are included in the kit for microphone installation.
As identified earlier, the mounting plate of the external microphone component is meant to be fitted internally (between the cheek-pad or liner and outer shell) on the right side of the helmet, but with a bit of adaptation it can be used externally and on either side.
But the length of the boom microphone is or could be a complicator – it's longer than most typical helmet layouts and shell sizing; optimal placement of the piece and thus the microphone can be compromised. A recommendation was made to either shorten this piece or make the boom adjustable in some way…
MPlus Configuration & Initial Use
As with other (new) electronic devices that are battery powered, the MPlus units need to be charged up fully before initial use (and it's good exercise for them) and always use the provided micro-USB cable or a compatible piece.
The MPlus cannot be charged when it is in use although its very, good battery life helps offset what is now a virtual standard on many related helmet systems. The charging temperature range is 0 to 40C (32 to 104F).
With the system connected to a compatible charging source the LED backlighting for charge mode is Red: blinking indicates a low battery; solid identifies that charging is in progress and, off indicates charging is done.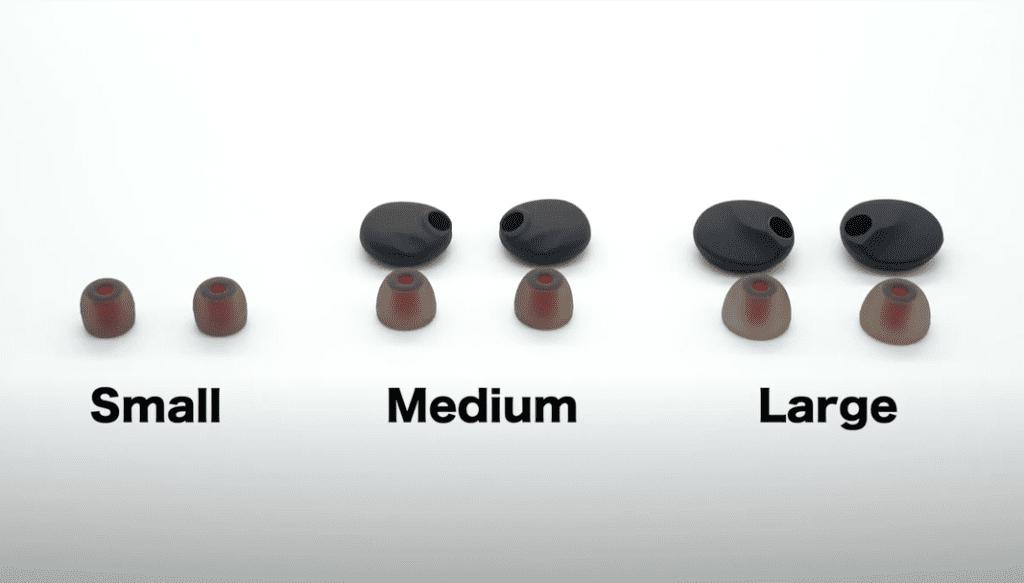 Earpiece Fitment – EcoFit Gels and Ear Tips Fitting
For optimal comfort and noise protection the outer diameter EcoFit Gels, sized medium (M) or large (L) are used – they can (and do) reduce ambient noise levels and enhance audio performance while ensuring a comfortable and secure fit of the whole earpiece.
Note – however, if your ear size is too small to accommodate the EcoFit Gels, they can be removed.
Even more important is proper selection and use of the small (S), medium (M) or large (L) ear tips that fit over the insertion sections; the ear tips rest in and 'seal' the ear canals and they must also fit comfortably and securely.
Wearing the MPlus
Putting the MPlus into use is not a complex operation, but unlike a helmet-based system that is essentially self-contained, getting familiar with the MPlus procedure for use can be a good thing and it also helps demonstrate just how versatile the system is.
Place the neckband around the neck. Once the piece is settled (see below), the earpieces, now properly fitted with the right-sized pieces are inserted into the ears – some slight positioning may be needed so the EcoFit Gels (if installed) are optimally placed and sit securely.
For my ear, the medium EcoFit Gel and Ear Tips are used. Once the earpiece is positioned in the outer ear, a gentle twist to the rear has the pieces securely and comfortably settled into place.
Positioning and 'shaping' of the neckband is needed so it fits comfortably around the neck and sits securely on top of any gear (ATGATT).
The flex sections on each side are indicated by the vertical ribbing and there is a fair amount of angulation available. But with medium to heavy outer gear worn, the neckband itself can be short and the sides don't fit as far forward as they should for stability purposes.
If going riding, the helmet is up next. If the helmet is narrow (size or shape) or overall fitment is tight you may need to pull the straps out and away from the helmet to increase clearances somewhat so the helmet diameter or interior lining do not pull the earpieces out…which can cause discomfort in the process.
And in presuming that for most/many riding applications the external microphone is mounted to the helmet, do not forget to connect the microphone lead to the headset. The connector halves are magnetic and keyed, so it is only connectable one way and it's easily done by feel. You are almost ready to go…
Power Up/Power Down
There are two ways to turn the system On and Off. Twisting both end-fitted VOL and MODE controls inwards at the same time and releasing them is the first way; but the second way – twisting the VOL control inwards for four (4) seconds is better – a direct left hand effort that is simpler and safer under many circumstances.
When powering up or selecting other modes of operations, appropriate Voice Prompts/Announcements are heard – the power Up sequence comprises a rising 3-tone sequence, "Hello", the battery level status (high/medium/low) announcement and, as applicable, "Phone Connected". Turning the system off gets you a "Goodbye".
Headset (Intercom) Pairing
Press and hold MFB and HDNC (right inner side) buttons at the same time and release the buttons when "Intercom Pairing" is heard. If the two MPlus systems are within close range, the connection is established automatically and "Neckband device connected" heard when the two are wirelessly tethered for intercom use.
Once paired and with both systems on, either user is able, to initiate and end an intercom session by pressing the MFB button once. Activation of Intercom Mode is typically quick, in the order of 2-3s, although it may take longer if other switching or system processing is being done.
If a system goes out of range, a 3-tone sequence is heard on the MPlus. The systems search for 15 minutes with the status tone heard every 30 seconds until reconnection occurs or the search, and tone sequence, is stopped – done by turning the VOL knob inward once and releasing it.
To initiate a search or do a manual reconnection, press the MFB button once or restart the MPlus to initiate automatic pairing. Again, the manual reconnection and automatic pairing can be an extended process…
Universal Intercom Pairing – this third-party or other brand communication capability is supported by the MPlus although it's not specifically covered in the User Manual.
The process is as follows: put the third-party system in its device pairing mode; with the MPlus On, press and hold the MFB and HDNC button until "Intercom Pairing" is heard; the two devices will initiate pairing and "Neckband Device Connected" is heard with a successful pairing.
Like some other brands, starting & ending a universal intercom session can only be done from the MPlus that initiated the universal pairing process. If this MPlus system is paired to a second MPlus and the third-party system, the MPlus can talk to either the second MPlus or the third-party system but not both together.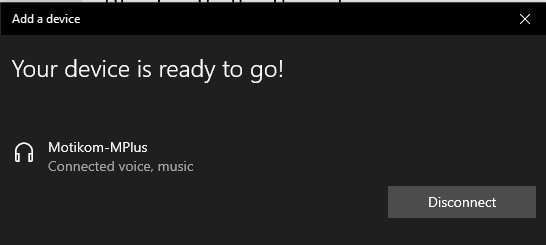 Device Pairing
For initial device pairing, press and hold MFB and HDNC (right inner side) and the same time and release them when "Phone Pairing" is heard. If you hold the buttons too long (been there, did that) and "Remote Control Pairing" is heard you have gone too far; cancel the pairing by pressing the MFB twice or, shut down and then restart the process.
But presuming that you are in the Phone Pairing mode and your device has its BT feature on and the device listing is displayed (on the screen as applicable), select 'Motikom – MPlus' and the MPlus will announce "Phone Connected" (no matter the device actually connected) when the pairing is completed.
The MPlus is based on the multi-point connection design utilized by virtually all BT system systems and as such allows two devices to be paired, but only one device at a time can be 'connected' for audio. E.g. – the Galaxy XCover Pro phone and the PC (or whatever) are paired as primary and secondary 'mobile phone' devices.
This single audio source connectivity limitation is used to maintain system (including the HDNC feature) and audio performance standards – all good. If using multiple devices and the intercom, the audio priority is Phone Calls, Intercom and Music Playback, in that order.
As usually experienced with BT v4.2+ and especially BT v5 systems, like the MPlus, device switching for audio/music streaming between devices is automatic, fast, and typically seamless, although activating the intercom of course bumps any ongoing music stream.
The only (unexpected) reluctance the MPlus has shown regarding device pairing is with the Sena MeshPort BLUE (review pending), a Sena Industrial goodie that is an extremely versatile product for testing and cross-platform use; it has (so far) paired to every BT-enabled headset of any type offered up and once paired provides a comms bridge to Sena Mesh-based systems and that expansive user realm…
Virtual Assistant
To activate the virtual/digital assistant feature (if enabled) on the paired device, twist the MODE (right end-fitted knob) and hold for two (2) seconds, which should activate the feature.
HDNC Level Selection
Selecting the best noise cancellation level or listening environment is done by cycling through the five discrete level settings with single quick presses of the right inner (back) HDNC control. Using the system in a quiet environment doesn't reveal just how effective each of the settings really is, especially Ambient Mode; real-world use is the best enabler here.
Safety First – Talk Through (Ambient) Mode
When Ambient Mode is activated, by a quick direct outward two-second twist of the left-hand VOL control a very discernable amplification of surrounding sounds take place, allowing the user to detect virtually any sound through the noise table, from a quiet conversation or emergency vehicles.
This mode utilizes the Level 5 setting of the HDNC feature to provides accentuation of surrounding sounds while still allowing the user to continue using phone, intercom, or music streaming features without having to lower the volume, turn the system off or remove earpieces. It is very much a foreground/background approach and is, very effective.
When activated, a double tone is heard followed by "Ambience On" as confirmation. A quick outward twist and release of the VOL control turns this mode off, confirmed by another double tone and "Ambience Off". Pressing the inner HDNC control also works to turn this mode off.
On the Road (or Otherwise) with the MPlus
The Motorcycling View
In having once tried another prototype system that was worn draped around the neck, some of those original observations came back into the active memory when the two MPlus by Motikom kits were received; thankfully however, while there are similar observations, the old and the new experiences are very much different.
The new – that being the MPlus, can be curved inwards and the frontal pieces downwards for a more personal fit that is most effective when wearing lightweight clothes or with lightweight riding gear – presuming some form of ATGATT. But this close personal fitment of the neckband is not always possible with heavier weight bulkier upper garments.
Depending on overall cockpit aerodynamics if the user is well protected or sits in still air the neckband is quite stable with its low profile and smooth surfaces. But indirect or cross air flows can cause the neckband, sitting on top of the outer upper garment, to move around.
While not experienced in all riding conditions, this issue might be encountered and might need to be dealt with in some way.
Tucking the back or part of the neckband under a hi-viz or load vest (which I still use for some off-road forays) works, as does putting the back and side sections of the neckband under a collar if applicable; impact of a neck brace has not yet been evaluated.
Some lessening of this issue or mitigation is facilitated by the frontal weight of the neckband – a design feature well validated in many situations, but if the side pieces don't extend well over the shoulder and collarbone area, the shaping and weight bias does not help much.
In wearing ATGATT, even light to medium weight upper garments can impact how well the neckband sits in place; a recommendation for a front cross or retention strap as an optional use piece was submitted to Motikom and hopefully, it is being considered.
From a BT feature perspective, the MPlus systems works very well, although users will need to appreciate that the shorter intercom range may be a limitation for some uses but not for others. And for many dismounted activities where separation distances are often less, the range should be fine.
In-ear audio is excellent – among the best experienced of in-ear pieces. Contributing to this positive experience is the precise ergonomic fitment for optimal noise dampening, pressure management and overall effectiveness of the whole earpiece; kudos to the Motikom team.
A shining star of the MPlus is its HDNC feature. When out riding, stepping through and assessing the five level settings is the (absolutely) best way to realize just how well this feature works, especially for maintaining or enhancing situational awareness. This unique feature is pure value-added regarding noise management, comfort, and safety perspectives.
Regarding access to the controls – the MFB and HDNC buttons on the inner right side of the collar are easily located overall but if they are accessed on a frequent basis, movement of the neckband is likely to be experienced, so some repositioning effort may be needed.
Heavy gloves can also complicate use of the inner side controls and to a far lesser degree the well-placed and easily manipulated end twist controls. All manageable issues but needing appreciation while riding.
Other Views
Motikom does identify that the MPlus has a definite motorcycling focus, but they also make sure to identify just how many uses – personal or work related, that the MPlus has; its design, build and identified features are all positive indicators of how truly versatile and portable, the system is.
The two systems provided for this motorcycle-oriented review are indeed being used for riding, but they get as much (if not more) use, given current COVID-19 restrictions, for other activities, including wearing one of them while working in the garage/shop or outside.
OK, the MPlus isn't as small as a personal wireless headset for phone or audio streaming use but it does have a fully functional BT intercom and better audio compared to (many) personal headsets and many (but not all) helmet-based systems.
With the MPlus, portability is a given. Changing helmets? Getting off the motorcycle for a break or longer stop? Dismounting and going for an exercising hike? Moving between a two-wheel powered device to an electric or human-powered bicycle? Heading off for a walk/jog/run? All of these activities, and more, are possible with the MPlus.
Final Thoughts
New, innovative, and uniquely styled, the MPlus personal BT-based headset with intercom provides most of the usual helmet-based features but without the helmet, for a much more portable, mobile, and versatile system.
The only real issue is the fact that despite some shaping ability and layout, the neckband piece can small or short when fitted over medium to heavy-weight outer gear with the desired advantages of its frontal weight and shaping pretty much lost, resulting in movement of the neckband due to airflow within the cockpit and around the rider.
And of course, this movement or possibility of movement can also be noted with other outdoor activities where the neckband is draped around the neck and over the shoulders and as such, subject to body movement.
As a portable BT-based headset and intercom it is (very) effective, whether used for motorcycling or a myriad of other activities. Just remove the riding gear and carry on while remaining connected in every way. And remember, that great HDNC feature is always available.
The BT intercom is relatively short-distanced at 150m compared to most helmet-based systems, but its intercom link is quiet with crystal clear audio, although as typically found with lower-powered BT-based intercoms a noisy electrical environment (as found in most build-up areas) can result in more interference, but audio remains good.
Email interaction with various Motikom principles from last fall to the present is another positive experience of this review – the team has been very forthcoming and responsive to our constructive criticism and recommendations – our thanks.
MPlus by Motikom Bottom Line
The MPlus is a newly developed earpiece-based BT headset featuring a unique neckband layout, innovative control implementation and a two-user BT intercom. Its feature set is modest, and everything works as advertised, although BT pairing can sometimes be slow. One of its biggest assets is an ability to be used for motorcycling (along with other powersport activities) and, for virtually any sort of dismounted activity. Clearly positioned as a motorcycling focused product it is also (and rightly so) touted as a broad-based product for other health and lifestyle activities. The MPlus is worth a good look. 
Pros
Unique form and fit
Neckband layout is flexible, adaptable and low profile
Sturdy design and smoothly finished with flush mounted or end-fitted controls
Dual neckband microphones with external boom or thin wire microphone for helmet use
Earpieces are ergonomically designed with very functional and comfortable components
Excellent audio from stereo earpiece headset
5-Level Hybrid Dynamic Noise Cancellation provides noise cancellation tailoring
150m range Intercom for personal two-user configurations
Universal Intercom Pairing supported
Multi-device pairing for smartphone or navigation device audio
LED back-lite logo on back of neckband provides Blue conspicuity marker
Excellent battery life, even with HDNC active and music/intercom use
Cons
Neckband can move around depending on cockpit environment and gear worn
Short intercom range (although adequate for many activities)
Earpiece leads are short – issue acknowledged and being addressed by Motikom
wBW Specs:
Manufacture: Motikom
Price when Tested: Single System, Pledges/Launch Special, $199.00 USD, with other packages available
Design: Germany
Made in: China
Warranty: one-year
Review Timings: November 2020 to April 2021
Review Submission: Version 1.3, updated 14 April 2021 along with photo gallery updates
Product References and Media Links