BMW's return to the cruiser market with the R 18 looks like being a success story as the brand announces more models and Corbin adds an aftermarket fairing and seat.
It is usually a mark of the success of a new model when aftermarket companies of the calibre of Corbin of the US produce specific seats.
Not only have they produced a twin seat with backrests (pictured above), but they have also produced a bikini fairing for the cruiser model.
They say it will not only protect the rider with improved aerodynamics, but also help lower wind noise.
And to complement that quieter, calmer "bubble" they also have a Bluetooth audio kit for the fairing with 500 watts of power, a dash-mounted controller and JL Audio 5.25″ coaxial speakers.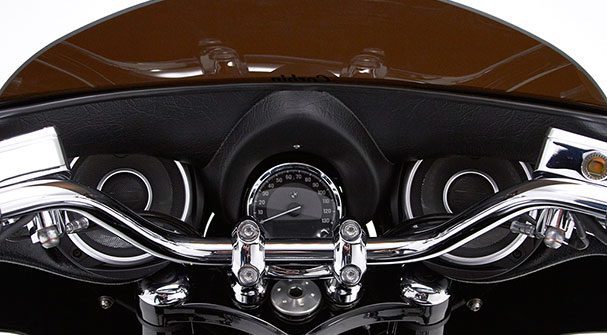 Surely this means Corbin believe the model will be a huge sales success as do we after our road test last month.
It comes as BMW Australia has announced the arrival of the R 18 Classic.
A Touring model is expected later this year.
So the bike is now available in the following three models:
R18 Classic: $28,550 ($30,863 rideaway based on Sydney delivery)
Features:
Automatic Stability Control (ASC)
ABS
3 riding modes (Rock, Roll, Rain)
Keyless Ride
Spoke wheels
Twin front brakes
Preload adjustable rear
Telescopic forks with fork covers
LED headlight, tail-light, brake and indicators
LED auxiliary lights
12-volt socket
MSR (Dynamic engine brake control)
Adjustable hand levers
Saddle bags
Cruise control
Optional equipment:
Lockable Fuel Cap: $75
Hill Start Control: $155
Headlight Pro (inc. Adaptive Headlight and Daytime Riding Light): $605
Floorboards: $235
Heated Grips: $340
First Edition (Inc. Pinstripes and Chrome Package): $3300
Reverse Gear: $1500
Anti-theft alarm system: $365
Low Seat (690mm): No cost option

Road testing the new R 18
R 18 Classic Custom: $30,090 ($32,448 rideaway)
Includes all specification from the R 18 Classic and adds the following as standard:
Lockable Fuel Cap
Hill Start Control
Headlight Pro (inc. Adaptive Headlight and Daytime Riding Light)
Heated Grips
Anti-theft Alarm System
R 18 Classic Deluxe: $35,090 ($37,598 rideaway)
Includes all specification from the R 18 Classic Custom and adds the following as standard:
Floorboards
First Edition (Inc. Pinstripes and Chrome Package)
Reverse Gear